Egypt Private Tours for Friends & Family
If group touring doesn't appeal, enjoy your own private adventure in 2021
If the idea of travelling on a group tour doesn't have you reaching for your passport, then here's the perfect solution.
We've selected our two most popular, award-winning Egypt group tours (King Tutankhamun, King Ramses) and we're offering them on a private basis at a special rate! Operating these trips exclusively for you and your partner, family or friends, to travel in the safety and comfort of your own private bubble.
Planning your Egypt holiday couldn't be simpler. Decide which tour you prefer and select one of the many departure dates listed. The holiday will be exactly as described on our tour page, with the same inclusions and accommodation. You'll be escorted by charismatic, degree-qualified Egyptologist guides, who will bring the wonders of ancient Egypt to life with their in-depth knowledge of the incredible sites you'll be visiting. Our guides will also be on hand to ensure your holiday is the best it can be, providing any assistance you may need along the way.
Our Best of Egypt with Nile Cruise and Best of Egypt & Red Sea with Nile Cruise private tours include a 3 night 5 star Nile Cruise. Alternatively for groups of four of more and travellers over the age of 12, we can offer 2 nights felucca sailing instead, please contact us for details.
Gather ten friends or family to travel together and we can offer these private tours at the lower group tour price!
New Best of Egypt private tours!
Book with confidence
At a time of uncertainty, it's comforting to know that you're in safe hands when you decide to travel.
Award-Winning Tours
Winner of Best Small Escorted Adventure Travel Company at the 2020 British Travel Awards for the second year running is testament to the fact that we operate world-class tours. But don't just take our word for it. Take a look at
our recent awards
and
see what our travellers have to say.
Safe Travel Protocols
The well being of our travellers, our local teams and the communities we visit, is paramount. Following the WTTC Safe Travel Protocols [COVID-19] for safe travels, we have health and safety measures in place to keep you safe when you decide to travel.
Fully Flexible Deposits
Deposits are fully transferable up to 16 days prior to departure on any Signature tour. This means you can book at any time, confident in the knowledge that, for any reason, you can change date, change destination or even transfer your deposit to someone else.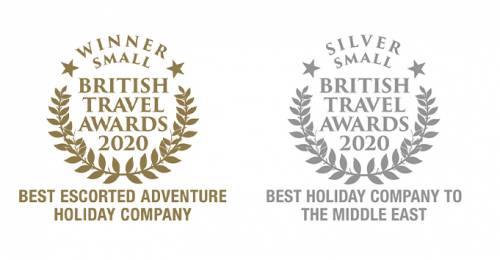 Recent Travel Articles on Egypt
"
Time of my life
I wish I could put 6 stars! The tour was seamless from the time I landed in Cairo to the time I was back at the airport. Our guide Dino had so much local knowledge, was patient and really made the trip. I found everything to be straight forward and clear - I loved every minute. Thank you guys so much. Well, other than Dino being the best guide I could ask for, I met a bunch of amazing people along the way - and one special person in particular... From seeing the pyramids to an overnight sleeper train, myriad temples and markets, floating down the Nile on a fellucca (the highlight) and swimming in the red Sea, there is not much else we could have asked to do in 13 days! I never once felt unsafe or in trouble (even in some of the dark back streets...) and would do another on the go tour in a heartbeat. Thank you to everyone we dealt with."
"
Well the trip was FANTASTIC! Everything from the time I arrived until the time I checked out to fly home was so well organised. Our tour guide was Waleed Zayan was great and not only did he create a family environment for our group his attention to every detail was greatly appreciated. Nothing was a problem, his knowledge of the sites and Egyptian culture and customs was inspiring. If there was a 6 star rating it goes to Waleed and On The Go tours! "