Private Old and New Delhi in a Day with a local expert





39 reviews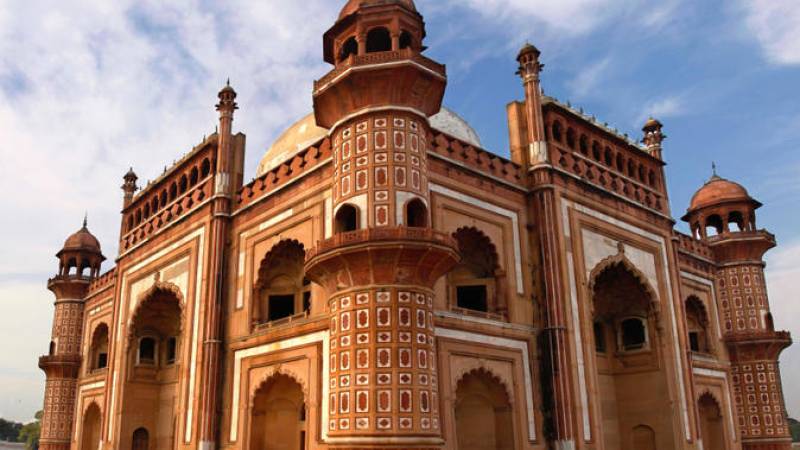 from USD $173.80
Discover the diversity of Old and New Delhi in one day on a special private tour. The day tour takes you from the spacious planned street of New Delhi to the action-packed lanes and alley ways of Old Delhi. Travel in the comfort of your private air-conditioned chauffeured vehicle as your expert guide helps you to uncover the highlights of India's bustling capital.
BOOK WITH CONFIDENCE:
As members of ABTA and ATAS we are
100% financially bonded
. You can book your day trip with us in absolute confidence, no matter where in the world you are.
Due to the impacts of COVID-19, we are currently not taking new bookings for day tours.
In Brief
Location:
New Delhi, India
Operates:
Tuesday - Sunday
Highlights:
All entrance fees included
Comprehensive tour of the city
Free hotel pickup and drop-off included
Includes free admission to top local attractions
Great overview and orientation of the city
Informative, friendly and professional guide
Led by a local guide
Perfect introduction for first-time visitors
Private guide for a more personalized experience
Itinerary
This is a typical itinerary for this product

Stop At: Chandni Chowk, Near Red Fort, New Delhi 110006 India

The Chandni Chowk (Moonlight Square) is one of the oldest and busiest markets in Old Delhi, India. Chandni Chowk is located close to Old Delhi Railway Station. The Red Fort monument is located within the market. It was built in the 17th century by Mughal Emperor of India Shah Jahan and designed by his daughter Jahanara. The market was once divided by canals (now closed) to reflect moonlight and remains one of India's largest wholesale markets

Duration: 1 hour

Stop At: Humayun's Tomb, Mathura Road Opp Nizamuddin Mosque, New Delhi 110013 India

Humayun's tomb (Hindustani: Maqbara-i Humayun) is the tomb of the Mughal Emperor Humayun in Delhi, India. The tomb was commissioned by Humayun's first wife and chief consort, Empress Bega Begum (also known as Haji Begum), in 1569-70, and designed by Mirak Mirza Ghiyas and his son, Sayyid Muhammad, Persian architects chosen by her.It was the first garden-tomb on the Indian subcontinent, and is located in Nizamuddin East, Delhi, India, close to the Dina-panah Citadel, also known as Purana Qila (Old Fort), that Humayun found in 1533. It was also the first structure to use red sandstone at such a scale.The tomb was declared a UNESCO World Heritage Site in 1993,and since then has undergone extensive restoration work, which is complete. Besides the main tomb enclosure of Humayun, several smaller monuments dot the pathway leading up to it, from the main entrance in the West, including one that even pre-dates the main tomb itself, by twenty years; it is the tomb complex of Isa Khan Niyazi, an Afghan noble in Sher Shah Suri's court of the Suri dynasty, who fought against the Mughals, constructed in 1547 CE.

Duration: 40 minutes

Stop At: Friday Mosque (Jama Masjid), 6 km North of Connaught Pl. across from Lal Qila, New Delhi India

The Masjid-i Jahān-Numā commonly known as the Jama Masjid of Delhi, is one of the largest mosques in India.

It was built by Mughal Emperor Shah Jahan between 1644 and 1656 at a cost of 1 million rupees, and was inaugurated by an Imam from Bukhara, present-day Uzbekistan. The mosque was completed in 1656 AD with three great gates, four towers and two 40 metres high minarets constructed with strips of red sandstone and white marble. The courtyard can accommodate more than 25,000 people. There are three domes on the terrace which are surrounded by the two minarets. On the floor, a total of 899 black borders are marked for worshippers. The architectural plan of Badshahi Masjid, built by Shah Jahan's son Aurangzeb at Lahore, Pakistan, is similar to the Jama Masjid.

Duration: 30 minutes

Stop At: Qutub Minar, Qutb Minar, Mehrauli, New Delhi 110030 India

The Qutub Minar, also spelled as Qutab Minar, is a minaret that forms part of the Qutb complex, a UNESCO World Heritage Site in the Mehrauli area of Delhi, India. Qutb Minar is a 73-metre (239.5 feet) tall tapering tower of five storeys, with a 14.3 metres (47 feet) base diameter, reducing to 2.7 metres (9 feet) at the top of the peak.It contains a spiral staircase of 379 steps.its design is thought to have been based on the Minaret of Jam, in western Afghanistan.

Qutb ud Din Aibak, founder of the Delhi Sultanate, started construction of the Qutb Minar's first storey around 1192. In 1220, Aibak's successor and son-in-law Shamsuddin Iltutmish completed a further three storeys. In 1369, a lightning strike destroyed the top storey. Firoz Shah Tughlaq replaced the damaged storey, and added one more. Sher Shah Suri also added an entrance to this tower while he was ruling and Humayun was in exile.

Duration: 40 minutes

Stop At: Red Fort, Netaji Subhash Marg, New Delhi 110002 India

The Red Fort is a historic fort in the city of Delhi in India. It was the main residence of the emperors of the Mughal dynasty for nearly 200 years, until 1856.It is located in the centre of Delhi and houses a number of museums. In addition to accommodating the emperors and their households, it was the ceremonial and political center of the Mughal state and the setting for events critically impacting the region.

Constructed in 1639 by the fifth Mughal Emperor Shah Jahan as the palace of his fortified capital Shahjahanabad, the Red Fort is named for its massive enclosing walls of red sandstone and is adjacent to the older Salimgarh Fort, built by Islam Shah Suri in 1546 AD. The imperial apartments consist of a row of pavilions, connected by a water channel known as the Stream of Paradise (Nahr-i-Bihisht). The fort complex is considered to represent the zenith of Mughal creativity under Shah Jahan,[citation needed] and although the palace was planned according to Islamic prototypes, each pavilion contains architectural elements typical of Mughal buildings that reflect a fusion of Persian, Timurid and Hindu traditions.The Red Fort's innovative architectural style, including its garden design, influenced later buildings and gardens in Delhi, Rajasthan, Punjab, Kashmir, Braj, Rohilkhand and elsewhere.

Duration: 1 hour

Stop At: Raj Ghat, Mahatma Gandhi Road, New Delhi 110002 India

Raj Ghat is a memorial dedicated to Mahatma Gandhi in Delhi, India. Originally it was the name of a historic ghat of Old Delhi (Shahjahanabad). Close to it, and east of Daryaganj was Raj Ghat Gate of the walled city, opening at Raj Ghat to the west bank of the Yamuna River. Later the memorial area was also called Raj ghat. It is a black marble platform that marks the spot of Mahatma Gandhi's cremation, Antyeshti (Antim Sanskar) on 30 January 1948, a day after his assassination. It is left open to the sky while an eternal flame burns at one end. Located on Delhi's Ring Road, officially known as Mahatma Gandhi Road, a stone footpath flanked by lawns leads to the walled enclosure that houses the memorial.

Duration: 25 minutes

Stop At: India Gate, Rajpath Near Connaught Place New Delhi, New Delhi 110001 India

The India Gate (originally called the All India War Memorial) is a war memorial located astride the Rajpath, on the eastern edge of the "ceremonial axis" of New Delhi, India,formerly called Kingsway.

India Gate is a memorial to 70,000 soldiers of the British Indian Army who died in the period 1914–21 in the First World War, in France, Flanders, Mesopotamia, Persia, East Africa, Gallipoli and elsewhere in the Near and the Far East, and the Third Anglo-Afghan War. 13,300 servicemen's names, including some soldiers and officers from the United Kingdom, are inscribed on the gate. The India Gate, even though a war memorial, evokes the architectural style of the triumphal arch like the Arch of Constantine, outside the Colosseum in Rome, and is often compared to the Arc de Triomphe in Paris, and the Gateway of India in Mumbai. It was designed by Sir Edwin Lutyens.

Duration: 20 minutes


Inclusions
Transport by private air-conditioned vehicle
Local English-speaking guide
Hotel pickup and drop off (selected hotels only)
Entry/Admission - Humayun's Tomb
Entry/Admission - Qutub Minar
Entry/Admission - Red Fort
Exclusions
Food and drinks
Gratuities
Departure Time
9:00 AM
Departure Point
Departs from your Delhi hotel
Returns To
Returns to original departure point at approximately 5pm
Additional Information
Confirmation will be received at time of booking
Comfortable walking shoes, sunscreen and 1 bottle of water (1 liter or 32 fl oz per person) are recommended
This is a private tour/activity. Only your group will participate
Booking Information
You can present either a paper or an electronic voucher for this activity.
Cancellation Terms
This trip is fully refundable up to 96 hours prior to the commencement of your trip.
Booking Terms and Conditions
When you book this trip, you need to read and accept the
terms and conditions
for booking our day trips in excursions.
Hotel Pickup
When you book, we will ask you to select a hotel to be picked up from. Once your booking is confirmed, we'll send you a confirmation voucher with full contact information (phone number, email address) for our local operator in case you need to update or change your hotel pick-up details.
Here are answers to some commonly asked questions about hotel pickup:
What if my hotel is not listed?
That's okay. When you book you can select an hotel from our list and make your way there on the day of departure; or you can contact our local operator directly to make alternate pick-up arrangements.
What if I have not yet booked a hotel?
Once your hotel arrangements are finalised, you can contact our local operator directly with your hotel details.
What if I live locally, am staying with friends or relatives, and/or don't require pick-up?
Once your booking is confirmed, we'll send you complete details and directions to the tour/activity departure point.
Scoring an average traveller rating of 4.88 out of 5 based on the last 24 recent reviews
"
Great tour to see the sights and sounds of the city. !!!
"
Wesley D
• Submitted 19 Mar 2018





"
Our tour guide, Allan, was young, knowledgeable, and enthusiastic. He started the day asking us what our expectations were and if there was anything specific we wanted to see and spend time on. We really had a blast on this trip! Old Delhi was incredible, and we enjoyed taking in all the sounds and smells! Perhaps my favorite experience was going to the Sikh temple and visiting there for meditation. It was the perfect mixture of excitement and relaxation. Do not miss this tour--it helped bring us cultural knowledge of this beautiful country.
"
Jacklyn M
• Submitted 11 Mar 2017





"
This was a great trip the guide was exceptional and very knowledgable. Went to areas I would probably not have gone to you. Strongly recommend this tour
"
David W
• Submitted 28 Jan 2017





"
Very prompt pickup from my hotel the guide and driver were actually both early, arrived at 0830. My guide was very knowledgeable, but not overly talkative. We went to many of the big ticket tourist places, starting in Old Delhi - Jama Masjid mosque and the Red Fort. Along the way, he took me to several temples Jain and Sikh, which I wasn't expecting but was very culturally interesting to learn about. We walked through Chandi Chowk and stopped at a spice market it seems to be a designated tourist stop, quite a few europeans were in there. I didn't feel any pressure to purchase anything, although of course I did. We traveled to these places on both bike rickshaw and electric rickshaw, both of them being fun experiences but probably not for the faint of heart :. They do a flyby drive by India Gate and the Parliament House at some point, but caveat is that there's a lot of smog and combined with fog, so it's actually not that interesting imho except for hearing about the historical elements. In New Delhi, we saw Humayun's Tomb and the guide / driver were flexible and took me to places that weren't on the prescribed list. I wanted to see a Hindu temple so he took me to Akshardham, which is a little bit of a drive away. HIGHLY recommend it, it's absolutely gorgeous and breath-taking. We also went to Lotus Temple Bahai, huge and also not on the original list. Because of this, I didn't go to Qutub Minar, Laxminarayan Temple or Raj Ghat which I didn't mind one bit. I would like to see Laxminarayan, but I can arrange that myself since it's near Connaught Place. The other thing I wanted to do was end up in Janpath, to shop a little. Also not on the prescribed list and the guide did warn me that authenticity isn't guaranteed even at Cottage Emporium, but was agreeble to take me anyway. They stayed with me patiently and overall, I ended the day at 6:00 or so, when the day I think was supposed to end at 5 pm and got to see some areas, do things that weren't their normal routine. The other thing that wasn't routine is that I only eat once or twice a day, so we didn't stop for a proper lunch and I think my poor guide / driver were starving at some point. They did not complain at all, and we got a snack at Akshardham around 3 pm, so I feel badly about that and made sure to warn my guides on subsequent tours! As a female traveling solo, I felt safe with no pressure or annoyance from them despite change to plans, and didn't feel they took me to places that pressured me to buy stuff. They also discouraged beggars / peddlers, which I've heard from friends had annoyed them to the point of ruining some of their experiences I actually didn't see that many of them. I would totally book with them again and trust their ability to deliver!
"
Rachel L
• Submitted 28 Nov 2016





"
With a personal guide for just the two of us, what a wonderful way to experience the city and not get lost while you look around and try to figure out just where are we. Plus you can have all the say in what you want to see and not what they want you to see. A long day but a great day.
"
Robert J M
• Submitted 16 Feb 2016





"
Excellent tour had time to check out many more places like the Lotus Temple. Great guide who had full knowledge of many places we passed by.
"
Nourah A
• Submitted 27 Sep 2015





"
The guide is very nice and is quite knowledgeable. Must not forget the driver whom is sometimes forgotten in these reviews. A very nice guy.
"
Padraig O
• Submitted 17 Sep 2015





"
Really good. The tour guide and driver were very nice and flexible. I was given a choice of what i wanted to see. They also took me to couple of craft shops.
"
Nela B
• Submitted 15 Sep 2015





"
What a great trip. Suiki Spelling? was a brilliant guide. Took us to interesting places and explained everything really well. We experienced street food the most amazing sticky dessert and then had lunch in a little side street café where we were the only Europeans. Topped off our lunch with street chai tea. We went to the Sikh temple and helped make chapattis for lunch. I am not sure our skill level was up to standard but they were still cooked with the others! Finished our trip with a rickshaw ride and a walk back to our hotel. All in all a fantastic time and an excellent guide. Fully recommend this trip.
"
Stephen J M
• Submitted 01 Aug 2015





"
An excellent day tour where I saw the many sights of this lovely city. The tour guide was excellent - very knowledgeable about the city and very accommodating. A thoroughly enjoyable day.
"
Felicity A W
• Submitted 12 Jul 2015





"
Great day to explore the city both old and new in a short time period! The tour guide Konica was very knowledgeable and flexible to my needs - and the guides deployed at some of the sights were fantastic.
"
Dawn J
• Submitted 04 Jul 2015





"
See it all in one day ! After this tour we felt like we had thoroughly done it all in New Delhi ! We want to thank Tushar Patiyal from the tour company for a truly excellent experience ! This was the company that Viator commissioned for this tour and we could not have been more pleased. Before we arrived I emailed Tushar and he was always prompt and informative with his replies. We had a clean air conditioned car and a skilled friendly driver - The company uses official licensed Indian guides at each site such as the Red Fort and Qutub Minar. These guides are paid for already and were very knowledgeable and experts in their area. We took a bike ride through the main market and a walking tour of Old Delhi. So interesting ! It is a long day but completely satisfying. We had wanted to see the Lotus temple which is not on the itinerary so when the tour was over at around 4:30 pm the guide had the driver take us to the temple and wait for us as we walked around - The driver was more than courteous and patient with us. We did not want to visit any major craft shops and they respected our decision. The entire day can be arranged per your individual needs and we were never rushed or felt like we were on a timetable - Lunch was not included so we treated our driver and guide at an inexpensive fast food place and it was a lot of fun. We can not under emphasize the professionalism and respect with which we were treated. It was a pleasant and informative day and we saw all the major sites. We highly recommend this tour and especially the tour company.
"
Warren K
• Submitted 18 May 2015





"
What a wonderful day we spent looking at the sights of old and new Dehli. Our guide for the day was Sonny and a most creditable that we could have had. As the American President was about to come to Dehli some of the places we were to visit were a little difficult so Sonny consulted with us and suggested that perhaps that we might like to visit the house where Gandhi was assinated a most aw inspiring experience that I have had. Hopefully we will be able to get back to Dehli next time we visit India and we will certainly use Viator again
"
Jean F
• Submitted 28 Apr 2015





"
Sunny was an excellent guide and we got to see a lot and experience life in old Delhi. This tour was well worth taking.
"
Jackie M
• Submitted 21 Oct 2014





"
highly recommended tour for first time in Delhi, it was comfortable private tour, pick up from my hotel, showed up before the time, with tour manager please do ask for Sabyasachi Blessed he is really good, know where to take you, and do the tour which suite your time. even if you asked him for places for shopping he will take you take to special shops. the tour was what im looking forward to see in Delhi in one day between old and new Delhi, and if you wish for more and you have time, its the tour you need
"
Mohammad A
• Submitted 05 Mar 2014





"
My tour guide was marvelous and you will likely feel the same about this tour and guide. Travel is safer and more convenient, when taken around by a polite, professional and local guide. Make it easy on yourself and book this tour.
"
JASe
• Submitted 16 Dec 2013





"
Very informative and a great way to see all the 'must see' aspects of Delhi in an organised fashion without an overload. There was just enough places to see without feeling it was too long and the guide was excellent.
"
K J A
• Submitted 25 Feb 2013





"
This was one of the best tours I've ever had- beautiful city! The tour guide named Ashish was passionate about the city and so extremely friendly, informative, and open to all questions. My family and I were able to learn not only about delhi's history but India's as well! Had the best experience!
"
Subodh D
• Submitted 11 Feb 2013





"
This is a great tour. I recommend it if you either have little time or are planning to see Delhi for a few days or more. The tour gave my Wife and I a great outline and overall understanding of the city and it's culture. The Guide was excellent. Very knowledgeable and approachable. We asked a few curly questions and he was honest in his responses. The tour allowed us to make note of places where we could tour on our own later on, and equipped us with a better understanding of how to 'survive in Delhi'. Note on dress: My wife advises other women to dress not worrying about what you look like but about covering yourself up. No exposed chests or anything below the knees. The men/boys can't stop staring. Note on Tips: Most hospitality est' will charge a service charge, if they don't, tipping is about 5-10% depending on service provided. Like some other countries, many workers rely on tips as the source of income. We were told that many of the budget hotel/restaurants have workers who work only for tips and don't get paid a base wage. Note on trading days: Many of the monuments/sites have days where they are closed. Check first before going to those places. Don't expect much from the transport car. It is only a simple old bomb, but part of the experience. Traffic in Delhi is chaos, so recommend you have a bottle of water with you. Overall, great trip and worth doing.
"
Vu H
• Submitted 12 Oct 2012





"
Absolutely fantastic, the guides were on time and very professional and knowledgeable. I will recommend them to anyone who travels to India.
"
Christine L
• Submitted 12 Oct 2012





"
A most worthwhile trip - especially if you have a limited time in Delhi. The highlight for me was wandering the markets of Old Delhi and experiencing the sights, sounds and smells. I was not prepared for the amount of walking involved and would highly recommend very good walking shoes. The guide was knowledgable, pleasant and very attentive.
"
Barbara R
• Submitted 12 Oct 2012





"
Good tour, not sure the guide knew where to take us and how long for, but we had done our research and knew what we wanted/should be seeing (good travellers tip). We were left to wonder around the sights ourselves which was fine.
"
gemmab6
• Submitted 23 Mar 2018





"
This is one of the tour that we experienced India! We walked the busy street of Chandini Chowk, tried their delicious street food - Jalebi and Samoosa, bargained from the shops and rode the rickshaw. The Humayun's tomb and the Red Fort are very rich in story. We were just a little disappointed as there are 2 sites were on the list that they did not take us to.
"
Gem
• Submitted 05 Oct 2015





"
Great experience - started with Old Delhi with Jama Masjid - resulted in experiences such as riding Rickshaw, visiting Gurudwara and helping to prepare food for their community service meals and buying spices in spice markets, before moving on to sights such as Qutb Minar and Humayun's tomb. Were unable to do Red Fort due to August 15th preparations however made for a thoroughly enjoyable day
"
Alex W
• Submitted 12 Aug 2015





In Brief
Location:
New Delhi, India
Operates:
Tuesday - Sunday
Highlights:
All entrance fees included
Comprehensive tour of the city
Free hotel pickup and drop-off included
Includes free admission to top local attractions
Great overview and orientation of the city
Informative, friendly and professional guide
Led by a local guide
Perfect introduction for first-time visitors
Private guide for a more personalized experience
More Delhi Day Trips