India. It's vibrant, energetic and relentlessly fast-paced. Place yourself in the heart of the action with a group tour or Tailor-made trip.
Lose yourself in the sparkling lights of Diwali. Splatter yourself with the bright colors of Holi festival. With our range of India holidays, you'll explore beyond the picture-perfect views of the Taj Mahal. Our trips offer what money can't buy; truly authentic experiences, that stay with you for a lifetime.
As an India specialist, we offer a wide selection of India group tours and Tailor-made holidays. We visit the very best places India has to offer. From the famous Golden Triangle in the north to the scenic Kerala Backwaters in the south. Whether you're spotting a Bengal tiger in Ranthambore National Park, exploring the temple-strewn southern city of Tanjore, sailing on the holy River Ganges in Varanasi, or sampling curries in Delhi, Agra and Jaipur - the wisdom of our guides will bring the country's captivating culture to life on your tour of India.
Because we know India. So when it comes to exploring the highlights of the country on holiday, you can count on us. That's why travelers choose On The Go Tours for once-in-a-lifetime holidays; time and time again.
India Group Tours
Our group tours in India don't miss a thing. Our classic itineraries take in the Golden Triangle, which is made up of Delhi, Jaipur, and Agra - home to the Taj Mahal. It's the classic itinerary for a first-time visitor to India, especially if you throw in the tiger parks of Rajasthan, the northern city of Amritsar, or a beach break in Goa. We have a dedicated family tour too, for those travelling with youngsters!

Returning travelers may prefer to take the road less travelled. The lush Kerala Backwaters or the southern cities of Kochi, Tanjore, and Madurai are great options for second time visitors to the country.
India Festival Tours
Those who want to fully embrace Indian culture may want to join one of our two festival tours in India. Every March our Holi tour takes in the Golden Triangle and joins the festivities to celebrate the Festival of Colour.

And each October or November, depending on the year, we celebrate Diwali, the Festival of Light, with another special Golden Triangle departure. Find out more below and don't hesitate to get in touch if you have any questions.
India Private Tours
If you prefer the idea of a private tour of India to a group tour, we can help! You'll get everything that makes our tours great, including the services of our expert local tour guides, but it will just be you and your family or friends on the tour! You can book these private adventures off the shelf or get in touch with our Reservations team to design a bespoke tailor-made holiday from scratch. Let your imagination run wild - combine the country with nearby Nepal, head south for hiking in the Western Ghats, or search for tigers in wildlife-rich reserves.
India Short Stays & City Breaks
Short on time? Our city breaks and shorter Indian adventures are perfect if you'd like to spend a few days somewhere different in the country before or after your tour - somewhere like Amritsar, Goa, Jaipur, or Mumbai. We also offer breaks in some of the country's best wildlife reserves, if you'd like a chance to spot tigers and other wildlife on safari.
India tour reviews
Scoring an average traveller rating of 4.6 out of 5 based on 10 recent reviews — See All India Reviews
"
There was always someone to meet us at the destinations. Tour guide Mahi was knowledgable and cared about our wellbeing. We had a great group and we all got on well. This was the first time I had visited India and it has left me with the most wonderful memories I just want to go back. We also did a tour the week before and again the tour guides were friendly and knowledgeable. They also asked us what we wanted to do and never rushed us."
Linda Oram
• Submitted 14 Apr 2020
"
The Holi Festival Tour was a convenient way to see the some of the major sites of India and join the spirit of Holi"
Matthew French
• Submitted 11 Apr 2020
"
Fabulous Trip to India visiting top spots we'd always wanted to see.
We have just returned from a fabulous trip to Amritsar and the Gold Triangle. Our guide, Satendra, was very well-informed, funny and made sure everything ran smoothly. "
Miranda Huntley
• Submitted 16 Mar 2020
Frequently asked questions about our tours to India
I want to see the Taj Mahal - do you include this on your tours?
Yes we do. We include this New World Wonder on all our tours that cover northern India. You'll spend the afternoon on a guided tour of the Taj Mahal, learning all about why and how it was built. Our visit to the city of Agra also includes guided touring of the Agra Fort.
I'm interested in seeing tigers in India - what options do you have?
India is the best place in the world to see tigers in the wild. There are a number of national parks and wildlife reserves that have been set up to protect the numbers of this endangered species. We have several India group tours that include two nights in Ranthambhore National Park where you will go on morning and afternoon game drives in search of the big cat.

We also have private itineraries to other parks for tiger safaris. If you want to know more about booking a tiger holiday, head to our guide on tiger spotting.
Should I be worried about food hygiene in India?
Many people worry that they might get sick on holiday but if you stick to the standard rules of safely eating abroad there's no reason why you shouldn't stay safe and healthy on your tour of India.

Stick to busy restaurants, avoid street food or anything that's been sat outside for long and forgo salads throughout your trip as the water is definitely not safe to drink.

Indian cuisine is amazingly diverse and forms an integral part of the travel experience so don't be afraid to try new dishes and flavors. Our Top Travel Tipspage has more info on food and eating out in the country. Your guide on our India trips will be able to advise you on good places to eat and which places to avoid in order to stay safe and healthy.
I'm a second time visitor to the country. What can you offer me?
If you've already been on holiday to Delhi, Agra and the pink city of Jaipur, consider visiting the tropical south for a different dose of culture.

The state of Kerala offers sandy beaches, lush waterways and wildlife reserves, and is a great choice for second-time visitors. Our escorted Captivating Kerala tour covers the best of the region in a week-long itinerary. And our comprehensive 14-day South India Explorer tour is perfect for those looking for a longer adventure.

There are other less well-trodden destinations in the north too, such as Amritsar and Varanasi, where the holy River Ganges flows!

Alternatively, we have a number of exciting private itineraries that cover everywhere from the far northeast to the less-visited south. You can also create your dream tailor-made holiday with the aid of our expert team. Get in touch to start planning.
How big are your tour groups and what is the age of your travellers?
On shorter itineraries that cover the Golden Triangle and other highlights in northern India, the average group size is around 18 passengers. Once you start travelling further afield on longer tours then this average size drops down to around 8-10 passengers.

Our special festival departures are much larger due to the unique nature of the events we cover such as Holi and Diwali. You'll find a real mix of ages on our India trips, from those in their late 20s to those in their early 70s. The average age is between 45-50 years.
What is the standard of hotels on your trips?
On our group escorted tours, you'll be staying in 3-4 star hotels with a mix of modern and heritage properties. On all tours that visit the main sights of Rajasthan you'll get to experience former royal residences and beautiful havelis transformed into tourist accommodation. It'll give you a real insight into the region's cultural and architectural heritage.

While on holiday in Kerala you'll spend a night aboard a traditional houseboat - it's the perfect way to explore the backwaters.
What sort of transport do you use on your India trips?
For the most part you'll be travelling in comfortable, private vehicles with air-conditioning throughout your trip. The size of the vehicle depends on the group size with either mid-size people carriers or larger coaches. There will also be the chance to experience more local forms of transportation including a rickshaw ride in Delhi and a houseboat ride in Kerala.
When is the best time to visit India for general sightseeing?
The climate varies dramatically from the north to the south of the country, though the dry season is widely considered the best time for a holiday.

The months of October to February are ideal as rainfall is minimal in most parts of the country, which makes sightseeing much more pleasurable. For more info on the weather, have a read of our Best Time to Visit India page.
Will I have a tour guide in India?
On our group escorted tours to India, you will be fully escorted throughout your trip by one of our expert local English-speaking guides. If you choose one of our private or tailor-made tours, then you will have the services of our guides at attractions.
What is the current travel advice for India?
As a UK-based company, we follow the latest up to date advice from the Foreign and Commonwealth Office (FCDO). You can see the latest travel advice and local laws here. The advice can change so check regularly for updates!
As a solo traveller will I have to pay more to travel to India?
Travelling solo doesn't have to cost more, and solo travelers who are happy to share a room can do so on our Signature India holidays, subject to there being another solo traveler of the same sex for you to share with. Please book a single room and contact us if your preference is to room share. The cost of the single supplement will then be refunded before your trip.

If you would prefer the privacy of your own room on your India tour, you can pay the single supplement, the price of which is listed on each tour page.

Please note that a single room will be compulsory for solo travelers on holidays departing before 1 March 2023. After this date, single rooms will no longer be compulsory for solo travelers. You can find more information on the 'Prices and Dates' section on each tour page. Please speak to our Reservations team for more information.
Are flights included in the tour price?
We do not offer flights to and from your destination or include them in our packages. However, some of our India tours such as Delhi, Palaces, Ganges, and Golden Triangle & Goa use internal flights to travel around. Economy class tickets for these flights are included in the tour price.
DISCOVER INDIA'S BEST KEPT SECRETS
Our local guides are experts at seeking out hidden gems and culture. From rickshaw rides through spice markets to spending the night at the Maharajah's palace in Karauli, our trips certainly veer from the beaten track.

And you'll want to explore India on your own terms, too. That's why, with our group tours, you'll have plenty of personal time to create your own memories. So whether you're looking to meet like-minded new friends, or enjoy authentic Indian experiences - with On The Go Tours, you're in good hands on holiday.
Best of India
Our tours are expertly crafted to help you see the best of India, from Jaipur and Amritsar to the Himalayas. As well as all the main sights of the country, our excursions give you the chance to get stuck in and experience the country as the locals do. Here are six must-visit places for your holiday in India!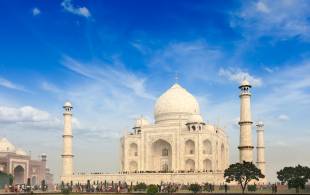 The Taj Mahal
The most extravagant monument to love ever built, and India's most visited attraction. The Taj Mahal never fails to disappoint. Located in Agra, all of our northern India tours take a trip to this extraordinary place.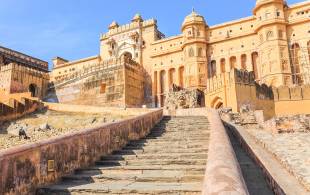 Jaipur
Famously colored pink and home to such highlights as the dazzling Hawa Mahal, Amber Fort, the Royal Palace, and the Jantar Mantar space observatory, Jaipur is unlike anywhere else. Best seen from above, on many tours you'll have the opportunity to sail over Jaipur aboard a hot air balloon.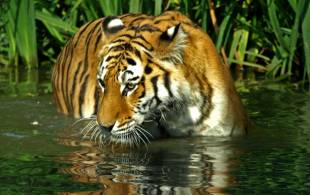 Ranthambore National Park
The best place in Rajasthan to enjoy a tiger safari, numbers of this threatened big cat have risen to more than 80 in Ranthambore, giving visitors a great chance to spot them. Enjoy three included game drives on our Shere Khan group tour - we'll also make a donation to TOFTigers to help protect tigers in the wild.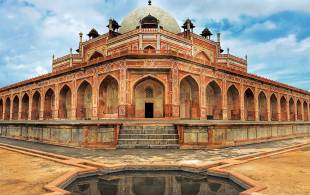 Delhi
The Indian capital city is the start point for the majority of our tours, with guided sightseeing included. Split into Old and New Delhi, there are things to see aplenty in both. The old part of the city is home to Humayun's Tomb, Jama Masjid Mosque, and Raj Ghat, the site of Gandhi's cremation. And in New Delhi, highlights include India Gate and the Rajpath.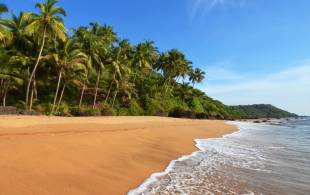 Goa
An India trip is an assault on the senses - it's busy, it's loud, it's atmospheric. Sometimes you need to take some time out. This is where the blissful, tranquil beaches of Goa come in handy. Combining one of our group tours with some R&R here is the perfect beach and culture adventure.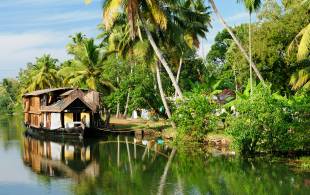 Kerala
Southern India receives only a fraction of the visitors the north does, but the peaceful Kerala Backwaters make an incredible trip for first-timers and returning travelers alike. Set sail aboard a traditional rice boat, past palm-fringed banks and accompanied by the sounds of abundant birdlife. Then why not explore the biodiverse Western Ghats?