Samurai School in Kyoto: Samurai for a Day





47 reviews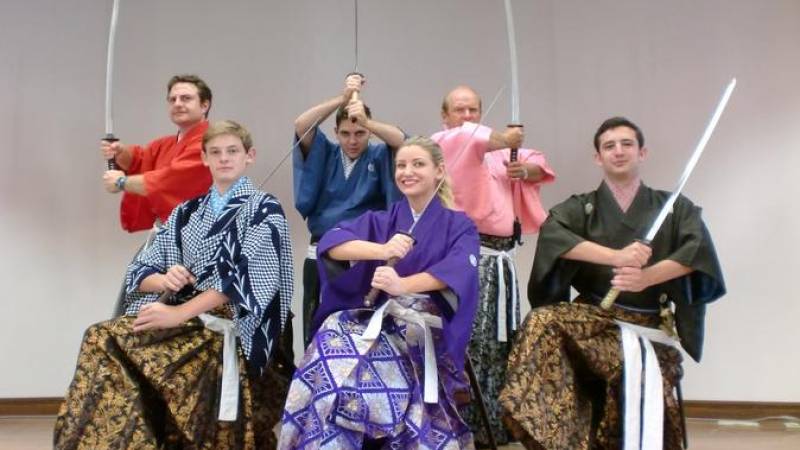 from USD $75.45
Learn about the etiquette of samurai classes in feudal Japan and practice some basic Kembu, including how to use the Japanese sword. You can choose a 1-hour session for an introduction to the basics, or upgrade for a 1hour30 session to learn choreographed movements with a sword and folding fan. Top off your experience of this traditional Japanese art with a photo session in costume, and take home a certificate of achievement.
BOOK WITH CONFIDENCE:
As members of ABTA and ATAS we are
100% financially bonded
. You can book your day trip with us in absolute confidence, no matter where in the world you are.
Due to the impacts of COVID-19, we are currently not taking new bookings for day tours.
In Brief
Duration:
60 to 90 minutes
Operates:
Daily except Sunday
Make your way to the Samurai Kembu Kyoto dojo, conveniently located in downtown Kyoto, where you'll meet your instructor for a 1-hour or 1hour30 lesson in the traditional art of Kembu.

Start by watching a three-minute film that introduces you to the general concepts of the samurai, a warrior class that ruled Japan from the 12th to 19th century. After further orientation from your instructor, you'll put on Japanese-style socks, tie a white belt and receive a sword to be used during your lesson.

After you learn to bow, you're shown how to draw the curved samurai sword and replace it in the scabbard. Once you've mastered this difficult technique, practice ways to strike the sword to make a cutting sound.

Take a break from your samurai training to change into a costume of your choice and enjoy a photo session. Then continue wielding your sword as a samurai would against his opponent during more practice.

If you selected the 1-hour lesson, take a bow to end your session. Before departing the dojo, you will receive a certificate of completion and photos that were taken on-site.

Optional Upgrade: 1hour30 Lesson 

If you booked a 1hour30 lesson, continue to learn stylized movements of the samurai, including how to walk and how to use the folding fan if you wish. Complete your session with some challenging Kembu choreography, which you will perform with your sword on stage, accompanied by a poem and music.
Inclusions
English-speaking local guide/instructor
Photo shoot
Tenugui towel (Japanese traditional towel)
Lesson completion certificate
Exclusions
Hotel pickup and drop-off
Food and drinks
Gratuities
Departure Point
Samurai Kembu Theater, Japan, 〒605-0005 Kyoto, Higashiyama-ku, Sanchōme, 35−7 GOZANビル 三条花見小路東入ル

Returns To
Returns to original departure point

Additional Information
Confirmation will be received at time of booking
Minimum age is 5 years
Please wear clothes suited for exercise and moving around
Booking Information
You can present either a paper or an electronic voucher for this activity.
Cancellation Terms
This trip is fully refundable up to 96 hours prior to the commencement of your trip.
Booking Terms and Conditions
When you book this trip, you need to read and accept the
terms and conditions
for booking our day trips in excursions.
Scoring an average traveller rating of 5 out of 5 based on the last 24 recent reviews
"
Absolutely loved this experience. The instructor (great grandson of last Samurai) was fascinating and really gave of himself. Not easy let me tell you with all the clobber on. One piece of advice - it is on the outskirts and you need to afrrive 15-20 minutes early so allow at least 30 minutes if coming by taxi
"
Mike R
• Submitted 25 Nov 2019





"
My husband and I did the 1 hour Kembu Samurai class and it was so much fun. Learning about the history with a 4 minute video and then the basic katana strikes set us up for the last process which was a choregraphed sequence of moves all dressed up in our samurai costumes(which you get to choose).Eiki our instructor was very professional and made the class comfortable with a lot of laughs as well. We also had opportunities to take photos. Overall this class is a must, easy to get to on the train and its for everyone to participate in. Loved it!
"
Nathan W
• Submitted 30 Sep 2019





"
Myself and my teenage son did this activity. We both had a great time, really enjoyable and staff were lovely. Would definitely recommend!
"
Karen O
• Submitted 05 Aug 2019





"
Really fun and interesting day. We got to practice with swords, get dressed up in full samurai attire, then more practice with swords, practice with fans, then learned a choreographed sequence with the swords. Our teacher was fantastic, very knowledgeable and skilled. My only negative is that we didn't get to cut anything with the swords!
"
debanzie
• Submitted 24 Jul 2019





"
Great instructor and really super experience to learn Samuari sword movements. Recommend this experience for anyone interested in JAPANESE culture, We had a great time and want to repeat again in the future but ONLY with this school!!
"
boydwc
• Submitted 08 May 2019





"
Now for something completely different...! A fun 90 minutes and great pics to last a lifetime. Highly recommend.
"
Christine H
• Submitted 09 Oct 2018





"
It was only a game but represent it a little big dream: samurai for a day. I enjoyed this activity so much and the instructor made me feel like a real samurai. Thanks for the good memories.
"
luis c
• Submitted 05 Aug 2018





"
We had a great time! We did the 1-hour class and had a wonderful time, the 2-hour class looked really fun. Those of us in the 1-hour class went first we got changed into our Samurai outfits and got our pictures done first, as we were leaving the 2-hour class was learning their choreographed moves. The instructor was great and really funny, and they all spoke English very well. 10/10 would go again.
"
Robyn A
• Submitted 04 Jun 2018





"
This was such a fun experience for our family of 5. I wasn't sure if the kids aged 10, 13 15 would be too embarrassed to perform their choreography but they absolutely loved it. Our samurai master was very patient but also very funny! This was a real highlight of our trip and the kids still love watching the videos of our performance. Highly recommended
"
Michelle S
• Submitted 09 Apr 2018





"
It was really fun being a samurai for a day. From using the swords to dressing up in kimonos, this was a great experience. It was actually more intense for a two hour lesson than I thought it would be it wasn't just dress up and some basic moves, but a full fledged workout and I actually learned a lot more than I thought I would. The instructor was great.
"
Michael S
• Submitted 03 Apr 2018





"
It was great! I went with my 10 year old nephew and we had so much fun! They were fantastic and there was a lot of time to take pictures as well! Thanks
"
Agnes N
• Submitted 02 Apr 2018





Florin S
• Submitted 12 Nov 2017





"
Excelent experience, very fun! / Excelente experiencia, muy entretenida, con una hora es suficiente
"
Julio R
• Submitted 22 Sep 2017





"
Fantastic experience. We went for the 2 hour lesson - after the initial induction, we got dressed in our kimonos and were shown a few samurai moves. However, the lesson also includes art - your training leads up to a performance at the end where you combine all single elements you have been shown throughout the 2 hours. There are also plenty of photo shoot opportunities. We had a great time and can highly recommend the samurai school.
"
Sascha K
• Submitted 06 Sep 2017





"
I was so impressed and pleased by my samurai sword-training lesson. What a wonderful experience! What made it so special and memorable is that the teacher didn't treat us as if we were merely tourists, but rather actual samurai in training! Even the swords we practiced with were real. The teacher was patient, enthusiastic, highly skilled and spoke very good English. A memorable and fulfilling experience; I would recommend at least a 2-hour training session to anyone interested in traditional Japanese culture, swordsmanship, or the vanished world of the samurai.
"
Anatoly N
• Submitted 06 Sep 2017





"
Loved this but felt 2 hours is a little too long, an hour is long enough. Glad I did this, the instructor and staff were very nice and friendly.
"
Melissa S
• Submitted 14 Aug 2017





"
I had a great time at this activity. The instructor was patient and the introduction to Kenbu was informative and fun. I highly recommend this activity to women and men of all ages.
"
Luc C
• Submitted 04 Aug 2017





"
This was a very fun, entertaining and educational event. The instructors took time to explain how to put on the traditional robe, demonstrate basic sword movements and was attentive. This is a great cultural experience.
"
Karuna S
• Submitted 02 Aug 2017





"
Great experience, the teacher was very focused and taught us all the moves, we then got to do our own presentation which they filmed so we could look back at it! The dressing up was good fun tooo!
"
Keely M
• Submitted 31 Jul 2017





"
I really recommend this tour. We have learned some Samurai techniques. The clothes are fantastic. You have plenty of photo opportunities, so that you may show off to your friends... : And... I love my wife...
"
Mauricio
• Submitted 31 Jul 2017





"
I totally rate this . We did the two hour experience and it was worth every cent. I thought it would be corny and a fun type of thing to spend 2 hours doing- it turned out to be a well thought out activity where we learned all about the samurai culture, the moves, got to see the master in action and put together our own small routine. And then they give you presents. Whaaaaattttt!. So worth it. Im a travel agent and I now recommend this to all of my passengers and clients.
"
Danielle H
• Submitted 02 Jul 2017





"
Had a blast! Great fun for the whole family. We did the two hour program, which seemed about right. The one hour would have been too short, as you spend a good chunk of time getting dressed up. My kids, aged 11 and 9, loved it.
"
Nicole N
• Submitted 24 Jun 2017





"
This is a must do for all. Very good staff and teacher. They speak good English and let you play with real swords.
"
Jessica D
• Submitted 10 May 2017





"
This is one of those thing that I will never forget! It was a special experience. If you come to Kyoto you have to come do this. Make sure to ask about the performance as well and not just the training.
"
Flavius
• Submitted 26 Apr 2017





In Brief
Duration:
60 to 90 minutes
Operates:
Daily except Sunday
More Kyoto Day Trips