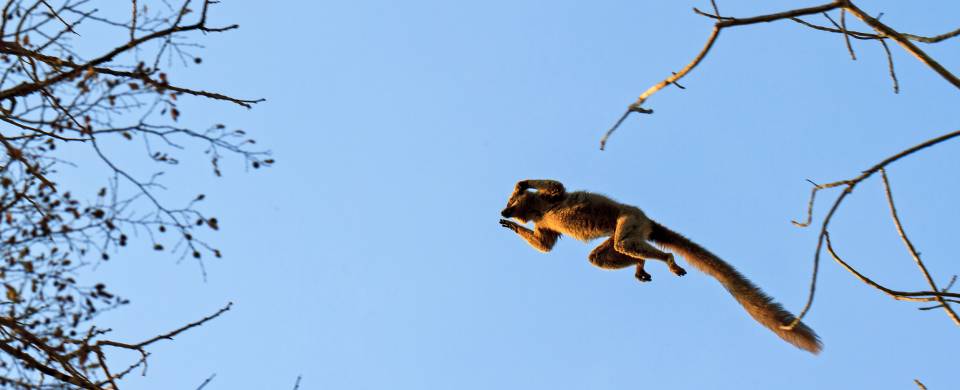 Trips and Tours to Kirindy National Park
About Kirindy National Park
Situated in western Madagascar, the Kirindy National Park is a private reserve managed by a sustainable logging company and is predominantly made up of dry, deciduous forest, one of the country's most endangered ecosystems. Most striking of all of the park's flora is undoubtedly the giant baobabs, which dominate the landscape, their long shadows providing momentary respite for explorers from the blazing sunshine. Watching the sun as it sets behind these magnificent trees is sure to be one of the highlights of your trip.
Read More
Throughout the park, travellers will be able to spot a range of different animals including numerous species of lemurs, among which is the Madame Berthe's mouse lemur, the world's smallest primate. Other animals include giant jumping rats, mongooses and a range of reptiles and birds. One animal for which the Kirindy National Park is also known is the fossa, Madagascar's largest predator, which hunts lemurs. To maximise their wildlife-viewing opportunities many visitors choose to stay over night in one of the park's lodges.
Depending on the time of the year you choose to visit, the Kirindy National Park can take on a very different appearance. Between December and February, when the rains fall, the park bursts into life with vivid green leaves and vegetation springing forth from the seemingly barren landscape. Temperatures during this time soar and can reach up to 40 degrees. The hot, wet climate is ideal for reptiles and amphibians who are notably more active at this point of the year. The following months are much cooler and see a lot less rain, meaning that the trees shed their leaves and that brown becomes the predominant colour of the park.