Explore Red Square, the Kremlin and opt to go inside a Soviet Bunker in Russia's vibrant capital Moscow before taking the express train to St Petersburg. In the City of the Tsars visit lavish palaces, the world-famous Hermitage Museum, the exquisite Church on Spilled Blood and more on this 7 day tour of Russia.
Trip Highlights
Take in the highlights of the capital on a walking tour, visiting Moscow's famous Red Square, home to the historic GUM Department Store, Lenin's Mausoleum and spectacular St Basil's Cathedral
Explore the beautiful city of St Petersburg, including the exquisite Church on Spilled Blood, Peter & Paul Fortress and Nevsky Prospekt
Discover a lavish residence of the tsars on a day trip to Catherine Palace at Tsarkoe Selo (winter: mid-October to April) or Peterhof Palace and gardens (summer: May to mid-October)
Take a guided tour of the Moscow Kremlin, Russia's political power house. Stroll around the grounds of this fortified complex, visit the Kremlin's cathedrals and see the mighty Tsar Bell
Marvel at the dazzling array of art and exhibits in the world-famous Hermitage Museum, at the Winter Palace in St Petersburg
Learn about life in Soviet Russia on a visit to a Soviet era Communal Apartment Exhibition in St Petersburg
Included
6 breakfasts, 2 lunches and 1 dinner
1 high speed train from Moscow to St Petersburg
Guided sightseeing - Moscow and St Petersburg
Airport arrival transfer on day 1
All relevant transfers and transportation
6 nights 4 star hotels
Escorted by an English speaking Russian tour guide
Specialist Russian guides at local sights
Moscow Metro travel card - 6 journeys
Not Included
International flights and visa
Entrance Fees: USD$70-80pp, paid in local currency
Tip for your tour guide. We recommend you allow USD$3 - 5 per day, per traveller. Tipping your guide is an entirely personal gesture.
Sunday. Welcome to Russia and the start of your holiday! You will be met at the airport in Moscow upon arrival and transferred to your hotel for check-in. This evening at 7pm meet your guide and the rest of the group for dinner at the hotel and an informative welcome meeting. Remainder of the evening at leisure.
Overnight: Moscow | Dinner
First thing this morning we will hop on the Moscow Metro and make our way to legendary Red Square. As the historical, political and social heart of Moscow, this famous square is home to some of the city's most recognisable landmarks. Within the Red Square we will find the iconic domes of St Basil's Cathedral, the imposing red brick walls of the Kremlin and the glitzy Neo-Russian facade of the GUM shopping mall. Highlights of the day include a guided tour inside the grounds of the mighty Kremlin, touring Assumption Cathedral, Ivan the Great Bell Tower and monumental Tsar Bell.

Also in Red Square, housed within a red and black marble building, is Lenin's Mausoleum. If open, you can enter the mausoleum and pay your respects to the famous Russian revolutionary whose embalmed body has lain in state since his death in 1924. The rest of the day is free for you to continue exploring the city or perhaps enjoy some retail therapy.

During our stay in Moscow there will be the chance to join one of our optional evening excursions, such as a traditional Cossack Show and a Moscow by Night coach tour and river cruise. Book and pay locally.
Overnight: Moscow | Breakfast, Lunch
Today is free for you to spend at leisure in the capital or you can opt to head down into a Soviet Bunker, by purchasing our Inside a Soviet Bunker add-on. Heading 65 metres below ground take a guided tour of this fascinating Underground Cold War Museum - a Stalinist-era Soviet Bunker that up until recently was a top secret symbol of Soviet Power. Hidden beneath an ordinary apartment building in the heart of Moscow, 18 floors below ground level, this mighty 75,000-square-foot facility was constructed covertly in the 1950s, to protect the select few against a US nuclear attack. The site was in operation throughout the 1970s. In the 1990s with the death of communism, this bunker came off the top secret list and is now open to the public. The rest of the day is free to explore.
Overnight: Moscow | Breakfast
Moscow - St Petersburg. This morning we take a high speed train to St Petersburg. Upon arrival we embark on a city tour, driving along Nevsky Prospekt, past the museum and university district and Admiralty End, with stops to view the exterior of magnificent St Isaac's Cathedral and The Bronze Horse. After lunch we tour the exquisite Church On Spilled Blood, Peter and Paul Fortress and the beautiful SS Peter and Paul Cathedral, which houses the tombs of the Romanov monarchs.

Spend the evening at leisure. During our time in St Petersburg there will also be the chance to join optional excursions, such as a night at the Russian Ballet, a boat trip along the canals or a visit to the Vodka Museum (book and pay locally).
Overnight: St Petersburg | Breakfast, Lunch
This morning we head out of the city to explore the beautiful Peterhof Palace located on the Gulf of Finland in the summer or visit Catherine Palace at Tsarskoe Selo in winter (or Pavlosk Palace if Catherine Palace is closed).

Often referred to as Russia's 'Versailles', the gardens of Peterhof Palace are a wonderland of greenery and flowers, sweeping vistas and ornate architectural decorations. The real highlight are the spectacular gold fountains. At Catherine Palace it's the interior of this lavishly decorated building that really catches the eye - and the exquisite Amber room is a real highlight!
Overnight: St Petersburg | Breakfast
The highlight of today is a guided tour of the treasure-filled Hermitage Museum at the Winter Palace, which houses one of the biggest and best art collections on earth.

Later, we visit a fascinating exhibition of a former Soviet era communal apartment. To help ease the burden of Russia's housing problem in the 1920s the government transformed city apartments owned by one person into these communal dwellings with factory workers, military personnel and members of Soviet institutions moving in.
Overnight: St Petersburg | Breakfast
Saturday. Today our tour comes to an end. If you would like to extend your time in Russia, we can book post-tour accommodation upon request.
Breakfast
Departure dates are guaranteed with a minimum of 4 persons. 'Twin Share' prices are per person when there are 2 people sharing a room. 'Single Room' prices are applicable to those who don't have anyone to share a room with or anyone wanting the privacy of a single room.
Read More
2022
Twin Share
Single Room
Extra Prices
Twin Share
Single Room
Pre tour accommodation - Moscow
USD $75
USD $145
Post tour accommodation - St Petersburg (Sep - Apr)
USD $95
USD $175
Inside a Soviet Bunker
USD $105
N/A
The hotels listed below are ones which we frequently use on this tour. We reserve the right to substitute these hotels to ones of a similar standard.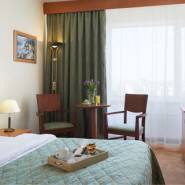 Izmailovo Delta Hotel, Moscow
The 4 star Izmailovo Delta Hotel forms part of the huge Izmailovo Gamma Delta complex, which was built to accommodate guests and participants of the 1980 Olympic Games in Moscow. Offering comfortable guest rooms with modern amenities, the complex also boasts 16 restaurants and bars serving Russian and international cuisine, a SPA, gym and swimming pool, in addition to shops, a bank and post office. Conveniently located with the Partizanskaya Metro Station just 350 yards away, it's a quick 10 minute metro ride to Red Square where you can take in the highlights of the capital. The hotel is also ideally located for souvenir shopping, with the famous Izmailovo Market just a short stroll away.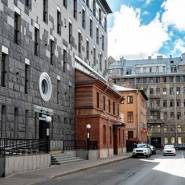 Harbor Club Hotel, St Petersburg
Well-located in St Petersburg, the Harbor Club Hotel can be found on a quiet street, yet only a short walk from the bustling city centre. Its guestrooms feature modern décor, with spacious ensuite bathrooms and modern amenities including air conditioning. You'll also find a shared lounge and bar, as well as an on-site restaurant serving tasty European cuisine. Here, guests can enjoy a continental or buffet breakfast or, if you'd prefer, there is also the option of dining in the comfort of your hotel room.
"
Our tour guide was every good, knowledgeable and flexible which made our to. Our tour guide was every good, knowledgeable and flexible which made our tour enjoyable. "
Gordon Povey
• Submitted 13 Aug 2019
Tour





Guide





Country





"
Excellent, Olga our tour guide was friendly and very knowledgeable. Always prepared to do that bit extra to make this the best trip I can remember being on."
Kenneth Orourke
• Submitted 03 Jul 2019
Tour





Guide





Country





"
I had a great trip start to finish and felt completely safe in Russia. All the highlights in the itinerary were fantastic and unforgettable. The hotel in Moscow was spacious and in a very good location as too was the the hotel in St Petersburg (though a tad smaller). The location made it very easy to travel around on your own as some places were a walking distance away or a few stops on the underground so top marks.
For me, the tour was more than what I expected and this was down to our tour guide Natalya with her personalised touches and near perfect English. She was very knowledgeable, very helpful (even out of hours!) people person who went above and beyond to make this trip as comfortable and enjoyable as possible.
So I thank 'On The Go Tours' for creating a great holiday and for having wonderful staff "
Bikash Sen
• Submitted 01 Jul 2016
Tour





Guide





Country





"
Had an amazing time away and an amazing tour. Tatiana was a fantastic tour guide. We both thoroughly enjoyed ourselves. "
Sophie Rees
• Submitted 12 Apr 2016
Tour





Guide





Country





"
We just returned from a unforgettable tour of Russia. We were a small group of only 11 people in Moscow and 5 people in St. Pietersburg. Our Guide had a great command of English and was very helpful.We had a great holiday.
Natalia has a great personality, very knowledgeable, patient and helpful and a superb guide.
We were surprised on how clean and safe Moscow and St Petersburg were compared to our own country, South Africa. I must say the continental breakfast at both hotels were not as good as it can be.
I would thoroughly recommend this tour - and Natalia. "
Petro van Zyl
• Submitted 15 Jul 2015
Tour





Guide





Country





"
Just returned from a wonderful tour of Russia. For some reason everyone else in the group cancelled so it was just me and my wife and the lovely tour guide Natalia. She has a great command of English and was very helpful and we had a very personalised tour and a great holiday.
Natalia has a great personality, very knowledgeable, patient and helpful and a superb guide.
No issues or hassles at any points and was surprised how clean and safe Moscow and St Petersburg were compared to some other European destinations. Also food was cheap. I would advice travellers to learn a smattering of Russian particularly the script if they want to venture solo on the Metro.
The hotels were acceptable through my room the Moscow hotel - Izmailovo Hotel - Gamma-Delta was a little musty though this was compensated by the great breakfast and proximity to the Metro.
Also the bonus is the wonderful Moscow. flea market 5 minutes away.
Also I had a scare because when booked in they could not find my reservation. Be aware the Gamma and the Delta are separate hotels even though they are co-located and adjacent.
The st Petersburg Hotel (" the Moscow") did a more basic breakfast but the room was fresher. Be warned that you will go through at least 6 vodka shots on this tour and a lot of walking which was great. The other "on the go" Staff were very helpful also.
The best optional add is the Moscow Circus. The Peterhof palace is also a must-see. Try to separately book the Armoury in the Kremlin prior to your tour.
Don't waste money getting your private train compartment It is much more fun in the communal carriage overnight.
I would thoroughly recommend this tour - and Natalia. "
Oded Hauptman
• Submitted 05 Jun 2015
Tour





Guide





Country





"
I really enjoyed the overnight train and all our coach drivers were great. I liked being able to walk around the cities and use the local public transport to see the cities from a more local perspective. Thanks to Natalya, our tour guide, who was absolutely brilliant! "
Rachel Chivas
• Submitted 12 Aug 2014
Tour





Guide





Country





"
Thoroughly enjoyed my experience. Katarina's depth of knowledge is incredible and her friendly approach to the travellers made the tour very enjoyable."
Divya Matthias
• Submitted 25 Apr 2014
"
Katia is an excellent guide and ambassador for Russia.She is very knowledgeable and easily approached. Her English is also excellent. She is to be commended on a fantastic tour. She was always friendly and very helpful. "
Geoffrey Young
• Submitted 25 Apr 2014
"
Katya is an excellent guide and ambassador for Russia. She is very knowledgeable and easily approached. Her English is also excellent. She is to be commended on an excellent tour. She was always friendly and very helpful whenever assistance was needed. "
Geoffrey Young
• Submitted 18 Apr 2014
In Brief
Range
Trip Type
Starts
Moscow
Ends
St Petersburg
Departs
Sundays
Group Size
Min 4 / Max 24
Hotel Rating
3 - 4 star
Tour Guide
Yes - escorted by a tour guide
Meals
Breakfast: 6, Lunch: 2, Dinner: 1
Visiting
Moscow, St Petersburg
Countries
Tour Add-ons
Enhance your trip with these amazing added extras and add-ons
"
Our tour guide was every good, knowledgeable and flexible which made our to. Our tour guide was every good, knowledgeable and flexible which made our tour enjoyable. "
Gordon Povey
OTG000267
Back in the USSR - 7 days
Europe
Signature
Europe
false
0
Russia
https://www.onthegotours.com/Russia/Back-in-the-USSR-7-days
https://www.onthegotours.com/repository/Peterhof-Palace--Russia-Tours--On-The-Go-Tours-263701432292525_crop_flip_300_300_f2f2f2_center-center.jpg
Group_Tours