Argentina and Chile Tours
At 5,300km-long the border between Argentina and Chile is the third longest in the world and offers plenty of opportunity to combine the tour countries at various points along the border. Whether you're looking to explore seductive cities, gorgeous wine regions, picture-perfect volcanoes and lakes or stunning national parks, Argentina and Chile have natural beauty in buckets and make a superb combined touring destination for outdoor adventurers and nature lovers. Browse our selection of tours below that combine Argentina and Chile from Buenos Aires in the north to Patagonia in the south.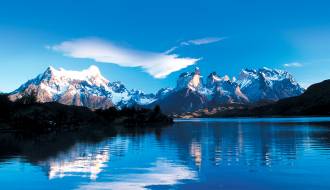 Group Tours
12 day tour visiting Argentina and Chile.
Explore Patagonia in less than two weeks. Witness the extraordinary beauty of Torres del Paine and Los Glaciares National Parks in Chile and Argentina. Visit the mystical rural island of Chiloe and explore the buzzing capital cities Santiago and Buenos Aires.
14 day tour visiting Argentina and Chile.
Explore the striking landscapes of Patagonia on this two-week tour. Travel from Santiago, through the ice capped mountains of Chile's Torres del Paine National Park, cruise the Beagle Channel, visit remote Tierra del Fuego and explore Argentina's signature park, Los Glaciers, before ending in the cosmopolitan city of Buenos Aires.
20 day tour visiting Argentina and Chile. Also visiting Peru and Bolivia.
From Buenos Aires to Lima set out on a journey through Argentina, Bolivia, Chile and Peru. Take in the natural wonders of the high Andes, the shimmering Uyuni salt flats and Atacama, the world's driest desert, meet the Uros islanders on Lake Titicaca and marvel at Machu Picchu in just 20 days.
Overland Adventures
23 day tour visiting Argentina and Chile.
Explore the magnificent Los Glaciares National Park, trek the famous W-Walk through Torres del Paine National Park and visit the 'end of the world' at Ushuaia on this 23-day adventure, with plenty of options for biking, kayaking, horse riding and more adventurous activities along the way.
Private Tours
13 day tour visiting Argentina and Chile.
Explore Argentina and Chile's famous capital cities and immerse yourself in some of the countries most post card worthy landscapes. See the world renowned Perito Moreno Glacier from the Argentino Lake and explore the wilds of the Torres del Paine National Park in just 13 days.