Thailand Vietnam Cambodia and Laos Tours
Making up two third's Indochina, the continental region of Southeast Asia lodged between India and China, the countries of Thailand, Laos, Vietnam and Cambodia combine to form one of the region's most popular overland adventures. Whether you choose to fly between cities or tackle the extensive waterways by boat, travelling around these four countries will be a trip of a lifetime. From the royal palaces of Bangkok to the Buddhist temples of Luang Prabang, the magical karst island-studded waters of Halong Bay to the breathtaking ancient temples of Angkor. With a shared history and common culture, combine all four to truly immerse yourself in what Indochina has to offer.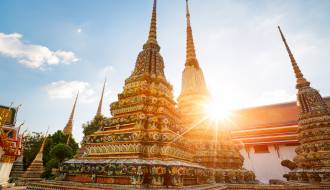 Group Tours
23 day tour visiting Thailand, Vietnam, Cambodia and Laos.
Journey through Indochina, taking in the best of Laos, Vietnam and Cambodia on this 23 day tour which ends in Bangkok. Discover enchanting Luang Prabang and the beautiful scenery of Vang Vieng, cruise Halong Bay and the Mekong, explore the incredible Angkor Complex and more.