CAMPING SAFARI: Go wild on this game viewing overland adventure through the best of East Africa's reserves. From Kenya's Rift Valley lakes and the Masai Mara to the vast plains of the Serengeti in Tanzania and then relax on the idyllic island of Zanzibar.
Trip Highlights
Nairobi - begin your African safari adventure in the lively Kenyan capital city and head out to explore as you please
Ngorongoro Crater - Spot the Big Five (lion, leopard, elephant, rhino, buffalo) and camp on the rim of the spectacular crater
Zanzibar - relax on the sandy beaches, explore Stone Town, opt to visit a spice plantation or enjoy a relaxing sunset dhow cruise
Musoma - spend a night in the charming fishing town and camp on the shore of one of the African Great Lakes - Victoria
Serengeti National Park - explore one of Africa's most wildlife-rich game reserves and camp out in the wilderness, surrounded by the sounds of the animals
Masai Mara - see the traditional Masai people and game drive through one of Africa's most famous reserves in search of the iconic Big Five
Lake Nakuru National Park - spot rare black and white rhinos on a game drive through the small reserve, which is a sanctuary for the species
Dar es Salaam - camp on the beach and finish your holiday in the coastal Tanzanian city
Included
14 breakfasts, 11 lunches and 11 dinners
3 night Zanzibar Excursion including ferry transfer, accommodation, Spice Tour and Dhow Sunset Cruise
Park entry and game drives - Nakuru NP, Masai Mara, Ngorongoro NP and Serengeti NP
Services of 3 person crew (leader, driver, cook)
All road taxes and tolls
1st night dormitory accommodation at Kenya Comfort Hotel, 11 nights camping. Tents and sleeping mats provided
Arrival transfer from Nairobi Airport
A fully equipped overland truck for transportation and game drives
All camping fees and appropriate equipment
Not Included
International flights and visas
Tipping - an entirely personal gesture
Local Payment: $1700pp paid in USD
Sleeping bag - please bring your own
Optional activities
Nairobi - Masai Mara. After breakfast we continue on to the Masai Mara National Reserve. We enter Masai land where these habitual pastoralists are often seen tending their cattle from the side of the road. We pass through the town of Narok, and continue our drive possibly getting a glimpse of some wildlife along the way. The main section of road between Nairobi and the Reserve is in a very poor state, so be prepared for a rough ride! We arrive at our campsite, Acacia Camp in the evening. Acacia Camp looks on to the Meguarra hills and the stream that meanders by on the bottom end forms a natural border to the Masai Mara National Reserve. The Reserve remains unfenced, allowing wildlife to roam freely across into the surrounding area and if they choose – through our own camp! No need to be afraid, as the local 'Askari' will keep a look out for any unwanted predators.
Overnight: Masai Mara | Lunch, Dinner
Masai Mara. We depart shortly after sunrise on our game drive into the Masai Mara Reserve. The Masai Mara is well known as one of East Africa's best National Reserves and is home to a wide variety of wildlife species. Most famous for the Annual Migration, that consists of the impressive herds of over 1 million wildebeest, zebra and Thomson's gazelle that cross over from the Serengeti National Park in Tanzania; the Masai Mara is most popular between July and October when these vast herds feast on the fresh grazing here. Following these herbivores are Africa's predators that are often seen at a kill during this period. We game drive through a section of the park in search of the 'Big 5'- elephant, rhino, buffalo, lion & leopard; along with the many other species of animals, reptiles and birds who make call this wilderness home.

After our game drive, we have the option to visit one of the nearby Masai Manyatta's – this is a traditional hamlet where the Masai still live in their traditional way. This evening we sit around the camp fire, and watch the sun set over this "Garden of Eden".
Overnight: Masai Mara | Breakfast, Lunch, Dinner
Masai Mara - Lake Nakuru. After breakfast we make our way to Nakuru - Kenya's 4th largest town and capital of the Rift Valley Province and lies adjacent to the small but wildlife rich Lake Nakuru National Park.
Overnight: Lake Nakuru | Breakfast, Lunch, Dinner
Lake Nakuru NP. This morning we begin our exploration of the Lake Nakuru National Park. The park was established as a sanctuary for black and white rhino, which are often seen. We spend the day searching for these pre-historic looking beasts as well as the elusive leopard, encountering buffalo, giraffe, various antelope and the occasional hippo along the way. After our game drive, we head back to camp arriving in the late afternoon.
Overnight: Lake Nakuru | Breakfast, Lunch, Dinner
Kisii & the Gusii Highlands
Lake Nakuru - Kisii/Kericho Area. After breakfast we leave the Masai Mara and head to Kisii/Kericho passing through the picturesque tea plantations along the way. These towns are the main commercial centers in the Gusii Highlands, where cash crops like tea and coffee thrive because of its equatorial climate. We replenish our stocks before heading for Tanzania tomorrow.
Overnight: Kisii/Kericho Area | Breakfast, Lunch, Dinner
Musoma
Kisii/Kericho - Musoma. We depart Kenya and head south into Tanzania. After border formalities, our drive takes us through the scenic granite landscapes adjacent to Africa's largest lake – Lake Victoria. We spend the night at a campsite on the banks of Lake Victoria in the fishing town of Musoma.
Overnight: Musoma | Breakfast, Lunch, Dinner
Musoma - Serengeti. Today we head to the Serengeti National Park, entering the park after lunch. The Serengeti (Masai for "endless plains") is famous for its enormous concentration of game (especially the big cats) and for the annual migration of millions of wildebeest, zebra and Thomson's gazelles. The abundance of plains game in this area is truly astounding. We enter the park through the lesser travelled western corridor and game drive en-route to our campsite in the center of the park. Tonight we bush camp (no ablutions) in the wild surrounded by the sounds of the African bushveld, pierced only by the calls of the nocturnal wildlife.
Overnight: Serengeti National Park | Breakfast, Lunch, Dinner
Serengeti - Ngorongoro Crater. After an early start we pack up our camp and continue our game drive through the Serengeti National Park in search of the resident wildlife and head to the southern part of the park where we have the chance to see the endless plains this park is renowned for. With some luck, we may see some of Africa's 'Big 5'! We cross from the Serengeti to the Ngorongoro Conservation area at lunch time and begin our climb up the steep Crater edge. Tonight's camp (basic ablutions) on the crater rim sharply contrasts the warmer plains below - we suggest you bring your winter woollies as it can get very cold at night.
Overnight: Ngorongoro Crater | Breakfast, Lunch, Dinner
Arusha
Ngorongoro Crater - Arusha. The Ngorongoro Crater with its 600 m high walls and 20 km width is a natural marvel. The Crater's rim offers spectacular views, but the true scale of this caldera is only appreciated from the floor itself where the abundance of its animal inhabitants becomes apparent. It is home to nearly every species of African animal and offers a chance to view an incredible concentration of East African mammals, such as elephant, rhino, buffalo, hippo, lion and plain's game. After spending the morning game driving in The Crater we continue to our campsite outside Arusha where we spend the evening musing over our thrilling wildlife experience.
Overnight: Arusha | Breakfast, Lunch, Dinner
Pangani
Arusha - Pangani. This morning we continue our journey towards Dar es Salaam. On the way we drive through the town of Moshi situated at the magnificent Mount Kilimanjaro – Africa's highest mountain. Moshi is the base for Mount Kilimanjaro climbing expeditions, and weather permitting; we may even catch a glimpse of this magical mountain's snowy summit - a photo opportunity not to be missed! We pass through vast sisal plantations surrounded by The Usambara and Pare Mountain ranges, before reaching our lovely campsite nestled between these mountains, midway between Arusha and Dar es Salaam.
Overnight: Pangani | Breakfast, Lunch, Dinner
Pangani - Dar es Salaam. Today we continue on to Dar es Salaam. Travelling through lush scenery and palm trees, we near the warm Indian Ocean. Upon arrival in Dar es Salaam we make our way to our lovely seaside campsite and prepare for our departure to Zanzibar the next morning.
Overnight: Dar es Salaam | Breakfast, Lunch, Dinner
Dar es Salaam - Zanzibar. A ferry from Dar Es Salaam takes us to 'Spice Island', where we have the option to spend the next three nights.* Zanzibar is steeped in history and offers a wealth of experiences. Wander the streets of Stone Town, take an excursion around a spice plantation or simply laze on one of the pristine white sandy beaches, the choice is yours!
Overnight: Zanzibar | Breakfast x 3
Zanzibar - Dar es Salaam. Leaving Zanzibar in the afternoon, we return to the mainland. Arrival back to camp is usually in the late afternoon, or early evening, when our adventure comes to an end.
Breakfast
Prices & Dates
Departure dates are guaranteed with a minimum of 4 persons. Prices are per person when there are 2 people sharing a tent. Solo travellers will be matched up and share a tent with another solo traveller of the same gender.
Read More
Local payment - $1700pp paid in USD 
Please note that this is payable locally on day 1 of your trip in the currency specified.
2023
Twin Share
Single Room
The hotels listed below are ones which we frequently use on this tour. We reserve the right to substitute these hotels to ones of a similar standard.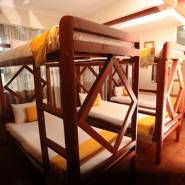 Kenya Comfort Hotel, Nairobi
Comfortable dormitory accommodation in central Nairobi (upgrades available on request). The Kenya Comfort Hotel also features an outdoor pool, restaurant serving a good array of local and international dishes as well as a fully stocked bar - perfect for relaxing before or after your epic overland adventure.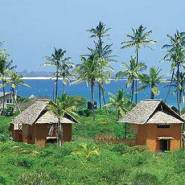 Kipepeo Beach Village , Dar es Salaam
The Tanzanian bush meets the blue waters of the Indian Ocean at Kipepeo Beach & Village, situated on the south coast of Dar Es Salaam. The campsite is right on the beach itself and is a popular destination for watersports adventures or simple relaxation. Facilities include a beach bar and restaurant.Upgrades are available to the twenty elevated ensuite chalets, built in the bush and decorated in traditional Swahili style, provide a stunning ocean views.
Reviews
Travellers have rated this tour as 4.75 out of 5 based on 4 recent reviews
"
Amazing adventure through Africa, saw plenty of wildlife. Tour leader, driver and cook all worked well. Food a plenty and very good. Leah (tour leader) very knowledgable and approachable. "
Frank Molinaro
• Submitted 20 Sep 2017
Tour





Guide





Country





"
Linda was fantastic, very knowledgeable, caring and helpful. "
Phillipa King
• Submitted 13 Jul 2015
Tour





Guide





Country





"
Godfrey was fantastic! He was very knowledgeable and entertaining. He was a great guide and we enjoyed his stories. "
Peter Kelly
• Submitted 28 Jan 2015
Tour





Guide





Country





"
The tour was very good. I thought it had a good pace and variety to it. I do wish we'd arrived at the Arusha campsite a little earlier or had more time the next day to see the things there.
My only other comment was that most of the campsites were without toilet paper and often no hot water - which I realise is often am issue in Africa - but given the cost of this particular tour they seem like something a guest could expect.
Godfrey was good, friendly and knowledgable. "
Samantha Cookes
• Submitted 18 Oct 2014
Tour





Guide





Country





At a Glance
Range
Trip Type
Starts
Nairobi
Ends
Dar es Salaam
Departs
Mondays
Group Size
Min 4 / Max 30
Hotel Rating
Camping
Local Payment
$1700pp paid in USD
Tour Guide
Yes - escorted by a tour leader
Meals
Breakfast: 14, Lunch: 11, Dinner: 11
Countries
Minimum Age
15 yrs, accompanied by an adult
Arr. Transfer
Yes
Dep. Transfer
No
Updated
10th May 2022
"
Amazing adventure through Africa, saw plenty of wildlife. Tour leader, driver and cook all worked well. Food a plenty and very good. Leah (tour leader) very knowledgable and approachable. "
Frank Molinaro
OTG000969
East Africa Encompassed - 16 days
Africa
Overlanding
Africa
false
0
Tanzania
https://www.onthegotours.com/Tanzania/East-Africa-Encompassed-16-days
https://www.onthegotours.com/repository/Rhino--Gorilla-and-Game-Trek-787861647427573_crop_flip_300_300_f2f2f2_center-center.jpg
Overland_Camping_Safaris