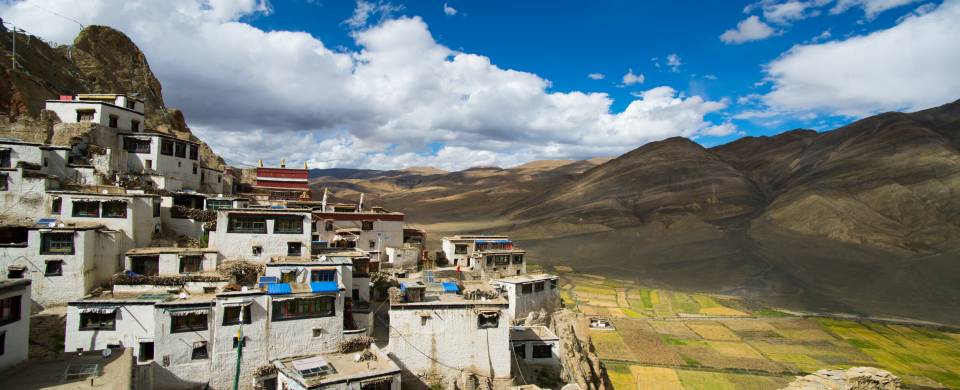 Trips and Tours to Tingri
About Tingri
Tingri is a town in southern Tibet often used as a base by mountain climbers for treks around Mount Everest and Cho Oyu. It lies at an altitude of 4,300m, 50km from the Nepali border along the Friendship Highway. It's a convenient stopover for people travelling between the two countries. The town lies beneath the old Shekar Dorje Dzong. This fortress used to enclose Shekar Chode, a Gelug monastery that is still being restored. The shallow, fast-flowing rivers of melted snow water in the surrounding Tingri Plain make its grassy meadowland ideal for grazing Tibetan animals.
Read More
Originally, Tingri was a key trading post for Nepali and Tibetan merchants. Nepali sherpas would bring rice, grain and iron to exchange with the Tibetans for wool, salt and even livestock. Nowadays, the town is very rarely visited other than by those on their way to the Everest Base Camp. However, those who dare to venture to this seemingly inhospitable town will be rewarded with astounding views of four of the six highest mountains in the world.
While Tingri is far from a buzzing metropolis, it is a good place to rest and acclimatize. Set along one single dirt road, guarded by an army of stray dogs (locals usually carry rocks with them just in case), it offers the basics for travelers - a few accommodation options, some restaurants and even a bar. It is often recommended to stop in Nyalam before heading to Tingri, as the altitude of Tingri can cause uncomfortable sickness symptoms.