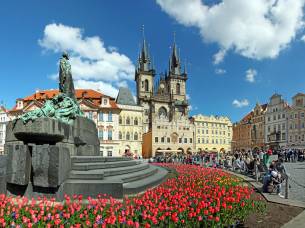 Best places to visit in Prague: Our pick #1
Old Town Square
Prague's Old Town Square (Staroměstské náměstí) is one of the largest and most impressive urban spaces in Europe with magnificent churches towering above the throngs of people on street level. Serving as the city's principal public square and marketplace for a number of centuries, the Old Town Square is alive with history displaying a variety of architectural styles from Romanesque to Baroque and Gothic. The most notable sights on the square are the medieval Town Hall Tower & Astronomical Clock that dates back to the 12th century, Tyn Church with its distinctive twin spires, and the white facade of St. Nicholas Church.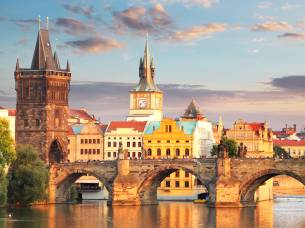 Best places to visit in Prague: Our pick #2
Charles Bridge
Crossing the expanse of the Vltava River and connecting the two sides of the city, the Charles Bridge became known as such in the 19th century - before then it was known simply as the 'Stone Bridge' and dates back to 1357 when it was commissioned by Charles IV. Baroque statues gaze down from their parapets and the bridge affords fairy-tale views of Prague and the river. During the day Charles Bridge throngs with people from busking musicians to street artists, and it's a popular spot to simply stroll and take in the views. Visit in the early morning to enjoy the bridge in peace and quiet and for better photo opportunities.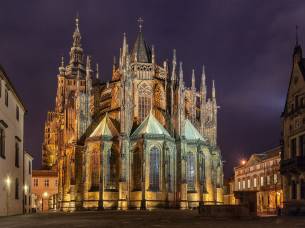 Best places to visit in Prague: Our pick #3
St. Vitus Cathedral
The Roman Catholic St. Vitus Cathedral is the Czech Republic's largest and most important church. It's an excellent example of Gothic architecture though parts of the cathedral were only completed as late as 1953. Foundations were laid in the 14th century and over the years Renaissance and baroque details have been added by different architects. The cathedral contains many treasures, chief among them the vibrant stained-glass windows created by leading Czech artists. There's also a mosaic of the Last Judgement that dates back to the 14th century and the silver-cast tomb of St John of Nepomuck.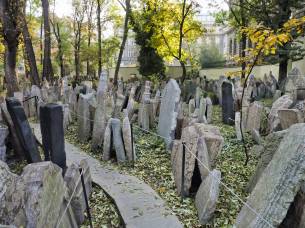 Best places to visit in Prague: Our pick #4
Jewish Museum
Established in 1906, the Jewish Museum in Prague is one of the oldest Jewish museums in Europe, home to a fascinating collection of items saved from demolished synagogues and houses in Prague's Jewish Quarter at the turn of the 20th century. A number of monuments stand within the museum's grounds, including five synagogues, a ceremonial hall and the Old Jewish Cemetery where many important local Jewish residents have been laid to rest. The 13th century Old-New Synagogue is Europe's oldest working synagogue and well-worth the additional entrance fee with 17th-century scriptures decorating the walls.
See Also
For further information to help plan your visit to the Czech Republic, check out our handy Travel Guide resources:
Best Time to Visit
- climate and seasons in the Czech Republic
Tourist Visas
- know before you go with visa procurement and regulations
Top Travel Tips
- useful information on money, food and shopping