CHRISTMAS AND NEW YEAR TOUR: Uncover the wonders of Egypt and Jordan on this 16 day adventure. Pyramids, temples, vibrant markets, Nile felucca cruising, remarkable tombs at the Valley of the Kings, Nile felucca cruising and Red Sea relaxation. Topped off with Jordan's stunning Rose City of Petra - voted one of the New 7 Wonders of the World, the red desert of Wadi Rum and the buoyant Dead Sea.
Trip Highlights
Petra - Discover this spectacular UNESCO-listed Nabataean city, one of the New Seven Wonders of the World
Cairo - Marvel at the legendary Pyramids of Giza, explore the Necropolis of Saqqara and see King Tut's treasures at the Grand Egyptian Museum
Luxor West Bank - Discover exquisite tombs at the Valley of the Kings, see the towering Colossi of Memnon and explore the beautiful Temple of Queen Hatshepsut
Luxor - Roam around the colossal Temple of Karnak and take an optional tour of the beautifully illuminated Luxor Temple at night
Nile felucca sailing - Sail the River Nile on board a traditional felucca and spend two nights sleeping under a blanket of stars (or upgrade to a 5 star Nile Cruise)
Shobak - Visit Shobak Crusader Castle, perched dramatically on a hill top
Hurghada - Relax at the Red Sea, swim and opt to snorkel or scuba dive in the clear coastal waters
Wadi Rum - Explore this vast red desert with its rolling dunes and dramatic rock formations in a 4x4 and camp under a blanket of stars
The Dead Sea - Spend a night at the Dead Sea, float in the famously buoyant, mineral-rich waters and smother yourself in Dead Sea mud
Aswan - Take a leisurely boat trip to Agilika Island to explore romantic Philae Temple and wander around the colourful souqs
Kom Ombo - Visit the Nile side Temple of Kom Ombo
Included
Breakfast daily, 2 lunches and 3 dinners
1 overnight train from Cairo to Aswan (Private 2 berth sleeper cabin)
Touring - Cairo, Giza, Saqqara, Aswan, Kom Ombo, Luxor, Hurghada, Petra, Wadi Rum and Shobak
Wadi Rum 4x4 desert safari
Escorted by an Egyptian tour guide degree qualified in Egyptology and a licensed Jordanian guide throughout Jordan
8 nights 4-5 star hotels in Egypt, 3 nights 4 star hotels in Jordan, 1 night deluxe desert camp in Wadi Rum, 2 nights felucca (open deck). If booking our Nile Cruise Upgrade, 7 nights 4-5 star hotels in Egypt and 3 nights Nile Cruiser (en suite cabin)
Airport arrival and departure transfers on day 1, day 10 and day 16. Transfers on day 16 are offered at 23:00 (day 15), 04:00, 07:00, 09:00, 12:00 and 16:00
Coastal Hurghada, Red Sea stay - Swim, sun and sand
2 days of leisure at the Dead Sea
All relevant transfers and transportation in private modern air conditioned vehicles
Not Included
International flight between Hurghada and Amman is not included and needs to be booked separately by the traveller - refer to the Trip Notes on day 11 for details
Tip for your tour guide in Egypt and Jordan. We recommend you allow USD$5-7 per day, per traveller. Tipping your guide is an entirely personal gesture
Tipping Kitty: USD$90-110pp, paid in local currency

International flights and visas (see Trip Notes for further information about visas)
Entrance Fees: USD$210-230pp, paid in local currency
Departure dates marked with a 'G' are guaranteed to operate. All other departures are guaranteed with a minimum of 4 persons. 'Twin Share' prices are per person when there are 2 people sharing a room. 'Single Room' prices are applicable to those who don't have anyone to share a room with or anyone wanting the privacy of a single room.
Read More
2022
Twin Share
Single Room
16 Dec - 31 Dec
10% off

23 Dec - 07 Jan
10% off


30 Dec - 14 Jan
10% off

2023
Twin Share
Single Room
Extra Prices
Twin Share
Single Room
Pre Tour Accommodation - Cairo
USD $145
USD $195
Post Tour Accommodation - Dead Sea
USD $95
USD $165
Abu Simbel by Road (Adult)
USD $175
N/A
Alexandria Day Trip (Adult)
USD $175
N/A
Backstreets of Cairo
USD $165
N/A
Alexandria & El Alamein - 4 days (Adult)
USD $815
USD $1,065
Alexandria & El Alamein - 4 days (Child)
USD $815
USD $1,065
The hotels listed below are ones which we frequently use on this tour. We reserve the right to substitute these hotels to ones of a similar standard.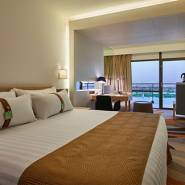 Holiday Inn Cairo Maadi, Cairo
Overlooking the Nile and offering distant views of the Great Pyramids of Giza, this Holiday Inn provides the perfect location for your stay in Cairo. Each guestroom features a balcony (not Nile View as standard) and is well-equipped with modern amenities including free WiFi. Evenings can be spent enjoying international or Egyptian cuisine and unwinding with a cocktail at one of the hotel's bars. Thanks to the friendly hotel staff, you'll soon feel at home. And with panoramic views of the city from the rooftop lounge and pool, there's no better place to base yourself for exploring Egypt's ancient wonders.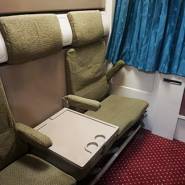 Sleeper Train, Cairo
When travelling on an overnight train in Egypt, sleeper carriages offer the highest level of comfort. Cabins are equipped with two beds (one above the other), a basin, electric points and air conditioning. Freshly laundered bedding is provided and in the early evening an attendant will come round and make up your bed for you. The carriages have toilets at each end and there is a club car which serves snacks and beverages. In the morning a very basic breakfast is provided.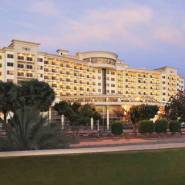 Tolip Hotel, Aswan
Set in manicured gardens, the Helnan Aswan is an elegant hotel with impressive views of the Nile. Guest rooms are spacious with modern interiors and located next to the beautiful pool. Wi-fi is available in the lobby and by the pool. There are also two restaurants and bars, a bowling alley, a swimming pool and a cinema. Why not relax by the pool before exploring the rest of Aswan.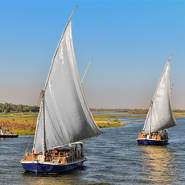 Felucca Sailboat, Felucca Cruise
Feluccas are simple, traditional Egyptian sailboats that have plied the Nile since ancient times. Feluccas carry between 10 - 12 passengers comfortably. The boat's deck is draped with soft colourful cushions that serve as your lounging area during the day and as your sleeping area at night. A support boat travels alongside your felucca and is on hand if you need to use the toilet. The support boat is also where your meals are prepared and eaten. You'll need to bring a sleeping bag/sheet (or hire for a nominal cost) and a towel with you. The crew, as well as being experienced sailors, are responsible for the preparation of the included meals.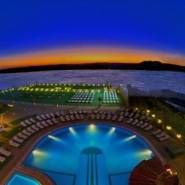 Sonesta St. George Hotel, Luxor
An elegant and luxurious classical hotel, the Sonesta's sophistication will ensure you a comfortable stay. The hotel has a sweeping terrace with fantastic views of the Nile, a grand entrance of polished marble and handsomely appointed furnishings with exquisite detail and a beautiful health spa. All its rooms offer views of the city or the river, complemented by a wide range of restaurants and cafes. Just minutes away you will find the temples at Luxor and Karnak, home to two of ancient Egypt's most famed sanctuaries.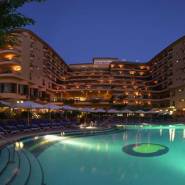 Steigenberger Nile Palace, Luxor
The Steigenburger Nile Palace is a grand hotel and stylishly furnished, with many rooms overlooking the Nile River. The hotel has a health club with massage rooms, sauna, steam room and fitness room, and a tennis court on the roof, not to mention a riverside pool. Its four restaurants offer a choice between Nubian, Lebanese, Italian, and Thai cuisine.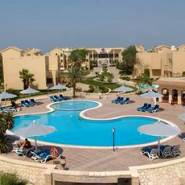 Swiss Inn Resort Hurghada, Hurghada
Set in tropical gardens, the Swiss Inn Resort makes for a comfortable and relaxing stay. The property is equipped with large swimming pools and a private beach. All rooms have a balcony or terrace with views of the garden, pools or sea. Guests can work out in the onsite fitness centre, get active at the watersports centre, enjoy a game of tennis or simply relax with a drink in one of the many bars or lounges.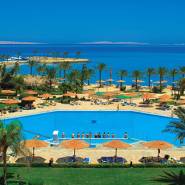 Continental Hotel, Hurghada
Tucked into Hurghada Bay, right on its scenic promenade, the Continental is a delightful beachfront resort boasting fantastic terraced rooms (many with seaviews) and excellent facilities. Watersports are in abundance here with swimming pools, scuba diving and snorkelling all readily available. A leisure club offers a sauna and spa treatments to relax after the day's activities. You can also wine and dine at one of the many great restaurants and bars.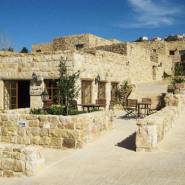 Old Village Resort, Petra
Located above Wadi Mousa, Old Village Resort has a wonderfully traditional feel about it with open stonework and original architecture. Rooms are full of character, some with delightful archways and all directly accessed from the outside. The hotel boasts an indoor swimming pool and sauna and beautiful views of the surrounding mountains. For dinner why not dine al fresco at the restaurant overlooking the mountains. Well located in forested wadis facing Petra's mountains.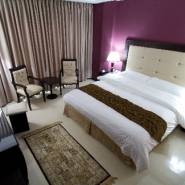 Petra Moon Hotel, Petra
Just 300 ft from the entrance gate to Petra, the Petra Moon hotel features spacious rooms with private balconies and flat-screen TVs. It also has a roof garden with a seasonal outdoor pool. The soundproofed rooms and suites at Petra Moon come with satellite channels, a DVD player and extra-long beds. Each has air conditioning and a private bathroom. The hotel's restaurant serves a delicious selection of international meals in both buffet-style and a la carte.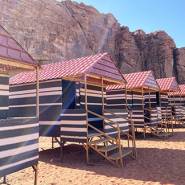 Rainbow Camp, Wadi Rum
A row of permanent tents in the desert make up the popular Rainbow Camp. Inside the tents are comfortable camp beds and warm bedding. Showers and toilets are close by and are cleaned thoroughly every day. Guests can relax in the communal area which is adorned with colourful rugs and cushions. The food at Rainbow Camp always gets rave reviews. Taking an evening stroll around the beautiful surroundings is a great way to work up an appetite before dinner. This accommodation is well located in the heart of Wadi Rum.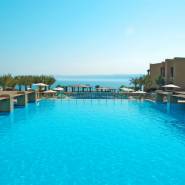 Holiday Inn Resort, Dead Sea
Graced with interconnecting palm fringed swimming pools leading to the Dead Sea, the Holiday Inn is an Arabesque style hotel. Guest rooms are elegantly furnished and benefit from complimentary high speed internet. The hotel also has an on site fitness centre and a fine choice of Spa facilities. The 24 hour sleek bar is the perfect place for a tipple at any time of the day or night. The accommodation is located on the shores of the world famous Dead Sea.
"
Our tour was by far one of the greatest experiences we've ever had. Lots of our friends and family had reservations about us going to Egypt and Jordan, but we never felt unsafe once. We had our ultimate holiday and ticked two wonders of the world off our bucket list in one trip. MoMo, our guide was beyond fabulous. He ran our trip like a well oiled machine, always one step ahead of us coordinating everything. He went above and beyond what we expected. He made sure we had an amazing time, but also befriended us in the process. His knowledge about the different sites we visited was incomparable and he engaged us in different ways to make sure he wasn't just giving us lectures of information. If you want the adventure of a lifetime, then do this tour. We did and honestly we'd do it again twice over. The pure grandeur of the pyramids and the sheer magnitude of Petra will stay with me always. We also made friends on group tour for life. We'll be definitely doing another On the Go Tour. On the Go is the most professional company I've ever done a tour with. All our transfers, buses and hotel check ins were effortless. Again, I can't recommend them more. "
Amy-Ruth Lewis
• Submitted 12 Jan 2020
Tour





Guide





Country





"
My husband and I went on the festive road to Jordan tour & we couldn't have picked a better tour to go on. Medo was an amazing tour guide & you can honestly tell how passionate he is about his job & Egypt. He made sure we had time & got to see & learn about everything! Our favourite temple was definitely Abu Simbel. All the places we visited and hotels were great and we will never forget our time in Egypt or with Medo who made the experience so much more special. Anyone that has doubts about visiting Egypt should definitely go on this tour! "
Melissa Robson
• Submitted 24 Apr 2019
Tour





Guide





Country





"
We had an absolutely life-changing experience on our tour to Egypt and Jordan.
Apart from a slight lack of communication as we arrived at our hotel in Cairo regarding pre-tour meeting etc - the tour ran like clockwork. Our guide Waleed in Egypt was extremely well versed in all things Egyptology. His care, enthusiasm and passion were evident.
Unfortunately when we got to Jordan for the second part of our tour - our original tour group was split up. We ourselves had to rectify the situation indicating we wanted to stay with our original group, as we had already developed some great connections. Our guides in Jordan eventually sorted this out for us, although it wasn't as easy as it should have been. Petra was incredible, and our night in the desert Wadi Rum fabulous - but freezing! take a sleeping bag!
It was altogether jaw-dropping, awe-inspiring, perception-altering and altogether incredible. Friends are constantly asking "What was the highlight" my response "Egypt and Jordan!" I'm so sad it's over! "
Iasbella Loneragan
• Submitted 17 Jan 2019
Tour





Guide





Country





"
Tour was great, Alam is the best :)"
Renee Williams
• Submitted 13 Jan 2018
Tour





Guide





Country





"
To whom it may concern, I am writing because I was very impressed with Alam and his tour guiding skills. He had excellent knowledge and was very personable. He had great patience with all members of the group while still maintaining a sense of humour....which was even more greatly appreciated. He could always make jokes and was willing answer any question. Everyone on my tour was impressed by the calibre of his knowledge on Egypt in terms of history and culture and relay information with sensitivity and grace. Alam was always willing to help and go above and beyond.... "
Nicole Sarweh
• Submitted 02 Jan 2018
Tour





Guide





Country





"
MoMo really took time to get to know everyone in the group. He always added in his own suggestions or tips on food for us to get a true and authentic experience. His knowledge and care was outstanding. An amazing trip and made even better by outstanding experience and consideration from MoMo. Thank you!"
Katharine Muir
• Submitted 14 Feb 2017
Tour





Guide





Country





"
Mido Alam is an incredible group leader. He is knowledgeable about Egypt's ancient history and current culture, seamlessly takes care of the logistics and red tape for his clients, responds to individual requests, and makes it comfortable for his clients to contact him 24/7. He bonded with the 12 of us, and then when another group of 11 more were added, he worked tirelessly, with their needs as well. He orchestrated various side trips for small groups within the larger ones, making it clear what all the options entailed. He met with everyone at their final moment with the group, regardless of how late or early their individual departures. It was remarkable how much he made each individual feel special, while listening and responding to the needs of the group as a whole. He has the energy, flexibility, and breadth of skills of a super hero. I was dubious about taking a group tour; I only did so because I had been warned about Egypt's safety. But Alam's quiet, competent care made me feel safe, the ease of travel he provided was an indulgence, and the mini lectures and discussions on the bus were more fun and informative than had I been on my own. Thank you Alam, for an amazing experience of Egypt!"
Michael Reed
• Submitted 10 Jan 2017
"
Hi On The Go,
I would just like to provide you with further feedback about a recent tour that I travelled on.
I would like to start off by mentioning that I am a travel agent in Australia and I have travelled on 15+ extended tours and countless day tours all around the World. During this time I have never met a guide that has the passion for their job or their Country as Haytham does. I work for a company where everyone is passionate about their jobs and travelling, and no one comes close to the passion that Haytham showed me and the rest of our group.
I also noticed that Haytham went above and beyond in making sure that everyone was comfortable, and had no issues with anything. Often calling us after check in to make sure everything was okay with the room. He also made sure that we had lunch at reasonable times and that we ate food that was at clean restaurants (ensuring that we did not get sick). There was a couple of occasions where our itinerary stated that we needed to arrange our own lunches, but were organised and paid for by Haytham.
Haytham was a wealth of knowledge and was able to answer any question that was thrown at him, he also had very interesting ways of getting this information across to us by 'role plays' which made it very fun and interesting.
I believe that Haytham is a huge asset to On The Go tours and you are very lucky to have such a knowledgeable and passionate employee.
Thank you. "
Nicole Yates
• Submitted 15 Jan 2013
"
"On the Go Tours" were great!....Our guide was very experienced and we felt that our experience was authentic and unique. The tour was a lot of fun and we saw many wonderful sights and it was a very fulfilling experience. The tour was able to offer flexibility and was very accommodating to our needs. "
Mr Trevor Schwab
• Submitted 24 Oct 2011
"
Fabulously well organised including one off specfics just for our party depsite being part of a group tour. Great balance of the organised activities and free time which is a trademark of On the Go - this was our second trip with On The go (Road to Jordan 2008) twhich was just as good as the first (Road to Revolution (Russia)) in 2006."
Mr Terry Blake
• Submitted 01 Dec 2010
The Nile Cruise Upgrade version of this tour includes 3 nights on board a 5 star Nile Cruiser (en suite cabin) in place of the felucca. For full details, please refer to the 'Nile Cruise Upgrade Trip Notes' in the right hand column for details.
Read More
2022
Twin Share
Single Room
16 Dec - 31 Dec
10% off

23 Dec - 07 Jan
10% off


30 Dec - 14 Jan
10% off

2023
Twin Share
Single Room
Extra Prices
Twin Share
Single Room
Pre Tour Accommodation - Cairo
USD $145
USD $195
Post Tour Accommodation - Dead Sea
USD $95
USD $165
Alexandria Day Trip (Adult)
USD $175
N/A
Backstreets of Cairo
USD $165
N/A
Abu Simbel by Road (Adult)
USD $175
N/A
Alexandria & El Alamein - 4 days (Adult)
USD $815
USD $1,065
Alexandria & El Alamein - 4 days (Child)
USD $815
USD $1,065
In Brief
Range
Trip Type
Starts
Cairo
Ends
Amman
Departs
16, 23 & 30 Dec 2022
Group Size
Min 4 / Max 24
Hotel Rating
4 - 5 star
Tour Guide
Yes, escorted by a tour guide
Meals
Breakfast: 15, Lunch: 2, Dinner: 3
Visiting
Petra, Hurghada, Luxor, Felucca Cruise, Cairo, Dead Sea, Wadi Rum, Aswan, Abu Simbel, Pyramids of Giza, Amman
Countries
Tour Add-ons
Enhance your trip with these amazing added extras and add-ons
"
My husband and I went on the festive road to Jordan tour & we couldn't have picked a better tour to go on. Medo was an amazing tour guide & you can honestly tell how passionate he is about his job & Egypt. He made sure we had time & got to see & learn about everything! Our favourite temple was definitely Abu Simbel. All the places we visited and hotels were great and we will never forget our time in Egypt or with Medo who made the experience so much more special. Anyone that has doubts about visiting Egypt should definitely go on this tour! "
Melissa Robson
OTG000133
Festive Road to Jordan - 16 days
Middle East & North Africa
Signature
Middle East & North Africa
false
10
Egypt
https://www.onthegotours.com/ae/Egypt/Festive-Road-to-Jordan-16-days
https://www.onthegotours.com/repository/TotallyJordanItineraryMainGroupTourJordan-47461241517653_crop_flip_300_300_f2f2f2_center-center.jpg
Group_Tours