SUN FESTIVAL TOUR: See the mighty pyramids, witness the spectacular Sun Festival at Abu Simbel, then set sail down the Nile onboard a traditional felucca. Followed by, sightseeing in Luxor and relaxation on the beach in Hurghada. Bliss!
Trip Highlights
Pyramids of Giza – Discover this legendary Ancient Wonder of the World and see the iconic Sphinx
Felucca sailing – Cruise along the mighty Nile and relax onboard a traditional Egyptian felucca as we travel to Kom Ombo
Aswan – Visit beautiful Philae Temple which sits on an island in the middle of the Nile
Karnak Temple – Marvel at the towering columns of Hypostyle Hall and see the famous Avenue of Sphinxes
Abu Simbel Sun Festival – Watch in awe as the rising sun illuminates the inner sanctum of this iconic temple
Cairo – Admire the treasures of Tutankhamun at the vast Grand Egyptian Museum
Hurghada – Swim in the tranquil Red Sea, relax on the beach or explore the shops as we spend three days at this coastal resort
Luxor – Explore the tombs of pharaohs at the Valley of the Kings, see the Temple of Hatshepsut and marvel at the Colossi of Memnon
Included
Breakfast daily, 2 lunches and 2 dinners
1 overnight train from Cairo to Aswan (Private 2 berth sleeper cabin)
Guided visit to Abu Simbel at sunrise for the Sun Festival of King Ramses II including Abu Simbel and Sun Festival entrance fee
Touring - Cairo, Giza, Saqqara, Aswan, Abu Simbel, Kom Ombo, Luxor and Hurghada
Escorted by an Egyptian tour guide degree qualified in Egyptology
8 nights 4-5 star hotels, 2 nights aboard felucca (open deck). If booking our Nile Cruise Upgrade, 7 nights 4-5 star hotels and 3 nights Nile Cruiser (en suite cabin)
Overnight bus journey (3.5hrs) departing at around midnight to Abu Simbel and use of hotel room prior to the festival
Airport arrival and departure transfer on day 1 and day 13
3 days in Hurghada by the Red Sea - Swim, snorkel and relax
All relevant transfer and transportation in private modern air-conditioned vehicles
Not Included
International flights and visa
Entrance Fees: USD$100-120pp, paid in local currency
Tip for your tour guide. We recommend you allow USD$5-7 per day, per traveller. Tipping your guide is an entirely personal gesture
Tipping Kitty: USD$60-80pp, paid in local currency

Choose to travel by felucca or Nile river cruiser
On this tour you have the option of a 2 night stay onboard a traditional felucca sail boat or 3 nights onboard a 5 star Nile Cruiser. The details of both are noted in our itinerary.
Tuesday 18 Oct 2022. Welcome to Egypt! On arrival at the airport you'll be transferred to our hotel to spend the rest of today at leisure. Those arriving early may wish to join our 10am Backstreets of Cairo tour. Explore Tahrir Square, stroll down El Moez Street and visit the famous cave church of St Simon. We hold our Welcome Meeting tonight at 7pm.
Overnight: Cairo
Cairo
Today we discover Egypt's most iconic attraction, the legendary Pyramids of Giza and the Sphinx. The largest of these ancient tombs, Cheops, was the tallest man-made structure on Earth for more than 3,800 years. Choose to explore inside one of the pyramids if you're feeling brave, before we continue to the Saqqara necropolis. The famous Pyramid of Zhoser is even older than the Giza Pyramids - it dates back to around 2700BC.
Overnight: Cairo | Breakfast
Cairo - Aswan. Today we embark on a guided tour of the new Grand Egyptian Museum, an incredible 490,000 sq.m complex which houses a giant exhibition containing the treasures of King Tutankhamun. There is a mind-boggling array of relics and antiquities from almost every period of ancient Egyptian history housed in this museum, making it one of the foremost in the world. Then we head over to the National Museum of Egyptian Civilization where the mummies of ancient Egyptian pharaohs are now on display in the Royal Mummies' Hall. This incredible hall contains 20 mummies in total and some are so well preserved, they still have locks of hair and finger nails.

Please Note: the Grand Egyptian Museum is scheduled to open in late 2022, though an official opening date has yet to be released. If travelling prior to the opening of the new facility we'll visit the Egyptian Museum instead.
Overnight: Sleeper Train
Aswan - Abu Simbel. Today we'll visit the beautiful Philae Temple in Aswan, dedicated to the goddess Isis. Enjoy a leisurely boat trip on the Nile and sail to Agilkia Island, before we explore the site. The temple was relocated here in the 1960s to protect it from the rising water levels that threatened to destroy it. Upon returning to Aswan we visit a perfume oil emporium.

There's time this afternoon to shop in the colourful local markets and enjoy a relaxing evening, before departing for Abu Simbel by coach at around midnight (with an approximate journey time of 4 hours).
Overnight: Aswan/Coach journey to Abu Simbel | Breakfast
22 October. Abu Simbel - Aswan - Nile Felucca Cruise. Possibly the most awe-inspiring temple of all ancient Egypt, with its gargantuan rock-cut façade, the great Sun Temple of King Ramses II at Abu Simbel was created to revere the mighty pharaonic ruler King Ramses II and the gods Amun-Re, Re-Herakhte and Ptah. Guarding the entrance to the temple are four colossal statues of the pharaoh himself, which sit majestically staring out across the desert.

Ramses II had the entire temple carefully angled so the sun's rays would align twice a year on his date of his ascension to the throne (21 February) and on his birthday (21 October) and illuminate the inner sanctum of the temple. This incredible natural phenomenon provides for a most spectacular sight, which has come to be referred to as the Sun Festival of King Ramses II. Famously, the temple was re-located in a multi-million dollar operation in 1972, further up from the shoreline of Lake Nasser, which had threatened to erode the foundations of this monolithic temple complex. For this reason, the sun now strikes a day later than Ramses had originally planned, though the event this morning is no less stunning.

Gathering in the temple before sunrise we watch the shafts of light slowly creeping through the rock hewn inner Hypostyle Hall (replete with further statues of the king) and through to the Sanctuary. As we are lead through the temple there will be time to pause for a moment to watch the sun illuminating the statues of Amun-Re, Re-Herakhte and Ramses the god, whilst the statute of Ptah - the god of darkness - remains in the shadows. After the event, there will also be plenty of time to explore the Sun Temple of King Ramses II and also the Temple of Hathor and take plenty of pictures.

Returning to Aswan around noon, we board our traditional Nile felucca for our 2 night voyage downstream on the River Nile.

If sailing by felucca is not your style, consider upgrading to a 5 star luxury Nile Cruiser version of this tour, which includes staying on a 5 star luxury Nile Cruiser in place of the felucca, please see the "Nile Cruise Upgrade Prices & Dates" tab above and the Nile Cruise Trip Notes on the right for details.
Overnight: Felucca Cruise | Breakfast, Lunch, Dinner
The Abu Simbel Sun Festival
Nile Felucca Sailing - Kom Ombo. Sunbathe on deck, go for a swim and relax as we sail along the mighty Nile. This afternoon we dock at Kom Ombo and explore the symmetrical double temple here, which is dedicated to both the crocodile god Sobek and the falcon god Horus.
Overnight: Felucca Cruise | Breakfast, Lunch, Dinner
Felucca Sailing & Kom Ombo
Luxor
Kom Ombo - Luxor. We disembark our felucca today and travel to ancient Luxor. After hotel check in, free time is offered to relax at the hotel or opt to independently explore. This evening there's an optional excursion to Luxor Temple, after dark the temple is beautifully illuminated by hundreds of lights.
Overnight: Luxor | Breakfast
Luxor
Today we discover the famous Valley of the Kings, where legendary pharaohs including Ramses II and Tutankhamun were laid to rest. Explore inside some of the tombs before we continue to the Temple of Hatshepsut and the Colossi of Memnon. These two giant statues of King Amenhotep III are all that remains of what was once the biggest temple complex in the world. Later, we see the Avenue of Sphinxes at the giant Karnak Temple and marvel at the towering columns of Hypostyle Hall. Karnak took more than 1,500 years to complete and more than 30 different pharaohs contributed to its construction.
Overnight: Luxor | Breakfast
Bid farewell to Luxor today as we drive to the popular coastal city of Hurghada for three free days to relax and explore at leisure.
Overnight: Hurghada | Breakfast
The next few days are free to independently explore Hurghada or simply relax. There is the option of going snorkelling on day 10 but the rest of the time it's up to you!

Hurghada is one of the Red Sea's most popular resorts and it is easy to see why. Hotels and expanded infrastructure provide holidaymakers with excellent aquatic facilities for sail boarding, yachting, deep-sea fishing, SCUBA diving and snorkelling. Hurghada's central location provides a gateway to prime offshore reefs, some of which are of the finest in the world. For retail therapy, the town has lots of shops selling knock-off bags and tees, snorkelling gear and suchlike. Hurghada also offers plenty of good nightlife options to choose from. Just outside Hurghada is an ancient Roman quarry called Mons Porphyritis and Port Safarga – a famously windy place and windsurfer's paradise.
Overnight: Hurghada | Breakfast x 2
Hurghada - Cairo. This morning we drive back to Cairo, upon arrival we check into our hotel. The reminder of today is at your leisure, or you can opt to join our optional visit to the exotic Khan el Khalili Bazaar. It's a top spot to browse and bargain for authentic Egyptian souvenirs, from ornate free-standing tobacco pipes and pharaonic tat, to belly dancing costumes and spices and carpets.
Overnight: Cairo | Breakfast
Sunday 30 Oct 2022. Our tour ends today after breakfast with an included transfer to the airport for your onward flight.
Breakfast
Short on time?
Take a look at our Abu Simbel Sun Festival Oct 2021 tour which takes in the impressive Abu Simbel Sun Festival, the legendary Pyramids of Giza, felucca cruising, Aswan and Luxor - home to the Valley of the Kings and mighty Karnak Temple - all in 11 action packed days!
Departure dates marked with a 'G' are guaranteed to operate. All other departures are guaranteed with a minimum of 4 persons. 'Twin Share' prices are per person when there are 2 people sharing a room. 'Single Room' prices are applicable to those who don't have anyone to share a room with or anyone wanting the privacy of a single room.
Read More
2022
Twin Share
Single Room
Extra Prices
Twin Share
Single Room
Pre Tour Accommodation - Cairo
USD $145
USD $195
Post Tour Accommodation - Cairo
USD $115
USD $195
Alexandria Day Trip (Adult)
USD $175
N/A
Backstreets of Cairo
USD $165
N/A
Alexandria & El Alamein - 4 days (Adult)
USD $815
USD $1,065
Alexandria & El Alamein - 4 days (Child)
USD $815
USD $1,065
The hotels listed below are ones which we frequently use on this tour. We reserve the right to substitute these hotels to ones of a similar standard.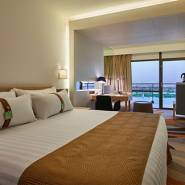 Holiday Inn Cairo Maadi, Cairo
Overlooking the Nile and offering distant views of the Great Pyramids of Giza, this Holiday Inn provides the perfect location for your stay in Cairo. Each guestroom features a balcony (not Nile View as standard) and is well-equipped with modern amenities including free WiFi. Evenings can be spent enjoying international or Egyptian cuisine and unwinding with a cocktail at one of the hotel's bars. Thanks to the friendly hotel staff, you'll soon feel at home. And with panoramic views of the city from the rooftop lounge and pool, there's no better place to base yourself for exploring Egypt's ancient wonders.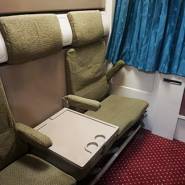 Sleeper Train, Cairo
When travelling on an overnight train in Egypt, sleeper carriages offer the highest level of comfort. Cabins are equipped with two beds (one above the other), a basin, electric points and air conditioning. Freshly laundered bedding is provided and in the early evening an attendant will come round and make up your bed for you. The carriages have toilets at each end and there is a club car which serves snacks and beverages. In the morning a very basic breakfast is provided.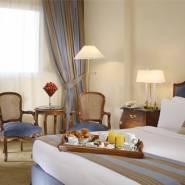 Sonesta Hotel Cairo, Cairo
The Sonesta Hotel & Casino is a sophisticated and luxurious hotel offering spacious, en-suit rooms with opulent furnishings. Enjoy a cocktail at the poolside bar or indulge in a relaxing massage or Turkish steam bath at the full-service spa. With 5 restaurants located within the hotel you'll be spoilt for choice over dining options.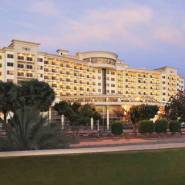 Tolip Hotel, Aswan
Set in manicured gardens, the Helnan Aswan is an elegant hotel with impressive views of the Nile. Guest rooms are spacious with modern interiors and located next to the beautiful pool. Wi-fi is available in the lobby and by the pool. There are also two restaurants and bars, a bowling alley, a swimming pool and a cinema. Why not relax by the pool before exploring the rest of Aswan.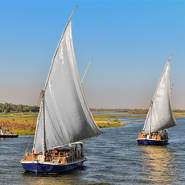 Felucca Sailboat, Felucca Cruise
Feluccas are simple, traditional Egyptian sailboats that have plied the Nile since ancient times. Feluccas carry between 10 - 12 passengers comfortably. The boat's deck is draped with soft colourful cushions that serve as your lounging area during the day and as your sleeping area at night. A support boat travels alongside your felucca and is on hand if you need to use the toilet. The support boat is also where your meals are prepared and eaten. You'll need to bring a sleeping bag/sheet (or hire for a nominal cost) and a towel with you. The crew, as well as being experienced sailors, are responsible for the preparation of the included meals.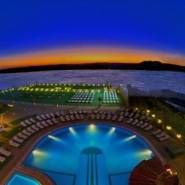 Sonesta St. George Hotel, Luxor
An elegant and luxurious classical hotel, the Sonesta's sophistication will ensure you a comfortable stay. The hotel has a sweeping terrace with fantastic views of the Nile, a grand entrance of polished marble and handsomely appointed furnishings with exquisite detail and a beautiful health spa. All its rooms offer views of the city or the river, complemented by a wide range of restaurants and cafes. Just minutes away you will find the temples at Luxor and Karnak, home to two of ancient Egypt's most famed sanctuaries.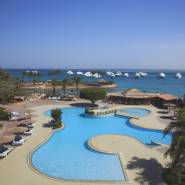 Marriott Beach Resort, Hurghada
The Marriott Beach Resort is a luxurious beachfront hotel, with every room enjoying a view of the Red Sea and Hurghada city centre just a few minutes drive away. There is a choice of 8 restaurants and bars for hungry travellers, and a health club, tennis & squash courts, and fitness centre to stay in shape. During the day, soak in the heated outdoor pool or book a watersport activity. The hotel even has its own private island if you fancy a massage among the palm trees.
"
Firstly can i just congratulate you and your company for organising my recent trip to Egypt. From the first email i sent to you , to getting off the plane back in Perth , the entire trip was fantastic. The tour guides and Reps were fantastic. The entire trip was well organised and we all felt very welcomed and well informed throughout the whole trip. When i was leaving Cairo i was the last of my group to leave. The thought of getting through security and customs at the airport was a daunting prospect but your team escorted me all through the process and a possible 2 hour process was reduced to about half an hour. Great stuff."
Wayne Taylor
• Submitted 15 Nov 2018
Tour





Guide





Country





"
01 March 2018
I just wanted to tell you what an excellent time I had on your Sun Festival tour (17 Feb - 26 Feb 2018)!! Our tour guide, Alam Mido, could not have been more caring, patient, informative and professional and went beyond most days to make sure our trip was a total success.
The hi-light was definitely the Felucca!! What an amazing two days of peaceful floating and the crew were amazing!!
Thank you and I definitely will be travelling and suggesting On The Go.
Happy travels!!
Jean "
Jean Irving
• Submitted 01 Mar 2018
Tour





Guide





Country





"
Typically, after coming home from vacation, friends and family always ask the same questions: "Did you have a good time?", "How was your trip?!" However, after arriving home from exploring Egypt, everyone had one question to ask me about my trip: "Was it safe?"Egypt has been on my list of countries to visit for quite some time. However, the safety of the country has been a concern as a female traveller. After convincing my brother to attend and finding some great flight deals we didn't hesitate to book our trip.We had months to plan everything out, but we were deciding between a tour and exploring on our own. In the end, we found the perfect tour to match our schedule and added on an extra day trip to explore Alexandra as well. Without the tour, we would not have come close to seeing as much of the country as we were able to!My fear with guided tours is to only be shown the 'touristy' side of the country and to miss the authentic cultural experiences. Thanks to our amazing guide, Alam Eldein, we felt well taken care of on all aspects. Alam is an Egyptologist and did an outstanding job making the history of Egypt come to life for our group. He also ensured that we were safe from tourist scams and had a very personal and down to earth approach when connecting with us all. No matter what the question, Alam answered it honestly and it is easy to see his passion for his country. Overall, our experience in Egypt was wonderful. We enjoyed it so much that we are considering another tour with On The Go in Israel this year! "
Angie Gubbels
• Submitted 10 Jan 2018
Tour





Guide





Country





"
It's been a month now since our vacation in Egypt and we are still sharing daily with friends and strangers about our positive adventures in Egypt! I'm writing / sending in some feed back because both my husband and I feel Alam Eldein should be recognised for being such a great host and guide to us! One our first day with him he gave us a little speech introduction to the tour. During this speech he said we are all one big family and two days later all 17 of us really did feel like one big family !!! Hugh compliments to Alam for keeping all of us organised feed safe and happy!! "
Shari Height
• Submitted 27 Nov 2017
Tour





Guide





Country





"
King Ramses Sun Festival - 12 days tour is very packed. You are always 'on the go' for sure. Our guide Alam was wonderful, thorough, knowledgeable, and fun! We felt safe the entire time. The arrival hotel in Cairo had a dreadful bathroom; the shower head did not work properly and the bath was dirty. Two days drifting down the felucca was TOO LONG and a bit wasteful of the time spent; one day of that would have been enough slow time. However, the food on the felucca was simple and very nice, and the crew was lovely. All the monuments, tombs, temples were amazing! Definitely do add-on the hot air balloon ride; it is worth the money. The time in Hurghada was splendid and relaxing. The hotel in Hurghada was the nicest of all the places we stayed in Egypt. The snorkelling in Hurghada was underwhelming and insipid; there was INSUFFICIENT snorkel equipment for the number of people who were on the snorkel trip. The snorkel trip had around 20 people, but there was 6 pairs of flippers and 8 working snorkels. ALL of the life vests had tears in them. There was NO guide in the water swimming along with you to show you the fishes. The two snorkel sites we stopped at had little to see. This snorkel add-on should be called a 'swim in the Red Sea' add-on, as opposed to snorkelling. Regardless, we did enjoy our swim in the Red sea. The Egyptian museum on the last day should have been done earlier in the trip when you/we were still in Cairo. The long 6 hour drive back to Cairo was unnecessary. We could have fly home straight from Hurghada. Overall, for the cost of the tour and the efforts of our guide Alam, it was definitely a lovely trip!"
angeline dang
• Submitted 07 Nov 2017
Tour





Guide





Country





"
Alam went above and beyond to make sure everyone had everything they needed. Made the entire group feel safe at all times. Made sure we were all where we had to be to have the best times to see the temples and the best organization for moving us all over the country. Could not have asked for a better guide. right down to the best meds for upset stomach, and getting us a refund for pour equipment while snorkeling."
Deanna Jean
• Submitted 01 Nov 2017
Tour





Guide





Country





"
The trip was excellent and very informative. Lots to see and do. It was many a WOW Factor for me. Egypt I felt safe at all times. Our Tour Guide was amazing. A delight to have with us. King Ramses Sun Festival tour I would.recommend to all. It was busy at times but very good. Toured wit a great group of people who now are good friend. On the go tours highly recommend. Will use them Again. Thank you Alam."
Humphrey Power
• Submitted 01 Nov 2017
Tour





Guide





Country





"
Thank you for an amazing tour of Egypt!
Incredible sights, sailing on the Nile, and snorkeling in the Red Sea. Wow! And the people!! I can't recall ever visiting a country where I felt so welcomed!
Special thanks to our guide, Alam Mido, he was very knowledgeable, entertaining and made every effort to ensure we had a wonderful time. "
Dorinda Dunaway
• Submitted 22 Nov 2016
Tour





Guide





Country





"
To On The Go Tours,
Just recently I finished the King Ramses Sun Festival tour in Egypt and I had such a wonderful time that I feel compelled to write to you to thank you.
From start to finish I had a wonderful time; I truly enjoyed every second! Ok, ok, I didn't enjoy the early wake up for Abu SImbel or the hot air balloon ride, but gee they were worth it!! Haha.
I was really happy with this tour because it covered everything that one expects to see when you visit Egypt and many more. I learnt a lot about the country and its history both ancient and modern.
I can't write this message without a special mention for our guide Alam Mido. He really helped to make this tour memorable. There was not a question he couldn't answer. There wasn't a request that he wouldn't bend-over-backwards to make happen. He was extremely accommodating, fun, knowledgable, patient and kind. I truly believe that he loves his job and that he has a great passion for Egypt.
Lastly, I felt very safe and welcome in Egypt. There was not a single occasion where I felt in danger; in fact I felt so welcome, even by random locals on the street who would say, 'Welcome to Egypt.' I believe that this trip will only have been my first to Egypt.
So, thank you On The Go, your website will be the first that I go to when I research for my next trip. "
Linda Keirs
• Submitted 08 Nov 2016
"
Egypt was absolutely fantastic! The tour was perfect as it covered everything that I knew I wanted to see and others that I didn't know I wanted to see because I hadn't heard of them before. Our guide Alam was also wonderful as his explanations were thorough and he was very accommodating which helped to make it an all-round great experience.
The only thing that I was disappointed about was that the single room was not shared between the women who had not paid the single supplement. As there were an odd amount of us, one woman had a single room the whole trip, which I felt was unfair.
Overall, it was a wonderful tour and I would use On The Go for trips in the future."
Linda Keirs
• Submitted 04 Nov 2016
Tour





Guide





Country





The Nile Cruise Upgrade version of this tour includes 3 nights on board a 5 star Nile Cruiser (en suite cabin) in place of the felucca. For full details, please refer to the 'Nile Cruise Upgrade Trip Notes' in the right hand column for details.
Read More
2022
Twin Share
Single Room
Extra Prices
Twin Share
Single Room
Pre Tour Accommodation - Cairo
USD $145
USD $195
Post Tour Accommodation - Cairo
USD $115
USD $195
Alexandria Day Trip (Adult)
USD $175
N/A
Backstreets of Cairo
USD $165
N/A
Alexandria & El Alamein - 4 days (Adult)
USD $815
USD $1,065
Alexandria & El Alamein - 4 days (Child)
USD $815
USD $1,065
In Brief
Range
Trip Type
Starts
Cairo
Ends
Cairo
Departs
18 Oct 2022
Group Size
Min 4 / Max 24
Hotel Rating
4 - 5 star
Tour Guide
Yes, escorted by a tour guide
Meals
Breakfast: 11, Lunch: 2, Dinner: 2
Visiting
Cairo, Aswan, Felucca Cruise, Luxor, Hurghada, Pyramids of Giza, Abu Simbel
Countries
Tour Add-ons
Enhance your trip with these amazing added extras and add-ons
Updated
7th April 2022
"
Firstly can i just congratulate you and your company for organising my recent trip to Egypt. From the first email i sent to you , to getting off the plane back in Perth , the entire trip was fantastic. The tour guides and Reps were fantastic. The entire trip was well organised and we all felt very welcomed and well informed throughout the whole trip. When i was leaving Cairo i was the last of my group to leave. The thought of getting through security and customs at the airport was a daunting prospect but your team escorted me all through the process and a possible 2 hour process was reduced to about half an hour. Great stuff."
Wayne Taylor
OTG000676
King Ramses Sun Festival Oct 2022 - 13 days
Middle East & North Africa
Signature
Middle East & North Africa
false
0
Egypt
https://www.onthegotours.com/ae/Egypt/King-Ramses-Sun-Festival-Oct-2022-13-days
https://www.onthegotours.com/repository/Abu-Simble-at-Night-225311385652281_crop_flip_300_300_f2f2f2_center-center.jpg
Sun_Festival_Tours