CAMPING SAFARI: The perfect combo of action and idyllic island relaxation! Travelling from Nairobi to Dar es Salaam, go in search of the Big Five on safari in the Serengeti and Ngorongoro Crater, before heading over to the gorgeous island of Zanzibar on this 11 day overland adventure.
Trip Highlights
Serengeti National Park - discover Africa's most famous game reserve on morning and evening game drives
Zanzibar - wander the streets of Stone Town, relax on the sandy beaches or opt for a sunset dhow cruise
Meserani - opt for a visit to the Masai Cultural museum or see snakes and other reptiles at the Snake Park
Ngorongoro Crater - traverse the UNESCO-listed Ngorongoro Crater, one of the best places in Africa to spot wildlife
Rift Valley Escarpment - travel up the Rift Valley to the higher village of Karatu
Dar es Salaam - spend the night at our beachside campsite
Included
9 breakfasts, 6 lunches and 6 dinners
1st night dormitory accommodation at Kenya Comfort Hotel, 6 nights camping. Tents and sleeping mats provided
Services of 3 person crew (leader, driver, cook)
3 night Zanzibar Excursion including ferry transfer, accommodation, Spice Tour and Dhow Sunset Cruise
Park entry and game drives in Serengeti NP and Ngorongoro NP
Arrival transfer from Nairobi Airport
A fully equipped overland truck for transportation and game drives
All camping fees and appropriate equipment
All road taxes and tolls
Not Included
International flights and visas
Tipping - an entirely personal gesture
Sleeping bag - please bring your own
Local Payment: $1300pp paid in USD.
Nairobi - Arusha (Tanzania). Journeying south via Namanga, we cross the border and head into neighbouring Tanzania. Home to some of Africa's finest game reserves, we camp at the attractive safari frontier town of Arusha. The town is perfectly placed for our visit to two of Tanzania's best game reserves - the Serengeti National Park and Ngorongoro Conservation Area.
Overnight: Arusha | Lunch, Dinner
Arusha - Ngorongoro Crater & Serengeti. This morning visit the Meserani Reptile Museum and Masai Cultural Museum, see the iconic Tinga Tinga paintings in a local gallery by the campsite. Or perhaps enjoy free time for lunch at our campsite against the backdrop of Mount Meru before we meet our Tanzanian guides and travel via the Masai town of Mtu Wa Mbu (Mosquito River) that lies adjacent to the Lake Manyara National Park and then up the Rift Valley Escarpment to the higher lying village of Karatu, our base for the night.

The following morning, we depart early for the Ngorongoro Conservation area and head into the wildlife rich Ngorongoro Crater. This World Heritage Site boasts some of the best game viewing in Africa – including the elusive Black Rhino. Following our game drive in the Crater rim, we head down past the "Cradle of Mankind" on our way to the Serengeti National Park, crossing vast plains as we drive through the southern and central areas of the park. Tonight we camp in the bushveld surrounded by the sounds of the African wilderness. In the morning, we head off for another game drive and explore the landscape in search of the resident game. With some luck, we may see some of Africa's 'Big 5'. We return to Arusha on day 5.
Overnight: Karatu (1) Serengeti (1) Arusha (1) | Breakfast x 3, Lunch x 3, Dinner x 3
Arusha - Pangani. Today we head south. On the way we may catch a glimpse of Mt Kilimanjaro's snowy summit, weather permitting. We pass through vast sisal plantations surrounded by the Usambara and Pare Mountain ranges, before reaching our lovely campsite nestled between these mountains, midway between Arusha and Dar es Salaam.
Overnight: Pangani | Breakfast, Lunch, Dinner
Pangani - Dar es Salaam. Spend the day travelling through lush scenery and palm trees as we near the warm Indian Ocean to our campsite in the city of Dar es Salaam. Today's drive time is extended due to the heavier amount of traffic heading into the city, but the sights and sounds of Dar's vibrant outer suburbs are sure to keep you entertained. Look out for the colourful shop-fronts with their sometimes humorous 'catch phrases'.
Overnight: Dar es Salaam | Breakfast, Lunch, Dinner
Dar es Salaam - Zanzibar. A ferry from Dar Es Salaam takes us to 'Spice Island', where we spend the next three nights. Zanzibar is steeped in history and offers a wealth of experiences. Wander the streets of Stone Town, take an excursion around a spice plantation or simply laze on one of the pristine white sandy beaches, the choice is yours!
Overnight: Zanzibar | Breakfast x 3
Zanzibar - Dar es Salaam. Leaving Zanzibar in the afternoon, we return to Dar es Salaam on the mainland. Arrival back to camp is usually in the late afternoon, or early evening. In Dar we exchange addresses and part ways, having just experienced a trip of a lifetime!
Breakfast
Prices & Dates
Departure dates are guaranteed with a minimum of 4 persons. Prices are per person when there are 2 people sharing a tent. Solo travellers will be matched up and share a tent with another solo traveller of the same gender.
Read More
Local payment - $1300pp paid in USD. 
Please note that this is payable locally on day 1 of your trip in the currency specified.
2023
Twin Share
Single Room
The hotels listed below are ones which we frequently use on this tour. We reserve the right to substitute these hotels to ones of a similar standard.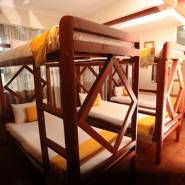 Kenya Comfort Hotel, Nairobi
Comfortable dormitory accommodation in central Nairobi (upgrades available on request). The Kenya Comfort Hotel also features an outdoor pool, restaurant serving a good array of local and international dishes as well as a fully stocked bar - perfect for relaxing before or after your epic overland adventure.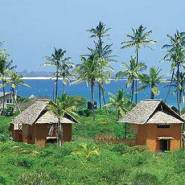 Kipepeo Beach Village , Dar es Salaam
The Tanzanian bush meets the blue waters of the Indian Ocean at Kipepeo Beach & Village, situated on the south coast of Dar Es Salaam. The campsite is right on the beach itself and is a popular destination for watersports adventures or simple relaxation. Facilities include a beach bar and restaurant.Upgrades are available to the twenty elevated ensuite chalets, built in the bush and decorated in traditional Swahili style, provide a stunning ocean views.
Reviews
Travellers have rated this tour as 4 out of 5 based on 4 recent reviews
"
All 3 staff [driver, cook and guide] were great, friendly, and the food was wonderful. Tents and mattresses were of a good standard. The staff who ran the Serengeti excursion were also very professional.Some of the campsites were a little basic; with poorly maintained facilities - for example broken toilet seats and non-flushing toilets were unpleasant. But they all had a bar area for child drinks, which was good.We didn't appreciate beforehand the number of very early starts that would be required; perhaps this should be made more clear on trip notes."
Natalia McAllansmith
• Submitted 13 Oct 2017
Tour





Guide





Country





"
Our tour guide Peter was great! Very friendly and knowledgeable when asked questions along the way. It was just a shame that he couldn't come with the group to the Serengeti. "
Emma Farkas
• Submitted 09 Aug 2016
Tour





Guide





Country





"
Extremely knowledgeable, humble and helpful. He always went out of his way to help us during this tour."
Rajashree Majumdar
• Submitted 25 Jul 2016
Tour





Guide





Country





"
Overall, I really enjoyed this tour. The itinerary was really well planned and I thought we spent enough time in all places. I really liked having two days specifically devoted to game driving and I also really enjoyed going out to Zanzibar for the end of our tour to have a 'holiday' after our adventure.
Whilst I really liked the itinerary and the way it was set out, I think either the itinerary description in the On The Go Brochure or the trip notes could have been more descriptive so passengers had a better idea of what to expect out of their tour and how to be better prepared.
An example of this is money. I was really uncomfortable with carrying large amounts of US dollars during the trip. Because of feeling so uncomfortable and wanting to be safe than sorry, I only brought enough cash to cover the pre-accommodation in Nairobi, the local payment and other incidentals to get my by until I was able to get the local currency. No where in the trip notes or the itinerary description in the book mentioned that all excursion payments had to be in US dollars as well as most accommodation options in Africa or that the ability to access ATMs throughout the trip would be incredibly limited. I found it really hard to access money and be able to pay for things at a reasonable currency rate.
The accommodation options were overall really good. The only place that I really did not like and could not understand why we needed to stay two nights there would be Snake Park in Arusha. It is so far out of town and the facilities are less than ideal. I understood from the very beginning that this was camping and to not have very high expectations, however this campsite had absolutely nothing going for it. We spent a full day there whilst waiting for our Serengeti tour to start. Whilst I would not have a problem with this is the campsite was closer to town and we were able to access a grocery store to stock up on water (for the excursion) and snacks and access wifi to connect back home, we were basically stuck in a dirt paddock with nothing to do but wait. The next place we stayed, only 45 minutes down the road and closer to the Crater and Serengeti, The Flamingo Lodge was above average and was probably the best campsite we stayed. We actually camped on grass, had excellent facilities and it also had Wifi. Everything else was excellent.
I really liked having the flexibility of doing our own thing in Zanzibar at the end of the tour and decided where we wanted to stay. We ended up staying with everyone else and staying one night in Stone Town and the other two up north on the beach. Having spoken to the other guys on our tour, they felt the same way in regards to this, but did mention that they would rather have the other excursions (Serengeti & Crater tour, Gorillas etc) included in the overall payment, or have the option to prepay these as they felt really uncomfortable carrying that much money around as well. I understand that a huge selling point is having lower tour costs and giving people the flexibility of choosing whether to do these which is awesome, but perhaps if you gave people the option to prepay these tours if they wanted or if they still wanted to decide to pay whilst on tour.
The service of the driver and cook (Joseph & Steven) was amazing, they made me feel 100% confident in their abilities and also in regards to security of the group and their belongings and hygiene around cooking and cleaning. The truck broke down a couple of times and Steven the driver was an exception mechanic!! We completely broke down once and had to get a taxi to pick us up. He had the parts ordered from Nairobi to be delivered the next day before we had set our tents up for the night. Joseph (the cook) was excellent and always had something different for us to eat and the meals were healthy!
I would absolutely travel with On The Go again and am looking at going back to Africa again and am not going to bother looking at other companies to book through. I would not hesitate at all to recommend On the Go to any of my current and future clients when travelling to Africa and can't wait to use them again around the Globe. The booking process was excellent, nice and easy and dealing with different wholesalers every day, it was refreshing to find this process such an easy experience! A huge thank you to Rachna for answering my endless questions and also to my amazing Rep from On The Go - Lena for giving me the opportunity to travel with this company!! Please pass on my feedback to both of them and they should receive recognition for going above and beyond in terms of service! "
Sophie Fleming
• Submitted 22 Mar 2015
Tour





Guide





Country





At a Glance
Range
Trip Type
Starts
Nairobi
Ends
Dar es Salaam
Departs
Saturdays
Group Size
Min 4 / Max 30
Hotel Rating
Camping
Local Payment
$1300pp paid in USD.
Tour Guide
Yes - escorted by a tour leader
Meals
Breakfast: 9, Lunch: 6, Dinner: 6
Countries
Minimum Age
15 yrs, accompanied by an adult
Arr. Transfer
Yes
Dep. Transfer
No
Updated
1st August 2022
"
All 3 staff [driver, cook and guide] were great, friendly, and the food was wonderful. Tents and mattresses were of a good standard. The staff who ran the Serengeti excursion were also very professional.Some of the campsites were a little basic; with poorly maintained facilities - for example broken toilet seats and non-flushing toilets were unpleasant. But they all had a bar area for child drinks, which was good.We didn't appreciate beforehand the number of very early starts that would be required; perhaps this should be made more clear on trip notes."
Natalia McAllansmith
OTG000560
Zebras & Zanzibar - 11 days
Africa
Overlanding
Africa
false
0
Tanzania
https://www.onthegotours.com/ae/Kenya/Zebras-and-Zanzibar-11-days
https://www.onthegotours.com/repository/ZebrasAndZanzibarItineraryMainClassicSafarisAfrica-49101242292962_crop_flip_300_300_f2f2f2_center-center.jpg
Overland_Camping_Safaris