Explore cave temples. Discover sacred cities. Encounter wildlife. See the best of Sri Lanka with On The Go Tours.
Sri Lanka. Where elephants roam and waterfalls flow. Where beaches abound and tea plantations thrive. Take an unforgettable trip through this fascinating country with a group tour or Tailor-made holiday.

Lying just off the southern tip of India is picturesque Sri Lanka. With over 2,000 years of history, Sri Lanka has a rich cultural heritage and a wealth of sacred sites, ancient cities and lush tea plantations. The country also boasts eight UNESCO World Heritage Sites, including the Sigiriya rock fortress, cave temples of Dambulla, and the sacred cities of Polonnaruwa, Kandy, and Anuradhapura.

Brimming with endless palm-fringed beaches, colourful temples, striking architecture, ancient ruins, exotic jungles, abundant wildlife, and superb food, there is so much to see and do in Sri Lanka. And it's a perfect destination to combine a cultural holiday with a bit of R&R by the beach.

After each day exploring on our Sri Lanka trips, you can unwind in 4-5 star comfort. Because at On The Go Tours, we take care of everything for you.
---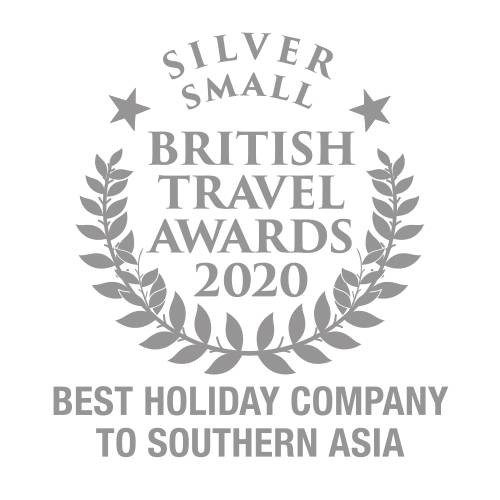 Sri Lanka Family Holidays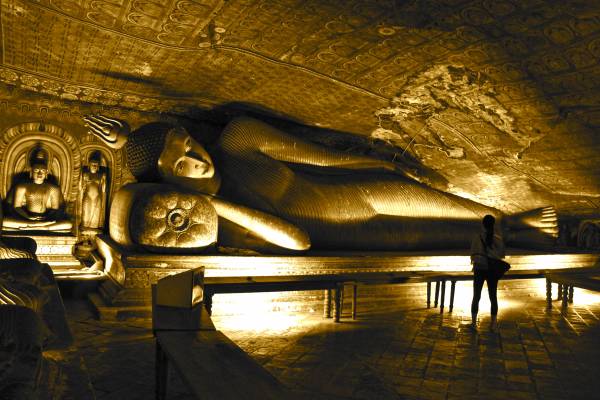 A Tailor-made Sri Lankan trip, designed entirely around you. From your ideal itinerary to your perfect hotel, we'll design a Tailor-made holiday to Sri Lanka that works just for you. Your budget. Your bucket list. And your terms. Because when it comes to your dream trip...why compromise?

Click here to build your trip.
Sri Lanka tour reviews
Scoring an average traveller rating of 4.83 out of 5 based on 6 recent reviews — See All Sri Lanka Reviews
"
Great experience - Brilliant tour of Sri Lanka, taking in national parks, UNESCO treasures, tea plantation and packing/sorting factory, mountain climbing, ocean picnic, boat, superbly organised by guide Manoj - oh and wonderful hotels! "
Linda Wickman
• Submitted 11 Mar 2020
"
Tour guide was fantastic. He went out of his way to make sure everyone was happy and had what they needed. He was very informative and interesting. He was accomdating and made sure everyone was informed and comfortable with the elephant orphanage decision.
Highlights of the tour were the safaris, sigiriya, and polonnaruwa. "
Liz Germain
• Submitted 5 Feb 2020
"
Has been absolutely an amazing trip. Everything has been superb from day one till last day ,selections of the hotel tour itinerary and comfortable AC bus was amazing "
Recep Aydin
• Submitted 1 Feb 2020
Frequently asked questions about our touring holidays in Sri Lanka
How long/hard is the climb to the top of Sigiriya rock fortress?
A total of 1,200 steps lead up to the rock fortress of
Sigiriya
, which sits at a height of 200 metres above the ground.
It's not a particularly strenuous climb and most visitors find it relatively easy to accomplish. Allowing time to catch your breath and admire the views, the climb can be comfortably done in an hour. Those on a mission to the top and in moderate shape can scale the rock in 30 minutes but it's far more enjoyable when climbed at leisure.
Do you include a visit to the Pinnawala Elephant Orphanage on your tours?
We no longer include a visit to the Pinnawala Elephant Orphanage in Sri Lanka. The reason we made this decision is that there were concerns over the welfare of the animals. It's much better to see these majestic creatures in the wild and that's why we include a jeep safari in the
Udawalawe National Park
, home to some 400 elephants, on the majority of our Sri Lanka holidays.
I want to end my tour with time on the beach - what options do you have?
If you would like to combine sightseeing with a bit of rest and relaxation on the coast, our
12 day Buddha and Beach tour
is ideal. As well as covering all the main highlights, the tour also includes four nights in Bentota, one of
Sri Lanka's most popular beach resorts
.
There are many other beaches on the southwest coast so if you have a particular one in mind, our reservations team can organise a beach break to add to the end of any of our Sri Lanka holidays.
If you would prefer to visit the east coast or the
nearby Maldives
for your beach break then it would be better to consider a
tailor-made holiday
- our team will be happy to help!
What are the road conditions and travel times like?
Road conditions are improving each year in Sri Lanka with a number of express highways planned for the popular southwest region. Outside of this the roads are mostly single carriageways so it can be slow going. The longer journeys are those between Colombo and the
Cultural Triangle
, and Udawalawe to Galle, which on average take around 5 hours.
How big are your tour groups and what is the age of your travellers?
Our Signature trips in Sri Lanka have a maximum group size of 24 though the average is around 14 on our more popular itineraries.
If you're choosing a tour that visits more off-the-beaten-path spots, like our
12-day Sri Lanka Northeast Explorer
tour, then the group size is often just 4-6 travellers. Our travellers are anywhere between the late 20s to late 60s in age and you'll find a real mix of ages on most departures.
What is the standard of hotels on your trips?
We use a mix of modern 4-star hotels and heritage properties on our trips. Some boast an outdoor swimming pool, which is great for cooling off after a day of sightseeing. Others are popular for their colonial charm and antique features.
What sort of transport do you use?
On our Signature tours you'll be travelling in comfortable A/C private vehicles, the size of which will depend on the size of the group on that departure.

We also include a scenic ride on the train between Kandy and Nuwara Eliya so you can sample the local transport and relax while the train slowly plies its route through verdant hills and tea plantations.

While in the Cultural Triangle, you'll also travel by jeep and canoe to reach the village of Kayanwala for an insight into Sri Lanka's rural way of life.
When is the best time to visit Sri Lanka for general sightseeing?
Despite Sri Lanka being a relatively small country, the weather varies widely across the island from one month to the next. Generally speaking December to March is the ideal season for travelling around Sri Lanka as it's mostly dry, warm, and sunny across most of the country.
Visit our
best time to visit
page for more detailed information on the weather and when to plan your Sri Lanka trip.
Always going the extra mile
Join us in Sri Lanka
When you book a group tour, you expect quality service - but we go above and beyond. With our award-winning know-how and expert local guides, we'll help you uncover a side to Sri Lanka that's truly authentic.

And when you explore Sri Lanka with us, you can really relax. We'll take care of the details. We'll sort the nitty-gritty travel arrangements. Because we know your time is precious; with On The Go Tours, you can make the most of every second in Sri Lanka.
Highlights of Sri Lanka
Ancient tradition meets modern-day. Lush greenery meets thriving city life. Asian culture meets European influence. In a country packed full of contrasts, we've handpicked our highlights.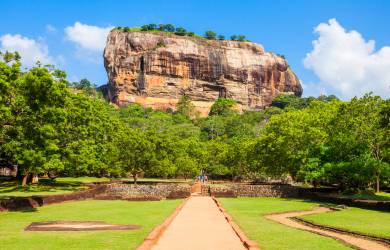 Standing proud at 200 metres high, the Sigiriya Lion Rock fortress is a spectacle well worth a trek through the jungle on our Sri Lanka group tours, especially for the view. Find a tour.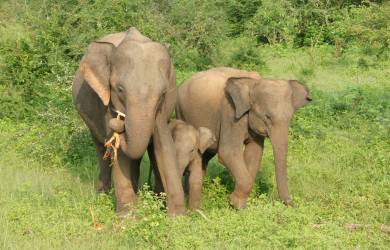 Seek out sloth bears, leopards, elephants, and more on safari in the beautiful national parks of Sri Lanka. From Udawlawe to Yala, there's wildlife around every turn. Find a tour.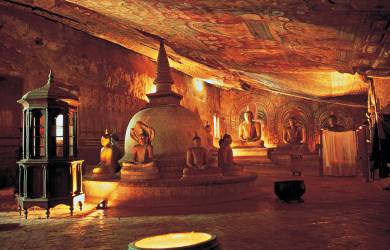 Explore ancient Buddhist temples preserved in the caves of Dambulla Rock Temple. Boasting intricate carvings and statues dating back centuries. Find a tour.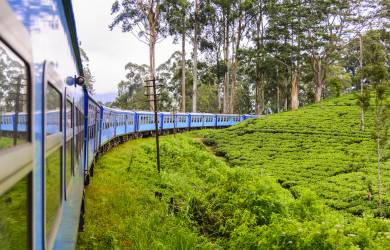 Glide through stunning views of waterfalls, tea plantations, and mountains on a scenic train journey to Nuwara Eliya. A bucket list experience on our Sri Lanka trips. Find a tour.
Exciting Days, Comfortable Nights
Our Signature group tours place local interaction and authenticity at the heart of your travel experience.
For our Signature range, we maximize your days with excitement and then bring you home to specially selected accommodation with extra character, convenience and comfort, whether that's a five-star river boat on the Nile or a traditional Japanese Ryokan. Accommodation in this range features comfortable western standards, air-conditioning, WiFi and, where appropriate, a swimming pool.
On a Signature holiday, you'll be escorted throughout your trip by our qualified English-speaking local guides who'll show you all the must-see attractions and even the lesser-known sights.
To further add to that special touch, the group sizes in our Signature range are mid-sized: small enough to be intimate, but large enough that you can bond with new friends over common interests.
Tailored To Suit You
On our Tailor-made trips, we give you the flexibility and choice to do things just the way you want, all alongside the great service we're famous for.
Whether you're travelling solo, with a partner, family, extended family or as group of friends we'll customise your arrangements to suit your exact needs and budget. Our Tailor-made trips are designed for your needs and you don't have to join other travellers like you would on a group tour. Just tell us what you'd like to see and when you'd like to go, and we'll design the perfect holiday for you.
The Tailor-made itineraries we've suggested are designed to give you an idea of what you could do with us, they can be booked as they are, or adapted to suit you. If you'd like to change any aspect of the trips you see, please get in touch. If you aren't quite sure of what you want to do, that's no problem either! One of our experienced travel consultants can make suggestions then together you can tweak until it's the perfect fit.
Trek and Sightsee
Our Active range brings you thrilling trekking holidays to some of the world's most popular destinations. Whether it's trekking to the Lost City of Petra in Jordan or climbing Mount Kilimanjaro in Tanzania, you'll get to explore more of your chosen destination than just the standard highlights. You'll need a good level of fitness and an intrepid spirit for all of our private and group tour treks.
While trekking, the accommodation you'll be staying in reflects the off-the-beaten track nature of these trips with simple tea houses, wild & fixed camping, homestays, and local guest houses.
