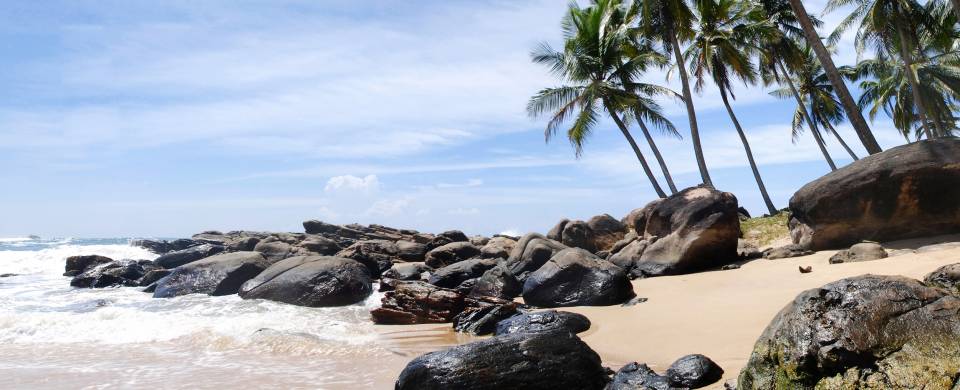 Trips and Tours to Tangalle
About Tangalle
Tangalle is a small town with long sandy beaches located on Sri Lanka's southern coast. The name of the town means 'projected rocks' in Sinhalese, a reference to the rocky coastline that characterises the area around town, a stark contrast to neighbouring beaches. With pristine sandy beaches, peppered with rugged stones, fringed with swaying palms and lapped by turquoise water, Tangalle is a fresh paradise for those seeking to escape the bustle of the cities and to relax in the sunshine as they listen to the sound of the gentle swell.
Read More
Tangalle is known for its tranquillity and deserted beaches and is great for swimming, snorkelling and surfing, making it perfect for a lazy beach holiday. The small town centre straddles a freshwater lagoon where a small river flows into the sea with a fishing harbour at its mouth. Tangalle is an important fishing port with busy markets at its heart. It contains many Dutch remnants including the Old Dutch Fort, which is now a prison. The town's Rest House is the oldest rest house in Sri Lanka, built in 1774.
Tangalle is also the starting point for visits to the rock temples of Mulkirigala. The monastery dates back to the 2nd Century BC and 533 steps lead visitors up to the summit. Along the way you will find the dwellings of the Buddhist priests, cave temples, courtyards and shrines. If nature appeals to you more than history then you're in luck. Tangalle sees hundreds upon hundreds of various species of sea turtle lay their eggs during the months of April through to September.