CAMPING SAFARI: Our longest tour to Africa covers nine incredible countries, from Kenya to South Africa. Spot iconic wildlife in the Serengeti, search for gorillas in Uganda, canoe along the Okavango Delta in Botswana and slide down Namibia's Sossusvlei sand dunes. There's more wildlife spotting to be had in the Ngorongoro Crater, Etosha and Chobe national reserves, you can marvel at Zimbabwe's Victoria Falls, relax by Lake Malawi and unwind on the sandy beaches of Zanzibar, all in 57 epic days.
Trip Highlights
Kenya - spot incredible wildlife in the famous Masai Mara, Lake Nakuru and Lake Naivasha national parks
Tanzania - spot the Big Five in the legendary Serengeti and the UNESCO-listed Ngorongoro Crater, and camp by the sea near Dar es Salaam
Malawi - pass through lush fruit plantations and spend three days exploring the shore of Lake Malawi, stopping often to explore various bays, inlets and local communities
Botswana: camp out in the wilderness of Chobe National Park and explore the verdant Okavango Delta aboard traditional mokoro canoes
Namibia -see the colossal Fish River Canyon, spot wildlife in Etosha National Park, relax on the beaches of Swakopmund and climb the mighty sand dunes of the Namib Desert
Uganda - visit Kampala, unwind on the peaceful shores of Lake Bunyonyi and opt for a gorilla trek into the thick jungle, to spot a family of the rare great apes in the wild
Zanzibar - sunbathe on pristine sandy beaches, explore historic Stone Town or join an optional visit to a local spice plantation
Zambia - marvel at the Zambian side of Victoria Falls and head out on safari in the wildlife-rich South Luangwa National Park
Zimbabwe - gaze at the thundering Victoria Falls and spend two days enjoying optional activities, including bungee jumping, helicopter rides and rafting on the Zambezi
South Africa - sample South African wine in the Cederberg Mountains and complete your incredible African journey to Cape Town
Included
Arrival transfer from Nairobi Airport on day 1
A fully equipped overland truck for transportation and game drives
All camping fees and appropriate equipment
Mikumi National Park (transit only)
Sossusvlei transfer for Desert Walk
3 night Zanzibar Excursion including ferry transfer, accommodation, Spice Tour and Dhow Sunset Cruise
1st night dormitory accommodation at Kenya Comfort Hotel, 2 nights twin share accommodation in Swakopmund and 50 nights camping. Tents and sleeping mats provided
Services of 3 person crew (leader, driver, cook)
53 breakfasts, 44 lunches and 43 dinners
Park entry - Lake Naivasha NP and Victoria Falls NP. Park entry and game drive - Chobe NP, Etosha NP, South Luangwa NP, Lake Nakuru NP and Masai Mara, Ngorongoro NP, Serengeti NP
All road taxes and tolls
2 day/1 night Okavango Delta Excursion (camping)
Not Included
Gorilla Permit, Transaction fee and ground transfer fee to Gorilla trekking meeting point: Please note that Gorillas often move across the border, between the national parks in Rwanda and Uganda, therefore itineraries often change at short notice in order to track the Gorillas in whichever National Park they have migrated to. For this reason the cost of the Gorilla Permit and relevant transfers varies, as do the applicable visa costs, dependent upon which country we need to travel into. Permits are subject to availability and need to be booked in advance.
Tipping - an entirely personal gesture
Optional activities
Local Payment: $2970pp paid in USD
International flights and visas
Sleeping bag - please bring your own
Entrance Fees: Gorilla Permit & transaction fee approx USD$805pp has to be pre booked, approx USD$200 transfer costs payable locally
Prices & Dates
Please note: Due to logistical reasons we are unable to take new bookings for our gorilla trekking tours in 2023 and 2024.
Local payment - $2970pp paid in USD 
Please note that this is payable locally on day 1 of your trip in the currency specified.
The hotels listed below are ones which we frequently use on this tour. We reserve the right to substitute these hotels to ones of a similar standard.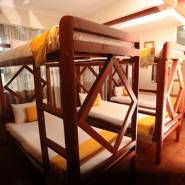 Kenya Comfort Hotel, Nairobi
Comfortable dormitory accommodation in central Nairobi (upgrades available on request). The Kenya Comfort Hotel also features an outdoor pool, restaurant serving a good array of local and international dishes as well as a fully stocked bar - perfect for relaxing before or after your epic overland adventure.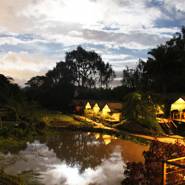 Wildebeest Eco Camp, Nairobi
Wildebeest Eco Camp is a distinctive starting point from which to explore Nairobi and beyond. The camp offers a shaded campsite for budget travellers, or luxury ensuite tents for those looking to splurge a little on their safari experience. Located in the vibrant Langata area, Nairobi National Park and the Galleria Shopping Centre are among the attractions just 10 minutes' drive away. After a long day of travelling, indulgences such as an infinity pool and guest library are available, as are free Wi-fi and laundry service.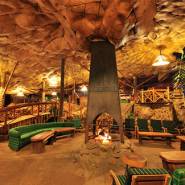 Naiberi River Campsite & Resort, Eldoret
Camp by the river Naiberi at this vintage resort 16km from Eldoret, which also offers spacious dorms, log cabins, and executive rooms built into the valley slopes. During the day, admire the wildlife, with a variety of local nature trails offering the chance to encounter over 250 bird species. At night, venture down to the famous cave restaurant and enjoy a meal within the stone walls, believed to have once housed members of the ancient Sirikwa tribe. Other amenities include an outdoor pool and extensive bar selection.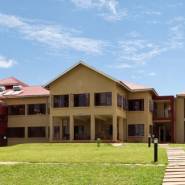 Red Chilli Hideaway, Kampala
Located on a purpose-built, 5-acre site in a peaceful suburb, the Red Chilli Hideaway offers affordable accommodation ranging from a campsite which we use for our overland safaris to private ensuite rooms for upgrades. Settle down for the day at the Hideaway's saltwater pool, self-catering kitchen, or restaurant & bar. The camp supports sustainable tourism and operates the Steve Willis Memorial Fund, whose proceeds go to providing clean drinking water in the Murchison Falls region.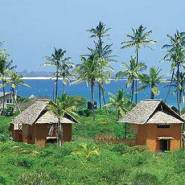 Kipepeo Beach Village , Dar es Salaam
The Tanzanian bush meets the blue waters of the Indian Ocean at Kipepeo Beach & Village, situated on the south coast of Dar Es Salaam. The campsite is right on the beach itself and is a popular destination for watersports adventures or simple relaxation. Facilities include a beach bar and restaurant.Upgrades are available to the twenty elevated ensuite chalets, built in the bush and decorated in traditional Swahili style, provide a stunning ocean views.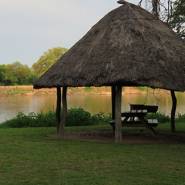 Croc Valley Camp, South Luangwa National Park
Croc Valley Camp is located on the banks of the Luangwa River, and provides accommodation ranging from riverfront tents to ensuite chalets, built on stilts to avoid the off-season floods. Watch elephants roam across the campsite, experience a game drive through South Luangwa National Park, or relax with a gin & tonic at the bar. The camp also features a large outdoor pool, kitchen facilities, and daily laundry service.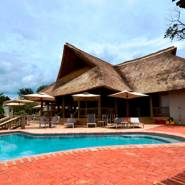 Shearwater Explorers Village, Victoria Falls
Situated in the bohemian town of Victoria Falls, and 400m from the Falls themselves, the affordable accommodation at the Shearwater Explorers Village consists of 5 campsites with modern bathroom facilities, and 16 chalets with en-suite showers and A/C. Shearwater operates a range of activities at the Falls, from bungee jumping to river rafting - and when the day is over, guests can wind down with Wi-Fi in the lounge areas, a drink by the pool, or even a back rub in the massage tent.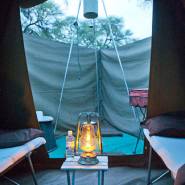 Delta Rain Bushcamp, Okavango Delta
This unique campsite is located in the heart of the Okavango Delta, as part of the Delta Rain safari experience. Accommodation consists of dome tents with twin beds, and "bush en-suite" bathrooms with a long-drop toilet and bucket shower. After settling in, guests can relax in the mess tent, partake in game viewing trips, or go on guided walks, while admiring the beauty of this UNESCO World Heritage Site.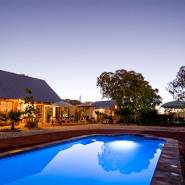 Urban Camp (campsite), Windhoek
Centrally located in Windhoek (a short walk from the legendary Joe's Beerhouse restaurant), Urban Camp is a comfortable campground combining city convenience with a quiet getaway. Free Wi-Fi, and a sparkling pool contribute to an oasis of calm in campsites housing up to 18 people with shared bathroom facilities. Nearby is a small shopping centre for amenities, and for sightseers looking to explore the history and architecture of Windhoek, the city centre is less than 2km away.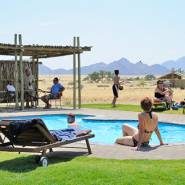 Sossus Oasis Campsite, Sesriem
This luxury campsite at the gates of Sossusvlei features 12 individually shaded camps, each with its own bathroom facilities, kitchen basin, barbecue, and electricity points. The campsite has a sparkling pool, and is within walking distance of a fully stocked shop, Internet café, and service station. The adjacent Sossusvlei Lodge offers a restaurant and Adventure Centre, where exciting desert activities such as quad biking, sunset drives, and scenic flights over the dunes can be arranged.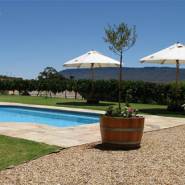 Highlanders Campsite, Cederberg
Nestled among the wine farms at the foot of the Cederberg mountains, this campsite is a perfect stopover in the Namaqualand region. Highlanders is set on 3 levels, giving campers plenty of space between each of the 5 individual camp areas, and a 12-room ensuite lodge has recently been added to the site. Each camp has a 'braai' pit, sink unit & power. There are stunning mountain views from the solar-powered hot showers, and a locally-sourced wine bar by the scenic swimming pool.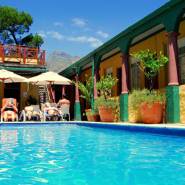 Ashanti Lodge Gardens Backpackers, Cape Town
Situated in a Victorian mansion at the foot of Table Mountain, within walking distance of the city centre, Ashanti Lodge offers a range of 6 to 8 bed dormitories, in addition to private rooms with shared bathroom facilities. After a long day of sightseeing, travellers can unwind with a cocktail at the café-bar, take a dip in the outdoor pool, or relax in the landscaped garden. Kitchen/BBQ facilities and complimentary Wi-Fi are also available.

PLEASE NOTE: Our Overland Camping Safaris starting/ending in Cape Town after 22 April 2023 will stay at [email protected] Greenpoint hostel with the exception of safaris starting or ending in Cape Town on 29 July 2023 which will stay at [email protected] Kloof Street hostel.
Reviews
Travellers have rated this tour as 5 out of 5 based on 7 recent reviews
"
Excellent valued tour for people who have the time and prepared to rough it a bit to have a great experience.Guides were very knowledgeable and terrific to learn from. Cook and driver also had many tour years of knowledge. We were the oldest (63yrs) but still had a fun time and always felt looked after and safe."
Stephen Leggett
• Submitted 18 Apr 2019
Tour





Guide





Country





"
What an awesome holiday, the crew (Godfrey, Duncan & Alouis) were 5 star, incredibly professional, caring and very entertaining. There was no doubt the group were in very capable hands throughout. I think they deserve a raise. Highly recommend this crew & tour company. Best wishes guys. "
Walburg Ruane
• Submitted 14 Aug 2018
Tour





Guide





Country





"
I was one of 6 people that travelled 57 days on the Great African Expedition from Nairobi, Kenya to Capetown, South Africa.
What an absolutely fantastic trip, from day 1 to the end. We saw the "big 5" multiple times and met some lovely people along the way.
I've got nothing but high praise for our Group Leader, Hes, similarly, Malinga, our cook, was a terrific guy that kept us well fed in sometimes difficult circumstances. Finally, Steve, our driver, was exceptional and kept us safe all the way.
Overall, I had a Fantastic time.
I was the oldest guy on the the truck and had an unbelievably incredible time."
Ken Parker
• Submitted 31 Jul 2018
Tour





Guide





Country





"
Amazing trip, the crew were one of the best parts, made it so much fun and no problems at all. "
Anna Lawless
• Submitted 27 Jul 2018
Tour





Guide





Country





"
Excellent tour with great guides, truck drivers, and cooks. Would highly recommend travelling Africa via On The Go overland tours. Excellent value for money and most importantly we felt safe at all times."
Natalie Howes
• Submitted 27 Feb 2018
Tour





Guide





Country





"
An amazing journey though Africa over 57 days. Great sights and experiences, On The Go Tours have put together a fantastic trip. You'll see the best Africa has to offer and have a chance at one in a lifetime experiences. The different crew members over these legs made the trip even more memorable in particular our last leader Onary. Our cooks kept us well fed including some delicous local dishes. If you have the time do this trip. "
Nathan Burgess
• Submitted 17 Feb 2018
Tour





Guide





Country





"
Grace was superb throughout. She gave good information about each place we visited and had lots of interesting facts about the animals and plants we saw. She was always ready with a hug if you needed one and always happy to listen should you need an ear. She was also always ready to have a laugh and a joke.
The trip ran efficiently, we always got to our destinations on time and never felt unsafe. "
Catherine Hobbs
• Submitted 06 Mar 2015
Tour





Guide





Country





"
I can honestly say I've enjoyed every bit of this trip from start to end. I don't have one bad word to say. it has exceeded my expectations, everyone has been very helpful and fun. The crew did an awesome job! Thank you."
Mandy Johnson
• Submitted 12 Feb 2012
"
Everything was amazing, and I had enjoyed the crew.
Africa is full of surprises!!! "
Katie Powell
• Submitted 15 Aug 2011
"
I throughoutly enjoyed my 8 week tour of Africa. This was made possible by the friendly and professional crew. Lizzie did a brilliant job over the full 8 weeks despite some very difficult passengers.
Days in truck were quite tiring, but the landscape and animals we spotted along the way were well worth it.
Great experience! Thank you!"
Kate Fryer
• Submitted 02 Jan 2009
At a Glance
Range
Trip Type
Starts
Nairobi
Ends
Cape Town
Departs
Saturdays
Group Size
Min 4 / Max 30
Hotel Rating
Camping
Local Payment
$2970pp paid in USD
Tour Guide
Yes - escorted by a tour leader
Meals
Breakfast: 53, Lunch: 44, Dinner: 43
Countries
Minimum Age
15 yrs, accompanied by an adult
Arr. Transfer
Yes
Dep. Transfer
No
Updated
10th May 2022
"
Excellent valued tour for people who have the time and prepared to rough it a bit to have a great experience.Guides were very knowledgeable and terrific to learn from. Cook and driver also had many tour years of knowledge. We were the oldest (63yrs) but still had a fun time and always felt looked after and safe."
Stephen Leggett
OTG000157
Great African Expedition - 57 days
Africa
Overlanding
Africa
false
0
Tanzania
https://www.onthegotours.com/ae/Tanzania/Great-African-Expedition-57-days
https://www.onthegotours.com/repository/Pairoflionsresting-325101478009056_crop_flip_300_300_f2f2f2_center-center.jpg
Overland_Camping_Safaris