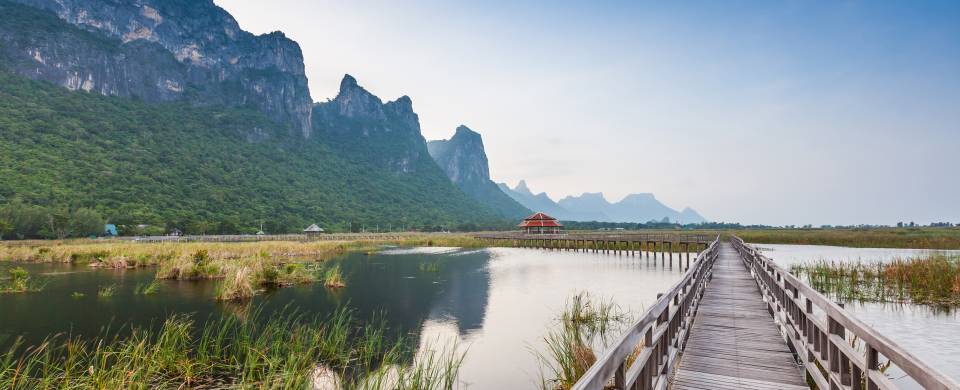 Trips and Tours to Khao Sam Roi Yot NP
About Khao Sam Roi Yot NP
Located on the south western coast of Thailand, Khao Sam Roi Yot, roughly translating as The Mountain of 300 Peaks, was the first coastal national park in Thailand. Wandering around the park it is easy to see how Khao Sam Roi Yot earned its name, as its beautiful beaches and mangrove forests are framed with a series of limestone hills that line its gulf. This dramatic landscape is what entices visitors with plenty of caves, beaches and marshland to explore.
Read More
Perhaps one of the most popular attractions here is Phraya Nakhon Cave, home to the famous Kuha Karuhas Pavilion. A walking trail leads to the royal meeting hall from the Hat Laem Sala beach. The underground chambers of Tham Kaew have a number of stalactites and limestone formations whilst the Thung Sam Roi Yot freshwater marsh is the country's largest. Along with a number of other marshes in the region, Khao Sam Roi Yot National Park is an important habitat for birds and a bird-watcher's paradise with an estimated 300 species, many of which are migratory birds.
The northern entrance of the park is located just 63km from the beach resort of Hua Hin so can be visited on a day's excursion. With one mainland road running through the park it's easy to cover the major natural landmarks in a short space of time and include a little break on one of the beaches. In the cooler months it's possible to see dolphins swimming off the coast.