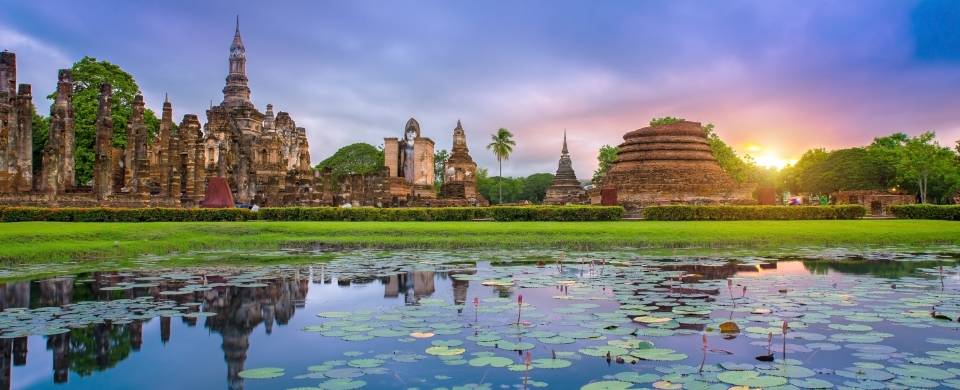 Trips and Tours to Sukhothai
About Sukhothai
Founded in the 13th century, the ancient Kingdom of Sukhothai was at the heart of the Golden Age of Thai civilization when arts, culture and trade flourished. Today the lasting remains of Old Sukhothai are contained within a small UNESCO-Listed historic park and is one of the most visited ancient sites in all of Thailand. Here visitors can discover ruins of royal palaces, Buddhist Temples and the city gates and moats of the ancient kingdom, discovering the unique style of Sukhothai architecture.
Read More
Every year throngs of people head to Old Sukhothai to celebrate Loy Krathong, the festival of light, which runs over nine nights in October or November. During this time the four large ponds within the park are scattered with floating candles and the ruins covered in lights, giving it a truly magical feel. Every night there is a sound and light show, fireworks, parades and concerts throughout the ancient city.
Some of the most evocative ruins are located outside of the old city walls, including the 'stone bridge' Wat Saphan Hin, which stands atop a hill overlooking the plains. Although only a few chedi (Buddhist stupa) remain here it's worth visiting for the views over the rest of the Sukothai monuments. For those interested in ceramics the small yet comprehensive Sangkhalok Museum houses Thai pottery found in Sukothai.