Uncover Vietnam's breathtaking scenery and captivating cities on this exciting teen-themed family holiday. Go trekking and cycling in the Mai Chau Valley and cook lunch with a local family. Explore Ninh Binh's beautiful Tam Coc valley and Hue's Imperial City, cruise around heavenly Halong Bay, farm the land in Hoi An and more. This tour welcomes families with teens and pre-teens aged 10 years and above.
Trip Highlights
Mai Chau - Trek and cycle through picturesque countryside, join a local family to cook local cuisine and enjoy a fun moped tour of the valley
Hanoi – Cyclo ride around the '36 Streets' of the capital's charming Old Quarter
Ho Chi Minh City – Discover city landmarks on a walking tour and visit the sobering War Remnants Museum
Cam Thanh – Cycle through the countryside to a local farm, learn how to tend the fields and cook a delicious Vietnamese lunch before crafting a bamboo product at a local workshop
Ninh Binh - Take a scenic sampan cruise and see the breathtaking Tam Coc Valley with its lush rice fields and karst mountains
Halong Bay – Cruise around beautiful limestone peaks, spend the night onboard a junk boat, kayak, swim and explore the beautiful caves
Hoi An – Swim in the sea at 'China Beach' and enjoy some R&R in this enchanting riverside town with its cobbled streets, lanterns and iconic Japanese Bridge
Hue – Explore the iconic seven story Thien Mu Pagoda and the Imperial Purple Palace on a guided tour of the city
Included
Breakfast daily, 6 lunches and 4 dinners
1 overnight sleeper train Hanoi to Hue in basic 4 berth cabin (or opt to fly - see Add-ons for details)
Guided sightseeing - Mai Chau Valley, Tam Coc, Hanoi, Halong Bay, Hue, Hoi An and Ho Chi Minh City
Mai Chau bicycle ride, trekking and cooking lesson
Halong Bay Junk boat cruise - opt to swim, kayak and explore caves
Airport arrival transfer day 1 and departure transfer day 12
9 nights 3-4 star hotels and 1 night aboard deluxe junk boat (private en suite cabin)
Bicycle ride to Cam Thanh Farm, cooking lesson and bamboo craft workshop
Tam Coc sampan cruise
Escorted by an English speaking Vietnamese tour guide
Economy class flight: Danang to Ho Chi Minh City
All relevant transfers and transportation in private air-conditioned vehicles
Not Included
International flights and visa
Entrance Fees: USD$40-50pp, paid in USD or VND
Gratuity for your tour guide. We recommend USD$25 – 35 per adult for the entire tour. Tipping your tour guide is an entirely personal gesture
Tipping Kitty: USD$35-45pp, paid in USD or VND

Please note: Vietnam is currently operating a reduced number of domestic flights and trains. We don't know when normal services will resume and may need to adjust the itinerary accordingly. Please contact us for more information.
Sunday. Welcome to Hanoi and the start of your holiday. Upon arrival you will be met at the airport and transferred to your hotel for check-in. The rest of the day is free for you and your family to explore Vietnam's enchanting capital. At 6pm there will be a Welcome Meeting in the hotel lobby.
Overnight: Hanoi
Hanoi
Hanoi - Mai Chau. Early this morning we bid farewell to Hanoi and drive west through beautiful scenery to reach the picturesque valley of Mai Chau. En route we stop to explore the unique Muong Culture Museum which is spread over 5 hectares of land. Here we will learn all about the Muong ethnic minority people. We'll see women in traditional dress and authentic Muong stilt houses, as well as a collection of fascinating artefacts.

Arriving at our lodge around midday we enjoy a tasty lunch of local cuisine. This afternoon we hop on bicycles for a leisurely ride in the countryside, exploring the area and meeting the locals. Spend the evening at leisure, with dinner served at the lodge.
Overnight: Mai Chau | Breakfast, Lunch, Dinner
Today we enjoy a leisurely 7km hike through the Mai Chau Valley to Mai Hich village, passing rice fields and hamlets, and meeting locals along the way. Mai Hich is surrounded by mountains and home to the Thai and Muong ethnic populations. Here we join a local family and help to cook a tasty lunch of local ethnic cuisine together.

After lunch we hop on the back of mopeds and ride pillion with friendly local guides who take us on a fun two-wheeled adventure, travelling along the quiet rural back roads and through forest to visit nearby local villages.
Overnight: Mai Chau | Breakfast, Lunch, Dinner
Mai Chau - Ninh Binh. This morning we drive to the beautiful Ninh Binh region, which is often referred to as an inland Halong Bay. We arrive in a remote corner of the region called Mount Tuong where we have lunch before enjoying a scenic sampan boat ride to Galaxy Cave

After lunch we climb the steps up Ngoa Long Mountain for an incredible panoramic view over Ninh Binh's rice fields, karst mountains and Tam Coc, the most beautiful valley in the region, renowned for its towering limestone peaks. On our way back to Ninh Binh we stop to explore Mua Cave which lies at the foot of Mua mountain which has a striking stone dragon carved into its staircase.
Overnight: Ninh Binh | Breakfast, Lunch, Dinner
Ninh Binh – Halong Bay. After breakfast we bid farewell to Ninh Binh and drive to spectacular Halong Bay, where karst island peaks dappled with lush vegetation rise from the pristine emerald coloured waters. We explore this beautiful UNESCO World Heritage Site on an overnight junk boat cruise.

Junk boats are based on a traditional design, combining oriental style with modern luxury. On board you can soak up the panoramic views from the sundeck as the boat gently plies its course. This afternoon we visit Trinh Nu Cave, one of the finest caves in Halong Bay, covering an area of 2,000m² with a stunning array of stalactites and stalagmites. There's also the opportunity to go kayaking and enjoy a refreshing swim.

Later this evening back on board, watch a Vietnamese cooking demonstration held on the sundeck before settling down for a sumptuous seafood dinner.
Overnight: Halong Bay | Breakfast, Lunch, Dinner
Halong Bay Junk Cruise
Halong Bay - Hanoi - Hue. Early birds can start the day with a relaxing Tai Chi class on the sundeck or a traditional massage - the perfect way to start the day. Before heading back to port this morning, we explore the beautiful Sung Sot cave (Surprise Grotto), which is 10,000m² and consists of two spectacular chambers which are spacious enough to hold thousands of people.

Arriving back to Hanoi mid-afternoon we explore the maze of streets known as the '36 streets of the old quarter' aboard a cyclo (rickshaw). The narrow lanes are each named after the numerous guilds that once set up shop on a particular street from silk tailors to traditional medicine shops. On our tour we will have a chance to sample the exotic fruits, sizzling noodle dishes and delightfully sticky snacks being offers by the pavement vendors.

Later this evening there's a chance to freshen up before boarding the train (4 berth sleeper cabin, basic standard) on the 'Reunification Express' railway line to Hue. An option to fly from Hanoi to Hue is also available.
Overnight: Sleeper train | Breakfast
This morning we have a breakfast box on the train before arriving into Hue where we set out on a guided sightseeing tour of this fascinating imperial city. Once the capital of the Nguyen emperors, the last ruling family of Vietnam, UNESCO-listed Hue is full of palaces, pagodas and temples. Two of the main highlights here are the Thien Mu Pagoda, home to the oldest monastery in the city, and the Citadel. Within the walls of the latter is the Imperial Purple Palace – an exact replica of the famed Forbidden City in Beijing, with impressive ramparts, formal moats and imperial palaces, some of which lay in ruin. After our tour we enjoy a leisurely cruise along the Perfume River and on to our hotel.
Overnight: Hue | Breakfast, Lunch
Imperial Hue
Hue - Road of the Ocean Clouds - Hoi An. Today we will travel on to the laidback riverside town of Hoi An, travelling along the picturesque Hai Van Pass – nicknamed the Road of the Ocean Clouds, with beaches on one side and verdant hills on the other. We will break up our journey with a stop at China Beach, an expansive sandy beach made famous by the film 'Apocalypse Now'. Here there will be the chance to opt for a swim in its warm waters before continuing our journey south along the coast.

Radiating age-old charm with grand colonial architecture, Hoi An is one of Vietnam's most delightful destinations. The Old Town, recognised as an UNESCO World Heritage Site, is an immaculately preserved example of an Asian trading port with covered bridges, pagodas, temples and merchant houses. The town's beguiling riverside setting adds to the overall picturesque appeal of Hoi An with women in conical hats rowing their wooden vessels downstream and the glow of red lanterns in the evenings reflected on the water's iridescent surface. A short walking tour will take us back to a bygone era, with a visit to the Chua Ong Pagoda, Chinese Assembly Hall, a 200-year-old Tam Ky house, former merchants' homes and the 400 year-old Japanese Covered Bridge.
Overnight: Hoi An | Breakfast
Enchanting Hoi An
For a taste of rural life today, we take a bicycle ride through the countryside to Cam Thanh farm. We cycle through picturesque villages where life moves at a slower pace, passing rice paddies, local orchards and seeing the locals at work in the fields. At the organic farm in Cam Thanh we meet the local farmers and learn all about their community-based project. Then we enjoy a fun hands-on farming experience, helping to tend the fields, applying organic manure, making organic pesticides and cultivating the soil for planting and watering. After farming the fields we return to the farmer's house and use the produce harvested from the organic vegetable garden to help to cook a tasty Vietnamese lunch for ourselves.

In the afternoon, we hop on our bicycles again for a short ride to a bamboo workshop where we join a talented local craftsman to make our own bamboo products under his expert guidance. After the workshop we drive back to Hoi An and spend the evening at leisure.
Overnight: Hoi An | Breakfast, Lunch
Today is free for you to spend at leisure in Hoi An. You may wish to head to the beach for a day of relaxation or shop until you drop - Hoi An is famous for its skilled artisans, with wonderful craft shops, art galleries and some of Asia's best bespoke tailors.
Overnight: Hoi An | Breakfast
Hoi An - Ho Chi Minh City. An early morning flight will take us to Ho Chi Minh City today. Once called the 'Pearl of the Orient', old and new collide in this modern city as gleaming sky scrapers, glamorous restaurants and designer shops stand side-by-side with colonial era landmarks and post-war remnants. Here we will enjoy a walking tour of the city taking in some of Ho Chi Minh City's most famous landmarks, including the impressive red-brick Neo-Romanesque Notre Dame Cathedral, the central Post Office and the sobering War Remnants Museum.
Overnight: Ho Chi Minh City | Breakfast
Ho Chi Minh City
Thursday. Our tour ends after breakfast today and there's an included transfer to the airport. If you have time, consider bargaining for goods at Ben Thanh Market or visiting the grand Independence Palace.

Alternatively you can extend their stay and opt to join us on a trip to the Cu Chi Tunnels, where there will be the chance to explore a vast network of underground tunnels and hideouts that were used by the Viet Cong during the Vietnam War. Learn about booby traps, climb through trap doors, or even test your skills with an AK 47 at the firing range!
Breakfast
Cu Chi Tunnels - go underground!
Discover the Cu Chi Tunnels - a vast underground network of tunnels and hideouts used by Viet Cong guerrilla fighters during the 1960's. Often lead by a relative of a Viet Cong fighter in green fatigues you'll walk the bush trails discovering grass covered trapdoors, ingenious, yet gruesome booby traps and hidden underwater entrances in rivers. There is also an opportunity to go underground and pop off a few rounds at the firing range. Our Cu Chi Tunnels bolt-on includes return transportation to and from Cu Chi, guided tour and 1 night accommodation in Ho Chi Minh City.
The hotels listed below are ones which we frequently use on this tour. We reserve the right to substitute these hotels to ones of a similar standard.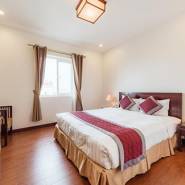 La Dolce Vita Hotel, Hanoi
Offering an excellent location in the heart of Hanoi, La Dolce Vita Hotel is within walking distance of a variety of restaurants, shops and bars. Its spacious guestrooms feature wooden furniture and modern artwork, with complimentary WiFi available throughout the hotel. Enjoy drinks or a light bite to eat with your travel companions in the Lobby Bar and Café or, if you're looking for a sit-down dinner, you can choose between delicious Vietnamese and Western dishes in the La Dolce Vita Restaurant.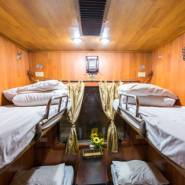 Sleeper train - 4 berth cabin, Hanoi
Cabins on board are comfortable though not comparable to European standards. Aboard each wagon are 9 compartments that comprise of 4 bunks per compartment shared by mixed sexes. A western-style toilet (with a varying degree of cleanliness) is located at either end of the wagon. Air-conditioning (not always operational in the summer) and lighting are controlled from inside the cabin, which is also lockable. Luggage can be stored in a compartment under the bottom bunk. Linen and a pillow are provided.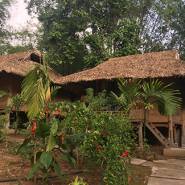 La Maison De Buoc , Mai Chau
La Maison De Buoc is a relaxing retreat in the heart of the picturesque Mai Chau Valley. The traditional stilt-house rooms are set in beautiful gardens, with private terraces and en suite bathrooms. Free WiFi is available and guests can enjoy a refreshing swim in the outdoor pool after a day of sightseeing. The restaurant serves delicious local cuisine and there are free bikes available to explore the area.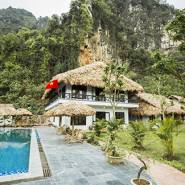 Tam Coc Rice Fields Resort, Ninh Binh
Set amidst lush tropical gardens, Tam Coc Rice Fields Resort consists of 19 independent, bamboo bungalows with thatched roofs, which are divided into two spacious, en suite guest rooms. Each of the rooms has a private terrace, offering wonderful views of the surrounding rice fields or rugged limestone peaks. A continental breakfast is served at the restaurant each morning and there's an outdoor swimming pool where you can enjoy a relaxing swim with a beautiful mountain backdrop. Free bikes are also available to explore Ninh Binh's picturesque countryside.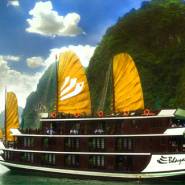 Bhaya Classic, Halong Bay
These premier cruise boats, known as junks, combine contemporary luxury with oriental style. Cabins are well-appointed with large windows to create a bright and airy atmosphere. Facilities and services onboard include a dining room and bar, a sunbathing area on-deck, masseur and small library.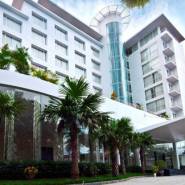 Mondial Hotel, Hue
Just a 5 minute walk from the Ho Chi Minh museum, the Mondial Hotel is a contemporary hotel with excellent amenities. Guest rooms benefit from spacious interiors, comfortable beds and lots of mod-cons. There is complimentary Wi-Fi for guests, an outdoor pool and onsite spa - perfect for a re laxing massage. As well as the delicious Huong Xuan Restaurant there is also the Lobby Lounge - great for cocktails before dinner!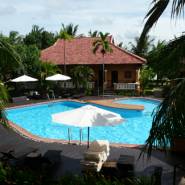 Vinh Hung Riverside Resort, Hoi An
Situated right on the banks of the Thu Bon River, this upscale hotel is just a 10-minute walk from the ancient town of Hoi An. Combining Vietnamese tradition with modern facilities, its guestrooms are set in coconut tree-shaded gardens beside the water. They're well-equipped, with free WiFi and air conditioning, as well as private balconies. The hotel also offers a riverside restaurant, serving local specialties and western dishes on the outdoor terrace. This hotel's highlight, however, is its pool and fabulous swim up bar, which is the perfect place to enjoy a pre-dinner cocktail.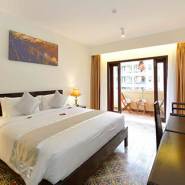 River Green Hotel, Hoi An
Set next to the Hoai River, the River Green Hotel is just a five-minute walk from the iconic Japanese Bridge. Guestrooms offer city or river views, alongside all the amenities you'd expect of a contemporary hotel. There's an outdoor pool, perfect for a refreshing swim, and an on-site restaurant where you can enjoy a variety of international flavours. Complimentary WiFi, bicycle hire and a fitness centre add to this hotel's list of facilities, making it a great base for exploring historic Hoi An.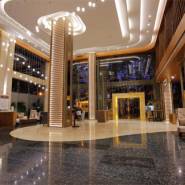 Muong Thanh Centre, Ho Chi Minh City
Centrally located, yet on a peaceful, tree-lined street, you will find the Muong Thanh Centre. Only a ten-minute walk from top attractions such as the Notre Dame Cathedral, Opera House and Ben Thanh Market, this hotel is a great base for exploring the famous sights of the city. Its guest rooms boast sophisticated designs and panoramic views. Warm and friendly, the Muong Thanh Centre also features a spa and swimming pool for you to relax and unwind after a long day of sightseeing.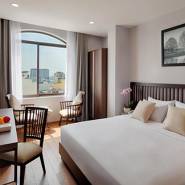 Lotus Central Hotel, Ho Chi Minh City
Just footsteps from the Ben Thanh Market, the Lotus Central Hotel offers a great location in Ho Chi Minh City. Its guestrooms are well-equipped, with ensuite bathrooms, air conditioning and free WiFi. On the 8th floor you'll find the Moon Restaurant, where you can enjoy a range of Vietnamese, Asian and Western specialties. However this hotel's highlight is the rooftop pool, where you can enjoy a cocktail or two alongside views over the city.
In Brief
Range
Trip Type
Starts
Hanoi
Ends
Ho Chi Minh City
Departs
Sundays
Group Size
Min 4 / Max 18
Hotel Rating
3-4 star
Tour Guide
Yes - escorted by a tour guide
Meals
Breakfast: 11, Lunch: 6, Dinner: 4
Visiting
Halong Bay, Hanoi, Hue, Hoi An, Ho Chi Minh City, Mai Chau, Ninh Binh, Mai Hich
Countries
Tour Add-ons
Enhance your trip with these amazing added extras and add-ons
OTG002304
Vietnam Explorer For Teenagers - 12 days
Southeast Asia
Signature
Southeast Asia
false
0
Vietnam
https://www.onthegotours.com/ae/Vietnam/Vietnam-Explorer-For-Teenagers-12-days
https://www.onthegotours.com/repository/Tam-Coc-in-Vietnam-757271568213037_crop_flip_300_300_f2f2f2_center-center.jpg
Family_Holidays