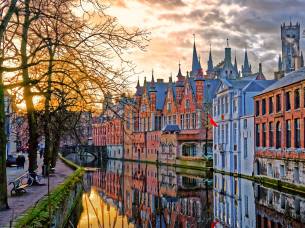 Our pick #1
Possibly the most photogenic city in the world, Bruges is a UNESCO World Heritage City and one of Belgium's most romantic destinations. A fairy-tale medieval town, the cobbled streets, dreamy canals, historic churches and pretty market squares are incredibly picturesque. The historic centre is small enough to explore on foot, although a romantic horse and carriage tour is an option. The famous 13th century Belfry holds views over Grote Markt, the city's main square and heart of the old town. The Christmas Market brings even more magic here during the festive season. Belgium is renowned for its fine chocolate, and there is no better place to sample it than from Bruges' tempting chocolate shops. With hand-made chocolates filling their window displays and a chocolate museum, the town is a haven for chocoholics. Visitors will also enjoy the town's most celebrated art gallery, Groeningemuseum, with holds impressive works spanning almost six centuries.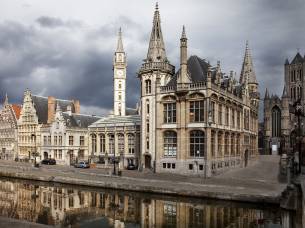 Our pick #2
Ghent is a historic city, yet at the same time incredibly contemporary. The modern lives of the city's inhabitants play out against a beautiful medieval backdrop. Cutting edge design and pioneering sustainability projects bring this city straight into the 21st century. As one of Europe's leading cities when it comes to locally-driven green projects, Ghent is full of community gardens and cycling routes. The large student population contributes to the city's buzzing nightlife and underground music scene, with new bars and clubs popping up in the outer neighbourhoods of Sint-Amandsberg, Gentbrugge and Muide. Possibly Belgium's most overlooked city, tourists remain relatively thin on the ground. But with attractions such as the medieval Gravensteen Castle and St Bavo's Cathedral, as well as fascinating museums and beautiful canal-side architecture, this is a city you don't want to miss.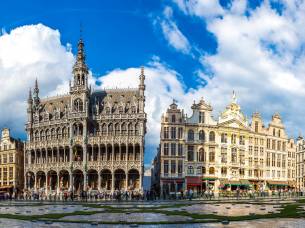 Our pick #3
Brussels hold two important titles, being both the capital of Belgium and the administrative capital of the EU. Containing a fascinating cityscape, the city's 19th century mansions and Art Nouveau facades contrast against 1960s structures and the glass-fronted EU parliament buildings. Start your exploration of Brussels in its medieval heart, where you will find the magnificent Grand Place. Thought to be one of the world's most beautiful squares, the Grand Place appears hidden as it is only revealed when you enter on foot from one of six narrow side alleys. The Musées Royaux des Beaux-Arts, Magritte Museum and the Horta Museum are among the 90 museums in Brussels to explore. There are also events every weekend, including a Food Truck Festival, Brussels Summer Festival, Brussels Fashion Days and a Belgian Beer Weekend. And, if that wasn't enough, a month-long traditional Christmas Market is the winter highlight.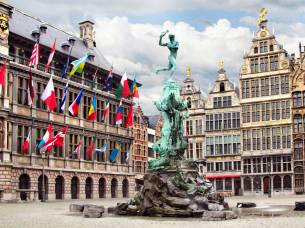 Our pick #4
Stylish port city Antwerp was one of Lonely Planet's Top 10 Best Cities of 2018. Despite being Belgium's second largest city, Antwerp has been the diamond capital of the world for several centuries. However, not just a magnet for diamond dealers, the city also attracts art lovers, fashion moguls and club queens to its cool urban scene. Despite severe bombing during WWII, Antwerp has retained its medieval heart, with its cobbled streets stuffed with friendly cafes. Also hosting a vibrant fashion scene, Antwerp has many designer stores whose stylish creations are admired all over the world. Art lovers will find many places to view the works of baroque painter Pieter Paul Rubens, who called the city home during the 16th century. And a visit to Antwerp must include the Grote Markt public square, Cathedral of Our Lady and UNESCO World Heritage-listed Museum Plantin-Moretus.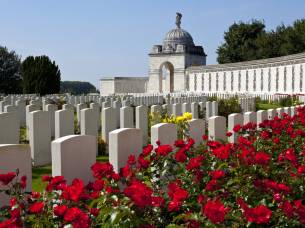 Our pick #5
Ypres
Located in the Belgian province of West Flanders, Ypres was the site of several major battles during the First World War. Although it was never occupied by German forces, some 300,000 Allied soldiers lost their lives in Ypres and the town was completely flattened by bombardment. But despite the devastation, Ypres was resurrected and has a wonderful restored medieval core. The Ypres Lakenhalle is now one of the most impressive buildings in Belgium and many beautiful church towers mark the city's skyline. The front line during WWI, known as the Salient, is dotted with cemeteries and bunkers. Visitors to Ypres can take a tour of the Flanders battlefields, learn more at the In Flanders Fields Museum and attend the moving Last Post Ceremony at the Menin Gate Memorial. A visit to Ypres will undoubtedly be a sombre experience, but with its lovely market square, traditional Flemish cuisine and top-notch local beer, Ypres is the ideal place to gain an introduction into WWI history.