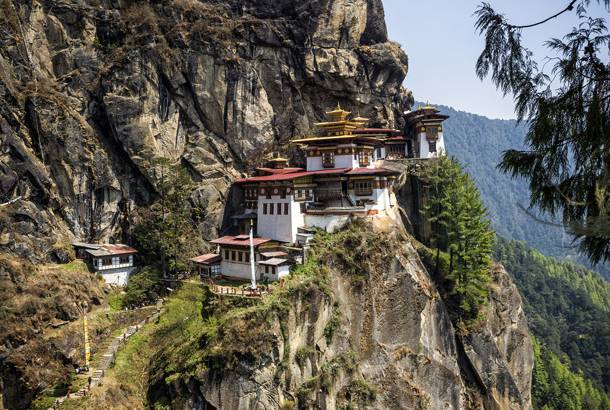 Seasons and Weather
With its location in the Himalayas and the variation in altitudes that this brings, Bhutan experiences a widely varied climate. The best time to visit Bhutan is during the spring months of March to May when the valleys come alive with flowers in bloom. The Himalayan peaks are at their most visible with the clear skies of October and this is the best time for trekking with temperatures on the cooler side. June to August is considered the low season due to the rains, which makes trekking less of an option though with an upside of more verdant scenery.
Bhutan's climate is also influenced by the Indian monsoons that bring rain at certain parts of the year. The monsoons in Bhutan are from June to September with heavy rains and high humidity with it being hottest in the south. Autumn is from October to November when it's generally sunny with some snow at higher elevations. Late November to early March is dry with pre-monsoon showers starting in May.
Thinking of visiting Bhutan? Download a copy of our Indian Subcontinent brochure for inspiration.
Climate | Paro
| | Jan | Feb | Mar | Apr | May | Jun | Jul | Aug | Sep | Oct | Nov | Dec |
| --- | --- | --- | --- | --- | --- | --- | --- | --- | --- | --- | --- | --- |
| Temp Min °C | -17 | -15 | -10 | -5 | -1 | 3 | 5 | 4 | 2 | -5 | -12 | -16 |
| Temp Max °C | 1 | 1 | 4 | 7 | 10 | 12 | 12 | 13 | 11 | 8 | 5 | 3 |
| Rainfall (mm) | 4 | 8 | 16 | 21 | 24 | 40 | 75 | 72 | 34 | 14 | 4 | 1 |
Upcoming events
To help plan your visit to Bhutan, here's an overview of the festivals and events taking place this year. This is by no means an exhaustive list, so if you're thinking of heading to Bhutan outside of these dates and want to know what's on, check out this comprehensive list.
2021:
March 21st-24th -
Paro Tshechu (
Paro
)
April 24th-28th -
Ura Yakchoe (Ura Valley)
June 18th-20th -
Nimalung Festival (
Bumthang
)
October 14th-15th -
Jomolhari Mountain Festival (Dangojang)
November 11th -
Black Necked Crane Festival (Gangtey Gonpa)
There's also a number of national holidays in Bhutan and on these dates many businesses and some tourist sites will close for the day so plan your visit accordingly.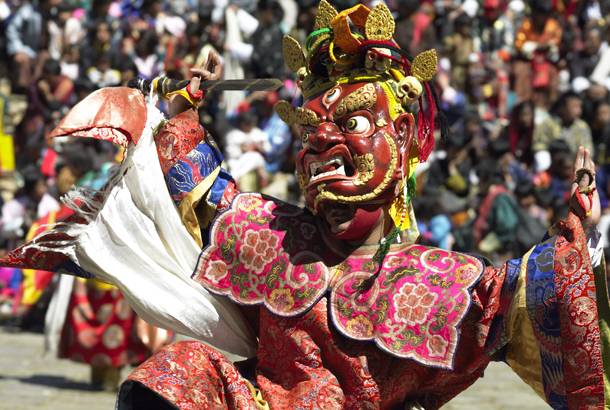 Festivals and Events
Steeped in mystery, Bhutan was off the travel radar for centuries before opening its arms to visitors and sharing its fascinating history and traditions with the world. Nothing showcases the beauty and wonder of Bhutanese culture better than its array of festivals, which bring the country to life and fill the streets with colour and music. To help you make the most of your time in Bhutan, we've compiled a list of our favourite festivals.
What is Paro Tshechu?
This religious festival takes place across the country but is of particular note in the city of Paro. The event is held in a temple or monastery and sees entire communities come together to watch mask dances and other various forms of entertainment. These dances all tell a story and are a fine example of Bhutan's rich oral traditions. It is believed that by attending a Tshechu and witnessing the mask dance, an individual will receive blessings and wash away their sins.
What is Ura Yakchoe?
According to legend, there was once an old woman sitting outside her house when a lama visited her and asked for a drink of water. She went to get one and when she returned he had disappeared, leaving behind him a sack containing a statue. This statue is now displayed every year so that people can receive blessings, and the local people celebrate by performing the 'Ura Yakchoe', a dance for which they are known throughout the country.
What is the Nimalung Festival?
The Nimalung Festival is hosted within a magnificent two storey temple that contains a statue of the Guru Rimpoche and is decorated with elaborate murals of Nyingmapa and Drukpa traditions. During the festivities, a stunning Thongdrol (gigantic hand-painted scroll) of Guru Rimpoche is displayed for everyone to see. Measuring nine by twelve metres, this colossal painting is said to cleanse those who gaze upon it of their sins.
What is the Tour of the Dragon?
Not for the faint-hearted, this is one of the toughest single day bike events in the world. Set at high altitude and covering a distance of 268km through mountain passes, to say that this race is a challenge is putting it mildly. Racers set off at 2am and usually reach the final destination in Thimphu by about 6pm, where there is an awards ceremony at 7pm. Do you have what it takes to compete in this adrenaline pumping event?
What is the Jomolhari Mountain Festival?
What started as a small community initiative has grown into a significant event on the Bhutanese calendar as the Jomolhari Mountain Festival has gained popularity. Its purpose is to promote awareness of the elusive and endangered snow leopard in order to prevent it from potential extinction. Festivities that take place during the day include sports, snow leopard themed folk songs, dancing and showcasing locally made handicrafts.
What is the Black Necked Crane Festival?
The Black Necked Crane Festival is a significant festival in Bhutan that was created in order to promote awareness and understanding of the importance of conserving these majestic birds. Plays, dances and songs are all performed by local children and adults as the community celebrates the arrival of the bird that plays a major role in their lives during the winter months.
See Also
For further help planning your trip to Bhutan, take a look at these handy resources:
Best Places to Visit - top 10 destinations in Bhutan
Tourist Visas - what you need to know before you go
Top Travel Tips - Bhutan's food, currency and info on health