In Thailand explore the capital of Bangkok, meet hill tribes in Chiang Rai and learn how to cook Thai food in Chiang Mai, before flying to Myanmar for a week discovering Yangon and Mandalay, cruising the Irrawaddy River and marvelling at Bagan's temple filled plains.
Trip Highlights
Bangkok - Grand Palace, Wat Pho - home to the Reclining Buddha, Original Thai Massage School and 24 hour Flower Market - see stunning orchids and roses on sale
Chiang Mai Cooking Class. Learn to make 3 classic Thai dishes.
Visit to the Hmong Hill tribe and overnight stay in their community operated lodge/ resort.
Day trip to Chiang Rai - Hill Tribe villages
Yangon – Botahtaung Pagoda, Sule Pagoda, Maha Bandoola Park, Chaukhtatgyi Pagoda, Shwedagon Pagoda, Yangon Tea House & Bogyoke (Scott) Market
Mingun – the remains of what could have been the world's largest pagoda and the Mingun Bell
Sagaing Hill - spectacular views over the Irrawaddy River and rolling hills, studded with stupas and pagodas
Bagan - Nyaung-U local market, Shwezigon pagoda, Kyansitta "Cave" temple, Manuha Temple, Nanpaya, Ananda temple, Thatbuinnyu, Dhamayangyi, Mingalarzedi and local lacquer workshop
Cruise along the Khlongs of Bangkok - see the rich and the poor
Chiang Mai - the towering Doi Suthep temple, Baan Tong Luang Hill Tribes village, Chiang Mai night market and temples, trishaw ride around the old city
Cruise along the Kok River
Wat Rhon Khung (known as the White Temple) - an unconventional Buddhist temple located in Chiang rai
Mandalay – the Royal Palace, Shwenandaw Monastery, Kuthodaw Pagoda, Manadalay Hill and handicraft workshops
Amarapura - Mahagandayone monastery, a cottage industry workshop and the famous U Bein Bridge at sunset
An overnight cruise on the Irrawaddy River from Mandalay to Bagan
Included
11 breakfasts, 3 lunch and 3 dinners (lunch and dinner excluded on day 10 when the Irrawaddy River Cruiser is not operating)
1 night on board an Irrawaddy River Cruiser in an en suite cabin, from Mandalay to Bagan. Or flight from Mandalay to Bagan and 1 night in a Bagan hotel when the boat is not operating, between 01 Apr - 31 Jul each year. Dates can vary slightly according to the weather conditions.
 Excursion to the hill tribe villages and Golden Triangle areas near Chiang Rai
 Longtail boat cruise on the canals of Bangkok and on the Kok River
Airport arrival and departure transfers on days 1 and 13
All relevant transfers and transportation in private air-conditioned vehicles
9 nights 3 - 4 star hotels, 1 overnight stay at the Hmong hill tribe lodge/resort and 1 overnight sleeper train
Guided sightseeing in Bangkok, Chiang Mai, Chiang Rai, Yangon, Mandalay, Amarapura, Inwa and Bagan
Cooking course in Chiang Mai with lunch
Tuk tuk ride in Bangkok, trishaw ride around the old city in Chiang Mai
Escorted by English-speaking Thai and Myanmar tour guides (for groups of 6 or more)
Not Included
International flights (including the flight from Chiang Mai to Yangon on day 6) and visas
Entrance Fees: USD$105-115, paid in USD
Tip for your tour guides. We recommend you allow USD$3 - 6 per day, per traveller. Tipping your guides is an entirely personal gesture
Tipping Kitty: USD$80-90, paid in USD

Monday. Welcome to Bangkok, Thailand's vibrant capital. Arrival transfer to our hotel where our welcome meeting takes place this evening.
Overnight: Bangkok
Bustling Bangkok
Bangkok - Chiang Mai. This morning we take in the highlights of Bangkok. Our tour starts with the colourful 24hr Flower Market before exploring the spectacular Grand Palace which is home to the remarkable Emerald Buddha. Then we take a Tuk Tuk ride to Wat Pho - the temple of the Reclining Buddha and birthplace of traditional Thai massage. Boarding longtail boats we explore the city's canals, known as Khlongs, and gain an insight into the lives of the city's riverside dwellers - the overtly rich and incredibly poor.

In the afternoon we drive to Ayuthaya, where we have dinner and there are day use rooms for you to freshen up before we take the overnight express sleeper train (2nd class A/C sleeper cabins) to Chiang Mai.
Overnight: Sleeper Train | Breakfast, Dinner
Chiang Mai - Mae Rim. Our train pulls into the picturesque city of Chiang Mai this morning, nestled in the foothills of northern Thailand. Upon arrival we visit the striking Doi Suthep Temple where we'll see the chanting temple monks and enjoy the wonderful view before driving into the countryside to the Baan Tong Luang Hill Tribes village. Four separate Thai hill tribes live at Baan Tong Luang - the Lahu, Hmong, White Karen and the Long necked Karen and we'll have the opportunity to meet them and learn all about their lifestyle and customs.

We travel on to the Hmong Hill Tribe Lodge where we will spend the night. This afternoon you can take a walk into the surrounding countryside to visit the some of the nearby hill tribe villages. In the evening we enjoy a tasty BBQ before being entertained by dancers from the local community.
Overnight: Mae Rim | Dinner
Mae Rim - Chiang Rai - Chiang Mai. After an early breakfast we set off north towards Chiang Rai. We travel through beautiful karst and jungle scenery and our first stop of the day is at the unique and iconic Wat Rong Khun (White Temple) which depicts scenes from modern movies including the Matrix, Star Wars and Superman. Then we take a break for lunch before an hour long longtail boat cruise down the Kok River to Chiang Rai, taking in wonderful scenes of every day life along the riverbanks.

In Chiang Rai we take a walk through Lahu village, which is inhabited by the Lahu people, who make their living from farming the land. Then we continue our boat journey to Ruammit village which is home to the Karen tribe and has retained its traditional culture. After a brief stop here we drive to Chiang Mai, where the rest of the evening is free to spend at leisure.
Overnight: Chiang Mai | Breakfast
Cooking Pad Thai
There's the opportunity to get up early this morning to give Alms to the local monks before returning to your hotel for breakfast. Then we explore the old city of Chiang Mai on a trishaw ride, visiting well known temples within the city walls. Then we learn to cook three tasty Thai dishes at a cooking class and get to eat what we cook for our lunch!

The afternoon is free to relax and explore. Choose from adrenaline-fuelled adventures such a canopy zip lining or opt for a relaxing spa treatment. In the evening we take a walk around the Chiang Mai night market, a haven of souvenirs and works by local artisans.
Overnight: Chiang Mai | Breakfast, Lunch
Chiang Mai to Yangon
Saturday. Our tour of Thailand concludes today. Transfer to Chiang Mai airport for your flight to Yangon in Myanmar.

Please note: The flight from Chiang Mai - Yangon is not included in the cost of this tour. Bangkok Airways fly direct.

If you provide us with your flight details, we will be there to meet you at Yangon airport in Myanmar and transfer you to your hotel. The rest of the day is at leisure. In the evening there will be a welcome meeting hosted by your new tour guide.
Overnight: Yangon | Breakfast
We enjoy a tour of Yangon and its famous religious monuments today. In the heart of downtown we begin with a photo stop in front of Yangon City Hall, before visiting the Sule Pagoda, which is a peaceful place to retreat from the bustle of the city. The pagoda is near Maha Bandoola Park which is encircled by a host of colonial buildings and heritage sites, including Independence Monument and the High Court. We also visit the golden hollow Botahtaung Pagoda, which was originally built over 2500 years ago.

We enjoy lunch at the Yangon Tea House, which is reminiscent of the grand tea houses of colonial times and serves a delicious cup of traditional tea. Moving on we take a stroll around the colourful Bogyoke (Scott) Market, which sells an array of goods, including gemstones, handicrafts and clothes. Then we visit the giant 70 metre-long reclining Buddha of Chaukhtagyi Paya at Chaukhtagyi Pagoda, which has a crown encrusted in diamonds and other precious stones.

Later this evening we visit the most revered Buddhist temple in Myanmar, the magnificent Shwedagon Pagoda, where locals gather to make offerings and prayers. Standing at 90 metres tall, the gold leaf central stupa dominates the city's skyline and turns vivid hues of yellow, orange and red when the sun begins to set.
Overnight: Yangon | Breakfast, Lunch
Yangon – Mandalay. Bidding farewell to Yangon we leave on a morning flight to Mandalay, Burma's last royal capital before the start of the colonial era. Upon arrival we visit the Mahagandayon Monastery, which is located south of Mandalay, in the ancient city of Amarapura. This is the largest teaching monastery in the country and hundreds of monks from the monastery queue to receive their daily alms from the people.

Travelling into the city we explore the Royal Palace and see the teak carvings on the historic Shwenandaw Monastery. We also have the opportunity to visit a local handicraft workshop to see bronze sculpting, gold leaf marking and wood carving, before spending the afternoon at leisure. This evening we visit the world's largest book at the Kuthodaw Pagoda and our day concludes at Mandalay Hill, where we can take in the wonderful views across the city and hope to enjoy a spectacular sunset.
Overnight: Mandalay | Breakfast
We cruise up the mighty Irrawaddy River to Mingun this morning, where we visit the remains of what could have been the world's largest pagoda. Intended to reach a staggering height of 152 metres, work on the pagoda stopped after the death of King Bodawpaya in 1819. Dramatically split by an earthquake in 1838, the monumental structure is still incredibly impressive. We'll also see the mighty Mingun Bell.

We travel on to Sagaing Hill to take in the spectacular views over the river and the rolling hills, which are studded with pagodas and stupas. On top of the hill is the ancient Swan Oo Pon Nya Shin pagoda and we visit the remarkable Thirty Caves Pagoda and the Kaungmhudaw Pagoda.

This afternoon we drive to Amarapura, which is renowned for its textile industry. We see how traditional fabrics are woven at a cottage industry workshop before visiting famous U Bein Bridge, set over the enchanting Taungthaman Lake. Here we have the wonderful opportunity to see the bridge in all its glory at sunset. The silhouettes of monks commuting over the longest teak bridge in the world, as the sun sets, is an iconic image. In the evening we return to Mandalay.
Overnight: Mandalay
Irrawaddy River Cruise
Mandalay – Shwe Nann Tint. This morning we transfer to the jetty to board an Irrawaddy River Cruiser, that will take us south to Bagan. Enjoy a welcome cocktail and lunch, then relax on the sun deck and watch passing scenes of everyday life in Myanmar. This afternoon, subject to water levels, we stop at Yandabo village where we'll have the chance to visit pot workshops, a monastery and school. Then we moor near Shwe Nann Tint village, watch a wonderful sunset over the river and spend the night on board our lovely river cruiser in comfortable and spacious en suite cabins, with French balconies. Alternative Arrangements - should our cruiser not reach minimum numbers to sail, our itinerary will be altered to include the MGRG Express Riverboat from Mandalay to Bagan which takes approx. 5hrs. Upon arrival to Bagan there will be free time and stay in our Bagan hotel this evening.

Please note: Between 01 Apr and 31 July each year the water level of the river is at its lowest which prevents cruises from operating. These dates do vary depending upon rainfall and the amount of water coming down the river. If travelling with us during this time we have included the cost of a flight between Mandalay - Bagan within our tour price. Day 10 arrangements during this period are morning at leisure in Mandalay before transferring to the airport for your flight to Bagan where we spend the night. Please also note that only breakfast is included when we fly to Bagan, lunch and dinner is excluded.
Overnight: Irrawaddy River Cruise | Breakfast, Lunch, Dinner
Early in the morning we continue downstream to Bagan, enjoy breakfast on board and watch the sunrise before disembarking. Nothing can quite prepare you for the spectacular sight of stupa-upon-stupa that fill the dusty plains of Bagan. Over 2,000 temples and pagodas dating back some 800 years creates one of the world's most impressive skylines. Today we explore this mesmerising and peaceful Buddhist temple town.

Sightseeing begins in the bustling river town of Nyaung-U to see the lively market in action and visit the glittering Shwezigon Pagoda, the simple Kyansittha Cave Temple and Manuha Temple which houses gigantic Buddha's. Close by is the Nanpaya Temple, which was built by captive Thaton Kingdom King Makuta, and Ananda Temple, an existing masterpiece of the Mon architecture with four gold-leaf Buddhas.

The towering Thatbyinnyu Temple provides wonderful photo opportunities before heading over to Dhammayangyi Temple, a massive 12th century temple visible throughout Bagan. This is the best preserved of Bagan's temples, hiding mysterious inner passageways and a dramatic history of death and murder. The temple's bad karma may be the reason it remains one of the few temples not to have undergone restoration of be pillaged by thieves. The magnificent Mingalazedi pagoda, the pinnacle of Burma pagoda architecture with its bell-like dome and intricate Jataka tiled terraces, is the last site of the day and a wonderful representation of Bagan's architectural skills.
Overnight: Bagan
Bagan - Yangon. Early this morning those that have pre-booked hot air ballooning over Bagan will depart for their excursion at approximately 5.30am and enjoy a wonderful flight. Returning to the hotel at approximately 7.30am there will time for breakfast before spending the rest of the morning at leisure ahead of an airport transfer for our flight to Yangon. We'll be meet on arrival and transferred to our hotel. The rest of the day is free to relax in the hotel or venture into the city.
Overnight: Yangon | Breakfast
Saturday. Today is the end of our Myanmar adventure, with airport departure transfers once you have checked out of your hotel.

Alternatively opt to extend your stay and further explore this delightful city by booking post tour accommodation.
Breakfast
Ballooning over Bagan
Take to the skies for a spectacular aerial view of Bagan's remarkable landscape on days 11 or 12 of your tour, as you soar over hundreds of ancient stupas and temples on our Ballooning over Bagan bolt-on. Visit our website for details.
The hotels listed below are ones which we frequently use on this tour. We reserve the right to substitute these hotels to ones of a similar standard.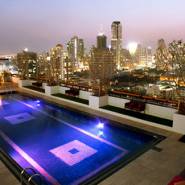 Furama Silom, Bangkok
An elegant flagship hotel, the Furama Silom tastefully combines classic Thai style with contemporary design. Guest rooms are well designed with sleek glass panels giving a luxurious feel. Complimentary high speed internet is available. The dining options are simple yet sophisticated. Head to the Rama restaurant for delicious Thai and international cuisine or spend an evening at the Silom Sky Bar - a gorgeous roof top pool with stunning views of the city to marvel at. Centrally located in the of Silom just 5 minutes from the Sky Train.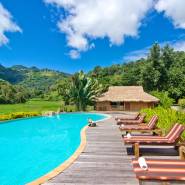 Hmong Hilltribe Lodge, Mae Rim
Set within the spectacular mountains and rice fields of Mae Rim, the Hmong Lodge offers guests a unique opportunity to experience traditional Hmong culture amidst striking natural beauty. Conveniently located just an hours drive from Chiang Mai, The Hmong Lodge offers travellers the perfect balance of style and comfort and offers them the chance to meet and learn about nearby tribal communities. The comfortable guest rooms are beautifully crafted from wood and have a splash of colour added with the Hmong quilts. The lodge features an outdoor pool, spa and open-air restaurant. Days can be spent with local tribes and exploring the stunning surrounding landscapes while evenings at the lodge can be filled with a barbecue and al fresco dining followed by traditional Hmong performances including dancing.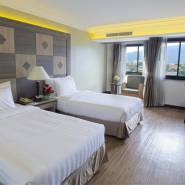 Amora Hotel Chiang Mai, Chiang Mai
Close to the Tapae Gate, Amora Hotel Chiang Mai is a modern property with great amenities. Guest rooms are designed in the modern Northern Thai (Lanna) style and come with air conditioning, TV, mini bar and room service. The hotel also boasts a refreshing outdoor pool and fitness centre as well as Chili's restaurant - serving up a delicious array of transitional Thai and international cuisine. The Lobby Lounge Bar and Pool Bar are great places to enjoy a cocktail at the end of the day.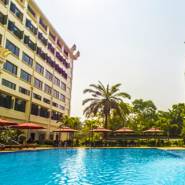 Rose Garden Hotel, Yangon
Located just a mile from the Shwedagon Pagoda and other attractions, the Rose Garden is an elegant hotel for your stay in Yangon. Enjoy the spacious superior rooms with locally-influenced decor, free Wi-Fi and a range of four-star amenities. The hotel's two restaurants and bar offer delicacies ranging from Burmese to Italian cuisine. Perhaps the highlight of this 7-floor hotel is its 60 ft outdoor pool, perfect for a sunny swim. A gift shop & gallery and 24-hour gym also feature among the hotel's services.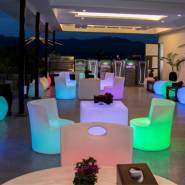 Eastern Palace Hotel, Mandalay
The Eastern Palace is an elegant hotel situated 10 minutes' drive from central Mandalay. Its all-day restaurant and rooftop bar, large pool, and fitness centre are available for guests to relax in after seeing the sights of the former royal capital. The bright and modern rooms are equipped with flat-screen TVs, free Wi-Fi, and en-suite facilities. The hotel is also near the elaborate Shwenandaw Monastery, once part of the Burmese Royal Palace.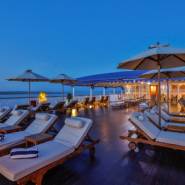 Irrawaddy Voyage I, Irrawaddy River Cruise
Cruise along the Irrawaddy River on board the Irrawaddy Voyage I. Built in 2014, this relaxing cruise boat has spacious staterooms with private French balconies on the main deck. The sun deck is complete with lounge and bar as well as a spa and gym as well as sun loungers for a wonderful cruising experience. The main deck is also the location for the dining room where all meals are served buffet style.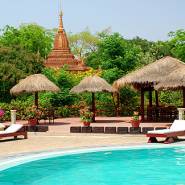 Thande Hotel, Bagan
Built in 1922 to facilitate the arrival of the British Prince of Wales, the Bagan Thande Hotel is the only colonial era building in the city. Rooms are furnished to a high standard with beautiful teakwood, fine fabrics and traditional handicrafts. An Al-fresco dinner overlooking the Ayeyawaddy River facing numerous pagodas is a great way to spend evenings at this wonderful Burmese retreat. The hotel is perfectly situated by the river in Old Bagan and is surrounded by beautiful gardens and temples as far as the eye can see.
In Brief
Range
Starts
Bangkok
Ends
Yangon
Departs
Mondays
Hotel Rating
3 - 4 star
Tour Guide
Yes - escorted by a tour guide
Meals
Breakfast: 9, Lunch: 3, Dinner: 3
Countries
OTG001974
Highlights of Thailand & Myanmar - 13 days
Southeast Asia
Signature
3845 AUD
false
0
Thailand
https://www.onthegotours.com/au/Burma/Highlights-of-Thailand-And-Myanmar-13-days
https://www.onthegotours.com/repository/Bagan-at-sunset--Myanmar--On-The-Go-Tours-483141507808812_crop_flip_300_300_f2f2f2_center-center.jpg
3845
AUD