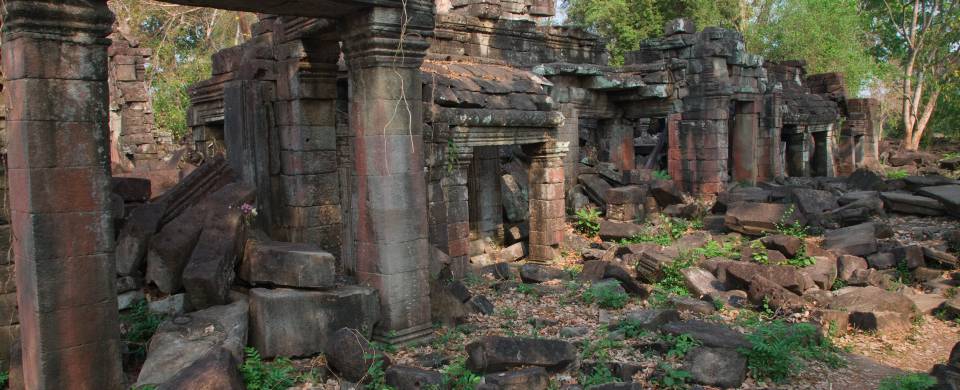 Trips and Tours to Banteay Chhmar
About Banteay Chhmar
Situated in the north-west of Cambodia close to the border with Thailand, the temple complex of Banteay Chhmar was constructed by the same king responsible for the incredible temples of Preah Khan and Ta Prohm found at the Angkor complex - Jayavaram VII. Comprised of a large central temple alongside satellite shrines and reservoirs, Banteay Chhmar was built on the site of a 9th century temple and would have once housed the largest Buddhist monastery of the Angkorian period. The temple bears a striking resemblance to the Bayon temple at Angkor for its enigmatic sculptural faces of the bodhisattva of compassion, Avalokiteshvara. It's one of the few temples to feature this particular bodhisattva and also features 2,000 square metres of exquisite carvings depicting naval warfare, battles on land, as well as scenes of daily life.
Read More
Over the years much of Banteay Chhmar has fallen into disrepair with many apsaras missing parts and exterior bas-reliefs dismantled due to looting. Despite this Banteay Chhmar is well-worth a visit and with support from the Global Heritage Fund may even make its way onto the UNESCO World Heritage list. The few galleries that have remained mostly intact display inscriptions dating back to the 12th century and with the encroaching jungle it's an incredibly evocative site.
South of Banteay Chhmar stands the small temple of Banteay Top, or the Fortress of the Army as it is also known for the belief that it may have been a tribute to the Khmer army. Here the Khmer defeated the Cham army for control over the area. The site is largely in ruin with three surviving, though very precarious-looking towers.