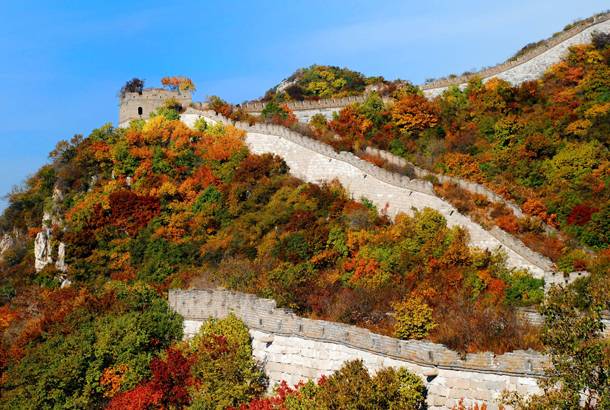 Seasons and Weather
Being such a vast country, it is possible to travel China year-round. However, there are four main seasons that travellers should be aware of.
What's winter like in China?
November to February is China's winter and this can be a particularly bone-chilling affair. Temperatures in the high north of the country like Harbin for example regularly drop well below zero – which is great for the popular Harbin Ice Festival in January.
Naturally, the further south you go the warmer it gets. Although southern winters aren't as extreme as in the north, they are still cold. Winter is also the time when most tourist attractions are at their quietest. However, the annual Chinese New Year celebrations (timings vary between January and March) see hotels and transportation stretched to their capacity.
What are spring and autumn like in China?
Spring, from March to May, and autumn, from September to October, attract similar climates and are often regarded as the best times to visit China. The country begins to bloom in colour with spring seeing floral explosions in the countryside and in autumn russet hues take over the trees surrounding the Great Wall and also in some of the major cities.
Similarly to Chinese New Year, it is advisable to avoid May holiday (beginning of May) and National Day (first week in October) as once again hotels and transport will be hiked in price and very busy plus the popular attractions will be flooded with local Chinese tourists.
What's summer like in China?
Summer, lasting from June to August, sees the country basking in high temperatures and long warm days. It is also when a lot of the rain comes, however be prepared for a lot of crowds to descend on the popular tourist attractions. This is when China's children are on holiday and families and groups from the four corners of the country flock to see the Great Wall, Tiananmen Square, the Terracotta warriors and other top sights.
Despite the hot temperatures it is still a great time to go as long as you are prepared with light clothing, lots of water and a trusty Chinese fan to help keep you cool.
Beijing Climate
| | Jan | Feb | Mar | Apr | May | Jun | Jul | Aug | Sep | Oct | Nov | Dec |
| --- | --- | --- | --- | --- | --- | --- | --- | --- | --- | --- | --- | --- |
| Temp Min °C | -10 | -8 | -1 | 7 | 13 | 18 | 21 | 20 | 14 | 6 | -2 | -8 |
| Temp Max °C | 1 | 4 | 11 | 21 | 27 | 31 | 31 | 30 | 26 | 20 | 9 | 3 |
| Rainfall (mm) | 4 | 5 | 8 | 17 | 35 | 78 | 243 | 141 | 58 | 16 | 11 | 3 |
Shanghai Climate
| | Jan | Feb | Mar | Apr | May | Jun | Jul | Aug | Sep | Oct | Nov | Dec |
| --- | --- | --- | --- | --- | --- | --- | --- | --- | --- | --- | --- | --- |
| Temp Min °C | 1 | 1 | 4 | 10 | 15 | 19 | 23 | 23 | 19 | 14 | 7 | 2 |
| Temp Max °C | 8 | 8 | 13 | 19 | 25 | 28 | 32 | 32 | 28 | 23 | 17 | 12 |
| Rainfall (mm) | 48 | 58 | 84 | 94 | 94 | 180 | 147 | 142 | 130 | 71 | 51 | 36 |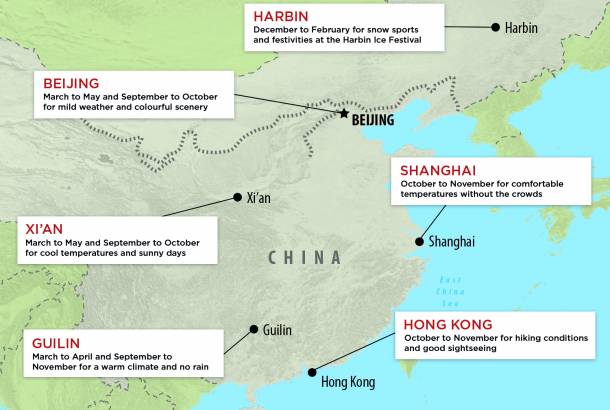 Best Time to Visit by Region
Stretching over 5,000 kilometres, China is a huge country. This means that the best time to visit will vary according to where you want to go. Here we take a look at the climate of some of China's most popular destinations.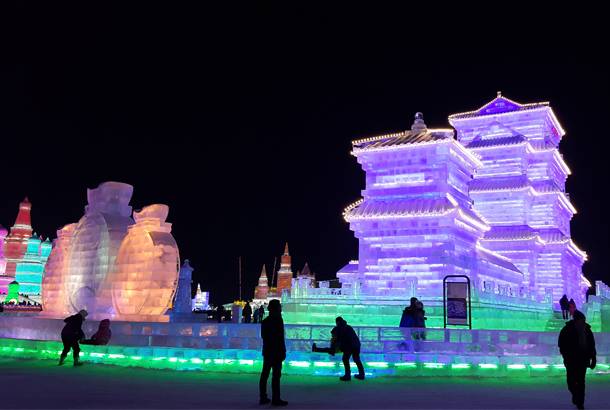 Festivals
China celebrates a number of festivals throughout the year and such festivals are a great time to visit - the mood is one of fun and special foods will be prepared and events held. However, at these times of year the demand for services such as hotel rooms and train tickets is at its highest so it can make travel more difficult.
What happens on Chinese New Year?
Celebrated on the 15th day of the first calendar month in the Chinese lunar year, on this day the country comes alive with celebrations ranging from dragon dances to firework displays. It's an especially colourful time to visit China as families in the cities and rural towns mark the beginning of the new year with lanterns decorating the streets.
What is the Harbin Ice Festival?
Visit north-east China in the depths of winter to see the spectacular ice sculptures of the annual Harbin Ice Festival with our special festival tour. It's now on the of the world's biggest winter festivals kicks off each year in December and runs through until February.
What is the Peach Blossom Festival?
Spring is a lovely time to visit China with pleasant weather and the vivid colours of flowers decorating the landscape. A good place to enjoy this is in Shanghai's Nanhui District between March and April when the Peach Blossom Festival is celebrated, oddly enough, with pig races, acrobats and folk musicians. In Suzhou a similar festival (without the pigs) is held early in the year, between February and March.
What is Tomb Sweeping Day?
In April China celebrates Tomb Sweeping Day or Qingming Festival as it is known locally. In early April families will visit and clean the tombs of their ancestors, showing their respect. It's also a time to celebrate spring and kite flying is a popular past-time during this three day public holiday with a variety of tasty treats shared.
What is the Dragon Boat Festival?
With a history of more than 2,000 years the Dragon Boat Festival has resulted in many traditions, chief among them the racing of human-powered wooden watercraft with dragon designs. Sticky rice dumplings are eaten and wine consumed to commemorate the great patriot Qu Yuan.
What is the Double Seventh Festival?
The Chinese celebrate their version of Valentine's Day on the seventh day of the seventh month of the Chinese lunar calendar - hence the name. It's a particularly romantic time to visit with couples exchanging flowers and gifts.
What is Mid Autumn Festival?
The Mid Autumn Festival is celebrated on the 15th day of the eighth month of the Chinese calendar, which usually falls in late September or early October. It's also known as Moon Cake Festival for the sweet cakes that are eaten in place of the sacrifices the ancient emperors would have made to the moon.
What is the Chongyang Festival?
The Chongyang Festival marks the 9th day of the 9th lunar month, a lucky number for the Chinese. Traditional customs include drinking chrysanthemum wine, eating cakes and climbing mountains.
Tourist Site Closures
Due to an outbreak of flu the Shaanxi Wild Life Breeding & Protection Centre is still closed and at present there are no confirmed dates as to when it may reopen. If you are looking to visit China specifically to see pandas then we recommend including Chengdu on your itinerary for the Chengdu Research Base of Giant Panda Breeding, which is currently open.
See Also
For further information to help plan your trip to China, see the following:
Best Places to Visit - our favourite spots in China to include on your visit
Tourist Visas - know what visa you need prior to travel
Top Travel Tips - covering everything from money to health, food to shopping
Traveller Reviews - see what our passengers think of our China tours
Visiting the Great Wall - a handy article on this incredible man-made feat with everything you need to plan the perfect trip
Visiting Pandas - where to see China's iconic pandas
Video Lounge - captivating China caught on camera