Discover Ecuador's diverse landscapes and rich culture on this 16-day group tour. Begin the journey in captivating Quito, a UNESCO World Cultural Heritage Site. Travel along the stunning Avenue of the Volcanoes to the charming city of Cuenca and explore Las Cajas National Park. Then fly to Galapagos Island for an incredible 7-night cruise. Take in the highlights of this fascinating archipelago, renowned for its unique biodiversity and striking scenery. Visit different islands each day, snorkel in pristine waters and encounter an incredible array of wildlife.
Trip Highlights
Quito - Take in the best of Ecuador's UNESCO listed capital on a guided tour.
Cuenca – Take in the beauty of this 16th century colonial jewel of the south
Las Cajas National Park - Look out for grazing llamas, wild horses and many species of birds including condors in this picturesque park
Alausí and the Devil's Nose – Ride the 100-year old train along its dramatic zig-zag mountain route.
Galapagos Islands - Encounter incredible wildlife on a seven night cruise through the archipelago, visiting Santa Cruz, Fernandina, Isabela, Rabida Island and more
Relax onboard the boat, admiring the spectacular views and snorkelling in the crystal clear waters
Guayaquil - Stroll around Ecuador's largest city on the banks of the Rio Guayas, and visit Las Penas, the city's most charming historic district
Ingapirca - Roam around the Ingapirca ruins, Ecuador's largest archaeological Inca site
Included
8 nights 3-4 star hotels
7 night/8 day onboard the MC Galapagos Seaman Journey in a twin/double cabin, with en suite, panoramic window and A/C
2 economy flights: Guayaquil to Baltra Island and Baltra Island to Guayaquil
Entrance fees for included excursions
Guided tour of Quito
Visit to Las Cajas National park
Transfers and transportation in private air-conditioned vehicles.
15 breakfasts, 7 lunches and 7 dinners
Quito airport arrival transfer on day 1
Escorted by an experienced English-speaking tour leader on the mainland of Ecuador
Services of professional English-speaking naturalist guides in the Galapagos
Avenue of the volcanoes - Cotopaxi & Limpiopungo and Ingapirca Inca site
Galapagos 8 day cruise with guided land excursions and optional snorkeling everyday. With use of snorkel and flippers.
Not Included
International flights and visas
Galápagos National Park entrance fee
Tipping – an entirely personal gesture
Welcome to Ecuador. You will be met at Quito airport and transferred to our hotel in the Andean capital of Ecuador. At 2,850m, Quito is one of the highest capital cities in the world. This unique city is divided into two contrasting districts, with the active volcano Guagua Pichincha to the east.
Overnight: Quito
This morning we take a short walking tour through colonial core of the city, with its narrow cobblestone streets and white-washed buildings, nestled beneath an extravagant array of steeples and cupolas. Being the first city ever to be named a UNESCO World Heritage Site, it's a treasure trove of architectural and historical gems. Our tour of Quito's historic centre takes in all of the main sights including the San Francisco monastery, the main plaza, with its cathedral and governmental palace, and the Basilica del Voto Nacional, with its quirky gargoyles. This afternoon is free to explore Quito at leisure or just relax at the hotel.
Overnight: Quito | Breakfast
Avenue of Volcanoes & Riobamba
Quito - Riobamba. After breakfast we make our way to the 'Sultan of the Andes' - Riobamba. We take a captivating journey along the Avenue of the Volcanoes where making it one of the world's highest active volcanoes. We take a short walk around the lagoon at Limpiopungo before travelling on to Riobamba where we spend the night in a traditional hacienda.
Overnight: Riobamba | Breakfast
Riobamba - Alausi. Our day starts early as we continue our journey south to the town of Alausi. Here we embark on an exhilarating train ride towards the breath-taking Devil's Nose, named after the shape of one of the mountains as it rises steeply from the valley. This part of the track drops dramatically in altitude, the train descends on a series of switchbacks as you slowly leave the crisp mountain air and scenery for the warmer tropics of the lowlands.

Please note: Ecuador's railways are not currently operating and an alternative programme will be offered for this day.
Overnight: Alausi | Breakfast
Alausi – Cuenca. This morning we make our way to Cuenca, the colonial jewel of the south. Our journey takes us via Ingapirca, Ecuador's main Inca Ruins. Dating back to the 15th century, the settlement has Inca architectural traits, with mortar-less stonework and characteristic trapezoidal niches. Archaeologists believe that the main structure, known as The Temple of the Sun was once used for ceremonial and religious purposes.

We travel on to the beautiful 16th-century town Cuenca which was built on the site of an ancient Inca settlement and designated a UNESCO World Heritage Site in 1999. Here, we spend the next two nights.
Overnight: Cuenca | Breakfast
The next two days are free to spend exploring charming Cuenca. Stroll around the city's narrow cobblestone streets, taking in the beautiful architecture buildings and whitewashed houses, with grand wooden doors and vibrant flowers cascading from ironwork balconies. You can also opt to visit the nearby market towns like Gualaceo, Chordeleg, and colonial Sigsig in the foothills of the western cordillera. En route you can stop to barter for silver and gold filigree jewellery and observing skilled artisans making guitars and the famous Panama hats.
Overnight: Cuenca | Breakfast x 2
Cuenca - Guayaquil. Today's journey takes us from the mountains to the tropical lowlands towards Guayaquil. This incredibly scenic journey takes in contrasting landscapes, as we pass through Andean villages and banana plantations. We stop at Las Cajas National Park, with its picturesque trails which pass through the rugged, high-altitude wilderness, home to herds of llamas and diverse wildlife, including bears, pumas, and tigrillos.

Guayaquil is the largest city in Ecuador. Located on the banks of the River Guayas, Guayaquil has gone through an incredible transformation in recent years. If time permits, we may have opportunity to walk from the bustling open market at La Bahia, past the colonial naval shipyard to the Malecon, the city's stunning waterfront promenade. We stroll past tropical gardens, bustling markets, and charming street cafés before heading to Santa Ana Hill and Las Peñas, a delightful district of brightly-coloured wooden houses and quaint streets dating back to the 16th century.
Overnight: Guayaquil | Breakfast, Lunch, Dinner
Bidding farewell to our mainland tour leader, we take an early morning flight to Baltra Island, part of the Galapagos archipelago. After paying the entrance fee, our naturalist guides lead us to Puerto Ayora, here we board a motor yacht which will be our home for the next 7 nights.

The Galapagos Island, formed six million years ago through volcanic activity, boast a diverse array of unique animals and plants. The inspiration for Charles Darwin's ground breaking theory of evolution rose from these islands. Although these island are constantly on the move, they home a thriving population of giant tortoises, iguanas, penguins and bird species. Find a spot on deck as we make our way through the ocean, trailed by flocks of birds and playful dolphins.

The boats are relatively small, creating an informal atmosphere, and the service is of a high standard; the crew is attentive and the food very good. Cabins with en suite facilities are compact but comfortable for your seven nights on board. There are common bar / lounge areas as well as a sun decks. Beach towels are provided, and basic snorkelling equipment can be borrowed.
Overnight: Galapagos Islands | Breakfast, Lunch, Dinner
On our 7 night Galapagos cruise there are normally two landings a day, visiting different islands, with opportunities to snorkel. Accompanied by our guide, we go in search of the different wildlife that inhabits the islands we have guided tours of each island t spot different wildlife that inhabit the islands.

Below is a summary of the islands that we visit on the cruise, and the animals and birds that can be found on each of them. The order of touring is subject to change.

Santa Cruz Island: A captivating island which boasts a unique ecosystem with diverse flora and fauna, including giant tortoises. It has the largest human population of the five inhabited islands. The Charles Darwin Research Station here is staffed by international scientists conducting biological research and conservation projects.

Fernandina Island: The island is one of the world's most active and impressive volcanoes, having erupted at least 10 times in the last 150 years. The island has an untamed beauty, with breathtaking volcanic landscapes. It is home to a huge colony of marine iguanas, flightless cormorants and some penguins.

Isabela Island: The largest and one of the most captivating islands in the Galapagos archipelago, Isabela has five volcanoes running down its spine. Famous for its diverse wildlife and unique geological features, Isabela has one of the impressive and spectacular inlets of Vincente Roca, with its high cliffs, lava formations and wonderful marine life. Urbina Bay has an incredible array of birdlife including finches, warblers and mockingbirds, whilst Elizabeth Bay is home to turtles and rays.

James Island: An island of black rocks and little shade, especially along its western coast, where lava pools and caves harbour a rich variety of marine life. Keep an eye out for herons, oyster catchers, and playful Galapagos fur seals in the deep, refreshing water pools. and lookout for marine iguanas feasting on algae beds.

Rabida Island: A breath-takingly beautiful gem in the archipelago, with its striking red-sand beaches formed by volcanic oxidation. A short walk along a trail to the lagoon leads to a coastal lagoon where spotting finches, doves, yellow warblers and mocking birds can be seen. There's also a large colony of flamingos.

Bartolome Island: A volcanic island is known for its striking landscape. With the altitude of 114 meters, the island offers an incredible opportunity to observe one of the most beautiful panoramic views across the Galapagos Islands, with volcanic cones, lunar like craters, lava fields, and the iconic Pinnacle Rock. Although there is very little vegetation, we can find a small colony of Galapagos penguins thriving in this unique environment.
Overnight: Galapagos Islands (6) | Breakfast x 6, Lunch x 6, Dinner x 6
Galapagos Islands - Guayaquil. Today marks the end of our cruise and incredible journey the highlands of Ecuador & Galapagos Islands. We disembark and fly back to Guayaquil where arrangements end.
Breakfast
The hotels listed below are ones which we frequently use on this tour. We reserve the right to substitute these hotels to ones of a similar standard.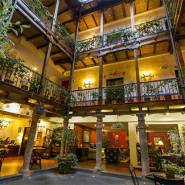 La Casona De La Ronda, Quito
Located in the heart of Quito, La Casona De La Ronda is a captivating boutique hotel that encapsulates Ecuador's rich history and charm. Each room is a sanctuary of elegance and relaxation, adorned with traditional touches and equipped with contemporary amenities. The hotel's prime location on La Ronda street grants easy access to Quito's cultural treasures, bustling markets, and vibrant nightlife.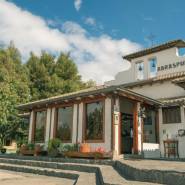 Hosteria Hacienda Abraspungo, Riobamba
Located in the heart of Ecuador's Andean highlands, Hosteria Hacienda Abraspungo is a beautiful hotel. Each room is a cosy haven, adorned with authentic decor and equipped with contemporary amenities. The hacienda offers a gateway to explore the nearby Chimborazo National Park and its stunning landscapes. Guests can immerse themselves in local culture through traditional cuisine and indigenous-inspired architecture. With breath-taking views of the surrounding mountains, this hotel combines traditional charm with modern comforts.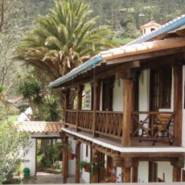 Hosteria La Quinta, Cuenca
A convenient place to stay for those taking the celebrated train down the Devil's Nose zig-zag from Alausi, the Hosteria La Quinta is a typical rustic guesthouse with whitewashed walls, roof beams and patio garden decorated with pot plants. A brick-walled open fireplace keeps the place warm and cosy, while the polished wood floors are most attractive. Guest rooms are of varying size and furnished in a somewhat Spartan fashion. The property is set on a hillside and some rooms have expansive views over the valley and the town of Alausi. Little English is spoken, but service is friendly and staff helpful.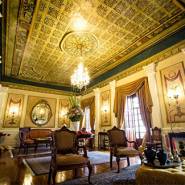 Hotel Santa Lucia, Cuenca
Conveniently located in the heart of Cuenca, Hotel Santa Lucia beckons with its timeless charm and Ecuadorian hospitality. This boutique gem offers a fusion of modern comfort and colonial elegance, showcasing a captivating blend of styles. The hotel's well-appointed rooms offer a cosy retreat, while the on-site restaurant tantalizes with local flavours. With its inviting ambiance and personalized service, Hotel Santa Lucia promises an unforgettable stay in the enchanting city of Cuenca.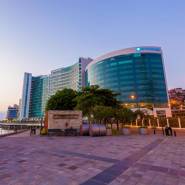 Hotel Wyndham Guayaquil, Guayaquil
Located in the vibrant heart of Guayaquil, Hotel Wyndham is a contemporary haven blending comfort and style. The elegantly designed rooms provide modern amenities, ensuring a relaxing stay. Indulge in exquisite local and international cuisine at the on-site restaurant, and unwind with a cocktail at the bar. The hotel's fitness centre and rooftop pool offer leisure options. Its prime location offers easy access to notable attractions like Malecón 2000 and Parque Seminario.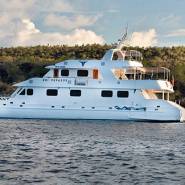 M/C Galapagos Seaman Journey Cruise, Galapagos Islands
This 4 star cruise vessel is designed to provide a comfortable, relaxed and intimate experience, accommodating only 16 passengers and nine crew members. The vessel features various amenities, including comfortable air-conditoned cabins with private facilities and large picture windows, a dining area offering delicious local and international cuisine, a spacious sundeck for relaxation, and social spaces for connecting with fellow travellers. Aboard the Seaman Journey Cruise you will be guided by experienced naturalist guides who possess in-depth knowledge of the Galapagos Islands' flora, fauna, and ecosystems. These experts lead daily excursions, providing insightful information about the islands' unique wildlife, geological features, and conservation efforts. Whether snorkelling with playful sea lions, observing ancient giant tortoises, or hiking along volcanic trails, you will have the opportunity to engage with the islands' remarkable wildlife up close.
OTG002674
Ecuador Highlands & Galapagos Islands - 16 days
South America
South America
false
https://www.onthegotours.com/au/Ecuador/Ecuador-Highlands-and-Galapagos-Islands-16-days
https://www.onthegotours.com/repository/Ecuador-Highlands--Galapagos-Islands-main-image--Bartolome-Island--Galapagos-Islands-817361691655971_crop_flip_300_300_f2f2f2_center-center.jpg