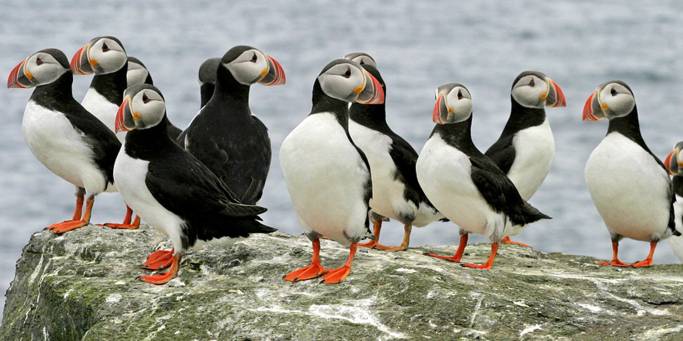 Add-on: Iceland Puffin Watching
Set sail from Reykjavik's old harbour on an hour's cruise in search of one of Iceland's most loved birds – the puffin. The charming wooden Skulaskeith (Old Skuli) boat takes just 15 minutes to get over to Puffin Island (Akurey). Along the way your guide will point out lots of places of interest including the passing buildings and islands. Once at Puffin Island, the engine is turned off and you spend half an hour or so observing the birds and learning about them. Puffins are not the only birds we will see – there are often northern fulmars, eider ducks, cormorants, arctic terns and black guillemots to be seen.

The Skulaskeith holds just 33 people and has a shallow draught meaning the boat can get a better view of all the birds sitting in the ocean, resting on the islands or flying past. It also has large windows so if the weather isn't as favourable you can still get a good view from inside.
| Prices | Dates | Price/Person | Single Supp. |
| --- | --- | --- | --- |
| Add-on: Iceland Puffin Watching | All Dates | $0 | - |
Additional Information
Starts/Ends: Reykjavik Old Harbour
Available on all Iceland tours that depart between 1st May and 20th August. Puffin watching is available at the following times
1st – 31st May: 09:30, 11:00, 12:30, 14:00 & 15:30
1st June – 20th August: 08:00, 09:30, 11:00, 12:30, 14:00, 15:30 & 17:00
Operated by our partners in Iceland
There may be other passenger on board who have not booked with On The Go
What's Included
1 hour cruise on the Skulaskeid boat from Reykjavik Harbour
100% viewing success
Maximum: 33 passengers
Binoculars provided on board