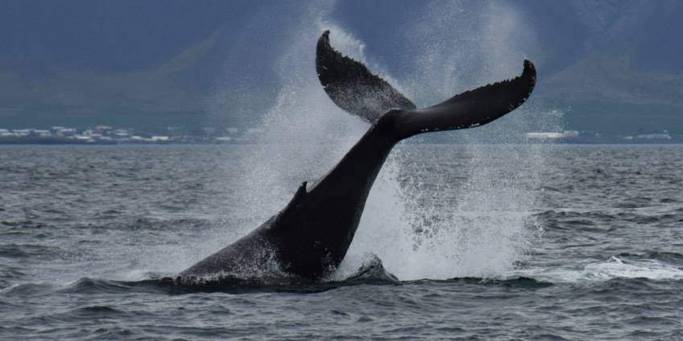 Add-on: Iceland Whale Watching
Starting in Reykjavik's old harbour, your whale watching adventure is located right in the city centre. On this whale watching excursion you will be able to get up close to some of Iceland's amazing wildlife. The focus is naturally on the giants of the sea and we hope to see Minke and Humpback Whales, Harbour Porpoises and White-Beaked Dolphins. However the tour is also a good way to see the city of Reykjavik from the coast.

The focus of these tours is comfort, unique experience and a personal service whilst keeping the environment protected and respected. The boats are manned by a highly skilled and friendly crew.

The boat is equipped with warm overalls for all passengers – they are warm enough to be able to stand out on the large viewing deck for the duration of the tour – however there is also plenty of warm seating areas inside where you can find refreshments and souvenirs to purchase. There is also complimentary Wi-Fi on board for all passengers.
| Prices | Dates | Price/Person | Single Supp. |
| --- | --- | --- | --- |
| Add-on: Iceland Whale Watching | All Dates | $0 | - |
Additional Information
Starts/Ends: Reykjavik Old Harbour
Available on all Iceland tours. Whale Watching is available year round at the following times:
January 1st – February 28th: 13:00
March 1st – May 14th: 09:00 & 13:00
May 15th – September 14th: 09:00, 13:00 & 17:00
September 15th – October 31st: 09:00 & 13:00
November 1st – December 31st: 13:00
Operated by our partners in Iceland
There may be other passenger on board who have not booked with On The Go
Due to nature's unpredictability we cannot guarantee a sighting of the whales – however in the past this is very rare. If no whales are sighted you will be given a free ticket to try again another time. This ticket has no expiry date
What's Included
3 – 3.5 hour cruise on a whale watching cruise from Reykjavik Harbour
Warm overalls to wear during cruise
Complimentary Wi-Fi
Free ticket to try again if no whales are sighted