Take in the highlights of India's Golden Triangle before heading east discover the British Raj and Islamic architecture in Lucknow and holy Varanasi. Continue your journey to Bodh Gaya - a pilgrimage site for Hindus and Buddhists, before topping off your stay in the culture capital of Kolkata.
Trip Highlights
Agra – Discover Agra Fort and enjoy a tour of the iconic Taj Mahal which remains an enduring symbol of love
Delhi – Ride on a rickshaw through the Chandni Chowk Baazar then discover highlights including Jama Masjid and the India Gate Monument
Jaipur – Explore impressive Amber Fort and see highlights of the Pink City including the City Palace and Jantar Mantar
Lucknow - Gaze at the incredible Islamic and British Raj style architecture and discover the royal splendor of this incredible city
Fatehpur Sikri – Stroll around ghostly Mughal City, abandoned more than 400 years ago
Kolkata – Take a guided tour of the cultural capital of India and see highlights including the Victoria Memorial and Marble Palace
Bodh Gaya – Visit the UNESCO-listed Mahabodhi Temple, where Buddha finally gained enlightenment
Varanasi – Cruise down the holy Ganges and watch the ancient religious tradition of ritual cleansing
Keoladeo Ghana National Park – Enjoy a bicycle rickshaw ride around the biodiverse wetland reserve
Included
Breakfast daily and 2 dinners
Guided sightseeing - Delhi, Jaipur, Chand Baori Step Well, Agra, Lucknow and Varanasi
Sunrise boat cruise on the holy River Ganges in Varanasi
1 train journey: Bodh Gaya to Kolkata
Services of English-speaking Indian specialist guides at some sites
All relevant transfers and transportation in private air-conditioned vehicles
14 nights 3-4 star and heritage hotels
Bicycle rickshaw ride in Keoladeo Ghana National Park
Rickshaw ride in Delhi
Escorted by an English-speaking Indian tour guide (for groups of 6 or more)
Airport arrival and departure transfer on days 1 and 15
Not Included
International flights and visa
Entrance Fees: USD$120-130pp, paid in local currency
Tip for your tour guide. We recommend you allow USD$4-7 per day, per traveller. Tipping your guide is an entirely personal gesture
Tipping Kitty: USD$50-60pp, paid in local currency

Saturday. Namaste! Welcome to India. On arrival at the airport you'll be transferred to our hotel. The rest of the day is free to relax or explore at leisure. Perhaps visit Akshardham, the largest Hindu temple in the world, before meeting our guide and group for a welcome meeting in the hotel lobby at 18:00.
Overnight: Delhi
We embark on a full day of sightseeing in India's capital. In Old Delhi we visit Humayun's Tomb and Jama Masjid - India's largest and oldest mosque. Continue to Raj Ghat and enjoy an exhilarating tuk-tuk ride around Chandni Chowk bazaar. In New Delhi we see the ceremonial Rajpath and the famous India Gate monument. After our busy day of sightseeing we enjoy a Namaste dinner in the hotel.
Overnight: Delhi | Breakfast, Dinner
Delhi - Jaipur. Today we drive to the UNESCO-listed Pink City of Jaipur and enjoy a tour of the pretty City Palace. Continue to the Jantar Mantar space observatory, home to the world's largest stone sundial.

On day 4 there's an early start if you wish to join our incredible Balloon Over Jaipur add-on. Sail over hilltop forts, palaces and temples in a hot air balloon, then return to land and explore striking Amber Fort. This well preserved 16th century fortress is laid out over four levels and sits on the shore of the shimmering Maota Lake. We reach the fort by jeep and enjoy a guided tour, then stop at a local cotton weaving house on our way back to Jaipur.
Overnight: Jaipur | Breakfast x 2
Jaipur - Abhaneri - Bharatpur. Say goodbye to Jaipur today as we travel to the rural village of Abhaneri, home to the famous Chand Baori step well. Marvel at this incredible site, where 13 stories stretch down to the waters edge. The well famously featured in the blockbuster film 'Batman: The Dark Knight Rises'. After our visit we continue to a local school to meet the pupils and teachers. We operate our Change for Children programme here and any donations you make will be greatly appreciated. You may also wish to bring some educational gifts from home to give out to the pupils (see trip notes).

Later, we arrive at our hotel in Bharatpur and visit Keoladeo Ghana National Park. Enjoy a bicycle rickshaw ride through this tranquil wetland reserve, which is home to more than 350 bird species including herons, quails, eagles and falcons. We'll be accompanied by a knowledgeable guide who will identify the species we spot.
Overnight: Bharatpur | Breakfast, Dinner
Bharatpur - Agra. This morning we visit the eerie 16th century city of Fatehpur Sikri, which was abandoned more than 400 years ago but remains well-preserved. Our day continues with a visit to the impressive Agra Fort and India's most recognisable site - the Taj Mahal. This legendary white mausoleum was constructed by more than 20,000 workers in the 17th century, under the orders of Emperor Shah Jahan. The Taj Mahal stands as an extravagant memorial to the Emperors beloved wife, who tragically died in childbirth.
Overnight: Agra | Breakfast
Agra – Lucknow. This morning we depart for Lucknow, the capital city of Uttar Pradesh. Boasting beautiful British Raj-era architecture as well as fantastic examples of Islamic art and design, Lucknow is an enigmatic city steeped in history. This afternoon we'll tour the highlights of a city which first gained importance in 1528 with its capture by Babur, the first Mughal ruler of India. Our first stop will be to the Chota Imambara, one of the most intricate and exquisite buildings in Lucknow, it was built as a congregation hall for Shia Muslims and today houses the tombs of Muhammed Ali Shah and his family. Our next stop is the Rumi Darwaza, often referred to as the Turkish Gate. This imposing gate is a busy route through the city. We finish the day at Bara Imambara, this impressive complex was built in the 1780's and houses a mosque, a step well and a maze of corridors.
Overnight: Lucknow | Breakfast
Today we further explore the city of Lucknow, heading first for La Martiniere college. The college was established in 1845 from instructions in the will of Major General Claude Martin, who left a large endowment for its construction and upkeep. Today, it educates upwards of 6,000 pupils at one time and the Constantia building has been described as 'perhaps the best-preserved colonial building in Lucknow'. Later we'll visit the remains of two British Raj-era buildings, Dilkusha Palace and the British Residency, both of which were shelled during the 1857 siege of Lucknow and today lay in ruins. The rest of the day is at leisure for you to further explore Lucknow.
Overnight: Lucknow | Breakfast
Rise early this morning as we enjoy a sunrise boat ride on the holy Ganges River. Watch the ancient religious tradition of ritual cleansing that takes place on the riverside ghats (steps), then enjoy a guided tour of the city. At sunset you may wish to revisit the ghats for the evening pilgrimage, which is different to the dawn ritual.
Overnight: Varanasi | Breakfast
Varanasi - Bodh Gaya. Leaving Varanasi this morning, we drive to the important Hindu and Buddhist pilgrimage village of Bodh Gaya. The rest of the day is free to explore as you please. Perhaps visit the Great Buddha Statue, which will tower over you at 82ft tall.
Overnight: Bodh Gaya | Breakfast
Enjoy a guided tour of Bodh Gaya today as we visit the Niranjana River and the Sujata Temple. We also explore one of the most visited places in the Buddhist religion, the UNESCO-listed Mahabodhi Temple. This impressive temple is famously the site where Buddha attained enlightenment by meditating for seven days under the Bodhi Tree (Tree of Awakening). Our tour also takes us to a Buddhist monastery and the Archaeological Museum, where we discover a large collection of fascinating Hindu and Buddhist relics.
Overnight: Bodh Gaya | Breakfast
Bodh Gaya - Kolkata. This morning we take the train to the cultural capital of India - Kolkata. The afternoon is free to relax or explore at leisure. You may wish to visit Science City or admire the European architecture of St Paul's Cathedral - the first cathedral built in India under British rule.
Overnight: Kolkata | Breakfast
Enjoy a guided tour of Kolkata today and take in highlights including the Indian Museum, St John's Church and the Victoria Memorial. This beautiful building was built in dedication to the memory of Queen Victoria and now serves as a museum and the home of several galleries. We continue to the Hindu temple of Khalighat and Mother Teresa's Ashram Home of Children. Our final stop is the striking Marble Palace, a 19th century mansion belonging to the family of a famous Indian philanthropist, Raja Rajendra Mullick and housing his large collection of artworks.
Overnight: Kolkata | Breakfast
Goodbye India
Saturday. Our Indian adventure ends today with a departure transfer to the airport.
Breakfast
PREFER A PRIVATE TOUR OR TO EXTEND YOUR STAY?
• This tour can be arranged exclusively for you and your family or friends on a private basis, by paying the private tour supplement. Contact us for details.

• Entend your stay in this vibrant country, view our selection of add-ons and short stays.

• For information about visas, top travel tips, best time to travel and much more, browse our dedicated travel guide.
The hotels listed below are ones which we frequently use on this tour. We reserve the right to substitute these hotels to ones of a similar standard.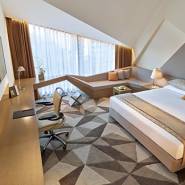 Vivanta by Taj Dwarka, Delhi
Vivanta by Taj Dwarka is a modern, luxury hotel located in Dwarka, on the outskirts of New Delhi, just a 15-minute drive from the airport. Spread over 7 acres, this striking hotel has a unique angular design and offers 250 luxurious rooms and suites. All tastes are catered for at the hotel's multi-cuisine restaurant, while the Indus Express restaurant serves mouth-watering Punjabi cuisine. Head to the popular Tipple bar for a delicious array of heady cocktails or relax by the poolside with a refreshing smoothie from the Celsuis Pool Bar. The nearby Sector 21 Metro station provides direct access to the heart of the city and after a day of sightseeing you can cool off with a refreshing dip in the outdoor pool or relax in the sauna and massage parlour.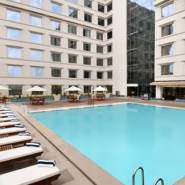 The Piccadily, Delhi
The grand lobby of the Piccadily is a perfect introduction to this elegant luxury property. Rooms are bright, airy and furnished in a sophisticated and contemporary fashion. Staff are helpful, attentive and go above and beyond to make sure your stay is a memorable and happy one. Dining at popular Zune and contemporary Twenty-9 is highly recommended. Located in the west of town, close to the airport. Access to the rest of the city is very simple with the Janakpuri West Metro station just next door.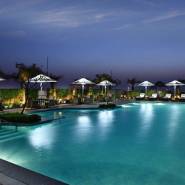 Crowne Plaza New Delhi Rohini, Delhi
Located just footsteps from the nearest metro station, the Crowne Plaza New Delhi offers a beautiful blend of contemporary facilities and warm Indian hospitality. Each en-suite guestroom features traditional wood furnishings and a minibar, free WiFi and a flat screen TV. Guests can unwind in the Adya Spa which features a mix of Asian and European therapies or take a swim in the outdoor pool to escape the heat. The hotel prides itself on its range of dining options including the Spice Art restaurant, which serves delicious North Indian cuisine, and Moasic, where you'll find a range of international dishes.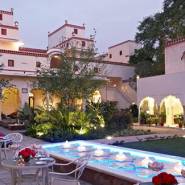 Mandawa Haveli, Jaipur
Made of pink and red sandstone, the beautiful heritage-style Mandawa Haveli is a fine example of typical Rajasthani architecture. All rooms are well appointed with intricately carved wooden beds and king-size royal portraits, with modern amenities such as free WiFi and ensuite bathrooms. Spend an evening dining on continental, Indian or Rajasthani cuisine on the outdoor terrace or request a private, candlelit dinner on the rooftop under a star-studded sky. Well located in the heart of Jaipur city on Sansar Chandra Road, this hotel is just a few minute's drive from the Palace of the Winds.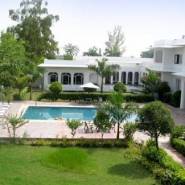 Udai Vilas Palace, Bharatpur
Set amongst 2 acres of landscaped gardens, the Udai Vilas Palace is a traditional hotel located right in the heart of Bharatpur city. Guest rooms are spacious and well equipped with comfortable beds and large windows. The hotel is famous for its barbecue nights and Rajasthani folklore evenings, where you will be enthralled by traditional music and dance performances. Keoladeo National Park, one of the most well-known bird sanctuaries in India, is also just a five-minute drive away.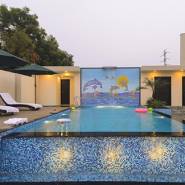 Hotel Royale Residency , Agra
Situated a stone's throw away from the legendary Taj Mahal, the Royal Residency Hotel is perfectly located for anyone wanting to immerse themselves in Agra's famous monuments. Each comfortable air-conditioned room features a minibar with tea and coffee making facilities, satellite TV as well as excellent en-suite facilities. Guests can enjoy an array of flavours around the world in the multi-cuisine restaurant, or perhaps sip on a cocktail next to the outdoor pool.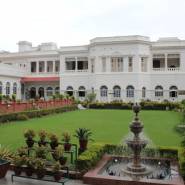 Surya Hotel, Varanasi
Originally built in 1818 as an ancient Nepali King's Palace, the Surya Hotel has been beautifully restored to its former glory. Guestrooms are classically furnished with excellent amenities and beautiful European-style bathrooms. Meals are served in the Canton Royale Restaurant which serves up a delicious array of Indian and International cuisine. Those wanting a refreshing drink should head to the Sol Bar for cocktails, beers and other beverages. The hotel also offers traditional Henna tattoos and Indian handicrafts to purchase.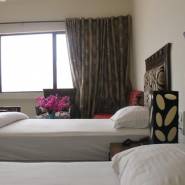 Hotel Taj Darbar, Bodh Gaya
Set within the UNESCO World Heritage city of Bodh Gaya is the Taj Darbar hotel. Offering spacious, air-conditioned guest rooms with marble flooring, guests can enjoy modern amenities, such as Wi-Fi, from the comfort of the rooms. The hotel offers a multi cuisine restaurant serving an array of Indian and continental dishes.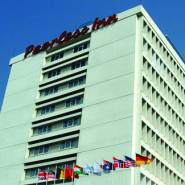 The Peerless Inn, Kolkata
Located in the heart of Kolkata, the Peerlees Inn is the perfect mix of warm and friendly service with excellent facilities offering modern comfort. The homely rooms have large windows overlooking the city streets with the conveniences you'd expect of a 4 star hotel. Authentic Bengali cuisine can be enjoyed at the Aaheli restaurant with international cuisine served at the Oceanic restaurant. Those with a sweet tooth can head to the Tea Lounge for mouthwatering pastries, chocolates and cookies. The Peerless Inn on Chowringhee is in Kolkata's city centre. It is close to Eden Gardens, New Market and the Victoria Memorial.
In Brief
Range
Starts
Delhi
Ends
Kolkata
Departs
Saturdays
Hotel Rating
3 - 4 star & heritage hotels
Tour Guide
Yes - escorted by a tour guide
Meals
Breakfast: 14, Dinner: 2
Countries
Tour Add-ons
Enhance your trip with these amazing added extras and add-ons
OTG001913
Delhi to Kolkata - 15 Days
Indian Subcontinent
Signature
Indian Subcontinent
false
India
https://www.onthegotours.com/au/India/Delhi-to-Kolkata-15-days
https://www.onthegotours.com/repository/Victoria-Memorial-in-Kolkata--India-Tours--On-The-Go-Tours-347591495628900_crop_flip_300_300_f2f2f2_center-center.jpg