Rajasthan Overview
India's largest state is also its most enigmatic, steeped in history from the Rajput dynasties of the 7th century to the golden age of the Mughal Empire and colonial British rule. Known as the 'Land of Kings', the great maharajas that have ruled over Rajasthan have left an undeniably enchanting legacy from the magnificent forts that dominate skylines to the lavish palaces that float on lakes. Very few regions in India offer such a wealth of architectural wonders yet there's plenty more to Rajasthan including the mystical sand dunes of the Thar Desert and the dense forests strewn with abandoned ruins where tigers roam in the wild. Throughout the centuries the people of Rajasthan have developed a unique culture with a sophisticated taste in classical music and dance, and the impressive calendar of festivals that take place each year means there's always a reason to visit. Whether you're a first time visitor to India or a returning traveller, Rajasthan really has something for everyone.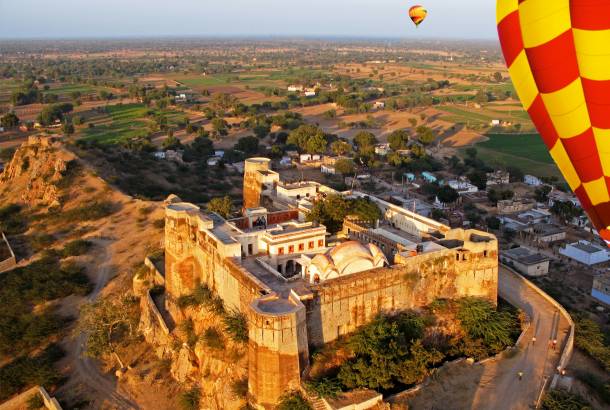 Best time to visit Rajasthan
Broadly speaking, Rajasthan experiences a tropical desert climate with four distinct seasons - summer, monsoon, post-monsoon and winter. The summer months between April and June are characterised by scorching temperatures and minimal rainfall. At this time of year the desert towns are home to very intense heat, which makes it a good time to visit Mount Abu for a little respite in cooler climes.
The monsoon rains usually start in July and continue through until September. Heavy rains hit the eastern part of Rajasthan and brings the landscapes out in lush shades of green. Although the rains can make sightseeing a little more difficult, the scenery is at its best during this time. It's also a good time to visit Udaipur with Lake Pichola reaching peak water levels and the aptly named Monsoon Palace providing an ideal vantage point to watch the daily showers.
The monsoon generally ends by mid-September and signals the transition from wet to dry climate conditions. Cool winds from the Himalayas clear the skies and vegetation begins to dry out, though temperatures generally aren't too high.
The winter months of November to March are considered to be the best time to visit Rajasthan because of the pleasantly cooler temperatures and dry conditions. In the depths of winter temperatures in the desert regions can reach below freezing and nighttime temperatures drop considerably so warm clothing is needed. During these months a number of colourful festivals take place throughout Rajasthan which just adds to the appeal of visiting in winter.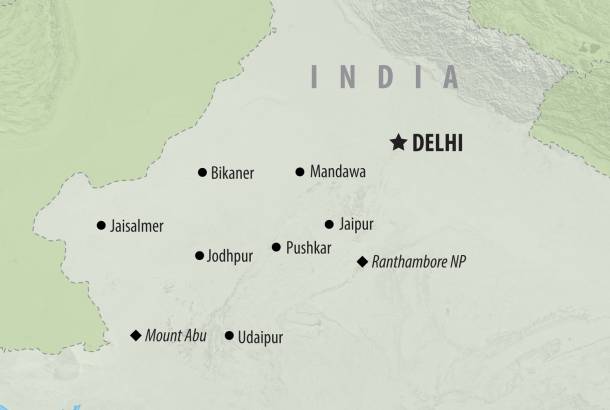 Getting around Rajasthan
The main cities of Rajasthan are well connected by train and plane with good highways perfect for car journeys. Here's the lowdown on how to get around Rajasthan.
Car
If you're visiting a number of Rajasthan's popular attractions, private car hire is the way to go. Sit back and relax as you pass through semi-desert regions, small towns and rural villages on the way to the next city. It's possible to get from Delhi to Jaisalmer in a week by car with plenty of stops en route. We include the services of a driver and air-conditioned car on our
tailor-made tours
to India and A/C minivans on our group tours.
Train
No trip to India would be complete with trying a train journey. The extensive train network links the majority of Rajasthan's larger cities. Longer journeys such as Udaipur or Jaisalmer to Jaipur or Delhi go by overnight sleeper trains. The long-distance express or mail trains offer nine different classes ranging from cheap as chips unreserved seating to lush first class air-conditioned carriages with two-tier bunks and shared bathrooms.
A number of luxury tourist trains operate various itineraries across Rajasthan. Inspired by the Orient Express, these trains offer spacious cabins with plush furnishings and wooden furniture plus a grand restaurant car and bar serving a variety of international beverages. The all-inclusive tours include meals and touring of Rajasthan's top places with the Palace on Wheels one of the most popular options. The 8 day round-trip from Delhi covers Jaipur, Udaipur, Jaisalmer, Jodhpur, Bharatpur and Agra. The even more opulent Royal Rajasthan on Wheels offers a similar itinerary.
Plane
Direct flights with domestic carriers Kingfisher, Jet and Indian Airlines connect Delhi, Agra, Jaipur, Jodhpur and Udaipur though with check in times and luggage collection at the other end, flying is not always the quickest mode of transport. We recommend domestic flights for longer distances such as Udaipur to Delhi, which would otherwise require a very long day of driving. Air fares are usually very reasonable in India, especially when booked in advance.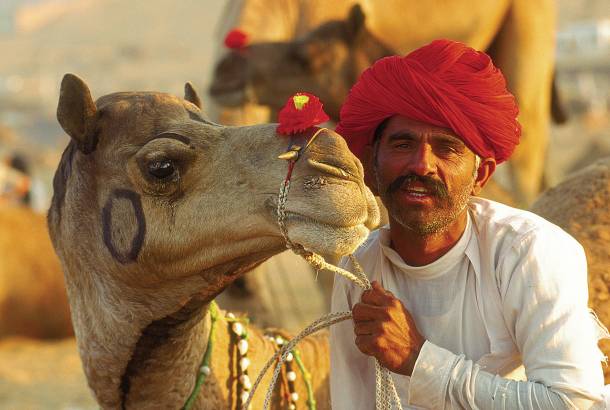 Festivals in Rajasthan
From camel fairs to dance performances, numerous festivals are held in cities and towns across Rajasthan and are a fantastic time to visit for an insight into Rajasthani culture and traditions. Here's a selection of our favourite:
Jaipur Literature Festival - This free festival is the largest of its kind with a 5-day programme that features talks from international and Indian authors as well as live debates and film presentations. The Jaipur Literature Festival is usually held in late January.
Bikaner Camel Festival - This popular festival celebrates the camel with races and pageants held over the course of two days. There are also traditional dance performances and displays of Bikaner's famous fire dances. It's usually held in January each year.
Jaisalmer Desert Festival - Held in February each year, the colourful Jaisalmer Desert Festival takes place across three days with tribal dances, a turban-tying contest and a 'Mr Desert' contest for moustache-twirling gentlemen.
Gangaur Festival - Celebrated across Rajasthan, this is one of the state's most important festivals honouring the goddess Parvati. Women dress in their finest attire and join processions following the veiled images of Gangaur and Isar. The festival is held in April and also marks the beginning of spring.
Mount Abu Summer Festival - If you do find yourself in Rajasthan in May head to the hills for this festival dedicated to local music with classical and folks recitals.
Dussehra Mela - A 2-day public holiday with an 8-day build up of spectacular firework displays and burning effigies paraded through the streets. The event celebrates the victory of Rama over the demon king Ravana and is a particularly good time to visit the towns of Kota and Alwar in Rajasthan.
Pushkar Camel Fair - This is one of Rajasthan's most famous festivals with thousands of camel herders and their stock of camels and horses descending on Pushkar to trade cattle. Attendees of the Pushkar Camel Fair wear their finest gear and even the camels are usually dressed up! If you want to experience the Pushkar Camel Fair this year, check out our 10th November departure of our Passage to India group tour.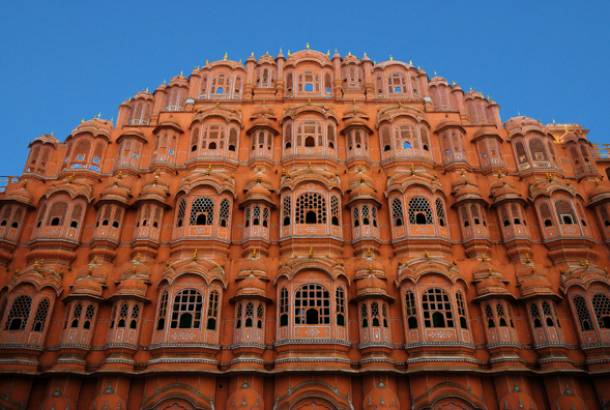 The Pink City
Jaipur
As the capital of Rajasthan, Jaipur is the largest and busiest city in the state, with a dazzling display of brilliant Rajasthani architecture. Easily reached by road from Delhi and Agra, Jaipur forms the third point on India's Golden Triangle and its location often means visitors use the city as the gateway into western Rajasthan. At the heart of the city lies the old walled quarter, commonly referred to as the Pink City. Listed as a World Heritage Site by UNESCO in July 2019, this is where the majority of Jaipur's attractions are located, including the magnificent City Palace, the intriguing ancient observatory of Jantar Mantar and the striking facade of Hawa Mahal. For many travellers a visit to Jaipur would not be complete without an excursion to lofty Amber Fort, which sits on a rocky ridge overlooking Maota Lake.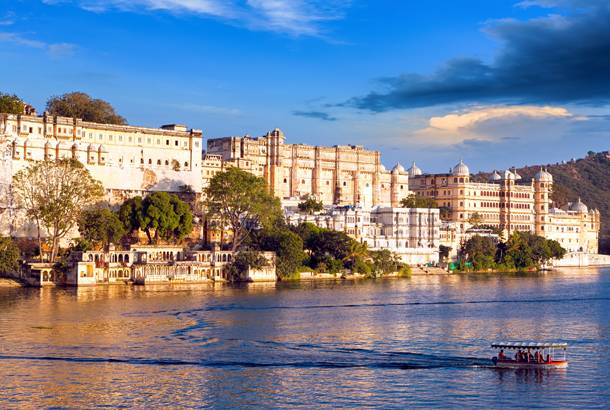 India's most romantic city
Udaipur
Backed by the wooded Aravalli Hills and surrounding the placid waters of Lake Pichola, Udaipur is one of India's most charming cities with whimsical palaces, ornate havelis and colourful bathing ghats. One of the city's most iconic images is that of the floating Lake Palace, now a lavish hotel, a white marble structure with open-air courtyards and attractive ponds that was famously used in the James Bond film Octopussy. On the northwest side of the lake stands the yellow sandstone City Palace, the largest palace in Rajasthan with ornate turrets and cupolas. Construction began in the 16th century and today the complex comprises eleven different palaces and a network of courtyards. Other popular sites in Udaipur include the exquisitely carved Jagdish Hindu temple, the pleasant gardens at Moti Magri which offer superb views over Fateh Sagar lake, and the Monsoon Palace (Sajjangarh) which sits on a hill west of the city.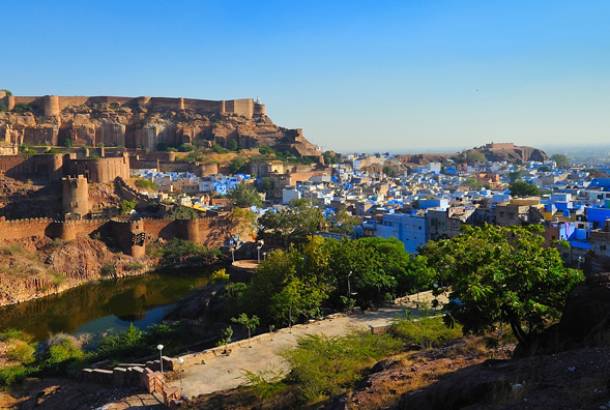 The Blue City
Jodhpur
Sitting on the eastern edge of the Thar Desert, the city of Jodhpur is famous for the incredible Meherangarh Fort that looms large on the horizon, its sheer size making it one of the most impressive citadels you'll see in all of Rajasthan. Rising from a rocky outcrop, the Fort affords amazing views across the indigo-washed houses of Jodhpur, which have earned the city the moniker of 'The Blue City'. The tall clock tower stands at the centre of the old city and from here bustling markets spread out in every direction selling top quality antique reproductions and colourful textiles alongside aromatic spices and delectable Indian sweets. The immense Umaid Bhawan Palace sits on the southeast edge of the city with a lofty domed central hall and extensive wings that have been transformed into a luxury hotel.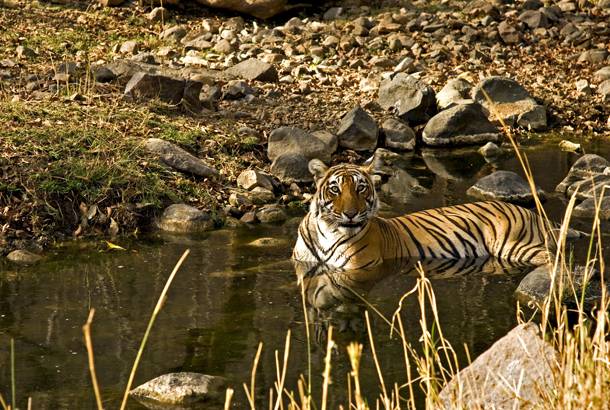 Tiger safari
Ranthambore National Park
With easy access from Delhi and India's Golden Triangle, Ranthambore National Park is one of India's most popular wildlife reserves and offers a strong chance of spotting the Bengal tiger. Covering an area of 392 square km, it's also one of India's largest parks with wild jungle scrub, numerous rivers and lakes, rocky ridges and ruined structures including pavilions and the 10th century Ranthambore Fort. The welfare of the tigers in Ranthambore is overseen by Project Tiger, a pioneering initiative set up to conserve the endangered animal's natural habitat. Tigers in Ranthambore are so used to the jeeps that drive around the designated buffer zones of the park that they will happily meander along well-worn driving tracks, seemingly oblivious to the camera clicks and general excitement of those on safari.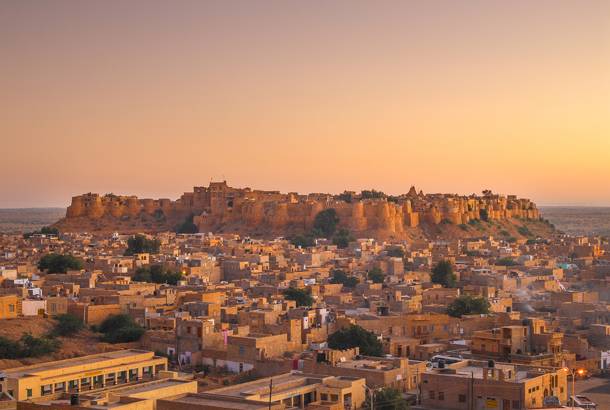 Quintessential Desert Town
Jaisalmer
Located in the far west of the Thar Desert, the city of Jaisalmer is one of Rajasthan's most remote destinations yet few other places offer such an exotic desert experience. The city's crowning glory is the soft yellow sandstone Jaisalmer Fort, its ninety nine wonderfully preserved bastions rising from the flat-topped ridge on which the fort resides. A sizeable portion of Jaisalmer's old city population lives within the medieval wall, which also encloses a network of narrow winding streets lined with houses and handicraft stores, Hindu and Jain temples dating back to the 12th-15th centuries, and the five-storey Palace of the Maharawal. Jaisalmer is also home to a staggering number of beautiful havelis with pale honey-coloured facades decorated with detailed latticework. It's also the ideal place to join a camel safari for a magical ride out into the desert for a night spent camping under the starry skies.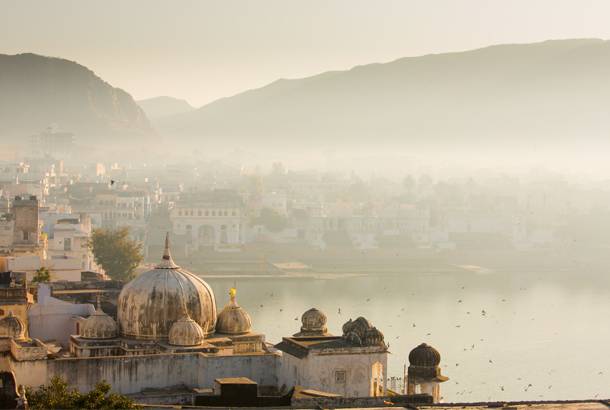 Hindu pilgrimage town
Pushkar
The compact town of Puskhar developed around the shores of Pushkar Lake, one of India's most holy bodies of water. According to legend, a lotus flower was dropped to earth by the creator, Lord Brahma, and where the petals landed is where small lakes magically appeared and so the town of Puskhar came into being. Whitewashed temples are dotted around town including the Brahma Temple, one of the world's few temples dedicated to Lord Brahma, and it's estimated that there's over 500 temples in and around Pushkar. Leading to the waters of Pushkar Lake are 52 ghats where pilgrims bathe in the sacred waters and scatter rose petals during prayer. The town comes alive for a week in November for the annual camel fair, a riotous display of camel herds and their herders who journey from all over Rajasthan to participate in races and parades.
Stunning havelis
Shekhawati Region
The semiarid area north of Jaipur is known as the Shekhawati Region and, despite its proximity to the state capital, remains fairly untouched by tourism with small rural villages, lively market towns, sturdy forts and clusters of richly decorated havelis waiting to be explored. The region's wealth grew from its location on the trade route leading to the Arabian Sea with resident merchants spending their wealth on ever more grand and ostentatious havelis that even today stand in remarkable condition with colourful frescoes and intricate murals. Many visitors to the region use the town of Mandawa as their base, home to an imposing fort and the unusual Binsidhar Newatia Haveli which features images of the Wright brothers in flight painted on its walls. The small town of Nawalgarh is another great option with its own collection of superb havelis and a thriving bazaar.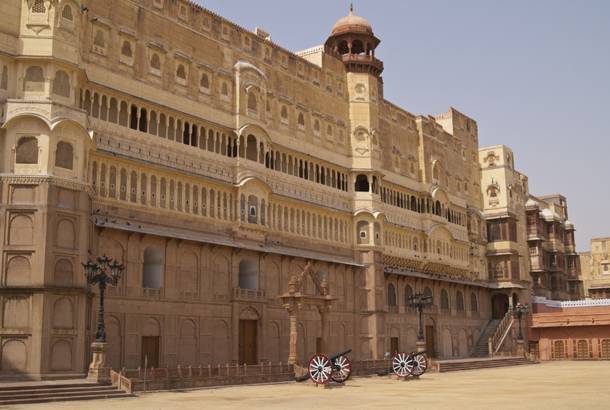 Forts, havelis and rat temples
Bikaner
The vibrant desert town of Bikaner may not receive anywhere near as many visitors as its more popular counterparts yet it has ample attractions, chief among them is the regal-looking Junagarh Fort. Dating back to the 16th century the fort features richly decorated palatial suites, temples and attractive courtyards set within high walls and encircled by a moat. The red sandstone Lallgarh Palace is worth a visit with an interesting museum displaying photographs of the city's past with a second museum housing a collection of terracotta sculptures. Within the maze-like streets of Bikaner's old city are a unique collection of havelis with architectural details that take inspiration from traditional arts as well as Art Nouveau and British design. Out of town is the Karni Mata Temple, also simply known as the 'rat temple' after the furry rodents that the temple is dedicated to and which scurry along the marble floor looking for plates filled with milk as an offering.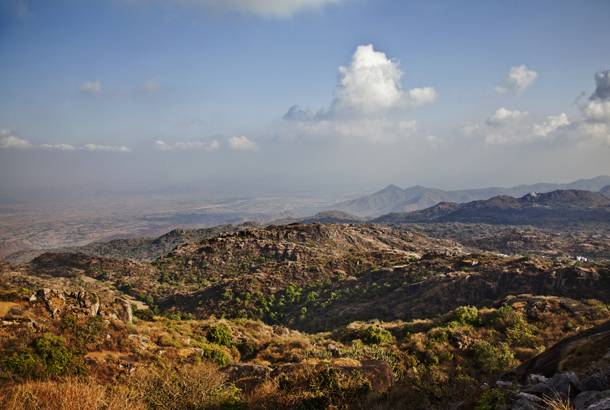 Rajasthani hill station
Mount Abu
Popular with honeymooners and weekend holidaymakers looking for a cool retreat from the heat of the desert plains, Mount Abu is Rajasthan's only hill station. Standing at an altitude of 1220 metres above sea level within the Aravalli mountain range, the town is centred around picturesque Nakki Lake with pedaloes available to leisurely ride the waters and ice-cream parlours creating a fun holiday vibe quite unlike anywhere else in Rajasthan. Walking around the shores of the lake is another popular pastime with a number of strange rock formations and a 14th century temple. There's also several viewpoints especially popular at sunset for romantic views across the lake. Mount Abu is also home to some of the finest Jain temples in India, namely the beautifully adorned Dilwara temples. Made from marble, these five temples feature exquisite carvings that date back to between the 11th and 13th centuries.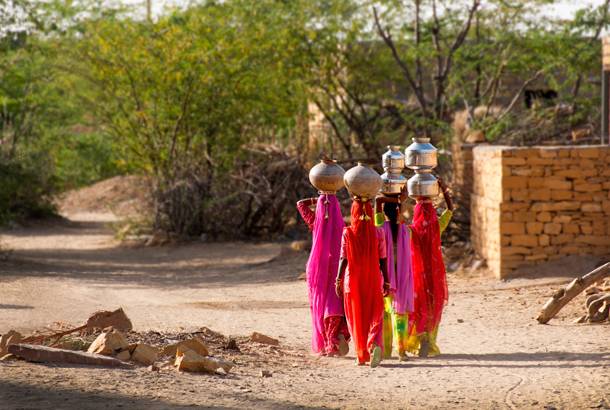 Off the beaten track
Rural Rajasthan
Rajasthan has plenty of iconic cities but outside of these are a host of rural towns and villages off the beaten track that offer a glimpse into a traditional way of life in India. The village of Bishnoi, not far from Jodhpur, is one of the best places to take a 'village safari' visiting local families, sampling traditional food and watching local crafts being made in community workshops. In the small village of Rohet you can stay in the charming, family-run Rohet Garh, a fort that has been transformed into a heritage hotel, while in Samode you can explore the wonderfully restored 18th century palace. The village of Narlai is another great place to visit, surrounded by countryside with several caves and temples dotted on the granite rocks around the village.
Tours of Rajasthan in India
Here's a selection of our tours that cover some of the many highlights in the state of Rajasthan from mini city breaks to longer adventures through the Thar Desert. Or have a browse through our full collection of India tours.