Japan Tours & Guided Package Trips
Japan Group Trips & Tours
Our award-winning range of Signature Japan group tours take in the main highlights of the country, from Tokyo to Kyoto, Mount Fuji and Hiroshima. Our annual Cherry Blossom Festival tour package is timed to coincide with the springtime cherry blossom bloom, when the entire country is carpeted in pink petals. Our trips also make good use of Japan's incredible public transport network, including travel on the famous bullet trains.

Our Essentials tour in Japan is designed to keep costs down, staying in hostels and with a combination of included sightseeing, optional activities and free time to make the most of your trip.
Discover the real Japan on our group tours and private trips. Taking you beyond the usual sites to sample authentic Japanese culture and hospitality. Book your Japan package today!
Japan: a stunning harmony of total contrasts. Where age-old tradition blends with futuristic living. Where bamboo forests meet towering skyscrapers. Where sumo and samurai shows follow robot restaurant experiences. Whether you're planning your first visit or your fifth, there's always something new to discover in Japan.
Our award-winning escorted Japan trips visit the best destinations the 'Land of the Rising Sun' has to offer. Starting in Tokyo, explore ancient Kyoto, historic Hiroshima and the beautiful Miyajima Island. Ride the bullet train, attend a Japanese tea ceremony and spend the night at a traditional ryokan. You can also time your visit with the famous spring Cherry Blossoms on our annual dedicated adventure. If you prefer to travel on a private tour, then our range of itineraries can be booked off the shelf or customized to create a bespoke cultural adventure just for you!
Journey to Japan for an unforgettable adventure. And lose yourself in the culture that's taking the world by storm. As an award-winning group tour operator, we'll help you uncover the best there is to see.
Japan Private Trips & Tours
If you'd prefer to take in Japan independently, then our private tours could be perfect for you. Our Snow Monkey Explorer tour takes in the main sights of Tokyo, Kyoto and Hiroshima before heading off the traditional tourist path to Nagano, home to Japan's famous snow monkeys.
Explore more countries like Japan
Frequently asked questions about our Japan trips
Will I visit Mount Fuji?
Whichever escorted tour you choose, you'll see Japan's most iconic peak. Mount Fuji features on all our itineraries, with a night spent beside Lake Kawaguchi, a picturesque body of water that sits beneath this iconic landmark.

Here you'll get to soak up the views of the snow-capped mountain and ride the ropeway to the summit of Mount Kachi Kachi for even more impressive panoramic vistas of Fuji and the surrounding area.
Will I get to ride a bullet train on your Japan trips?
Yes, you will. The journey from Hakone to Kyoto on our group tours includes a trip on the famous bullet train - known as the Shinkansen in Japanese. The train journey takes less than two hours and covers a distance of 364km.
What type of accommodation will I be staying in during my Japan package?
You'll mostly be staying in good value and well-located hotels that offer Western amenities.

For an authentic Japanese experience, on our Signature tours, we spend one night in a traditional ryokan - an ancient style of inn. Here you'll get to enjoy Japanese hospitality, sleep on a futon surrounded by tatami mats and dine on freshly prepared meals.
Will I get to see geisha on your Japan trips?
We can't guarantee that you'll catch sight of a geisha while visiting Japan but chances are good as Kyoto is one of the best places to see them and we include Kyoto on all of our Japan group tours.

We include a walking tour of Gion, the city's most famous geisha district and there will be free time to revisit in the early evening when geisha are often moving between appointments.
Is Japan a safe destination for travellers from the LGBTQ+ community?
According to the 2022 LGBTQ+ Travel Safety Index, Japan scores a D+ rating for LGBTQ+ traveller safety, ranking 80th out of 203 countries.

Same sex marriage isn't legal but there are some constitutional and worker protections in place for people of all sexual orientations. 26 – 50% of consulted citizens consider Japan a good place to live for gay and lesbian people. There are no legal punishments for same sex relations and most trips for LGBTQ+ travellers to Japan are trouble-free.

The LGBTQ+ Travel Safety Index is designed to provide a good overall picture of attitudes towards the LGBTQ+ community in each country and may not reflect the experience of foreign travellers to the country.
I don't eat fish. Will this be a problem in Japan?
Whilst fish is an important part of the Japanese diet, there's plenty of other great food to discover on the menu in Japan.

Chicken and beef feature prominently, whether cooked on a hot plate in a delicious teriyaki sauce or deep fried and accompanied by an egg.

Noodles and rice form the basis of many meals and vegetarians can opt for tempura (lightly battered and fried) vegetables and various forms of tofu. For more information on food in Japan, check out our Top Travel Tips page.

Let us know any dietary requirements at the time of booking so we can ensure suitable meals are provided at our ryokan.
How big are your Japan tour groups and what is the age of your travellers?
Our escorted tours in Japan have an average group size of around 8-10 travellers with a maximum group size of 16.

Our popular Cherry Blossom Festival Japan tour fills up quickly and travels with a group size of 18. Our Japan holidays generally attract those aged between 30 and 70 with an average of age of around 45-50.
I want to see Japan at its most beautiful. When do you recommend I visit?
Japan has four distinct seasons. Most people would agree that the best time for a Japan holiday is either in the spring (March to May) or autumn (September to November).

If you'd like to time your visit with the cherry blossom season then a trip to Japan in spring is recommended. Delicate pink cherry blossoms decorate the landscapes at this time, while in autumn these colours give way to fiery reds, oranges and yellows. Our travel guide has further information on the best time to visit Japan and we have a dedicated guide to the country's cherry blossom.
What is the latest travel advice for Japan and do I need a visa?
As a UK-based tour operator, we follow the travel advice of the Foreign and Commonwealth Office (FCDO). You can see the most up to date advice for Japan travel
here.
Whilst we don't arrange visas for our travellers, you can find relevant visa information in our
online travel guide.
ENCOUNTER A CULTURE LIKE NO OTHER WITH OUR JAPAN PACKAGE TOURS
Life-changing opportunities. New-found friendships. Award-winning experiences. Life-long memories. Our tours of Japan offer what money can't buy.

Our expert tour guides will introduce you to the true Japan. They'll let you in on all the local secrets. And they'll leave no stone unturned.

Talk to us about your trip to Japan. We'll do the legwork and deal with the logistics. It means we can lift the stress from your shoulders. It means you can focus on what's key: making every moment count.

Recommended tour: Land of the Samurai →
The Best of our Japan Trips
Whilst Japan is full of unforgettable highlights, these are the places that you really can't miss on your trip. From the heaving metropolis of Tokyo to the peaceful, rural tranquillity of Miyajima Island and Kyoto - steeped in ancient history. Japan is a land of beautiful contrasts just waiting to be explored.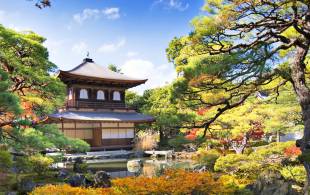 Kyoto
Japan's cultural capital is home to a plethora of UNESCO World Heritage Sites, including some of the country's most famous temples and shrines. It's also the best place in the country to catch a glimpse of the famous geisha, especially the gion district.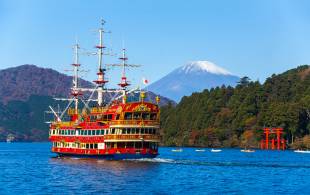 Hakone
A stunning national park, home to Japan's most iconic view. Mount Fuji sits atop striking scenes of green woodland, crystal clear lakes, and inviting hot springs. Hike in this scenic region, and spend the night at a traditional ryokan.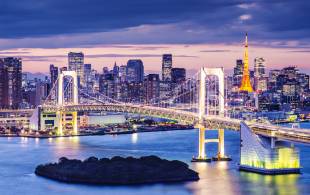 Tokyo
Ever-evolving skylines, cosmopolitan corners, and neon-lit streets. Tokyo is a city headed for the future. But look closely for kabuki, sumo, tea, and sushi - tradition is everywhere. Tokyo is huge, so our Signature package tours spend four nights here, allowing you to take it all in.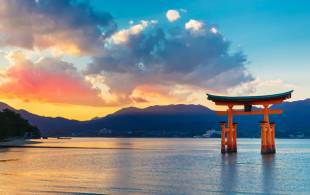 Miyajima
An idyllic contrast to the chaotic capital, Miyajima is an enchanting island of rural charm, just off the coast of Hiroshima. Home to the floating torii gate of the Itsukushima Shrine, and stunning views of Mount Misen and the Inland Sea.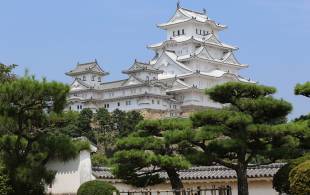 Himeji
Travelling by bullet train to Himeji, our travellers will get to explore the elegant "White Egret" castle here. It's the best known and most complete example of Japan's traditional tiered castles and even survived heavy bombing during the Second World War.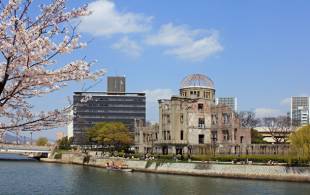 Hiroshima
A city made famous by all the wrong reasons, a trip to Hiroshima is sobering and emotional, but it's an important and fascinating stop for travellers to Japan. Reflect at the Peace Park and see the A-Bomb Dome, one of just a handful of buildings to survive the atomic bomb.