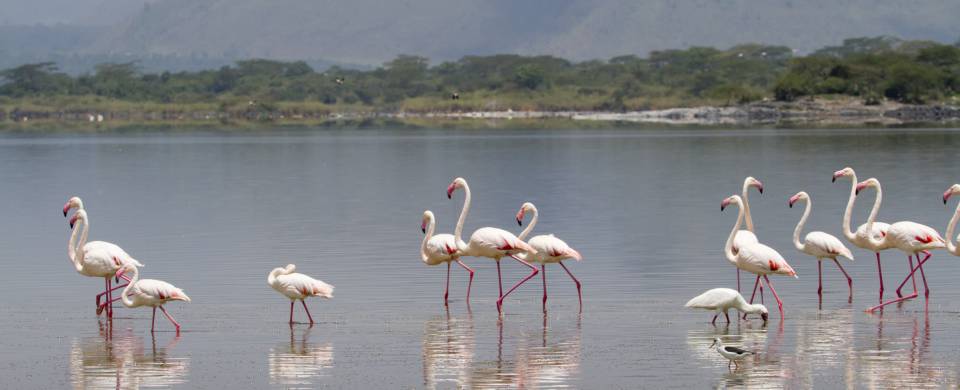 Trips and Tours to Lake Elementeita
About Lake Elementeita
Situated in the Great Rift Valley, Lake Elementeita is a large soda lake, meaning it has a high concentration of carbonate salts, that stretches out over an area of 18 sq km. Due to it being located predominantly on private land, it is far less popular than some of the other lakes in the vicinity such as Naivasha and Nakuru. This means that a trip to this expanse of water will be free from crowds, making it a much more intimate experience and allowing guests to feel much more at one with nature.
Read More
While the lake doesn't attract as much wildlife as its larger neighbours, there are still large concentrations of flamingos that flock to this blissful source of hydration as well as pelicans and herons. For the best chance of seeing as many different animals as possible, it is better to visit Lake Elementeita during the dry season as other water supplies become limited, making this lake much more valuable. July to October is usually a good period to visit although it coincides with the great wildebeest migration that occurs nearby and which draws in a high number of travellers.
Towards the Southern end of the lake are the Kekopey hot springs, a popular bathing place for locals and, according to legend, the home of mystical AIDS-curing water. It is also the breeding ground of the tilapi grahami fish. On the banks of the lake visitors will often witness zebras, warthogs and elands as well as some other wildlife who make their way here for some well needed hydration. The serenity and tranquility here is virtually unparalleled and walking around Lake Elementeita's shores is the ultimate experience of pure, unadulterated peace and tranquility.