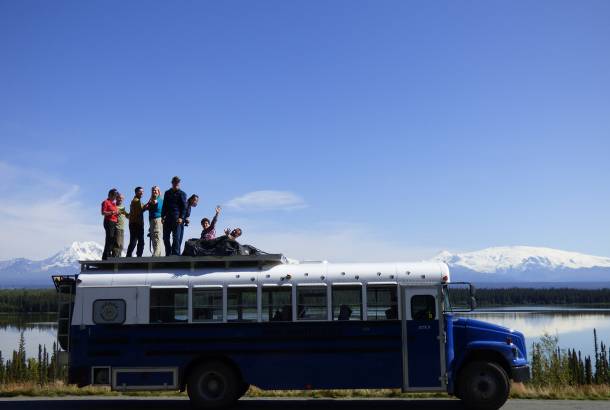 Is overlanding suitable for me?
If you're the adventurous type who'd rather spend a night roughing it in a national park than luxuriating in a boutique hotel, then overlanding is for you. You will need to have a reasonable level of fitness, enjoy camping, have a good sense of adventure and most importantly have a love of the great outdoors.
There are lots of activities for you to enjoy on our North America trips, including plenty of hiking. We usually don't hike longer than 4-6 hours and with two leaders we often have the opportunity to split into groups in order to cater for different levels of fitness and preferences.
Passengers from 18 to 70 years old have travelled on our North America trips so age is not a barrier. Just bear in mind that you will be required to put up & take down your own tent each day, help out with cooking & cleaning duties and you will experience long and often bumpy journeys. You will also need to be able to carry your own luggage. We require passengers over 65 years are to have a medical certificate and complete a Fit To Travel form before the booking can be confirmed.
Group Participation
On an overland journey you are more than just a passenger, you're part of the crew, pitching in to set up camp, shop for food, cook and generally help out. We operate a rota system, dividing the group into smaller units, so that these duties are shared equally amongst the group. These jobs will include things like collecting water and firewood, loading the back locker, etc.
Meals
On our overland journeys, all of the included meals are cooked at the campsites and this means that you will be working as a group to prepare and cook the meals. If you have any dietary requirements please tell us at the time of booking and also remind us at your welcome meeting.
A typical camp breakfast might be toast with spreads, cereal and sometimes something hot such as eggs or pancakes as well as tea and coffee. Lunch is almost always a sandwich heaped high with healthy salad and assorted fillings, sometimes with fruit to follow. Dinner might be a BBQ, risotto, pasta dish and there is always the chance to try some local food.
We do cater to vegetarians/vegans and most types of food allergies. However when we're preparing the meals at campsites there are limits to what we can do and often the vegetarian dish will be the same as the main dish just with the meat left out/cooked separately. Also in Alaska as well as in Canada there are some areas with limited supply on e.g. lactose/wheat free products so we recommend that you bring certain products or understand that they might not be available.
The Overland Truck
The overland vehicle that we use in North America is rather unique because it's a converted US school bus and it even has a name - ATKA! The truck provides ample space for everyone to stretch out along with providing at least 8 passengers tables for card playing or writing in their journals. The multitude of windows are big and open easily to allow you to take pictures at any time from the best angles. The overland vehicle is a large part of the experience and most travellers think of it as a second "home" by the end of the trip.
The truck includes:
• Viewing platform on top of vehicle for taking 360 Degree pictures of wildlife or landscape
• Wood rack to carry firewood for campfires
• Interior tables for at least 8 people to write journals or play cards during the ride
• Coolers for drinks and food
• Individual overhead lockers for personal belongings
• Overhead lights and speakers (to switch on and off individually)
• Individual seats (no benches) which are fitted with seatbelts
• Plenty of windows which are not tinted and open for maximum view and possibility to take photos at any time
• On-board safe for passenger passports and money
• Safety rating of the overland vehicle (statistics show that school buses built after 1977 are 8 times safer than passenger vehicles)
• Overland Vehicle that withstands the worst gravel roads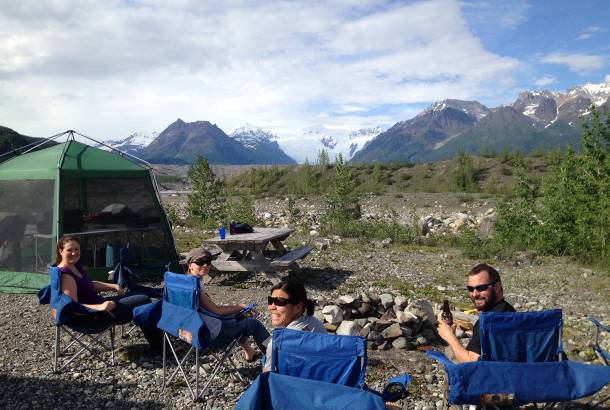 Camping
On our overland trips we camp out each night. We provide 4 person tents to accommodate 2 people. The tents are easy to put up and take down. You will need to pack your own sleeping mat, pillow and sleeping bag.
Most of the campsites we stay are established campgrounds with flush toilets and hot showers. However we try to get out into the wilderness and this means some of our campsites are bush camps with an outhouse only and no showers. But don't worry, you will be rewarded with spectacular views on glaciers and mountains and the next campsite we go to the shower will feel even better. We also carry water with us, so that you can have a basic wash, if you'd like to.
Camping with bears
Some might be thrilled about this possibility; some might feel slightly nervous about it. Yes, bears might visit our campsites but as long as we follow certain rules while hiking and camping in the wilderness, there is little to worry about.
While you are hiking we always stay together in groups. This gives us the opportunity to talk and make some noise to make sure wild animals are aware of our presence. Bears have usually no interest in human beings and tend to stay away. Making noise scares them and most likely you won't even see them as they turn their back towards us and go the other direction. If we come across one of these big hairy fellows, the best thing is to stop and talk calmly to the bear. We will all stay together in a group and make us look as big as possible while slowly moving backwards. And if you are still not convinced: to be on the safe side we will carry bear spray to use in the very unlikely event a bear comes too close.
Camping with bears requires some other/additional rules to be safe. The main reason bears are interested in a campsite is food. This will mean for us to not have any food (including granola bars, peanuts or any kind of snacks) in your tents. Also tooth paste with its minty smell seems to be of bears' interest which means that all your toiletries will stay in our overland vehicle during nights.
When we cook dinner we make sure that all trash will either go back into the truck or will be safely disposed in bear-proof bins, which are provided by many National Parks or campsites/rest areas. It goes without saying that also all our cooking gear will be safely stored away during night. Bears need to feed all summer to prepare for the long winter season. If they don't expect and smell any food in our camp there is hardly any chance we will have a visitor during night.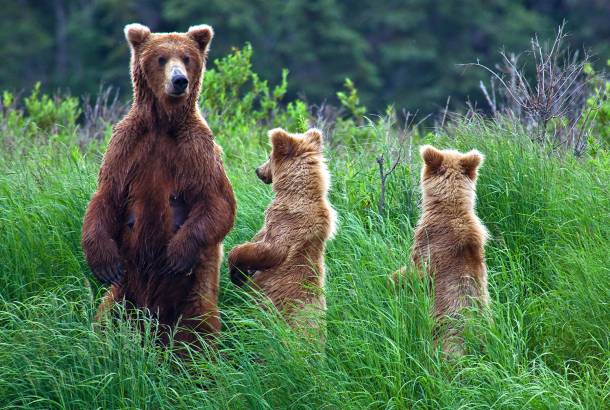 What to pack
High quality outdoor gear is a nice thing to have, but is not a necessity! As long as you have some decent rain gear, shoes you feel comfortable hiking with, comfortable thermal sleeping mat, a warm sleeping bag (season 3) and some layers to keep you warm in chilly nights you will be fine.
We can't, with 100% certainty, tell you what will give you the optimal comfort on your overland adventure. But, we can give you a good idea about what to bring and then you can add on whatever you might feel is essential to your personal needs. You'll find a suggested list of what to pack on the tour Trip Notes which are available to download on our tour pages.
Laundry
Some campsites we stay at provide washing machines and dryers for a small charge. The following campsites are a good place to do laundry: Las Vegas, Salt Lake City, Calgary, Dawson City, Teslin, Tok, Denali, Valdez, Seward, and Homer and of course the hostel in Anchorage.
Electrical equipment
Our overland vehicle will be equipped with a 12 volt socket to charge your iPod, MP3 player, camera, laptop and mobile phone. Please be aware that only a limited amount of equipment can be charged at a time and it will not be allowed if there is a risk of running the vehicle's batteries low. The majority of the campsites we stay at also have electrical outlets so please bring along your normal charging adapters and ensure that you have the correct country adaptor for your specific charger.
Personal Spending
We recommend you allow between a minimum of US$10 and a maximum of US$25 per day. This will cover individual expenses such as drinks, meals whilst out and also when staying in hotels, souvenirs, tips.
Please bear in mind that we don't know your personal preferences, if you are an excessive souvenir shopper or desperate for coffee and snacks every single time we stop you might reconsider the extra amount of money needed.
There are optional activities that you can book locally so you'll also need to budget for these. In the Trip Notes we note what optional activities are available each day and approximately how much they cost. Please note that these prices are approximate and subject to change.