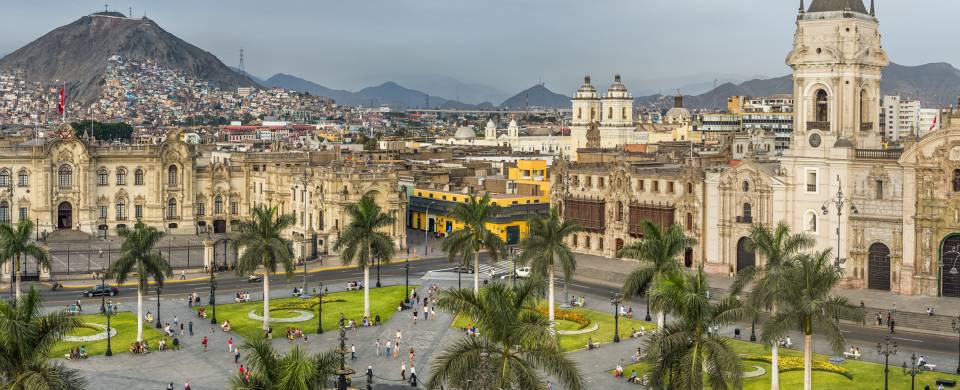 Trips and Tours to Lima
It may not look much more than a sprawling desert city at first but the appeal of Lima lies in its hidden treasures, from the country's finest museums to the many colonial buildings located in the historic UNESCO-listed centre. Pre-Colombian temples stand amid stately colonial mansions and the wealth of archaeological remains on display is nothing short of staggering. The city's museums rate highly as must-see attractions for the sheer size of their exhibits and the insight provided into the various civilisations of Peru. Other sights include the canary-coloured Franciscan monastery and church, famed for its catacombs lined with the bones of an estimated 70,000 burials, and Puruchuco, the site where 2,000 excellently preserved mummies were unearthed from the large Inca cemetery. Further out of town is Pachacamac, an archaeological complex of a pre-Colombian citadel with palaces and temple pyramids.
Read More
Aside from Lima's architectural and archaeological attractions, the city is also known for its delicious and varied cuisine. A profusion of eateries offer everything from fine restaurant dining to humble street stall grub flaunting the influences of Spanish, African, European, Chinese and Japanese immigrants. Lima also boasts a thriving nightlife scene from the trendy international nightclubs to the salsa clubs of San Isidro where you can shake your tail feathers and learn one of South America's hottest dances. Shopaholics will love the busy Polvos Azules Mercados, packed with everything from back catalogue CDs to excellent quality fake brands. Open every day of the week, it's Lima at its most frenetic and well off the beaten track.
Best Time to Visit Lima
Thanks to the cool waters of the Pacific Ocean, the coastal city of Lima experiences much milder temperatures than other destinations in this sub-tropical desert region of Peru. Temperatures do not vary too much between seasons but humidity remains high throughout the year. Despite the thick grey clouds that often shroud the capital, it rarely rains in Lima with just an average of 30cm of precipitation annually. The best time to visit Lima is the summer season, which falls between December and April with largely clear skies, minimal rainfall and hot weather.