40th Birthday Travel Ideas
Our Guide on the Best Places to Celebrate Turning 40
Where will you choose to celebrate?
Turning 40 certainly calls for a celebration. And what could be a better way to mark the start of a new decade than with an amazing holiday? To help you decide where to go, we've selected the best active adventures, safari holidays, city breaks and more, so you'll be sure to find the perfect destination no matter what your interests, timeframe or budget.
Active Adventures
If you're the type that prefers to spend your holidays exploring on two wheels or taking on a challenging trek, then these active adventures will be a great way to kickstart your 40th year.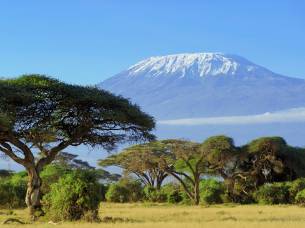 Africa's Biggest Challenge
Climb Mount Kilimanjaro
Rising majestically from the Tanzanian savannah, the world's tallest freestanding mountain provides a truly unforgettable way to celebrate turning 40. The invigorating climb takes you through diverse scenery to Mount Kilimajaro's iconic summit, where you'll not only enjoy breath-taking views but an incredible sense of achievement. Then back down on the ground, you could spend your recovery either with a spectacular safari on the Serengeti or sunbathing on the pristine beaches of Zanzibar.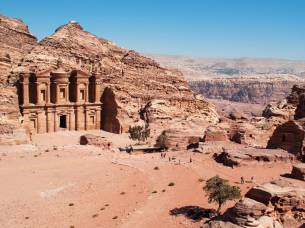 Off the Beaten Track
Trek the Jordan Trail
Starting in Dana Nature Reserve, follow the most famous section of the 'Jordan Trail' through spectacular desert scenery, deep gorges and high ridges to the UNESCO-listed city of Petra. Along the way, camp Bedouin style and experience traditional Jordanian hospitality, as well as stunning star-lit skies. The trek is suitable for fit and active individuals, such as weekend walkers, with Petra making a worthy finishing point. Carved from the dusky-red rock face, this ancient city is not only one of the world's most incredible archaeological sites, but one of the New Seven Wonders of the World.
Bucket List Destinations
Everyone has a bucket list of destinations they'd love to see and experience. And turning 40 is the perfect excuse to tick one of yours off. To give you a little more inspiration, here's our pick of bucket list destinations guaranteed to make your birthday memorable.
Join a group or do it your own way?
Our group tours visit an exciting range of destinations all over the world, perfect for if you're travelling on a budget or planning a solo adventure. Alternatively, we also arrange private tailor-made holidays, so you can create a customized birthday trip to enjoy with your friends and family.
Recommended tours for a 40th birthday
To help with your birthday planning, here's a selection of our tours visiting the destinations mentioned here. However, if you haven't found quite what you're looking for, head to your chosen destination page to view our full range of tours and itineraries.
GET IN TOUCH TO START PLANNING YOUR 40TH →
If you'd like to discuss any of the destinations mentioned here or any other itineraries you have in mind, then get in touch! Our reservations team will be more than happy to help plan the perfect holiday to celebrate your 40th birthday.