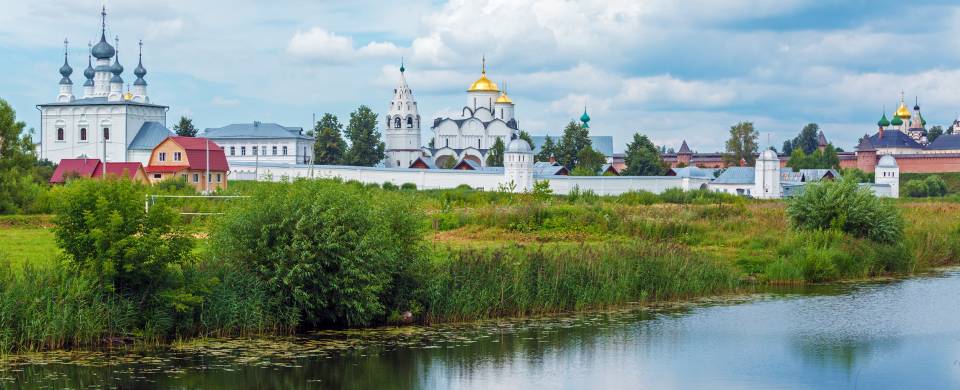 Trips and Tours to Suzdal
About Suzdal
Suzdal, with its pretty meadows and livestock that graze freely along the grassy lanes, retains the feel of a small pastoral village, despite the host of impressive buildings and a population of over 12,000 people. It is not hard to see why the town draws so many visitors - in the beauty stakes Suzdal is unrivalled in Russia. The small and incredibly picturesque town is situated in the Vladimir region northeast of Moscow and is just one of the many ancient towns that form Russia's famed Golden Ring, alongside Yaroslavl, Vladimir and Kostroma to name but a few.
Read More
Dating back to 1024, ancient Suzdal once served as a royal capital and has seemingly been forgotten about since the 20th century and is today loaded to the hilt with old buildings, stunning medieval architecture and an astounding number of churches and monasteries. In fact it's hard to walk far without bumping into another church or cathedral with Suzdal's skyline a beautiful tapestry of golden cupolas and gleaming spires unmarred by modern high-rise buildings. Since the 16th century Suzdal has been a major religious centre in Russia with a number of its monuments receiving UNESCO World Heritage status over the years.
Suzdal provides a relaxing respite from Russia's big cities and with just a few hours between here and Moscow, it's the perfect place to enjoy a slice of rural Russia, enjoying countryside walks in the fresh air and soaking up the quaint riverside scenery of meadows and gently rolling hills dotted with traditional wooden cottages.
Suzdal Tours
Here are some popular itineraries that include a visit to Suzdal. Alternatively, if you would like to include a visit to Suzdal on a bespoke touring itinerary to Russia, take a look at our tailor-made holiday planning section.
Signature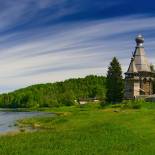 Signature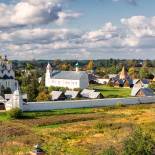 Show All Tours
Best Time to Visit Suzdal
Suzdal really is a year-round destination with something to entice visitors throughout the seasons whether it's the flowering blooms of spring, the glorious warm weather of summer, the russet hues of autumn or the snow-covered landscapes of winter. When you choose to visit will depend on what you want to - if you want to cycle around town and take a river cruise then the warmer months are your better option while if the prospect of ice skating on the frozen river holds more appeal then visit when it's colder.