Chile and Peru Tours
The scenic and cosmopolitan capital of Santiago along with the lunar-like landscapes of the northern deserts in Chile are the perfect complement to Peru's incredible ancient Inca ruins and colourful Andean traditions alive and well in Lake Titicaca. Although Chile and Peru do share a border, the majority of travellers prefer to travel between the two via Bolivia with time spent exploring the dizzying heights of La Paz and the remarkable salt flats of Uyuni for an adventure that requires the odd flight and plenty of overland adventure. See below for our range of tours that combine Chile and Peru.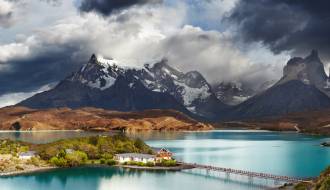 Group Tours
20 day tour visiting Chile and Peru. Also visiting Bolivia and Argentina.
From Buenos Aires to Lima set out on a journey through Argentina, Bolivia, Chile and Peru. Take in the natural wonders of the high Andes, the shimmering Uyuni salt flats and Atacama, the world's driest desert, meet the Uros islanders on Lake Titicaca and marvel at Machu Picchu in just 20 days.
Private Tours
9 day tour visiting Chile and Peru. Also visiting Bolivia.
Enjoy an adventure through Bolivia with this 9-day itinerary through the spectacular highlands and dazzling salt flats of Uyuni with time in colonial Potosi and San Pedro de Atacama in Chile.