Medieval Three Villages Small Group Day Trip from Barcelona





408 reviews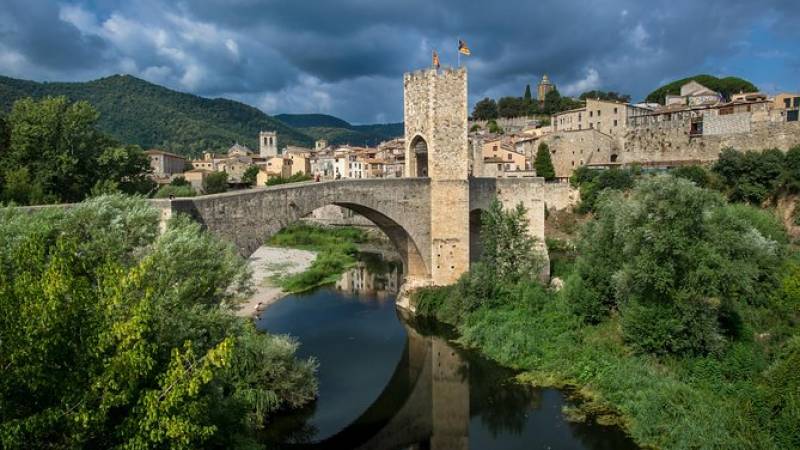 from AUD $163.31
Leave Barcelona and travel back to ancient times on this small-group tour of Catalonia's medieval villages. Visit the beautifully preserved villages of Besalú and Tavertet and learn interesting facts about these historical locations from your guide. Have free time in Rupit village to see the Baroque-era Church of Sant Miquel and have a traditional Catalan lunch (own expense) at a local restaurant. Take in views of the remains of the Castle of Rupit, Castellfollit de la Roca and the Cingles de Tavertet sandstone cliffs. This small-group tour ensures you'll receive personalized attention from your guide.
BOOK WITH CONFIDENCE:
As members of ABTA and ATAS we are
100% financially bonded
. You can book your day trip with us in absolute confidence, no matter where in the world you are.
Due to the impacts of COVID-19, we are currently not taking new bookings for day tours.
In Brief
Location:
Barcelona, Spain
Duration:
10 hours 30 minutes
Operates:
Tuesdays, Thursday, Saturday
Itinerary
This is a typical itinerary for this product

Stop At: Palace of Catalan Music, Carrer Palau de la Musica, 4-6, 08003 Barcelona Spain

8.15am - You will start your day at our main office, which is right next to the famous Palau de la Musica. You will meet your guide, have time to use the restrooms, and perhaps even grab a quick coffee before the tour begin. Your guide will explain all about the day ahead and what to expect as you wait for you tour to leave.

Duration: 15 minutes

Pass By: Eixample, Barcelona, Spain

8.30am - You will leave Barcelona though the Example district of town. As you head out of the city, your guide will give you a brief history of Barcelona, before letting you sit back and relax on the 90 minute drive to Besalu.


Stop At: Besalu, Besalu, Province of Girona, Catalonia

10.00am - The charming medieval village of Besalú is our first stop of the day.
You will begin with a walking tour of this ancient town, stopping to admire its streets lined with medieval-era architecture. You will have free time to wander around the narrow streets or to find a secluded café and sit back to watch people pass by.
Some of the highlights to visit are the 12th Century Romanesque Medieval bridge, the 11th Century Monastery of St. Pere, and the Jewish Baths, otherwise known as the Mikveh, dating back to the 12 Century.


Duration: 2 hours

Pass By: Castellfollit de la Roca, Castellfollit de la Roca, Province of Girona, Catalonia

12.30pm - From Besalú, we will head to Rupit. On the way, we will pass by Castellfollit de la Roca, located high up on the edge of a basalt precipice. It's one of the smallest towns in Catalonia with just 1,000 habitants living in just 3,280 square feet (1,000 square meters)

Stop At: Rupit, Rupit, Catalonia

1.00pm - Once in Rupit, you'll have around two hours to wander around this beautiful hamlet at your leisure.
You will be able to stroll the cobblestone roads lined with 16th-century houses, cross the city's hanging wooden bridge, and make a visit Rupit's baroque-era Church of Sant Miquel.
This is also where you will have lunch. There are a number of traditional restaurants to choose from. Your guide will be happy to help you, or even make a reservation for you. After lunch, you can visit the ruins of the Castle of Rupit set on a picturesque rocky peak, or you could even take a picnic and eat outside there.
From Rupit, we take a scenic drive towards the sandstone cliffs at Cingles de Tavertet.

Duration: 2 hours 30 minutes

Stop At: Tavertet, Tavertet, Catalonia

4.00pm - In Tavertet, the final medieval village we visit, enjoy a short walk to the stunning cliffs overlooking Pantà de Sau lake. Hear a few details about the village from your guide before checking out the 11th-century romanesque Church of Sant Cristòfol.


Duration: 30 minutes

Pass By: Montseny, Montseny, Catalonia

5.30pm - Finish your trip with a ride back to Barcelona, during which you'll enjoy vistas of verdant-green forests like Magatalls, along with the UNESCO Man and Biosphere-listed El Montseny natural park.

Pass By: Plaza de Cataluna, Placa de Catalunya, 08206 Barcelona Spain

6.45pm - After a day stepping back in time we will arrive in Barcelona around 6.45pm. You guide will help you find a taxi or the way to the metro to return to your hotel, or recommend some restaurants where to have dinner.


Inclusions
Local guide
Air-conditioned vehicle
Exclusions
Gratuities
Food and drinks, unless specified
Hotel pickup and drop-off
Departure Time
8:30 AM
Departure Point
Explore Catalunya, C/ Palau de la Música, 1, 08003 Barcelona, Spain

Returns To
Hard Rock Cafe, Plaça de Catalunya, 21, 08002 Barcelona, Spain

Additional Information
Confirmation will be received at time of booking
Not wheelchair accessible
Travelers should have a moderate physical fitness level
This tour operates only in English
This tour/activity will have a maximum of 16 travelers
Booking Information
You can present either a paper or an electronic voucher for this activity.
Cancellation Terms
This trip is fully refundable up to 96 hours prior to the commencement of your trip.
Booking Terms and Conditions
When you book this trip, you need to read and accept the
terms and conditions
for booking our day trips in excursions.
Scoring an average traveller rating of 5 out of 5 based on the last 24 recent reviews
"
I loved the tour. The tour guide Sergio was excellent. He made the experience fun while going over in detail the history and folklores of the area and villages we visited. The villages are beautiful. I highly recommend this tour.
"
Eduardo L
• Submitted 30 Dec 2019





"
We had a small group (6 People) tour and the guide Stevens was great. Knowledgeable, kind and funny at times. He had a story for every location and his knowledge of the culture and the different cities and the history in general made the trip even much better. I would definitely encourage everyone to take this tour. Great time!
"
cjeanba
• Submitted 30 Dec 2019





"
We are a family of five (3 adult children) and this was a great day trip away from Barcelona. Martha was our guide and she was fantastic! She has great knowledge of all three towns and took the time to educate us at each village. There is also ample time to explore on your own so wear comfortable shoes. All instructions are provided as far as meeting location and what to bring. The day did not feel rushed and we were able to eat lunch at one of the stops.
"
Alicia H
• Submitted 30 Dec 2019





"
Miguel is the best tour guide I've ever had. He is energetic, welcoming, and insightful. He told us lots of interesting stories about Barcelona, the 3 villages, and various other sites along the way. The villages are beautiful and offer a very nice change of scenery from the hustle bustle of the city. The only suggestion for improvement would be allot a little more time to the first and second stops, especially the second one. We had to rush thru it without seeing everything due to the long line at lunch.
"
Hai N
• Submitted 26 Dec 2019





"
We had the pleasure of going to 3 Mideval Villages . An out standing tour . It is really hard to grasp that some of these facilities are older than the oldest city in the USA, note spains came to n america in 492 . The views of where they are, the churches still standing the fact they have such history . Drawa bridges, gates , streets and buildings , yet people still live and work in these dwellings . Yes the interior are brought up to modern times . Great tour , great tour guides . Thye know the history , why things are what they are . Makes a great day
"
Arnold S
• Submitted 03 Dec 2019





"
We has such a wonderful trip to Besalu, Rupit and Tavertet. Those are beautiful towns. Nice views there and on the way. To come back to Barcelona, our guide Ana changed the route, and the landscape was even Moreno spectacular. Very recommended tour!
"
Ana G
• Submitted 02 Dec 2019





"
This tour was fantastic!! We saw three beautiful small villages that still have lots of the medieval architecture, and the views during the drive were fantastic. There were some lovely (easy) hikes in the 2nd village (Rupit) up to an old church and then along a very nice river. It was a very nice, relaxing day Our guide Xavier was super knowledgeable, friendly, and a great driver. I highly recommend the Explore Cataluyna tour company, and will book again with them next time I am in Barcelona!
"
Ruth C
• Submitted 25 Nov 2019





"
Rod, our guide, made things fun and very informative. He really wanted to make the tour adaptable to what we wanted. He did a fantastic job keeping us all on the same page while answering our thousand questions. Wish all guides were as good as he is!!!
"
Betty B
• Submitted 20 Nov 2019





"
This was a tour that exceeded my high expectations. Besalu and Rupit were extraordinary villages - we could have spent much more time there. Loved walking the narrow streets and climbing the hills. Our driver was very well educated and friendly, but talked with his hands and, sitting in the middle of the van, I constantly find that the drifting across lanes and then suddenly correcting himself made me very uncomfortable.
"
Jan R
• Submitted 04 Nov 2019





"
It was the highlight of our trip. Scenic views, wounderful food, nice gift shops. Our guide Anna was friendly and knowledgeable. She even help us with reservation for lunch in local restaurant where we had one of our best meals of our lives. Totally worth! I will go again.
"
juliana b
• Submitted 21 Oct 2019





"
Views of life in three villages, each with a different history and charm, in country that is breathtaking at times. Ample time for a good lunch or grazing along the way. Ours was a lunch of grilled lamb and roasted potatoes, with a cheesecake that I wish someone would duplicate at home, and a good house red wine. Ample time to shop for unique mementos and gifts. Ours was hand painted pottery. The guide, whose first name is Anna, was one of the best we have experienced over the last ten years traveling across Europe. When we visit Catalonia next, we will wait to see if Anna is still with this agency, and book any tour she is leading--she is that informative and engaging. The agency, Explore Catalunya, was very responsive and very helpful with all our inquiries on this and the other tour we took with them.
"
Majerus F
• Submitted 17 Oct 2019





"
The locations were incredible and Ana was very informative. This was a small group tour, which was great. Our tour guide, Ana drove the minivan which held a total of 9 people (including driver). Ana was extremely nice and knowledgeable about everywhere we went. She spoke extremely clear English. We loved how we started in Barcelona, and drove to the three different villages with each subsequent village being smaller than the previous one. The final village is very isolated in the mountains and it felt great to be out away from all the crowds for a short while. The organization of the tour was fantastic right from the start. A unique memory: I wanted to try an olive directly from a tree... Ana warned me they taste terrible directly from a tree but still pointed out a tree to go pick one from. She was right but it was a fun experience to try.
"
Ron B
• Submitted 16 Oct 2019





"
Rodrigo was incredible as our guide to medieval adventures! He was so informative and gave us lots of insight to these three charming cities. It was awesome to leave the busyness of Barcelona and take a day Enjoying the countryside.
"
David G
• Submitted 10 Oct 2019





"
A tremendous historical experience. It was as if you were back in time. Every inch of every street and wall,l were medieval and Gothic. The villages were actual livable villages. You need sneakers tostep back in time.
"
Sidney R
• Submitted 01 Oct 2019





"
Best experience ever! Even as solo traveller! A must see for everyone who loves the beauty of history and nature.
"
HELENE G
• Submitted 07 Oct 2019





"
Great tour with a wonderful tour guide, Alex! Very informative and also relaxing day seeing the countryside.
"
mackinchristine
• Submitted 26 Aug 2019





"
Picture Perfect Villages , True taste of rural catalonia , avoid the lunch if possible and explore the villages instead.
"
Parikshit P
• Submitted 05 Aug 2019





"
Very glad to have a professional tour guide Jordi who is very experience and informative. And considering for the situation of the team member. Very good driving skill even on a many sharp bend mountain. Driving us comfortable and smoothly during the whole trip. The Medieval villages are lovely and total different feeling than just visiting in the town. And very helpful while talking with the hotline for the details before the trip. For sure will consider to travel with Viator in my future trips.
"
HOI YAN L
• Submitted 23 Jul 2019





"
A great excursion and happy that we took it. Visited so many places or interest with a good guide. We were interrupted by cycling event in the area but the guide made very good re arrangement and all went well.
"
Jackie C
• Submitted 03 Jul 2019





"
Full day of touring medieval Spanish villages. Besalu is a restful little village where I could have easily spent the entire day. Tavertet is very small, but has a number of restaurants and shops. The third village, Rupit, is extremely small and isolated but has an especially beautiful overlook. The day we visited the surrounding area was shrouded in clouds. Even then it was a beautiful view. There was a third village, The guide, Gloria, provided a lively commentary an was able to set a comfortable pace for everyone in our small group. Mickey, the driver, did an excellent job in maneuvering along some mountain roads. It is difficult to pace a tour so that people can experience an area without becoming bored. I felt that Gloria did an excellent job in doing just that. People do need to consider their physical condition when touring medieval sites,however, as there are always stairs, slopes (up and down), and pathways that can quickly become slippery when wet.
"
David M
• Submitted 03 Jul 2019





"
Had really great day with our guide Cam and driver Alfonso excellent safe driver! , really interesting tour of Medieval villages and plenty of free time to explore as well. Great views atTavertet from sandstone cliffs.
"
brongard
• Submitted 17 Oct 2018





Abdulaziz A
• Submitted 15 Oct 2018





"
great tour! will recommend anyone who is staying Barcelona for days.
"
SHARON S
• Submitted 08 Oct 2018





"
Beautiful village walk down toward the water worth the view
"
blueboxhg1
• Submitted 12 Aug 2018





In Brief
Location:
Barcelona, Spain
Duration:
10 hours 30 minutes
Operates:
Tuesdays, Thursday, Saturday
More Barcelona Day Trips