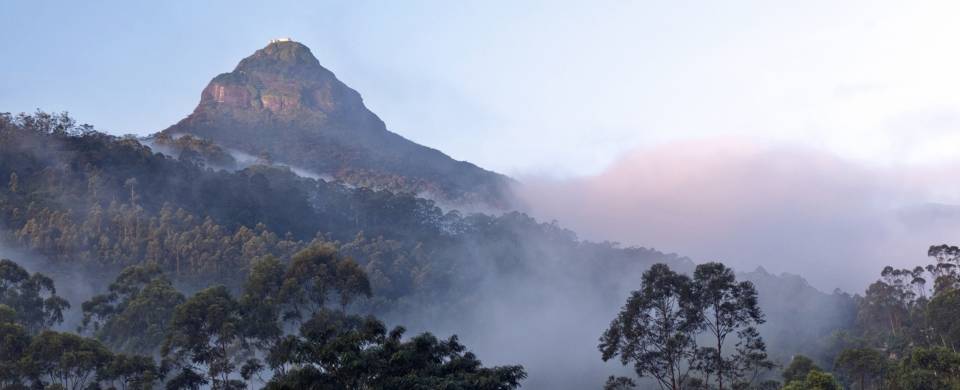 Trips and Tours to Adam's Peak
About Adam's Peak
Soaring from the southwestern edge of the hill country, Adam's Peak is one of Sri Lanka's most impressive natural landmarks. The miniature Matterhorn towers above the surrounding verdant hills and makes for a particularly dramatic sight when wispy clouds wrap around its conical shape. At 2,243 metres above sea level it's only the country's fifth tallest peak but the curious depression at its summit has inspired countless legends. One of which, believed by Buddhists, is that it is the footprint of Buddha and for this reason the dip is known locally as Sri Pada.
Read More
For many Sri Lankans, climbing to the top of Sri Pada is an important pilgrimage and although the predominant visitors are Buddhists (Sri Lanka's main religion), Hindus, Christians and Muslims all visit the mountain as well. Each religion has its own legend associated with the depression at the summit, for example Hindus believe it is the footprint of Lord Shiva whereas Muslims and Christians associate it with Adam, hence the name Adam's Peak. While the ascent to the top is classed as moderate in terms of difficulty, the return trip still takes several hours to complete.
Most people start the climb in the middle of night (around 1am) in order to reach the summit in time to see the sunrise, a spectacle that is guaranteed to take your breath away. Light clothes are all that is needed during the hike, as you will be sure to heat up and sweat, however, it is chilly at the top so a jumper in your backpack won't go amiss. It is also important to make sure you hightail away from the top and try to make it down before the sun comes out in full force at around 8am as it very quickly becomes very, very hot.