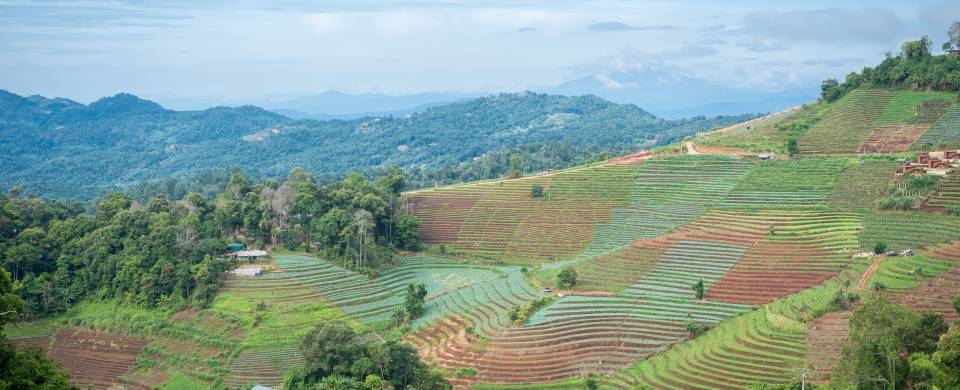 Trips and Tours to Mae Rim
About Mae Rim
Mae Rim is nothing short of paradise for nature lovers with a taste for adventure. It is a small district located just northwest of Chiang Mai, which, despite its size, is well equipped to deal with tourism due to the influx of wanderers who go through these parts in search of beauty and excitement. The area is surrounded by spectacular, dense jungle, which hundreds of different exotic birds and animals call home. There are several resorts in Mae Rim nestled in among the flowers and foliage in order to cater to those looking to immerse themselves in all of the natural beauty on offer in this region.
Read More
Just a short drive from the town, explorers will find the stunning Mae Sa Waterfall. Unlike most falls, it is made up of several small streams tumbling down tiered pools rather than one long cascade. It is the perfect place for a picnic and a swim on a hot Thai afternoon. Mae Sa is also host to the Queen Sirikit Botanic Garden, a research facility for scientists studying Thai flora and a gorgeous park full of vivid colours for anyone who loves beauty.
Aside from marvelling at the landscape and scenery, Mae Rim has a number of other activities suited for both the leisurely and the active visitor. Elephant camps are among some of the top attractions in Mae Rim. Guests will have the opportunity to get up close and personal with the wildlife and have the chance to expand and deepen their knowledge about the majestic creatures. Mae Rim also boasts some beautiful butterfly gardens as well as the thrilling Tiger Kingdom, a conservation centre dedicated to increasing the rapidly diminishing population of tigers in the world.