What to expect on our Trans-Siberian Railway packages
Our Trans-Siberian Railway journeys run as an independent package, combining the train journey and stopovers, booked specifically and exclusively for you. You will not be travelling in a group and will not have a group 'tour' leader with you. You could be sharing your train carriage with Russians, Mongolians or Chinese and may find you are the only Westerner. Half the fun of the train journey is trying to communicate with your fellow travellers, learning new card games, taking time out to read or just sit back and watch the world go by.
If stopping at intermediate points en route, you will be met on arrival by one of our local drivers (who sometimes can speak English) and transferred to your accommodation. We offer a range of optional excursions that you can book before you travel or you can choose to independently explore each port of call.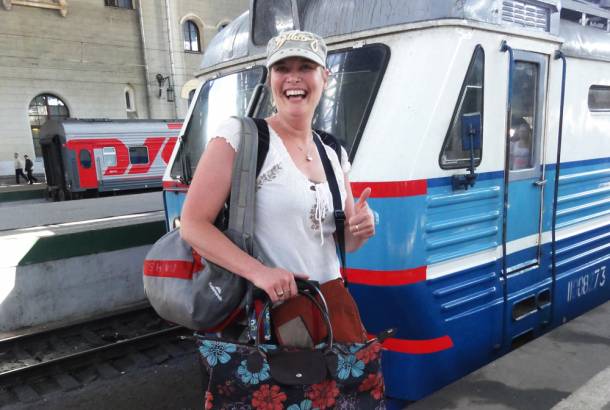 Type of Traveller
If you like everything to happen like clockwork, for everyone you encounter to speak English on command and cannot cope without 24 hour assistance from a travel representative, then a Trans-Siberian adventure is probably not the type of holiday for you! Our Trans-Siberian railway journeys are suitable for adventurous, independent travellers, in search of new and sometimes intrepid experiences.
Hotels en route are simple and although the cabins are cosy, the trains themselves are basic and whilst onboard you'll need to be happy to go without standard creature comforts such as a shower. On arrival, though friendly our transfer drivers are hired for their driving skills and do not always speak English.
Finally, do as much preliminary reading as possible. Both Russian and Mongolian cities and people are quite different to anything you will have encountered before. You may find that some the locals in Russia can be quite abrupt and curt at times and that the customer service offered at hotels en route, is not up to the high standard that we've come to expect in the West. You need to take this with a pinch of salt, it's just the Russian way, expect your service without a smile!
As long as you're aware of all these facts, you'll be mentally prepared for this epic journey!
Trans-Siberian Trains
Your journey on the Trans-Siberian railway will be comfortable but it's certainly not the Orient Express. The cabins are 4 berth with bunks, a small table and space for your luggage. Despite being basic, the cabins are cosy and warm, particularly in winter and offer large windows for great views of the countryside rolling by.
All routes longer than 24 hours have a buffet/dining car service (operated by the railway company of the country you are in). Available to all passengers, you can sit down to café style food, paid for in local currency. Occasionally there is a shower available in the 'special services' wagon' for an additional cost of approx: USD $5 and you will need to provide your own toiletries, towel and shower shoes.
An attendant, known as a provodnitsa, staffs each train wagon, their duties include distributing pre-packaged linen (at additional and nominal cost) and keeping the public areas of the wagon clean.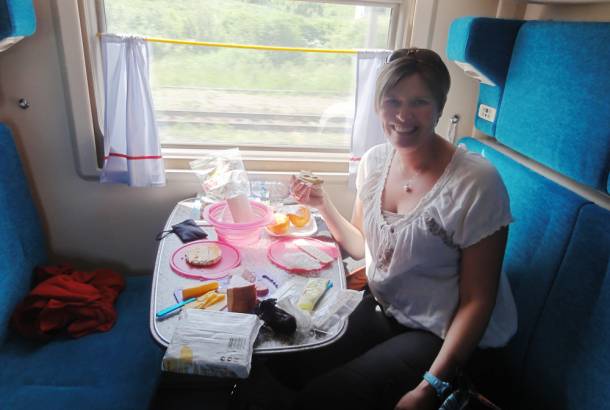 Your Cabin
All our itineraries are based on 2nd Class mixed-sex 4 berth cabins, though subject to availability, on some routes you may be able upgrade to a 2 berth cabin if you want some privacy. There is very little difference between the 4 and 2 berth cabins apart from the fact that 2 berth cabins are slightly more spacious. None of the cabins offer shower or en suite facilities. There is, however, a WC/wash basin at the end of every wagon.
The lockable 4 berth cabins have two bunk beds to a compartment, with plenty of luggage space. Each cabin has a small table (with bottle opener underneath), a fold-out ladder to reach the upper berths and coat hangers and hooks for hanging up clothes.
Train Scheduling
The Trans-Siberian train network is operated by the Russian, Mongolian and Chinese governments. Booking conditions vary slightly in terms of how far in advance a particular train operator will confirm seats and whether a passenger can request a 2 berth cabin on their portion of the route.
If one government decides to change the timetable for trains it operates, the rest of the route is affected. The Mongolian operator, in particular, has a tendency to make late changes. If your train travels via Ulaan Baatar, there is a chance your itinerary may change. If this occurs we will work with you to adapt the revised timetable so that it is as close as possible to what you originally planned.
Design your own Adventure
Our Trans-Siberian Railway journeys start in either Moscow or Beijing and end in either Moscow, Beijing or Vladivostok. Our Trans-Siberian adventures include all of the essential elements, with a choice of optional excursions, activities and upgrades, allowing you the option to tailor your adventure to suit your requirements and your budget.
Our Trans-Siberian Railway Journeys include:
- Moscow or Beijing airport arrival transfer
- 2 nights 3 star hotel in Moscow or Beijing including breakfast
- Transfer to Moscow or Beijing rail station (to the station not platform)
- En route city stays in Yekaterinburg, Irkutsk, Ulaan Baatar and Ulan Ude (dependent on your chosen itinerary), including accommodation and rail station transfers
Optional Excursions and Activities:
- Guided walking tour of Moscow or Beijing sightseeing tour and other en route city tours
- Irkutsk: Option to spend two of the nights in Listvyanka by Lake Baikal
- Ulaan Baatar: Option to spend two of the nights in a ger camp in Terelj National Park
- A choice of optional activities in Yekaterinburg and Listvyanka
Upgrades:
If you wish to upgrade to a 2 berth cabin or you are a party of 3 wishing to exclusively occupy a 4 berth cabin, please contact us for rates and availability. Please note availability is limited with some trains only configured with one 2 berth cabin wagon (containing 18 seats) and on services between Irkutsk and Ulan Ude, 2 berth cabins are not available. From May - October, all routes are particularly busy, and an upgrade may prove difficult to obtain. On The Go Tours will advise on an individual basis, whether an upgrade will be possible.
Accommodation:
We provide simple 3 star hotel accommodation on all of our Trans-Siberian journeys, with en suite rooms and breakfast included. If you would like to upgrade to a higher standard of hotel, this can be arranged on request.
Tailor-made Railway Journeys
We are able to offer tailor-made arrangements along the Trans-Siberian Railway route. Or for something a little different, why not take the train part of the way and fly the rest? See our tailor-made section for inspiration. From flying part of the way, to checking out the Gobi Desert or riding a Przewalski horse in Mongolia, these are just some of the options available to top off your holiday experience.
If you have something specific in mind, our experienced tailor-made team will be delighted to help design a holiday, bespoke to your own requirements.
Trans-Siberian Etiquette
- Stick to these rules and you can't go wrong:
Smoking is not permitted at any time in the cabins. In fact, smoking is only permitted in designated areas between cars. Doors from the main section of the cabins separate these areas.
If you're enjoying snacks in the cabin - offer them around. Eating is a primary diversion and it's fun to make a social event of it.
If you're sharing a cabin with members of the opposite sex it is polite to exit, if your cabin-mate needs to get changed. This particularly applies if sharing a cabin with a woman or women.
Confine your belongings to your bunk/luggage space and try to keep things as tidy as you can in the cabin. Remember, you're sharing this small space with others.
Lastly, don't get left behind. Never stray far from the train at designated stops. Check the length of stop before you leave the train.
See Also
To help plan your adventure on the Trans-Siberian Railway, check out these handy travel guide resources:
Best Time to Visit - climate and seasons in Russia, Mongolia and China
Best Places to Visit - our top 10 stops along the journey
Tourist Visas - all you need to know before you go
Top Travel Tips - time zones, currency, health advice and more
Planning your Journey - essential information to help you plan your route
Getting Tickets - for travelling with children, as a group and more useful info
Accommodation - where you'll stay on your Trans-Siberian adventure
Traveller Reviews - here's what our past travellers had to say about their experiences