Top 10 Destinations in Turkey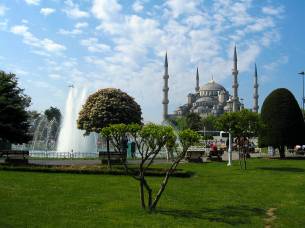 Best places to visit in Turkey: Our pick #1
The only city to span two continents, Istanbul sits on the Bosphorus - the strait of water that divides the continents of Europe and Asia. Its illustrious past has left behind a rich legacy of churches, mosques, palaces and museums, complemented by the behemoth Grand Bazaar and colourful street life. The compact old city of Istanbul, Sultanahmet, is full of lovely parks, gardens and stunning sights. The Blue Mosque is famed for its blue Iznik tiles and unique six minarets. Hagia Sofia was constructed in the 6th century and reigned as the grandest and biggest church in Christendom until the conquest of Constantinople in 1453, when it became a mosque. And just around the corner is Topkapi Palace.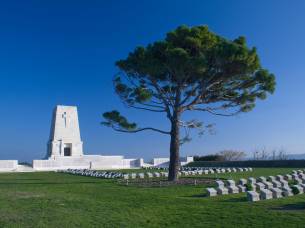 Best places to visit in Turkey: Our pick #2
The Gallipoli Peninsula is a picturesque stretch of coastline located on the European side of Turkey with the Aegean Sea to the west and the Dardenelles straits to the east. Here you can pay homage to those who valiantly gave up their lives in the doomed mission at Gallipoli in World War One. As well as being a historical national park, Gallipoli also has stunning natural appeal with a wide range of flora and fauna from wildflowers to sunflowers and an array of birdlife. You can also enjoy pristine beaches that even in summer remain uncrowded, and once you've finished here you are just a short while away from the legendary city of Troy.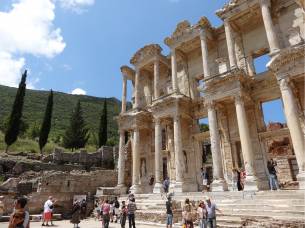 Best places to visit in Turkey: Our pick #3
Without a doubt the best-preserved classical city in the eastern Mediterranean, Ephesus was once a vast Roman city with a population nearing 250,000. It revelled in its prosperity from commerce and visiting pilgrims who came to see its great Temple of Artemis - one of the Seven Ancient Wonders of the World. Top sights within the huge archaeological area include the Great Theatre, once capable of seating 25,000 spectators at one time; Curetes Way, one of the main thoroughfares; the Temple of Serapis, the elegant façades of the Temple of Hadrian and the Library of Celsus. Make sure you look out for some of the ancient Roman graffiti and inscriptions on Curetes Way!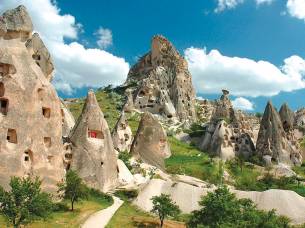 Best places to visit in Turkey: Our pick #4
The mysterious rock formations and underground cities of Cappadocia are perhaps the jewel in Turkey's crown. Situated in Central Turkey and consisting of thousands of bizarre conical shaped rocks with pointed tips, this fascinating landscape is utterly unique in the world. Whole troglodyte villages, subterranean churches and fortresses have been hewn from the soft, porous, eerily eroded rock. The World-Heritage listed Goreme has over 30 magnificently frescoed Byzantine rock churches open for exploration. A hot air balloon ride over this magical landscape is definitely recommended!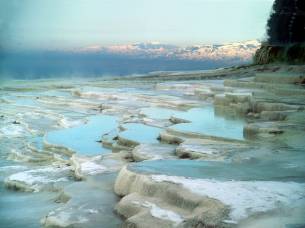 Best places to visit in Turkey: Our pick #5
Known locally as the Cotton Castles, Pamukkale was formed when warm, calcium rich mineral water cascaded over the cliff edge, cooling and depositing in the process. The calcium builds natural shelves and pools on the cliffs known as travertines. At the very top of the travertine pools is Pamukkale Thermal, where a pleasant dip can be enjoyed in the warm waters. It is thought the natural pool once formed the centre of the ruined Roman spa town of Hierapolis, which was a cure centre founded around 190 BC by the Romans. You can wander through the marble remains of Hierapolis and the star attraction has to be the partially restored Roman theatre, once capable of seating over 12,000 spectators.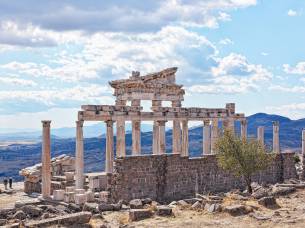 Best places to visit in Turkey: Our pick #6
Ancient Pergamum is famous in antiquity for its library, which in its time was thought to have rivalled the great library in ancient Alexandria. Sitting in a stunning location on top of a hill, Pergamum is also famous for its hillside amphitheatre, one of the steepest in the classical world. Down the hill, and viewable from the ancient city, is Pergamum's Asclepion or medical centre. The Asclepion is entered along a street where upon entering there is a Roman column carved with snakes, the symbol of Asclepios the God of Medicine. There are various ruins including a Roman theatre, royal palaces, the Sacred Well (which still gives off drinkable water) and the Temple of Telesphorus.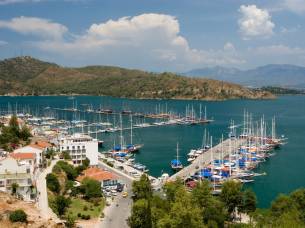 Best places to visit in Turkey: Our pick #7
A seaside town on Turkey's Turquoise Coast, fringed by the Taurus Mountains, Fethiye is stunningly situated. It's a charming coastal port with a breathtaking outer bay strewn with islands and a good base from which to opt to enjoy a good range of stunning beaches and coastline. Fethiye itself offers a choice of charming cafes, bars and and shops, just perfect for a relaxing afternoon. From here you can opt to take a boat cruise to some of the offshore islands, explore the Lycian ruins dotted around the coast or just maroon yourself at a beach or bar. Fethiye is also usually the port from which gulet cruises depart.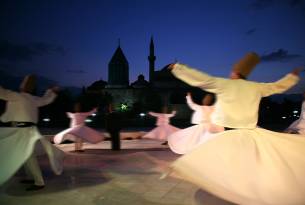 Best places to visit in Turkey: Our pick #8
Home to the legendary whirling dervishes, Konya is steeped in history and religion, which inspires much of its landscape. However, the university and youthful scene that comes with it injects life and contemporary culture into this otherwise museum-like region. Progressive intellectuals share coffee in the shadow of one of the magnificent mosques or stroll through its sprawling bazaars, allowing modernity and antiquity to co-exist peacefully and beautifully. Every year, millions of travellers, many of whom are Turkish or Iranian, flock to Konya to honour Rumi, a Sufi saint who preached love and tolerance. His tomb is in the heart of the Old City and is Turkey's second most visited site after Istanbul's Topkapi Palace.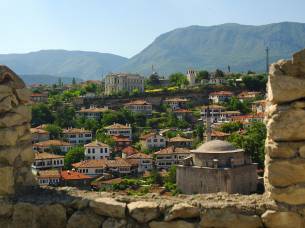 Best places to visit in Turkey: Our pick #9
Located in the north of Turkey, Safranbolu maintains its antique Ottoman charm and beauty with its white-washed, red-roofed houses and winding cobbled streets. Its name derives from the word 'saffron', a spice which can be found in abundance here and was originally the reason the town was put on the map. The very heart of Safranbolu lies in its Old Town, where numerous bazaars sprawl across labyrinthine alleys and are packed to the brim with sweets, leather goods, fabrics, jewellery and more. For those looking to learn about the city's history, a visit to Kaymakamlar Müze Evi (Museum House) is a must. This house shows the public what one of Safranbolu's typical houses would have traditionally looked like before they were all converted into hotels. To really capture the beauty of Safranbolu, take a hike to the top of Hidirlik Tepesi, a hill which commands stunning views of the landscape peppered with quaint Ottoman houses.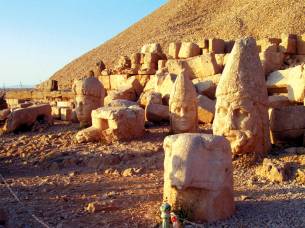 Best places to visit in Turkey: Our pick #10
Mount Nemrut
Mount Nemrut, also known as Nemrut Dagi in Turkish, is an inactive volcanic mountain in southeastern Turkey, famed for the mysterious large statues that sit atop the summit. This is definitely one of Eastern Turkey's star attractions and has been given UNESCO status. It is believed these statues mark the location of the tombs of a pre-Roman local king and his three female relatives. Many visitors arrive at Mt Nemrut at dawn to witness a breathtaking sunrise as the morning light brings the surrounding ruins to life.
Browse through our recommended places to visit in Turkey