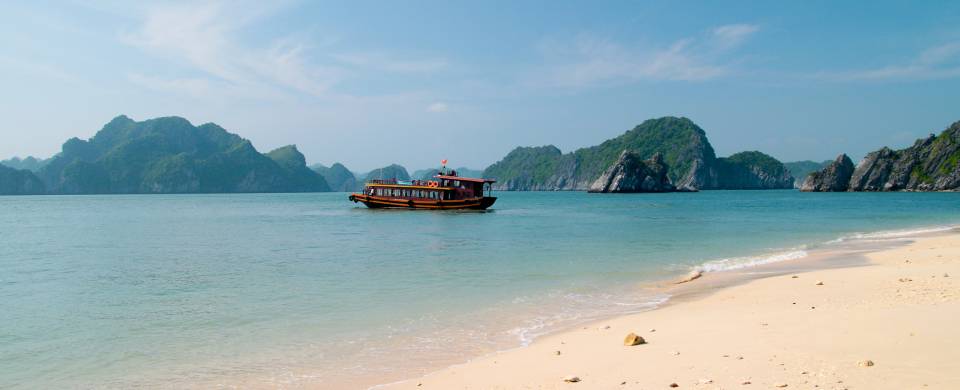 Trips and Tours to Cat Ba Island
About Cat Ba Island
Located in Halong Bay, an archipelago of islands comprising wisps of green clinging to their sheer cliff faces, Cat Ba Island is the largest of its kind and is a favourite with both international and Vietnamese holiday-makers. While the main hub of Cat Ba town has been reserved for the, now essential, tourism infrastructure with hotels, restaurants and bars lining the streets, the rest of the island is still covered in pristine wilderness, half of which has been declared a national park in order to keep it that way. Most travellers visit Cat Ba Island as part of a tour around Halong Bay but it is possible to go independently as well.
Read More
One of the main attractions on this little island is the Cat Ba National Park. Thick swathes of jungle envelop rugged peaks and a range of fascinating wildlife, including the world's most endangered primate, the golden-headed lemur, of which only 65 are left. Other activities to keep you busy during your stay include a trip to the Hospital Cave, a cave that was converted into a hospital by the Vietnamese during the war, and checking out the cannon fort, if only for the spectacular views.
What island would be complete without some beaches to lounge around on? There are three beaches on Cat Ba Island, conveniently named Cat Co 1, Cat Co 2 and Cat Co 3, all of which are great to kick back on in the sunshine, particularly number 3. Given its location, boat trips to see neighbouring islands are a great way to experience the best that this region has to offer. Monkey Island is a popular destination and kayaking gives explorers the opportunity to get up close and personal with the scenery.