Clare Kendall is a multi award-winning photojournalist based in Wiltshire, and her photographs and written articles have appeared in newspapers and magazines across the globe.
Enjoy these extraordinary photos of hers from Ecuador, from villages and their colourful markets to dramatic volcanoes and jungle wildlife. For more of Clare's work, head to http://clare.photoshelter.com/. And for more on tours and holidays to South America, go to http://www.onthegotours.com/South-America.
All images copyright Clare Kendall, reproduced with permission.
1. Above the clouds
Shooting from aeroplane windows doesn't work very often but I was pleased to capture this wonderful view of the volcanoes rising through the clouds near Ecuador's capital, Quito, as we flew in from the south.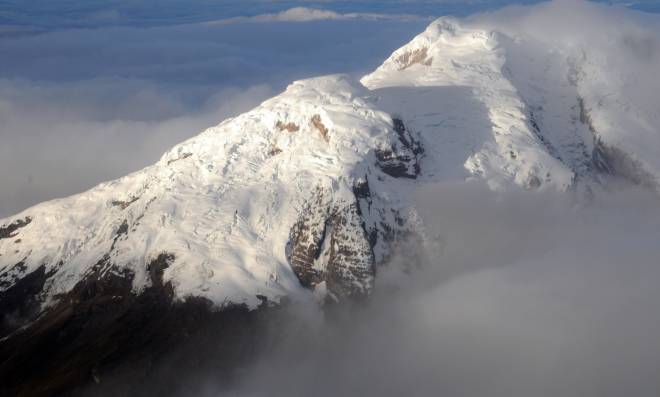 2. View from the Pichincha Volcano
The Quito Teleferico, a gondola lift, will take you up the side of the Pichincha Volcano to where you can see spectacular views of the city spreading out before you. But be careful! It takes you to a height of over 4000m. An outing best saved for the end of the trip by which time you will have adjusted to the altitude.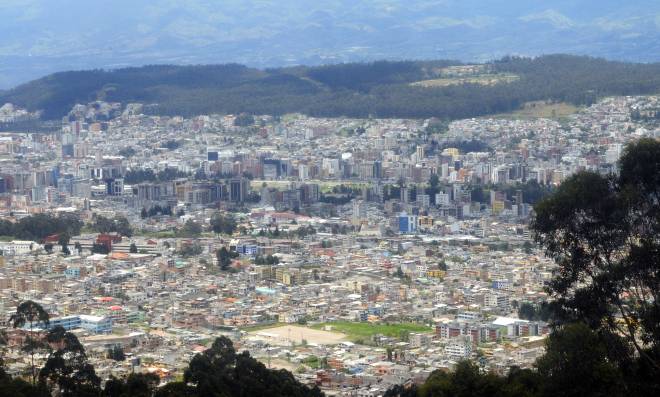 3. Otavalo
The town of Otavalo (about 54km north east of Quito) is best known for its artisan market but less popular with the tourists is the local's livestock market which begins as the sun rises over the surrounding volcanoes.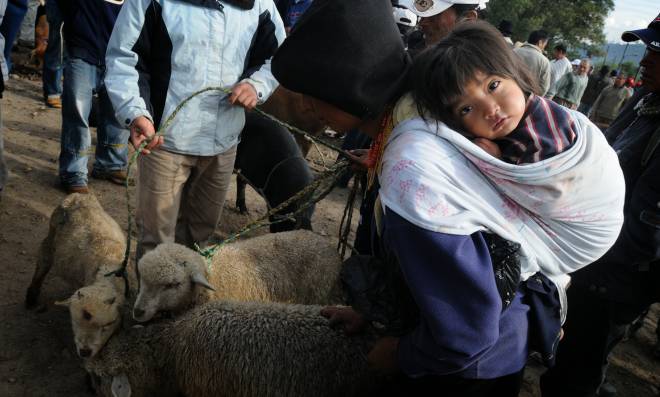 4. People-watching... carefully
A great place for people watching and photography but tread carefully. The indigenous inhabitants are suspicious of being photographed and some older people with very traditional views may not want to be.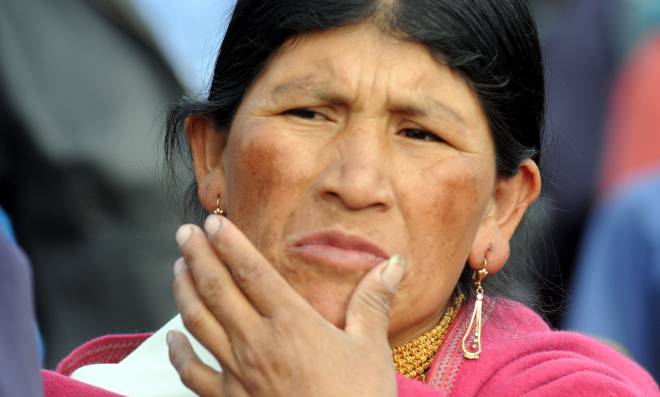 5. Traditional Ecuadorian dress
Otavalo is one of the few places you can go in the world where the locals still wear traditional dress and it's worth a visit for that reason alone.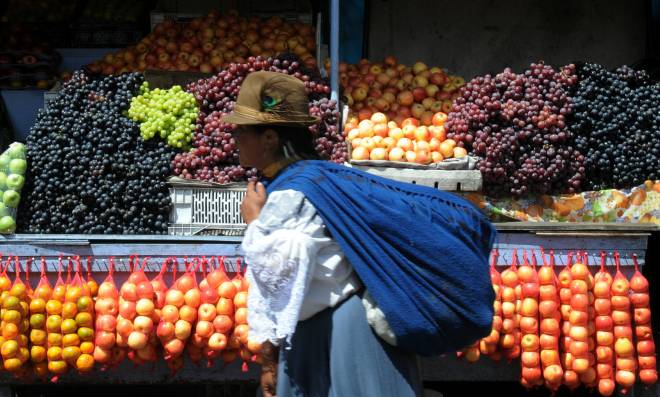 6. Local remedies
Shamanism is a huge part of the culture in the area around Otavalo and at the artisan market you will find stalls selling everything you might need for a ceremony. This stall sold potions to cure all manner of problems, everything from lack of sexual virility to stubborn livestock. I bought a back rub which smelt a lot like Tiger Balm but somewhat disturbingly carried a picture of a donkey on the bottle.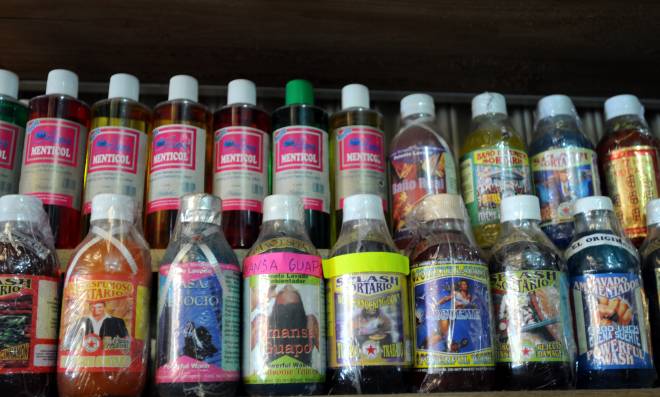 7. Otavalo gold
There are also stalls selling the famous Otavalo gold bead necklaces which are part of the traditional dress and were traditionally made from real gold. Now sadly, they are imported from the Czech Republic.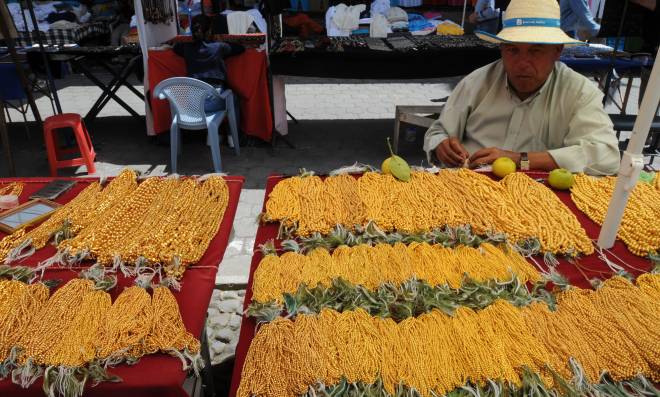 8. Friendly horses
We climb local volcano, Imbabura, but are legs feel like lead at this altitude so a field of friendly horses provides an excellent excuse for a breather.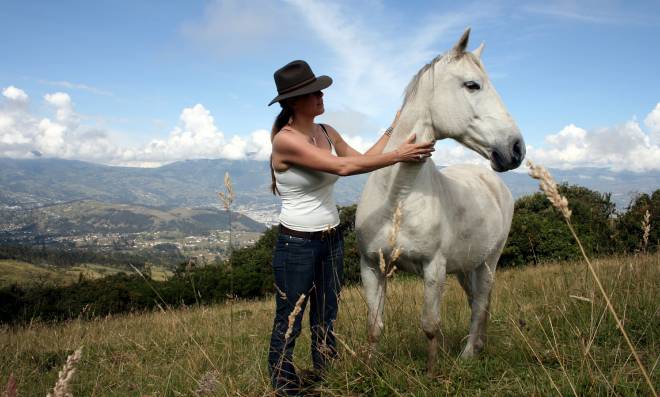 9. Lago Agrio mural
In the edgy little town of Lago Agrio, (centre of one the most famous environmental lawsuits in history, Chevron v Ecuador) the local version of Banksy has transformed the shop advertising into mural works of art and in so doing, the whole town also.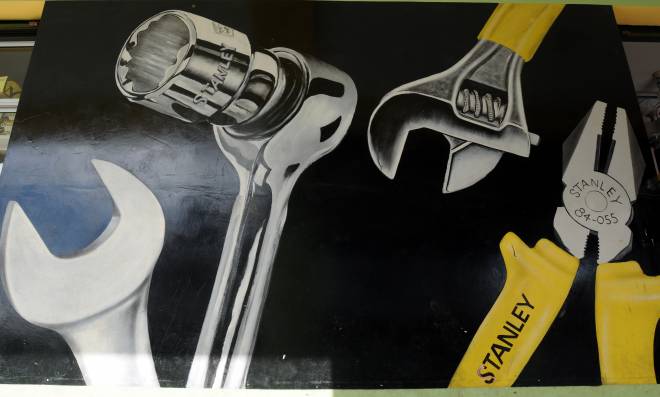 10. Emergildo Criollo
Emergildo Criollo, leader of the Cofan people and political activist adorns his tribal head gear for me.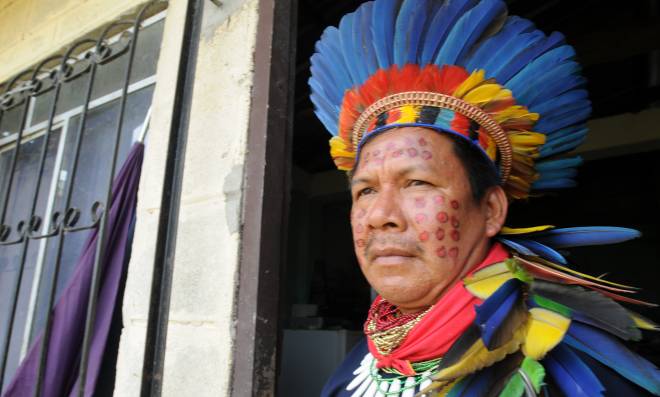 11. Above the Amazon
Flying into the Amazon jungle in the south east of Ecuador over the canopy makes you realise what a precious resource the rainforest is.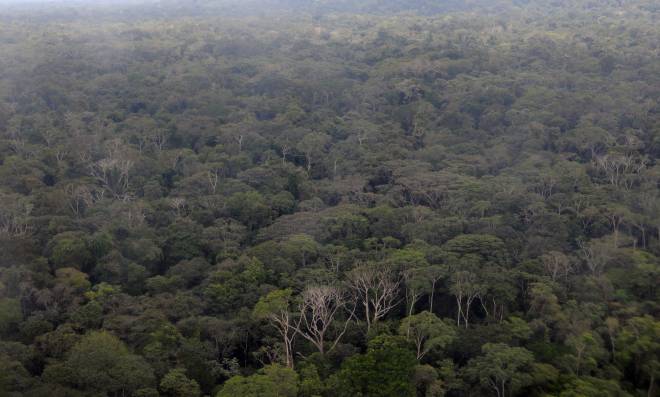 12. Blowpipe lessons
Staying in the jungle with the Achua people we try our hand at using a blowpipe. Fortunately our dinner is not dependent on our success!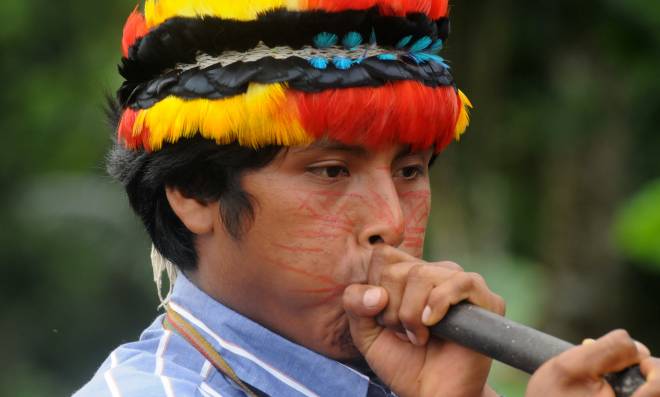 13. Making chicha
We also make chicha. The staple brew of the Achua Indians which is made from boiled manioc and human spit. Yes, human spit. I thought I would show you the manioc boiling part of the process.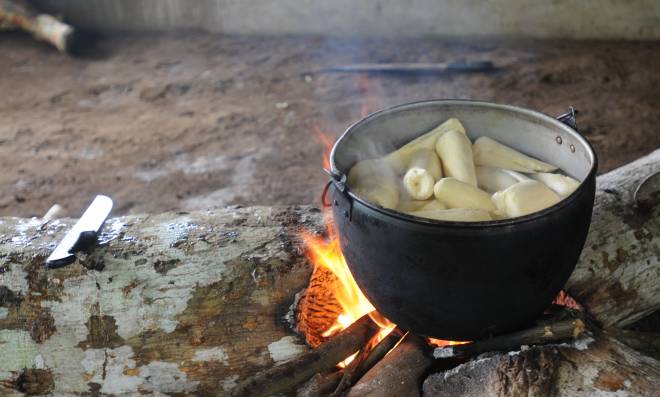 14. Drifting downstream
The current in the Amazon tributaries is quite strong so it is possible to drift lazily along downstream, in a canoe or swimming, with the barest of effort.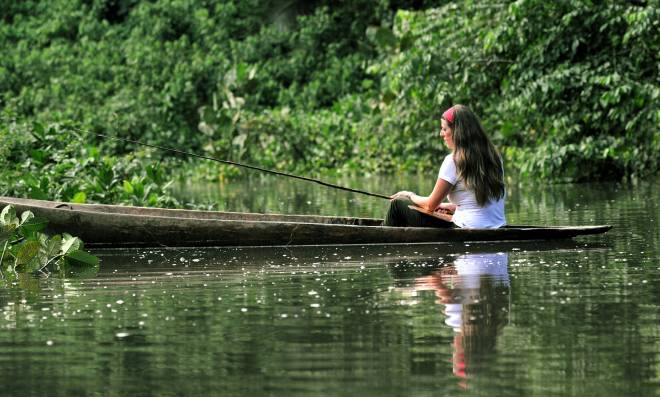 15. Amazon Kingfisher
It is a fantastic opportunity for wildlife photography as the birds and animals seem to have little fear. Here is an Amazonian Kingfisher completely at ease with our presence.