Today we're exploring further in Southeast Asia with our guest blogger Clare Kendall. Check out these great images from Siem Reap and Angkor Wat!
1. An aerial shot of the village
Imagine living in a village where you cannot cross the street without boarding a boat or visit your neighbour without mounting a precarious gang plank. Where dogs paddle past your veranda and the children's playground is a mass of water stretching as far as the horizon.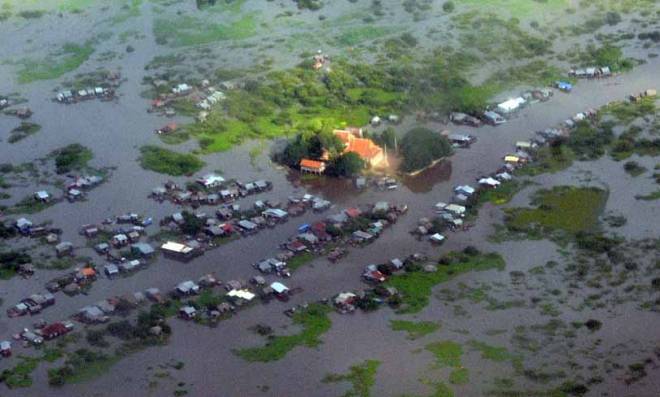 2. The local cafe
This is life for the numerous floating communities near Siem Reap built on bamboo rafts which rise and fall with the varying water level throughout the year.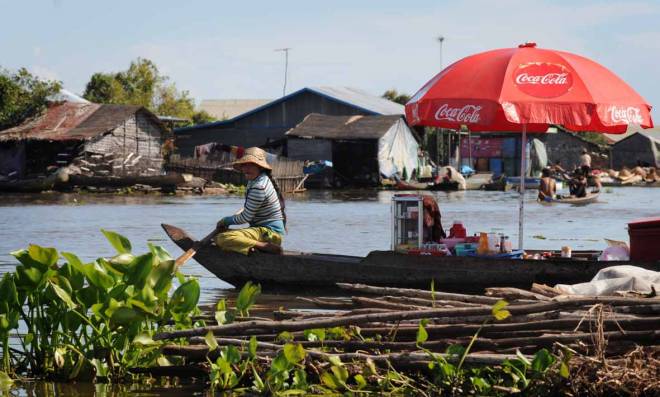 3. Home delivery
Even a short meander through watery lanes and back lanes will give you a fascinating glimpse into village life and is a very pleasant and relaxing way to spend an afternoon.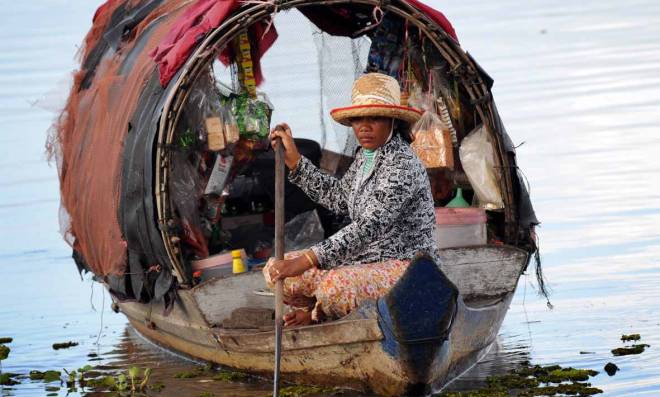 4. The school bus.
Can you imagine going to school on a boat each day?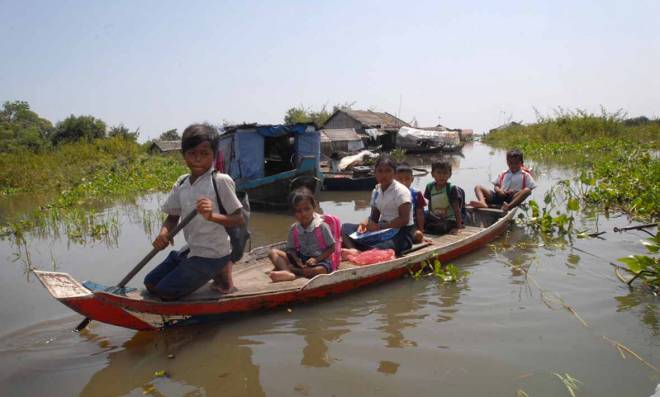 5. The Old Market
After a relaxing day on the water, head for the area of Siem Reap around the Old Market for the best restaurants. You will find a plethora of eateries catering to all tastes especially in the somewhat misleadingly titled 'Pub Street' and the little streets which feed into it.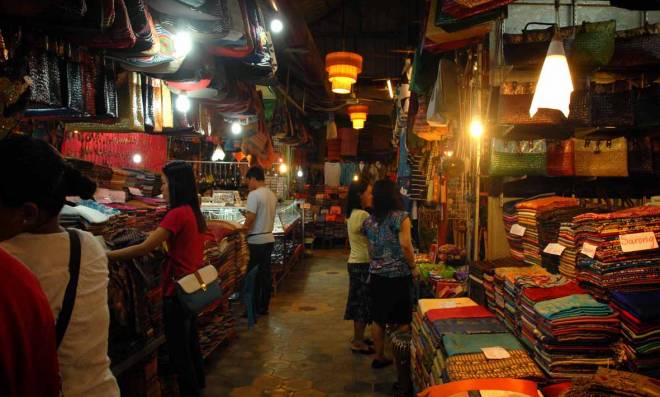 6. A fish pedicure in a blackout
The 'Old Market' is excellent for shopping and there are also abundant massage parlours and fish pedicure tanks (where a shoal of little fish have the dubious pleasure of eating away the dead skin on your travel weary feet).Do not be disconcerted if you experience a blackout towards the end of the evening as these are fairly common and short lived.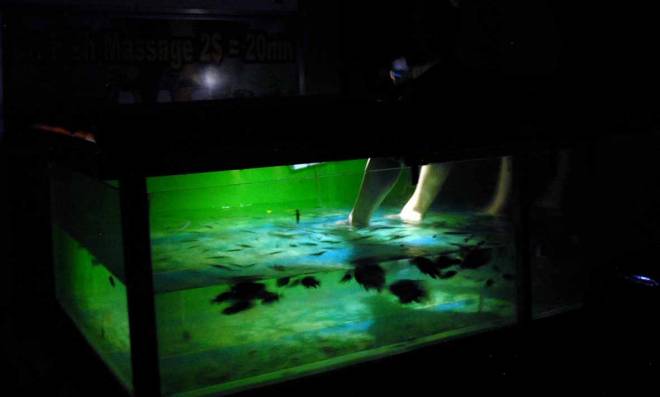 7. Angkor Wat
Nothing really prepares you for the sheer vastness of the Angkor Archaeological Park. Phrases like "largest Hindu temple complex in the world" are largely meaningless until you get there and find that with a hired vehicle (tuk tuk, coach, car) you could still spend days here and not get see everything even if you had the stamina to do so.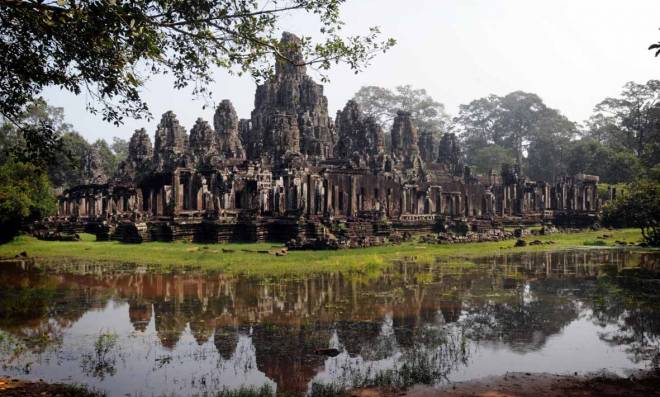 8. Angkor Wat
That said, this is one of the things that makes the site so special. The various monuments are engulfed by forest, gigantic, elegant trees (which almost rival the architecture), so there is still a sense of mystery and exploration which you don't always get at other major archaeological sites such as Giza.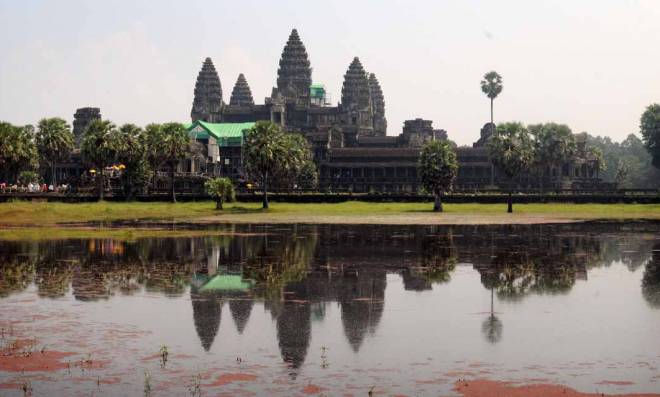 9. The Bayon
The Bayon was the last temple to be built at the complex (12th century) and is famous for a vast array of smiling Buddhas.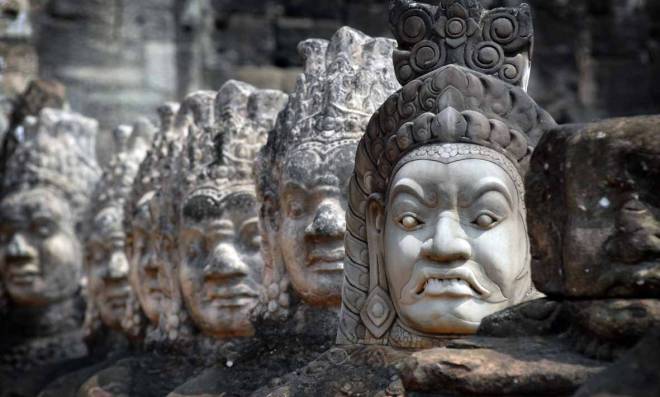 10. The main approach
Be prepared for a lot of walking, (sometimes up and down very steep stairs) so pare baggage down to a minimum and some sort of sun shade is essential. We found ourselves scurrying for patches of shade under the intensity of the sun.