(Last Updated On: May 27, 2013)
Explore Russia through these amazing set of photos from our very own Trevor Bone. Taken in back-and-white, they breathe a bit of cold-war nostalgia – and Trevor's commentary on each offer an interesting insight into the unique and tumultuous history of Russia.
If you'd like to hear more about the Russia tour that Trevor did – please feel free to contact him directly at [email protected]
1. Welcome ,,,
... to Moscow! We really felt this amazing city had a very unique feel to it right from the very start of our trip. Remnants of the old Soviet Union can be seen everywhere. This is the statue of Marshal Georgy Zhukov, the leader of the Russian forces during World War II. Mentioned by many as "The Man Who Beat Hitler", Zhukov was involved in the battles of Leningrad, Stalingrad and Moscow and later he captured Berlin.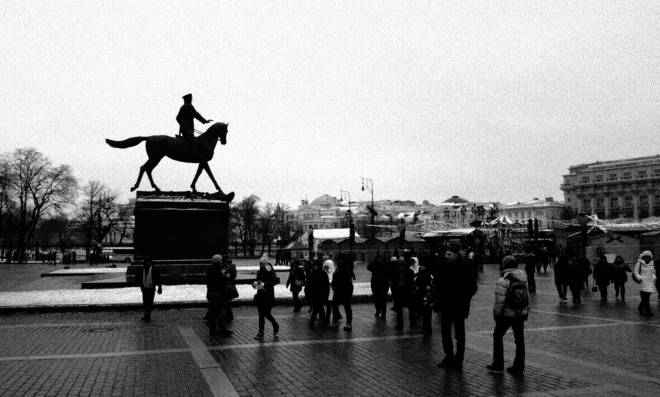 2. The Kremlin ,,,
... truly is fascinating. The sheer scale of the place exudes an air of authority and dominance which is felt literally everywhere you walk. Whilst the Kremlin has sections built as recently this decade, it still conjures images of a very hard and secretive time in Russian history - with its heavy chains and endless locked doors. As you would expect, many parts of the Kremlin are off limits which adds an air of mystery - leaving us all wondering ... just what lies beyond the cast iron gates?!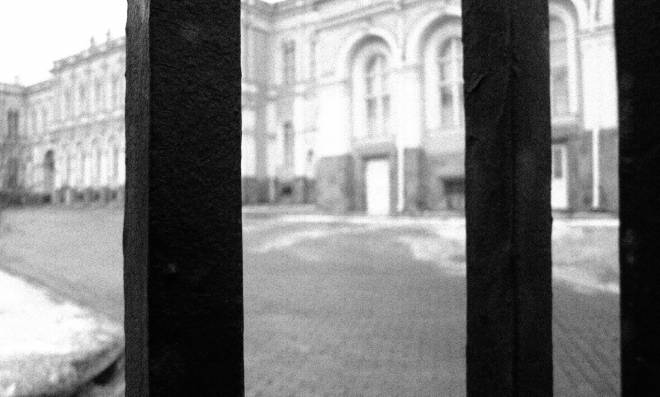 3. Novodevichy ...
... or 'New Maiden' Convent stands illuminated across an eerie frozen lake. It is said that during the many troubled times in Russian history, important female Royals were hidden here under secrecy to avoid capture and death. It truly looks like an impenetrable fortress from my position across the lake!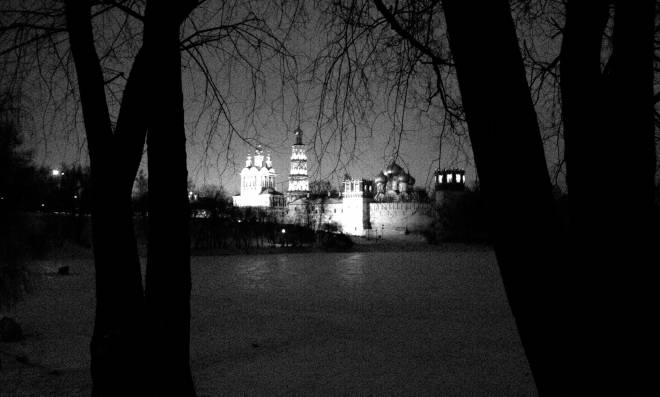 4. New Years ...
... on the Red Square is truly an amazing experience! Snow was falling on the cold stones, the temperature was below freezing and a sense of excitement and anticipation filled the square. Here I managed to capture a loving couple kissing by the infamous St Basils Basilica next a woman braving the cold alone. An amazing night!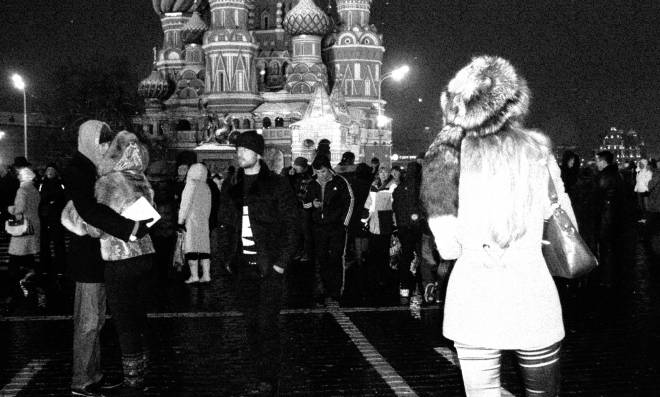 5. Pskov ...
... is a fascinating small town near the western border with Estonia. Here lies the infamous Pechory Monastery. In the early morning light smoke can be seen rising above the chimneys of the fortified monastery, proof that the monks that inhabit this place are alive and well. The first parts were built as far back as 1473 and it has withstood many turbulent times in Russian history. Shrouded in snow it looked beautiful first thing in the morning.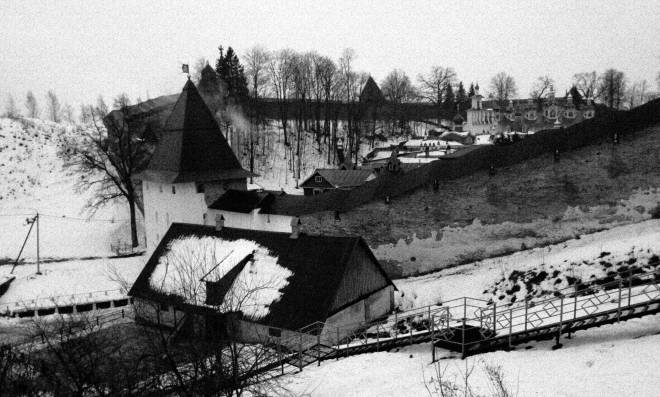 6. The Monastery ...
... at Pskov seemed like home to endless feline friends! Prowling around the grounds and surrounding area, the cats keep a watchful eye out on the tourists and locals alike, seemingly unaware that the temperature is below freezing! I caught this interesting chap crouched on a wall, happy to watch us all walk by.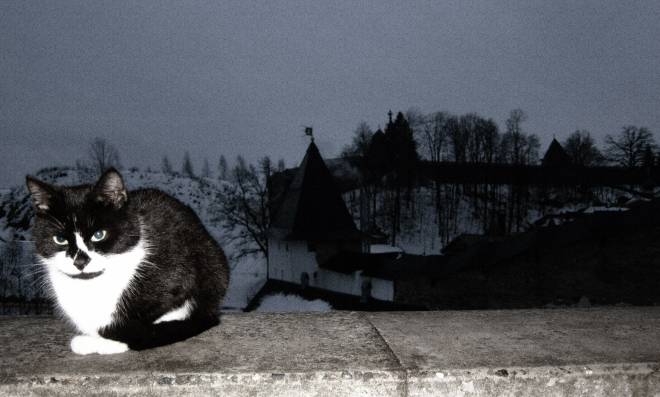 7. Despite the early hour ...
... and bitter cold temperatures, devout religious visitors come to the Kremlin at Pskov and see the lone cross which stands in the courtyard. Much of Russia has deep religious beliefs and it was interesting watching the people walk up one by one and kiss the cold stone cross.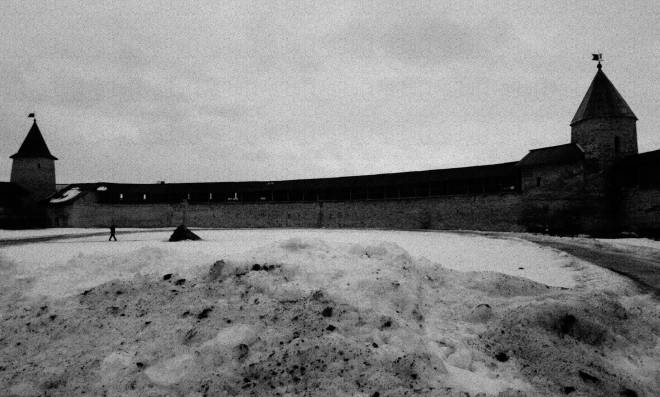 8. We visited Saint Isaac's Cathedral ...
... early in the morning when it tends to be quiet and is a great time for photography. It took over 40 years to complete and has seen many changes in its time. Now the Cathedral acts as a museum for locals and travellers alike.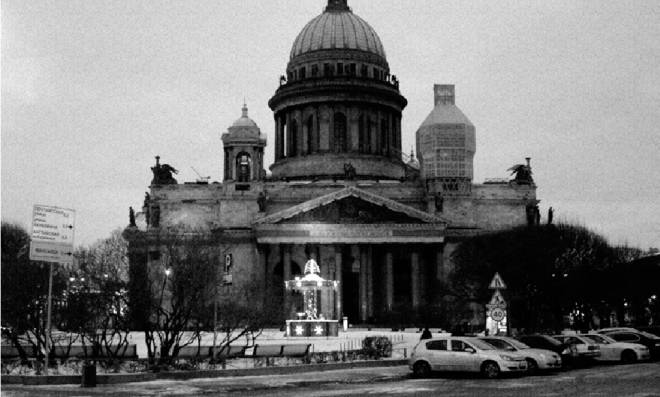 9. The river ...
... that runs along the bank of The Hermitage is completely frozen and a regal ship looks as though it has been trapped in the ice and frozen in time. With its massive masts and timber construction, it looks like a relic from a glorious time. As it turns out it's actually a restaurant, hair salon and tourist shop!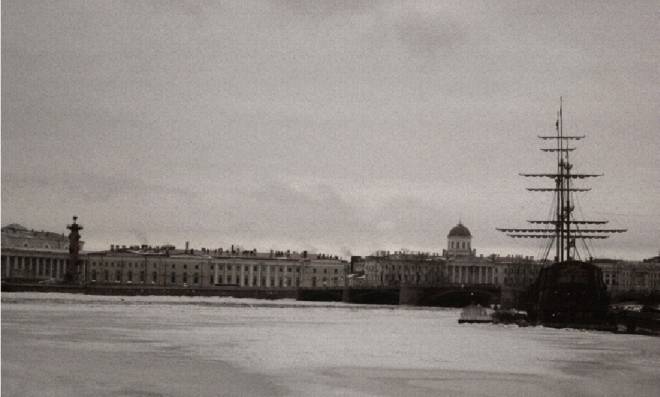 10. At last ...
... we head to the famous Hermitage. Founded in 1764 it houses the largest collection of artwork and paintings in the world. Pieces by such artists as Da Vinci and Rembrandt reside here and are truly a marvel to behold. It's very easy to get lost in the endless halls and display rooms - so it was useful having the 'On The Go Tours' sign to follow!