In May I travelled to Vietnam and Cambodia on our 15 day Journey to Angkor Wat tour and I look back on my time spent in Vietnam, with shots of the spectacular Halong Bay, fishing on the Mekong River,  skilled cyclists and colourful city markets. Stay tuned for an upcoming photo blog following his journey to the magnificent temples of Angkor and floating villages of Siem Reap in Cambodia.
1. Beautiful Halong Bay
Halong Bay is one of the most beautiful places in the whole of Vietnam (in my opinion), so its no wonder that in 2012 the New 7 Wonders Foundation officially named Halong Bay as one of new seven natural wonders of the world. This site was also chosen as the setting for two James's Bond movies: "The Man With The Golden Gun" and "Tomorrow Never Dies".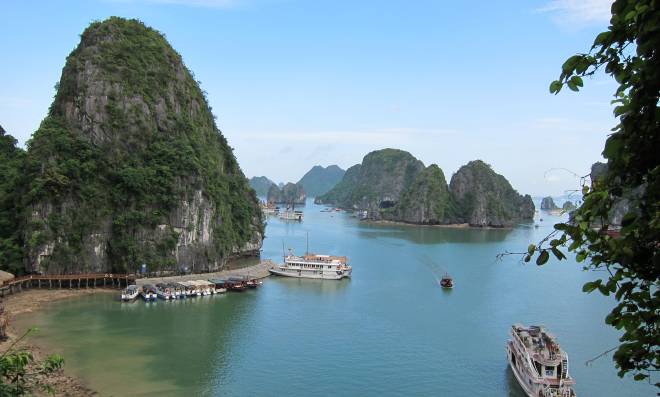 2. Hidden treasures of the bay
There are many hidden treasures in Halong Bay: mysterious caves, lost islands, floating villages and the only way to reach them is by traditional row boats. These boats are usually operated by local girls.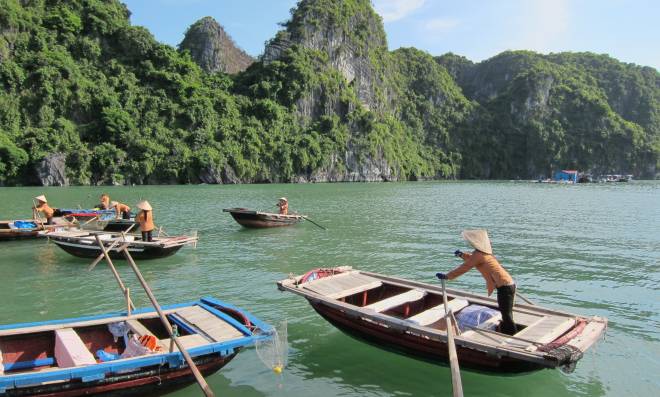 3. Rice fields
Rice is still the main crop of Vietnam. Vietnam is second-largest (after Thailand) rice exporter in the world. About a half of the country's total production comes from Mekong Delta known as the "Rice Bowl" of Vietnam, which contain some 17 million people and 80% of them are engaged in rice cultivation.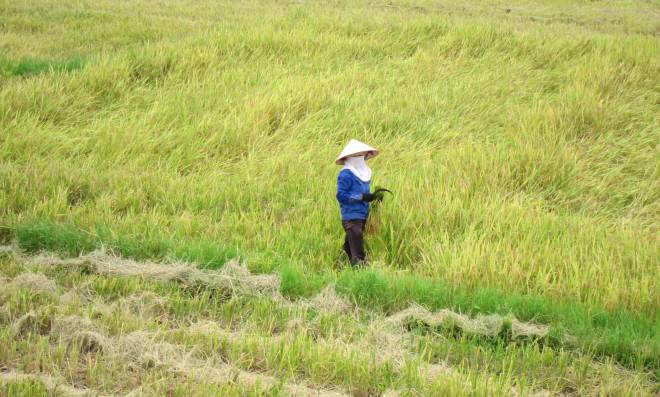 4. The Mekong Delta
This daily floating market attracts wholesalers as well as small farmers trying to sell their products. The variety of goods on offer is endless: fruits, vegetables, hot drinks, sandwiches, lottery coupon and much more.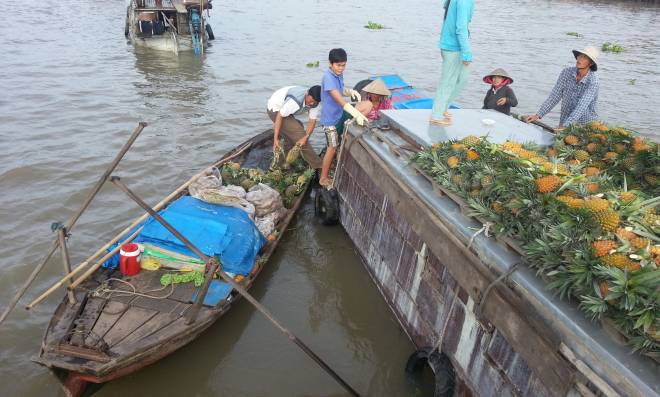 5. Fishing on the Mekong
The Mekong River remains one of the largest fishing resources in the world which is believed to hold over 1,300 different species of fish. Despite modernization in recent years people still use traditional methods of fishing.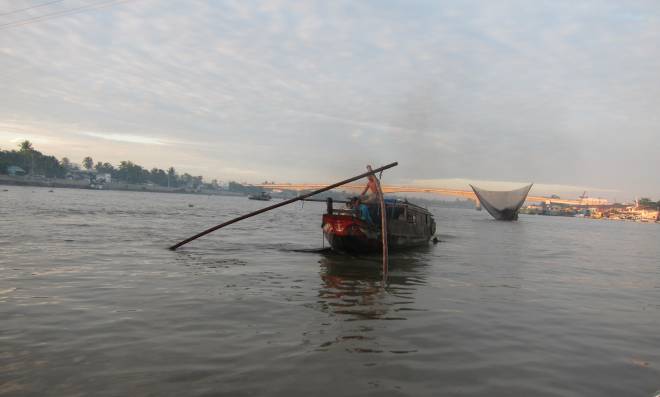 6. Saigon Central Post Office
Wherever you go in Vietnam you're always close to one of millions of portraits of Ho Chi Minh. Images of "Uncle Ho" you will find on Vietnamese notes , stamps, t-shirts, hanging in every office, school….even Saigon is now called after the national greatest hero.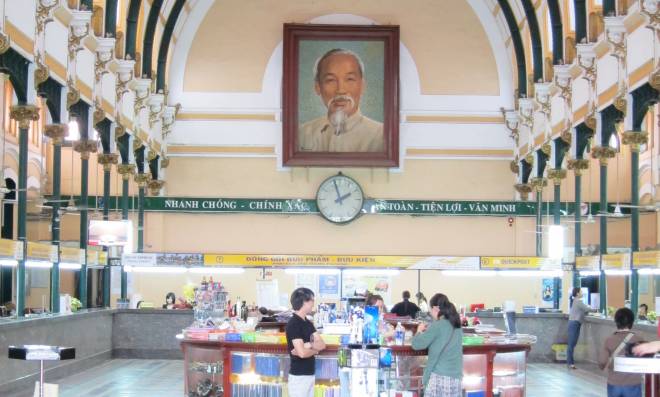 7. Marble Mountains
Huyen Khong Cave in the Marble Mountains. The whole cave is an ancient Buddhist temple still used for a religious practice but was also once used as a Viet-Cong hideout during the war. In this place you really feel closer to God.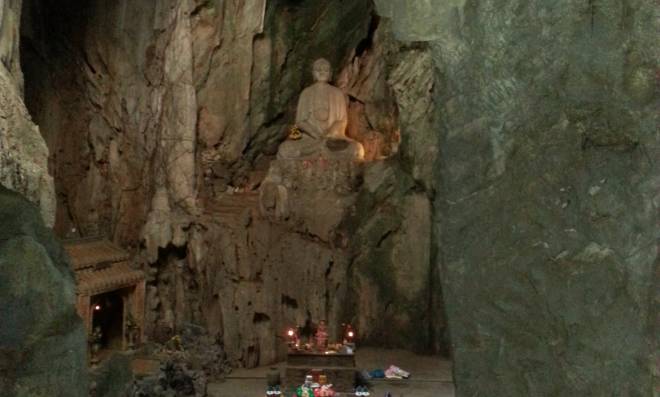 8. Vietnamese cyclists
There are practically no items that Vietnamese bike won't carry. The list is endless: furniture, the kitchen sink, toilets, animals, fruits, and sometimes the entire family - including the dog.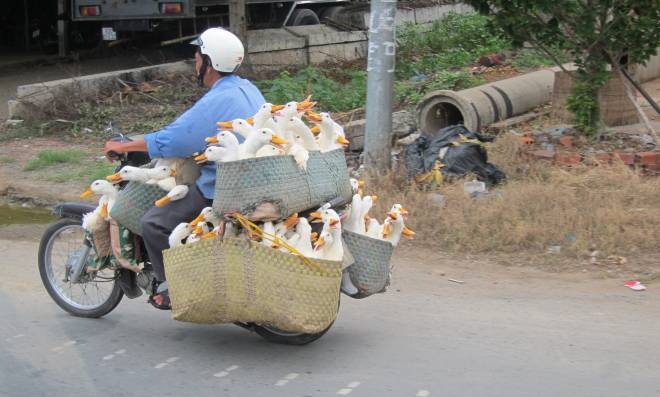 9. Local markets
Local markets are everywhere in Vietnam amongst the most exotic and delicious fruits, vegetables and freshly prepared meals you can find also less tasty local specialities such as fried crickets, dog meat or the smelliest fruit on earth: Durian.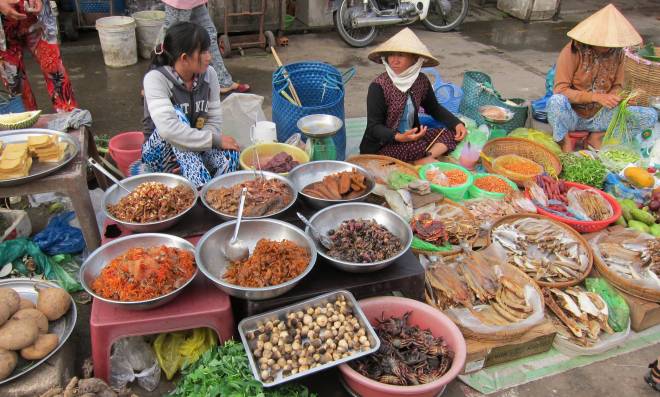 You may also be interested in...