In July last year Kelly Hunt was announced as the winner of one of our Facebook competitions. Her prize? A dream holiday to the destination of her choice. In March Kelly  landed in China alongside her hubby Paul, and they set off on a 15 day journey from Beijing to Shanghai on our Yin and Yangtze tour.
In this wonderful photo showcase Kelly and Paul give us a glimpse of their trip from Beijing to Xi'An, but in their own words, there is "more history, crazy taxi rides, beautiful leaf art, motorbike balls, and Kung Fu Shows than one can possibly write about in a few blog posts… you just have to experience it yourself!"
Stay tuned for their next blog on their journey along the Yangtze River on to Suzhou and Shanghai.
1. The Group at Tiananmen Square.
Two kiwis, a German, six South-Africans, five Irish, two English, one Scot and four Aussies walk into a bar... There's probably nothing more boring than look at a group photo of strangers. However, we thought it would be nice to showcase our group, led by the ever friendly and amazing guide 'Betty' who taught us to be 'careful that' with overpriced merchandise and how to stay together like 'sticky rice' when crossing the roads.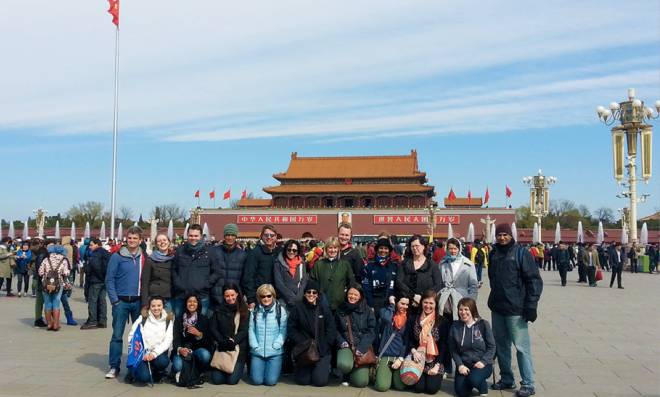 2. The Forbidden Palace.
This was our first hotel in Beijing. Quite a busy place. Actually this is the Forbidden Place. It is less forbidden now, as you can see. The Emperors had hundreds of concubines. When you live with that many women, you need a LOT of space.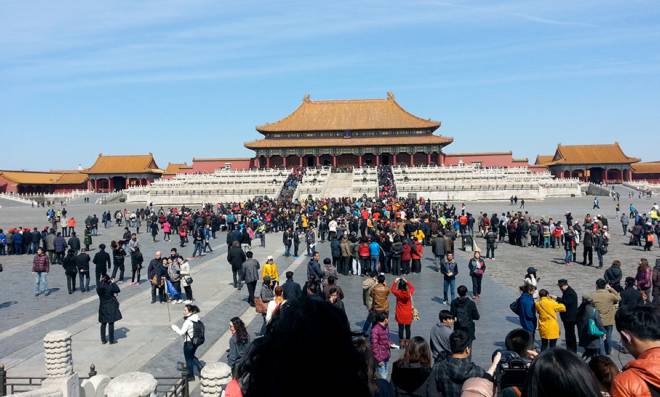 3. Ming-era imitations.
Kelly imitates a stone dragon that I'm sure used to look scary but now seems quite approachable. This Ming-era dragon bearing five claws is a common symbol for the Emperor. In contrast, common folk got landed with only three-claw dragons. The 1336AD five toes rule was not to be taken lightly. Say you made a five-claw dragon in your back garden and sold shoes for a living? Death.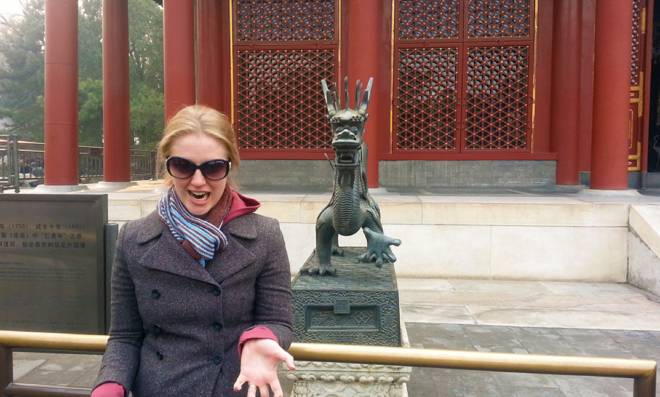 4. That's not Dulux.
No, it's a man performing rainwater calligraphy outside the Temple of Heaven in Beijing. Apparently old men often take it up as a hobby when they retire. This ancient ground art requires writing fluid lines of ancient characters that disappear one by one as they dry. It's certainly more sophisticated than playing bowls.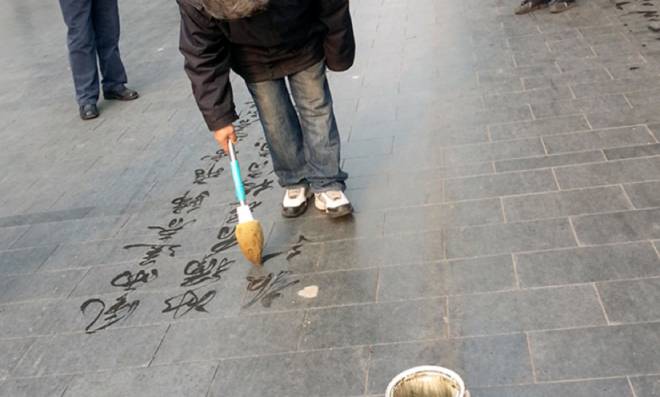 5. Beijing rickshaw drivers.
Don't think you will be quietly biked around the famous Hutong area! These rickshaw drivers have an amazing sense of humor, they will hold onto their mate's cart in front, pass each other in precarious maneuvers, the occasional bump, laughing the whole time. Best way to experience that part of the city!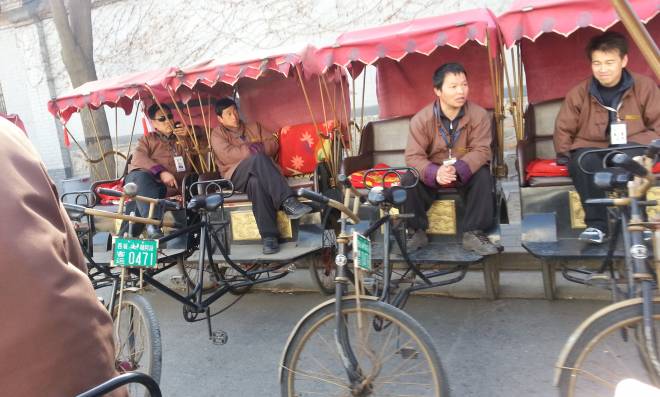 6. Posing on the Great Wall.
Kelly poses for a photo by the Great Wall. Behind a Chinese tourist snaps the back of Kelly's head. That will make a fun photo album to leaf through... It actually was great fun being dragged into rural Chinese tourist's photos. If you look at all Western the mountain-based sightseeing farmers will consider you a celebrity. They were very polite and we really enjoyed the heartfelt attention.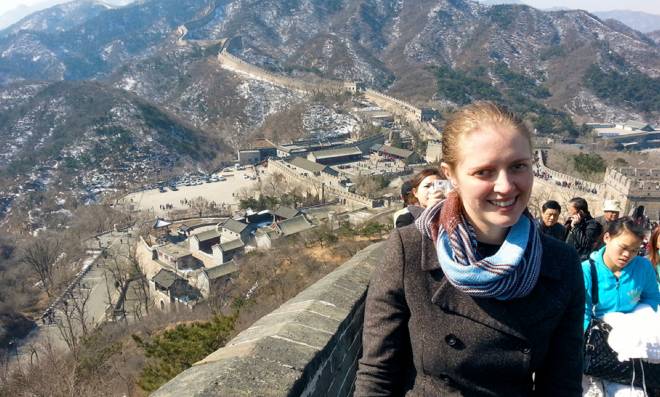 7. Travelling in style to Xian.
While the overnight train might seem intimidating, we had loads of fun with our OTG tour mates. After all the hustle and bustle of Beijing, its a great way to relax and get to know each other over a game of cards, and all the amenities are quite comfortable!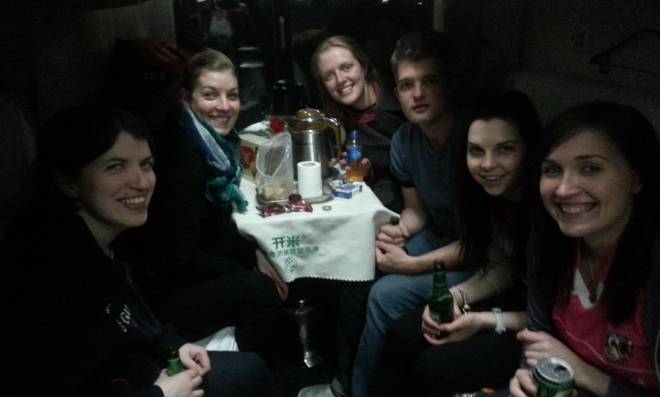 8. Terracotta Warriors.
Newlyweds choosing to spend their honeymoon around several thousand clay men. Their bright paint disappeared moments after they were excavated - six thousand more still lie underground. From computer analysis they find no two faces are the same. All this and these guys but guard the main tomb of the First Emperor, Qin Shi Huang. Unfortunately, the number of booby-traps and bizarre amount of mercury that surround his vast burial site means that we may never discover his secrets in our lifetime. But if they do, it will be worth coming back.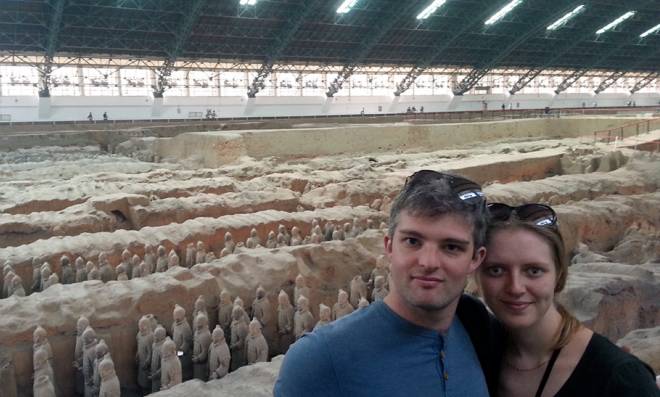 9. Cycling through the capital.
Kelly unintentionally plays a game of chicken with an innocent bicyclist. The track is in fact the walls of Xi'an, former heavyweight Capital City in China. These walls are the start of the Silk Road if you're walking West and its 13.7 kilometres kept the Ming Dynasty safe since the 1370s. So much fun.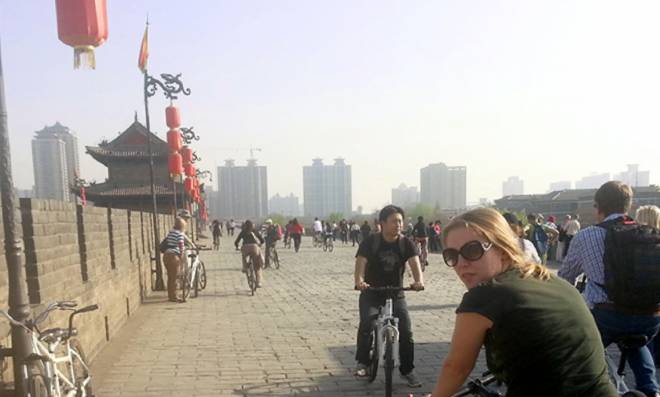 10. Expert calligraphy in Xi'an.
An impromptu stop at the Small Wild Goose Pagoda led us to a quaint little house where we all had our names written on rice paper by this expert calligrapher.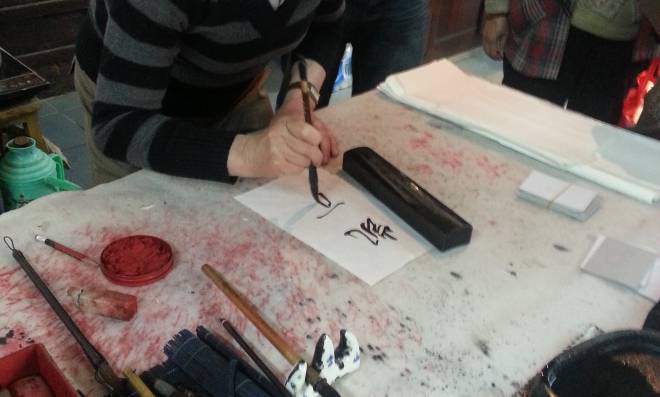 You may also be interested in...