With few places left in the wild where you can still catch a glimpse of this rare and enigmatic big cat, spotting a tiger in its natural environment can be a truly unforgettable experience. Our very own Trevor Bone travelled to India in April on our 9 day Shere Khan tour with the hopes of spotting a flash of stripes in the jungle overgrowth of Ranthambhore National Park. This week's photo showcase follows his search for a tiger, from beginning to happy end.
1. Welcome to India!
I had come to India with dreams of seeing its wildlife and capturing a glimpse of the elusive and endangered tiger. The wise and placid elephants of Jaipur were a fantastic introduction to the India's animals, taking us to the beautiful Amber Fort, albeit very slowly.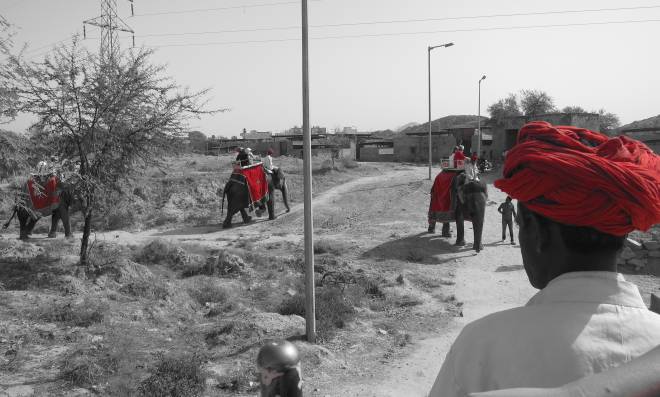 2. Flying monkeys
I have no idea where he was going, or what he was doing, but this monkey clearly had plans on being somewhere. These species are common throughout India and can be seen most places quietly sitting around and minding their own business. It was very strange to see them around the parks, towns and even sitting by the road. India is such a fascinating and unique place.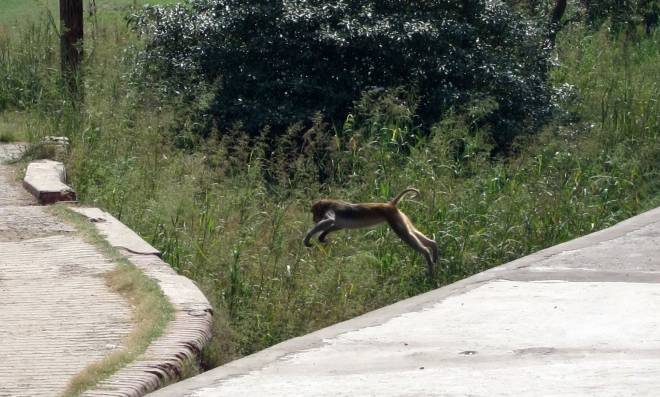 3. Ranthambore National Park
I had finally arrived at Ranthambore National Park. Home of the big cats I had come to see. The excitement on the first game drive was high and I had a 'Jurassic Park' moment as we entered thought the stone entrance and into the home of the Tiger. There are never guarantees of seeing the marvellous beasts, but in my heart I was hopeful.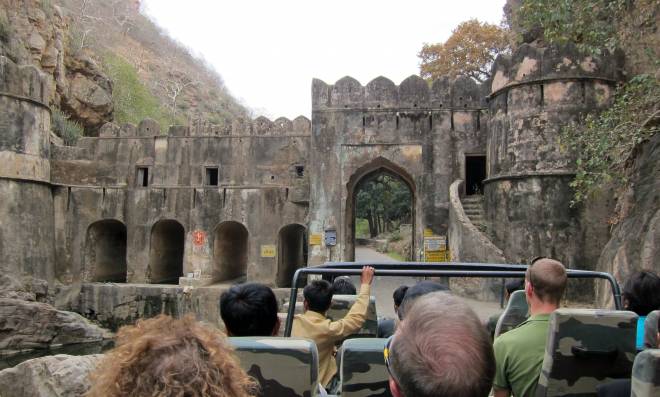 4. Wildlife in the park
Deer are common in the park also, with this one sitting right by the road with some of his friends. Whilst beautiful of course, I couldn't help but think that if a tiger was in the area, he wouldn't be looking so cool, calm and collected....I was keen to press on! My tiger was out there somewhere!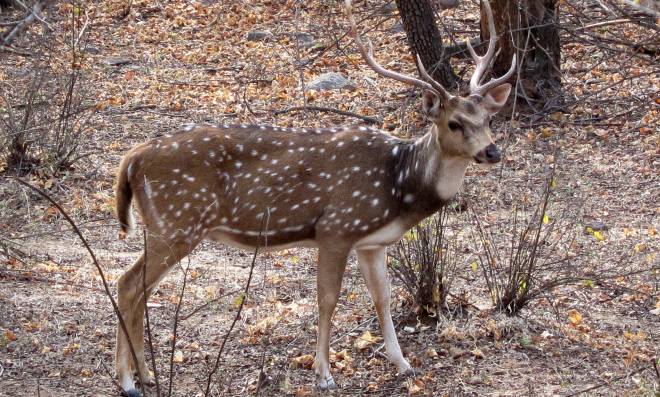 5. Tiger tracks
Finally! We were getting close! Tiger tracks could be seen in the sand, they looked fresh and our safari truck was brimming with excitement. Tiger's are extremely territorial, often having just one lone tiger occupying an area as big as 25 square miles. To see footprints was a positive sign and I felt like Steve Irwin on a great adventure!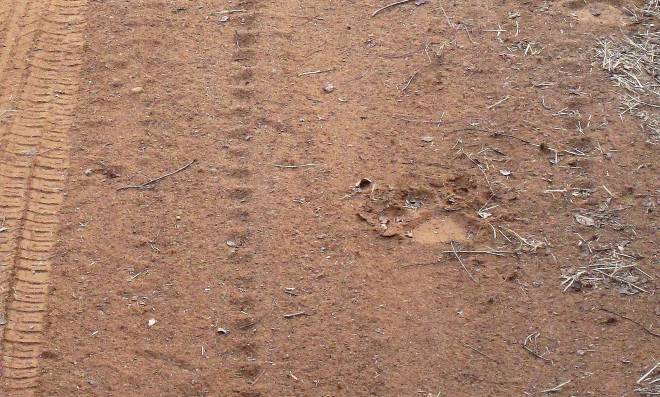 6. Crocodile spotting
In all the excitement of finding our footprint we almost missed our reptilian friend here basking in the sun. Crocodiles are common in the park, never growing too large and mostly just sitting around and enjoying the warmth of the Indian sun. This one barely noticed as we drove on by, content with dreaming crocodile dreams.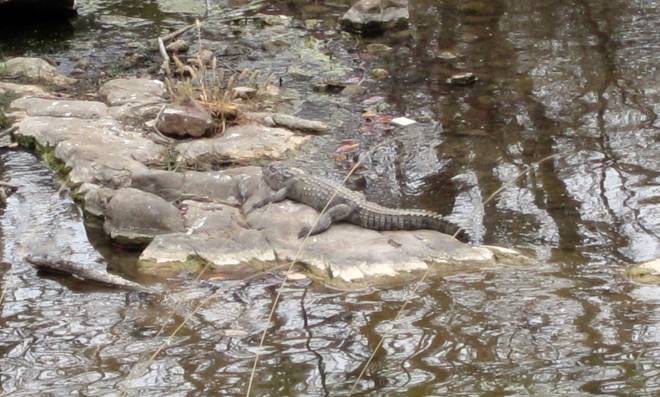 7. Tracking the tiger
We pressed in further into the park. We had received word that a tiger had been seen earlier lurking about after making a kill and leaving it by a watering hole. Once word gets out, the safari canter's we use all of a sudden start to drive at warp speed as not to miss out on a sighting. We were all smiling with anticipation, eyes wide open and cameras at the ready.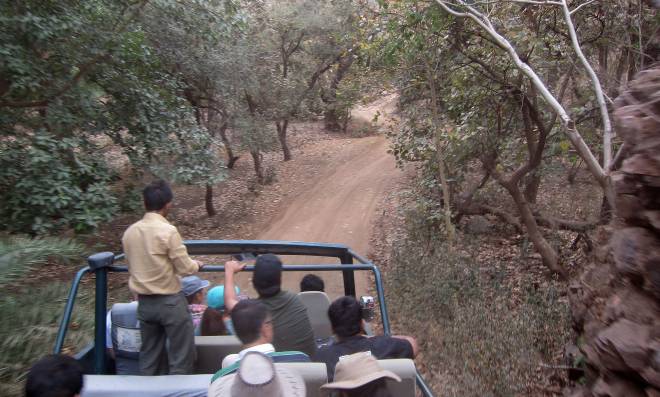 8. Spotting a tiger
We found him!!! An older male who was known to had made his home in the particular area. As we arrived he was drinking peacefully in his watering hole, perhaps poking out his tongue cheekily for having us drive around the park for two hours trying to find him. He was beautiful and tranquil and I was so happy words cannot describe.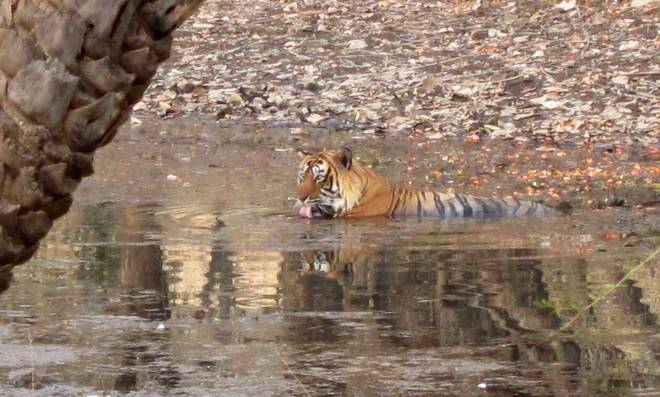 9. Spotting a tiger
After he had his fill, he slowly and majestically rose out of the water. It was then that I realised how massive he was and wasn't quite so keen for him to get any closer to us!! What a special moment for us all. With so few of these creature left. To have so much time simply watching him made my trip complete.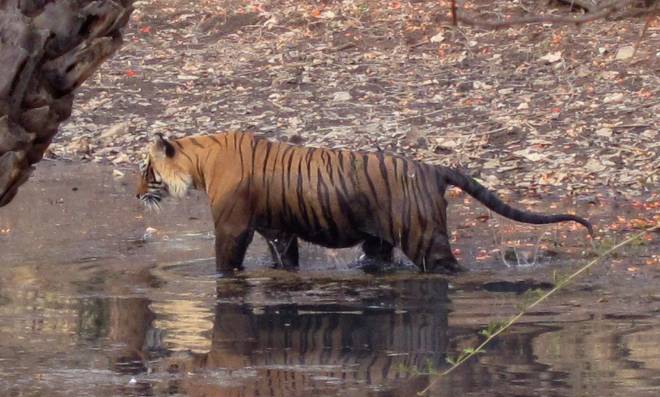 10. Spotting a tiger
After some wonderful time spent together, my new friend calmly walked off past the front of our canter and off into the distance. Kind of fitting really. We were all sad to see him go, but so happy we had found him. A small roar as he meandered off left us all with goose bumps and endless smiles.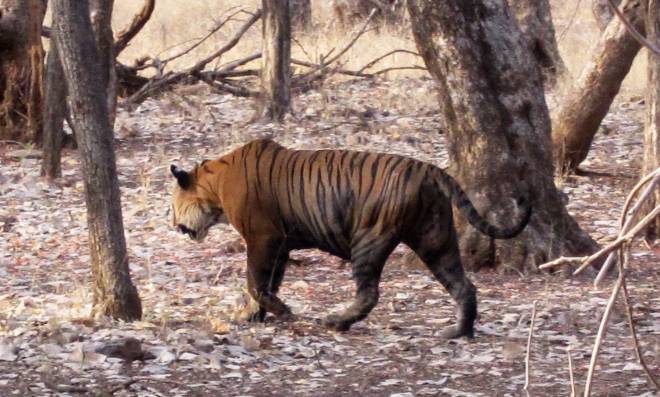 11. Feeling happy
As you can see, the excitement of seeing the tiger had left me very happy and as we headed out of the National Park I was still as excited as a little boy at Christmas time. As the Cantor sped off and took us back to the lodge, I felt like I had achieved a lifelong dream of seeing a tiger in the wild. Something I will never forget!!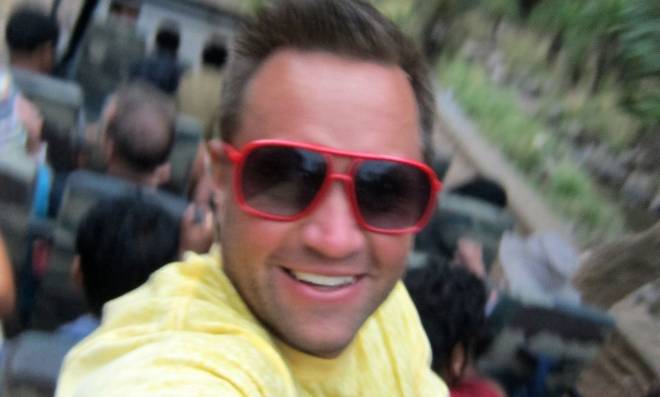 12. Goodbye India
We finished the day with a beautiful sunset on our drive back to our lodge. It was such a fitting end to a truly amazing day. Our tour laughed and joked and enjoyed each other's photos of our new tiger friend. At dinner we all swapped stories with other tours that had yet to embark on their adventure into Ranthambore the next day. I only hope they enjoyed the same incredible experience I did. Thank you India for letting me see one of your true treasures.