Planning your upcoming holidays for 2014? This week we've got an inspirational photo showcase for you featuring photographs taken by Andrew Kirkby while travelling on our 15 day Journey to Angkor Wat tour through Vietnam and Cambodia. Although we know its all about the photography, we've added in some helpful commentary highlighting the very best of what this tour takes in. Setting out from charming Hanoi, Andrew takes in the incredible limestone peaks of Halong Bay, the verdant riverbanks of the Mekong Delta and imperial Hue in Vietnam, before continuing on to the energetic city of Phnom Penh, iconic temples of Angkor and colourful floating markets of Siem Reap in Cambodia.
1. Junk boat cruise on Halong Bay
Setting out from charming Hanoi, travel to the strikingly beautiful UNESCO World Heritage Site of Halong Bay. Here hop on board a traditional wooden junk boat and set out on a cruise of the emerald green waters studded with a thousand or so karst limestone islands, and watch a spectacular sun rise the following morning.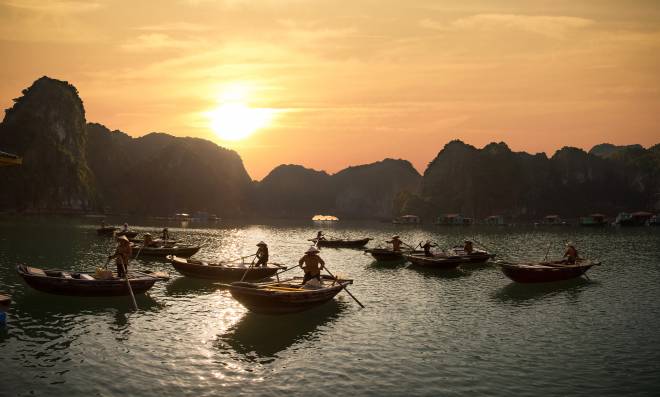 2. Exploring the backstreets of Hanoi
Back in Hanoi explore the enchanting web of streets that make up the Old Quarter. Wind your way through a maze of rambling streets, framed by narrow houses and traditional shops, chat with the locals and sample exotic fruits, sizzling noodle dishes and delightfully sticky snacks being offered by the pavement vendors.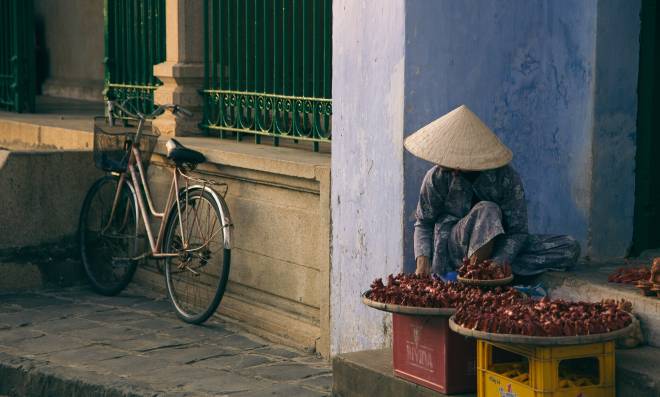 3. Thien Mu Pagoda in Hue
Next stop is Hue – the pretty 19th century capital of the Nguyen Empire. Here visit Thien Mu Pagoda, perhaps the most important landmark in the city and one of the oldest religious structures in all of Vietnam. Standing some 21 metres high, this historic temple is not to be missed.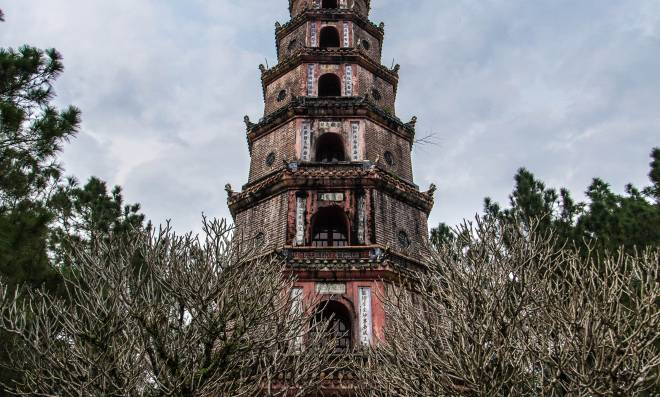 4. The riverside city of Hoi An
Passing through scenic landscapes, with views of beaches on one side and lush hills on the other, arrive in charming Hoi An. This old-world trading port, with cobbled streets, traditional homes and tiny shops, is the perfect place to lose yourself in a bygone era. It is also home to some of Vietnam's best cafes, craft shops and tailors – not to mention its look spectacular at night!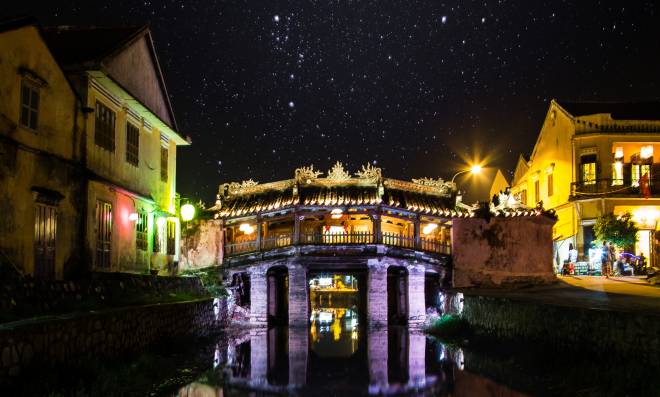 5. Tra Que village life
A bicycle ride into the countryside from Hoi An brings you to Tra Que village. Here there is the chance to discover age old farming practises and learn about traditional medicine. It's a hands on experience today, where you can assist with tending of the fields and try your hand at preparing Vietnamese cuisine.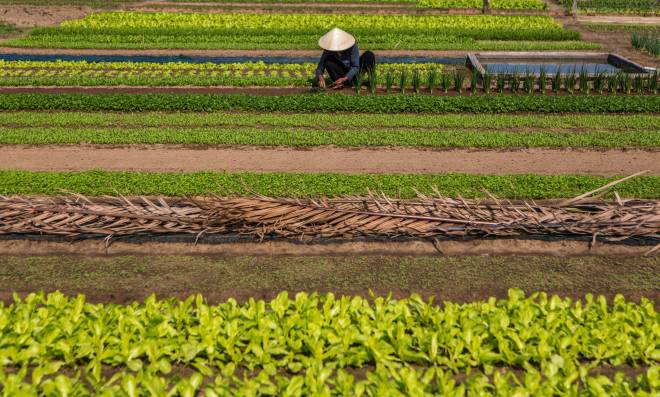 6. Cruising the Mekong
Next stop is the fertile Mekong Delta, famous for its abundant harvests of tropical fruits, flowers and rice, as well as fantastic views while boating along the canals. Taking your sampan from Vinh Long, cruise to Cai Be and then continue downstream through a maze of waterways visiting local cottage industries along the way.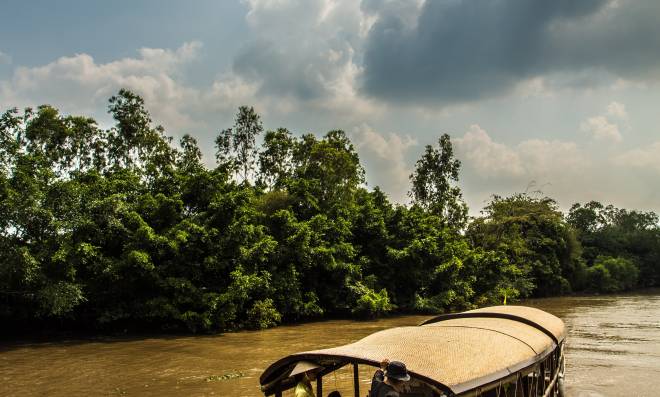 7. The highlights of Saigon
After browsing the floating markets of the Mekong Delta in the morning, it's off to Saigon in the afternoon. Once called the Pearl of the Orient, modern Saigon is a thriving metropolis on the move. A walking tour of the city takes in the famous Notre Dame Cathedral, the Old Post Office and a sobering visit to the War Remnants Museum.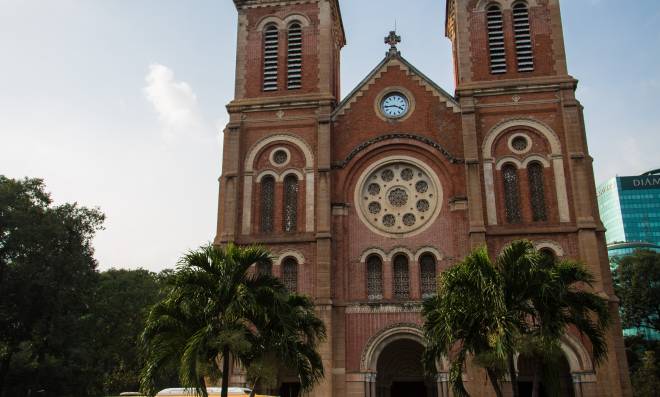 8. Saigon by night
Come nightfall it really becomes clear exactly how modern Saigon has become. Neon bright sky scrapers, gourmet restaurants and swanky bars can be seen scattered between ancient pagodas and colonial era building as the city buzzes throughout the night.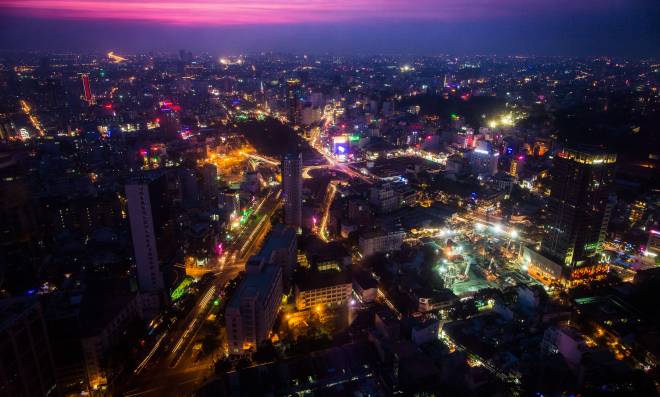 9. Discovering Phnom Penh
Crossing over into Cambodia, the nation's capital of Phnom Penh is noted for its beautiful colonial architecture, historic sites and lively nightlife. Despite the usual hustle and bustle of a capital city, Phnom Penh retains an old world charm and tranquil atmosphere, with stilted villages lining the river front and colourful local markets.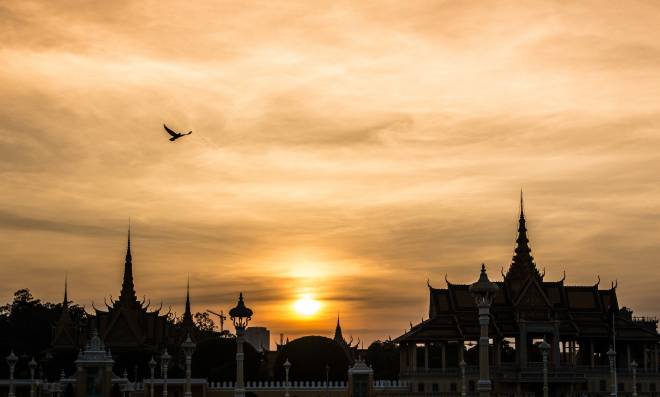 10. The crimes of Pol Pot
Learning about the history of a country is not always fun and games, as you come face to face with the horrors of the Pol Pot regime. A visit to Toul Sleng, a school that was gruesomely transformed into a torture chamber, and the Killing Fields where over 10,000 people were executed during the regime provides sobering insight into this tragic time in Cambodia's history.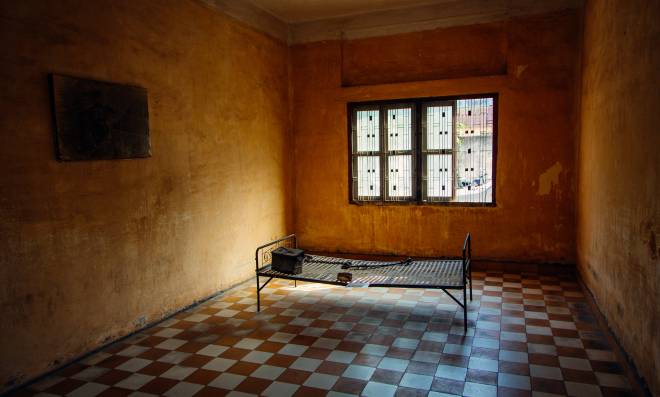 11. Pub street in Siem Reap
While perhaps best known as the gateway to Cambodia's vast and spectacular Angkor Temple Complex, Siem Reap has plenty else to offer. With its picturesque riverside location, colonial and Chinese-style architecture and leafy tree lined boulevards, Siem Reap is an ideal base for exploration. Pub Street is ever popular with travellers, with a selection of bars, restaurants and err, pampering opportunities.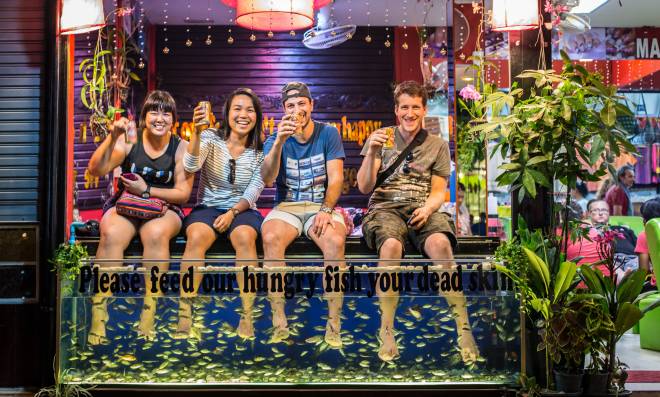 12. View of Angkor Wat
Perhaps the most iconic landmark in all of Cambodia, this panoramic view of the temples of the Angkor Temple Complex has to be seen to be believed. Within the legendary lost city there are over a thousand temples, ranging from piles of rubble to the magnificent and iconic Angkor Wat.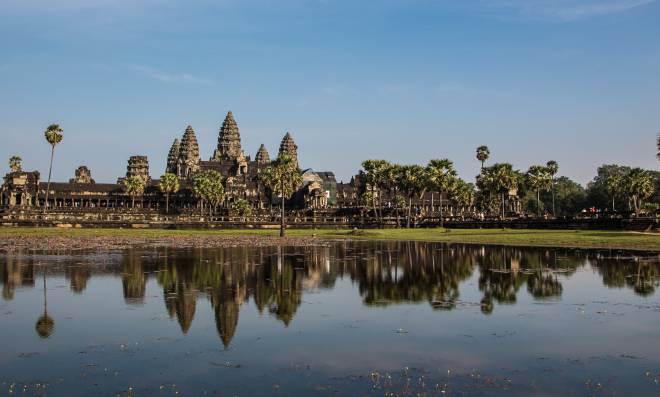 13. Exploring Angkor Wat
Surrounded by a spectacular moat and towering high into the sky, with its striking Khmer architecture and extensive bas-reliefs, the awe-inspiring 12th century Angkor Wat is not only Cambodia's leading attraction but one of the most impressive temples on earth, still attracting pilgrims from around the world every year.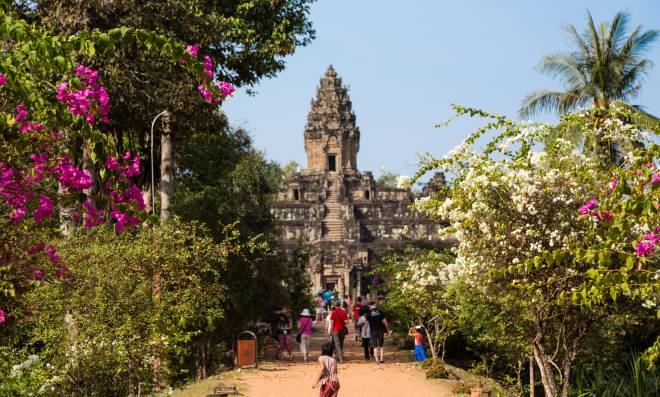 14. Floating Villages of Siem Reap
Back in Siem Reap visit the colourful floating village of Kompong Pluk. Houses built on soaring stilts hover over the Tonle Sap Lake as vendors display their wares on houses scattered across the large body of water. Nearby, the petrified trees of a flooded forest are revealed whenever the water level drops.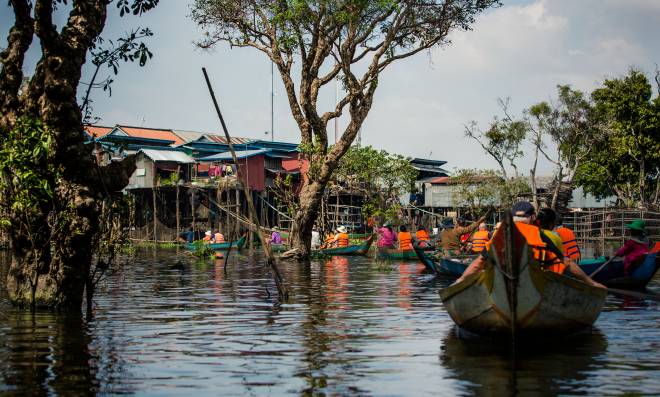 You may also be interested in...